Standard Operating Procedure (SOP)
Definition
What is a standard operating procedure?
A standard operating procedure (SOP) is a set of instructions that explains how to do a critical process or workflow. Its purpose is to follow processes according to the standards of a company, organization, or industry.
This helps to protect the employees, processes, and customers from errors throughout a normal workflow and creates a safe work environment for the company.
SOPs are sometimes required to comply with the industry regulations while some institutions suggest them as a company's best practice. This is mostly used to maintain safety and efficiency in different departments such as production, sales and marketing, customer support, finance, and legal.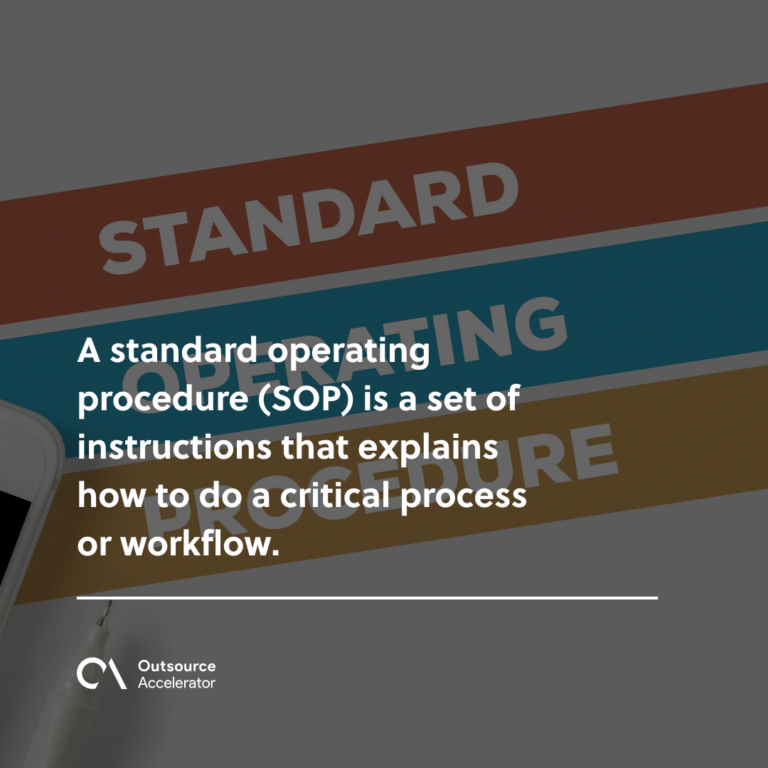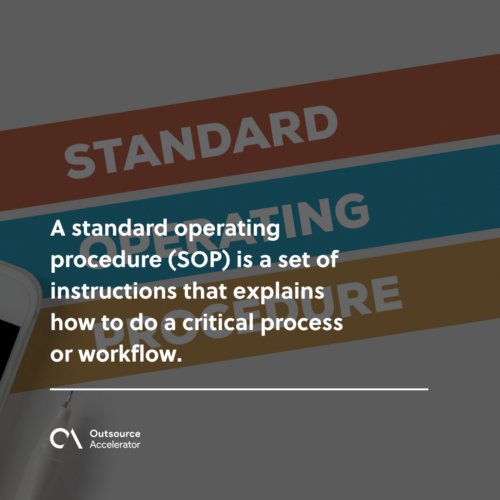 Standard operating procedure template
For small teams and solopreneurs, SOPs are made by writing a checklist of routines that should be done. For bigger enterprises, thorough planning and taking note of processes are needed to ensure proper carrying of procedures.
The integral parts of an SOP are the roles that will do the task, the frequency or how often will they do it, and the expected outcome or the deliverables in finishing the task.
SOPs in BPO companies have different standards. Their SOPs need to include compliance with administrative policies, metrics on performance management, and training and coaching sessions.
Outsource Accelerator provides you with the best outsourcing companies in the Philippines, where you can save up to 70% on staffing costs. We have over 3,000 articles, 200+ podcast episodes, and a comprehensive directory with 700+ BPOs… all designed to make it easier for clients to learn about, and engage with, outsourcing.
Different forms of standard operating procedures
SOPs can be written in different formats, depending on compliance standards or specific functions that need them. Companies should choose the SOP formats that can work best with their team or the entire organization.
The most common SOP formats are the following.
Step-by-step instructions
As its name suggests, step-by-step SOPs are used to simply list down how to do a process according to its order. This format is used when the process is straightforward and can be completed easily.
A step-by-step SOP works best with processes such as:
Digital logins
Routine tasks
Safety guidelines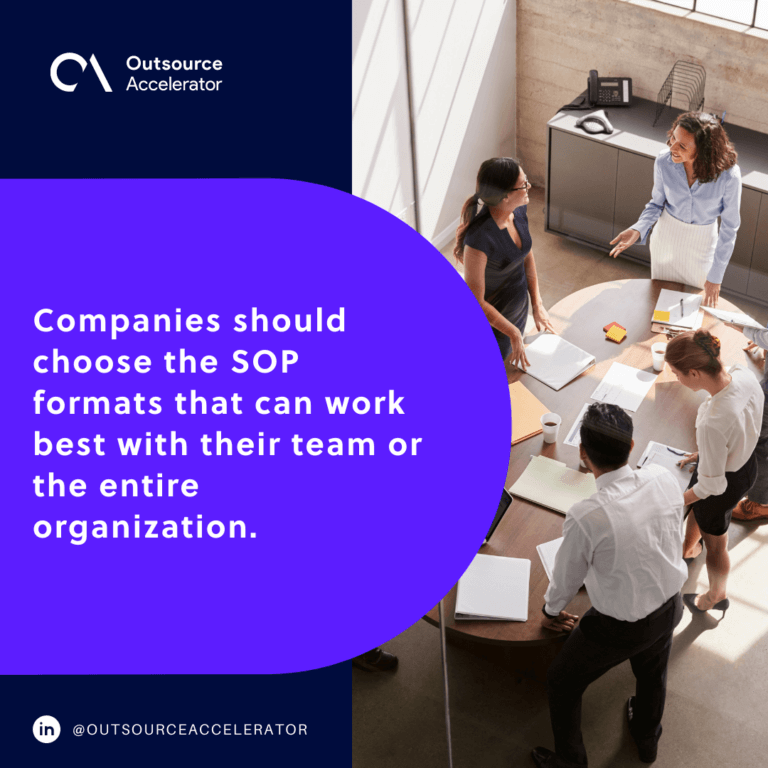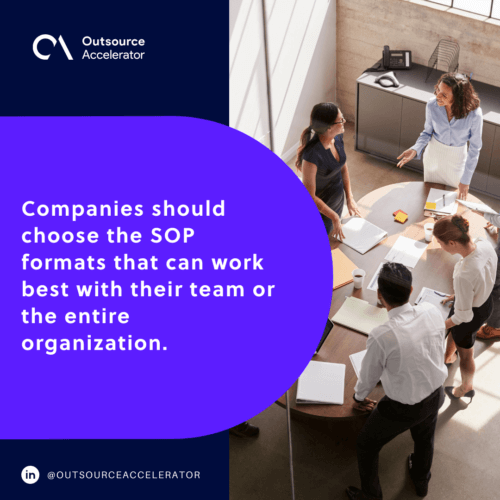 Hierarchical SOPs
A hierarchical SOP, meanwhile, contains more detailed instructions compared to step-by-step SOPs. It elaborates each step and includes all the necessary tasks in a process. For instance, instead of listing a process in 1, 2, 3…, hierarchical steps will include substeps listed as 1a, 1b, 1c…
Flowchart SOP
Flowchart SOP documents are best used when writing complex processes that have more than one desired outcome possible.
Flowchart SOPs give insights on what outcome a team can get should they take a certain step. This format helps in the decision-making process of a team or an organization in general, making them more careful in approaching a process.
Importance of standard operating procedures
Aside from proper documentation of processes, SOPs are crucial in the business processes of a company in different ways.
Knowledge preservation
By creating SOPs, the prior knowledge in a process can be easily stored and updated. Team leaders can also pass them to their members, use this to train new employees, and store them for reference.
Improved efficiency
At the same time, employees perform more efficiently with an SOP document. This can help streamline workflows better and save time in passing organizational knowledge long-term.
Consistent outcomes
Employees perform better and will produce consistent outcomes with the help of an SOP document. This is since they will have an idea of how to do a certain task according to company standards.
Ensuring compliance
SOP documentation is also crucial in following compliances for certifications such as ISO. It makes sure that employees comply with related laws, regulations, and standards imposed by an organization to avoid litigation risks.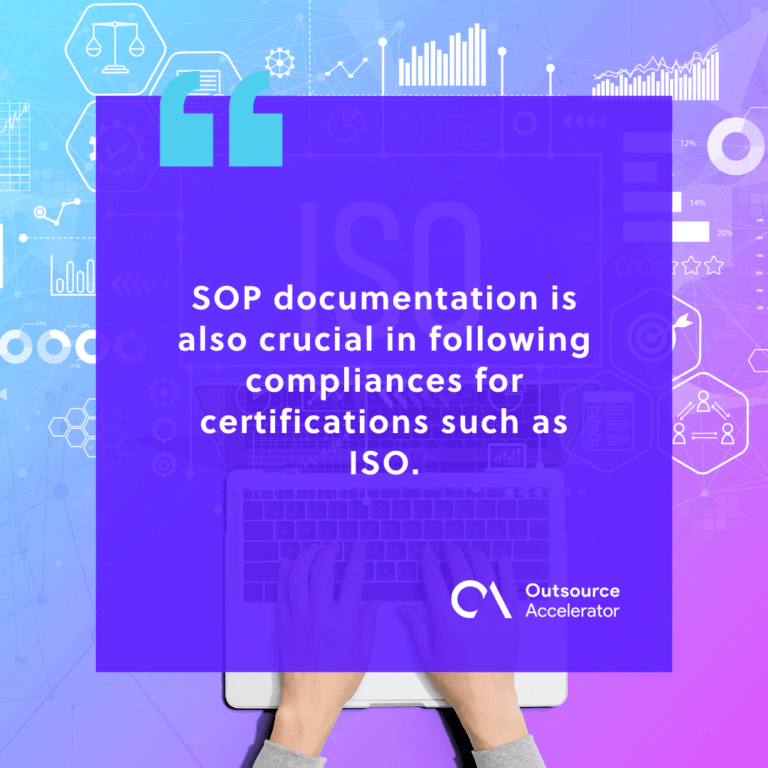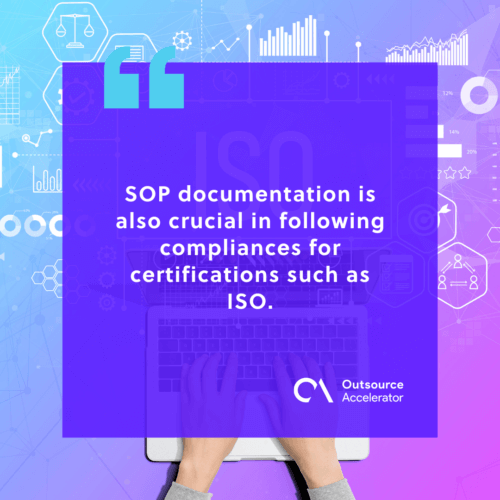 Steps to create standard operating procedures
There's no single way to create SOPs for all business processes and organizations. However, firms can take note of the following steps on how they can create an effective SOP for their business.
Define objectives in SOP creation. Define the objectives in creating an SOP, whether it's for documenting a new process or improving an existing one.
List down each business process. List every process and function that needs an SOP document and find which process will be prioritized.
Choose a format for each SOP document. Choose which SOP formats will be most suitable for each process.
Outline the entire process. Starting with the title page, outline the entire process according to how they are made.