Definition
What is Hold Time?
Hold time is the average amount of time a caller spends on an agent-initiated hold status. This is when the caller connects with the agent, having a normal conversation, and then the agent holds the call. It indicates that the call is not disconnected. Agents may hold callers on for several reasons. This includes the need to persuade their boss to help fix the caller's dilemma.
Hold time is a measure that should be handled by contact centers and held to a minimum. Higher hold times are an indication that something is wrong and the team should examine and fix the issue. Since average hold times can be drilled down to the agent stage, this is a good place to start. The management must track the hold time all the time and action when it is out of balance. Excessive hold times will spoil the customer's experience. Effectively controlling wait time is one more contact center mechanism that can be used in their effort to offer reliably high-quality service.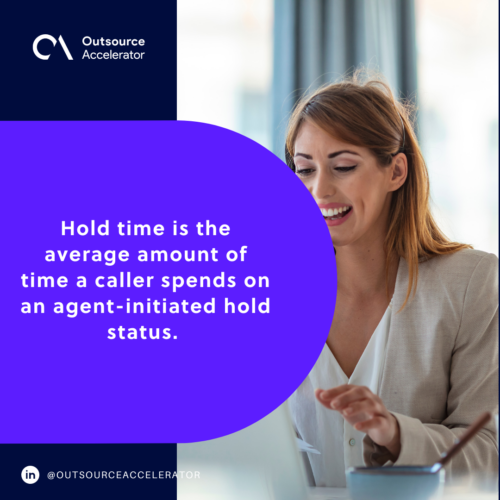 Calculation of hold time in a call center
The average hold time is the time that the customer spends in the line until the agent responds to the query. Here's how to measure the total wait time at the call center:
Under a given timeline, sum up the hours all callers have been waited on hold and split by the number of callers.
Example:
There are 100 calls out of 2000 minutes, with a total hold time of 600 minutes, and 500 minutes of follow-up time, divided by the number of callers. The average hold time will be 31 minutes.