What is appointment setting and how can it help your business?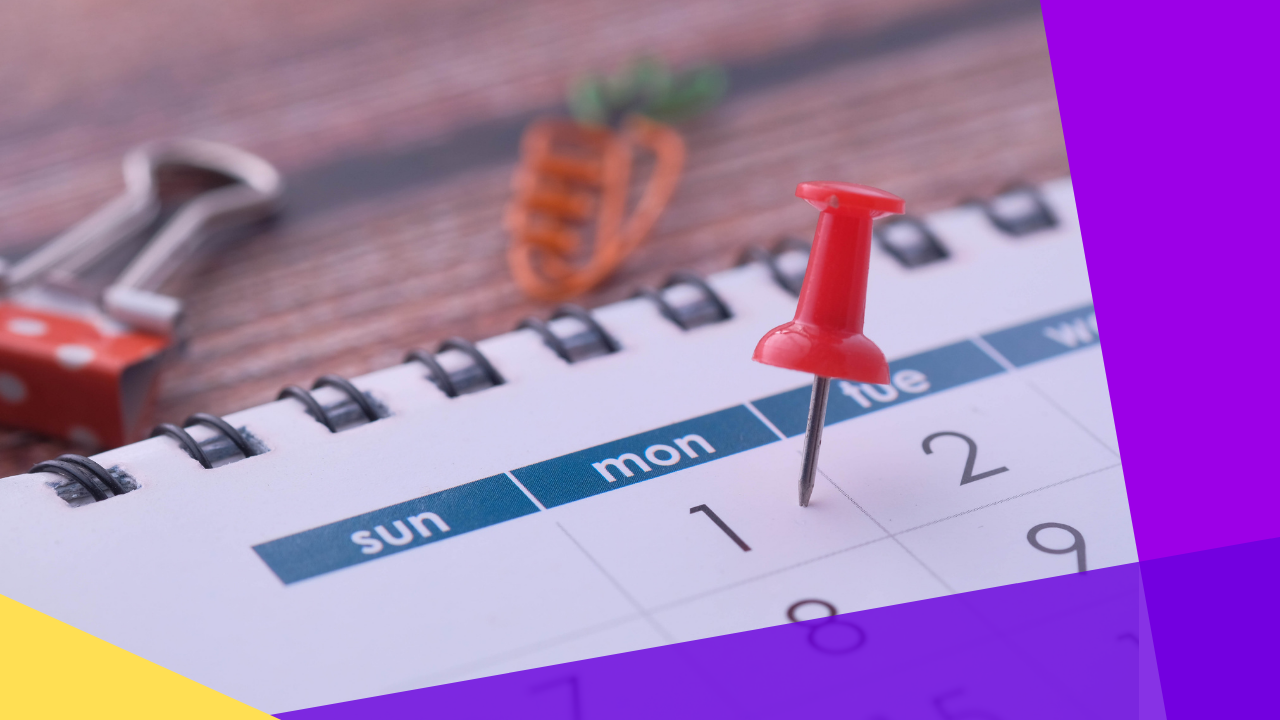 Appointment setting is the process of scheduling meetings with leads and prospective clients.
It is considered a sales and networking tactic in one, as it opens up avenues for new customers and business partners. Appointment scheduling helps advance a business and career in ways that can pay off in the long run.
How appointment setting works
It may look effortless on the outside, but appointment setting is anything but. It's an important means for business owners to find prospective clients and connect with them.
Perspective matters when it comes to engagement scheduling—when viewed as a pain, it will become much more difficult to overcome. But if you look at it as an opportunity to grow, it will be easier to uphold.
It usually starts with an outgoing call from a lead generation specialist. They contact a potential customer, validate their information, and get them interested in trying out a product or service.
Once the prospect is interested, these specialists would set up a meeting between them and an account manager.
When all is said and done, there are only two outcomes: a success or a failure. Nevertheless, the cycle continues onto the next name on the list.
Outsourcing appointment setting to VAs
Virtual assistants or VAs act as the extension of their clients, doing administrative work and handling extra responsibilities.
The appointment setting activity has become such an integral part of a business that some outsource their efforts to virtual assistants. One of the reasons why they do this is to save up on resources without having to worry about the work quality.
Thankfully, there are a lot of VAs who are experts in lead generation, engagement scheduling, and client care management.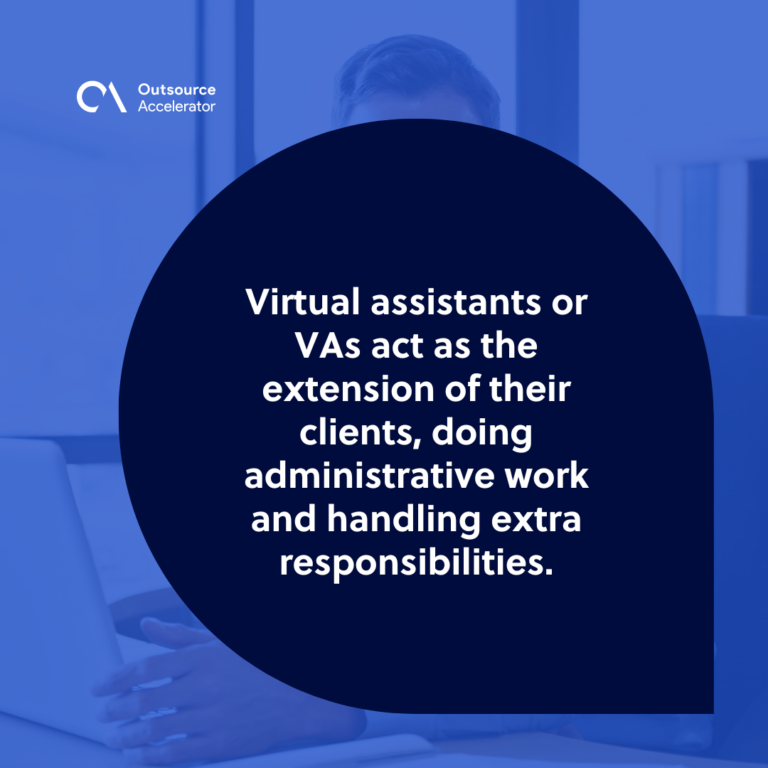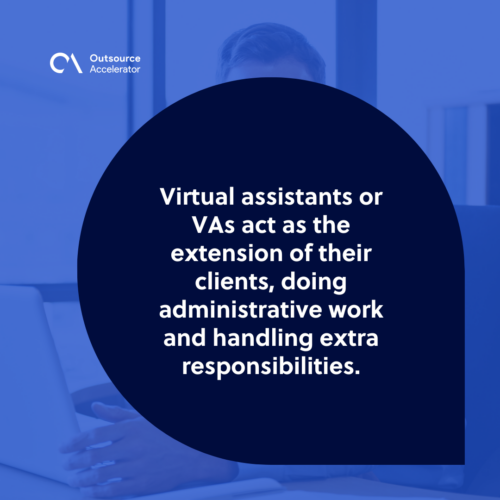 3 types of appointment setters
While the nature of the job seems mundane, appointment setters make work more efficient and fulfilling.
These people work toward building a strong professional relationship between their client business and their leads.
Lead generators
Who they are: Lead generation specialists are the ones who take the initial plunge. They reach out to a list of potential clients using cold calls, emails, texts, and any other mode of communication available to them.
Why they're important: They filter good leads from the bad ones and set the pace for relationship builders.
Relationship builders
Who they are: These appointment setters send follow-up emails and ring their warm leads every once in a while. As the name suggests, they use whatever foundation they have with the prospect to strengthen the relationship.
Why they're important: Prospective clients tend to get cold feet during the sales process, and relationship builders know how to warm cold leads up.
The closers
Who they are: They seal the deal on a client or prospect. Whether it's a positive result or not, they are the ones to hear it first.
Why they're important: Closers are undoubtedly the most important of the bunch as they lead the prospects into the final phase of the decision-making process.
The importance of appointment setting in business
It may take some time for the business to take off, but what matters is that you put the effort into the growth process. Appointment setting is helpful in the ways we've listed below.
More face time with clients
By getting a scheduling assistant, you can allot more time for high-quality leads and avoid wasting effort on vague prospects. Leave the gamble and the numbers game to your appointment setters.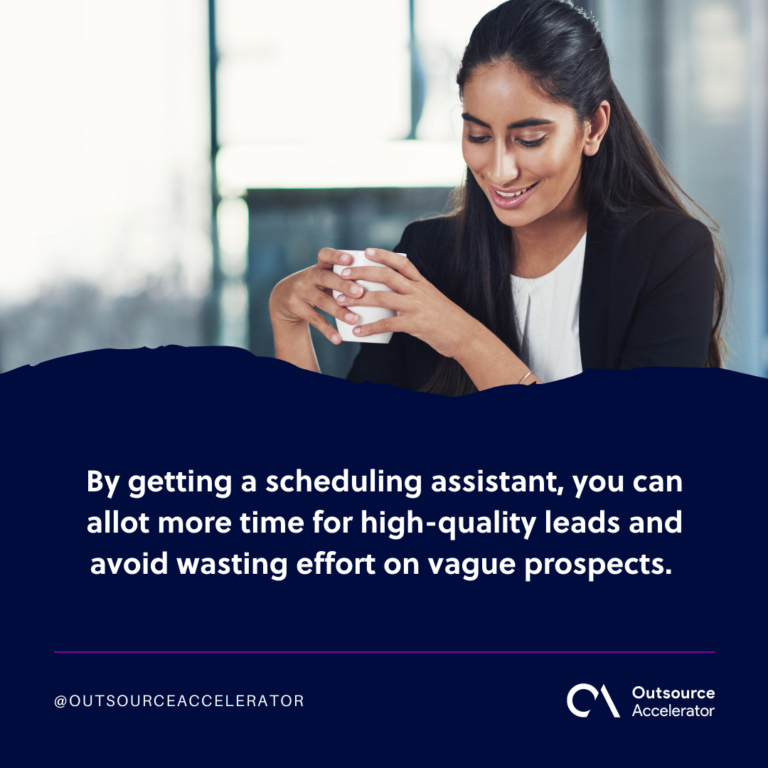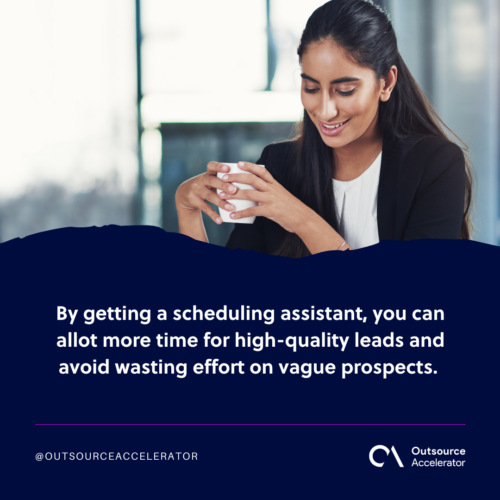 Boost awareness and build networks
Engagement scheduling is where your brand gets associated with your products and services. Some deals may fall through, but the client is already aware of what you're capable of doing. 
They might be able to refer you to others, thus expanding your network and brand awareness.
Gain trust and find new opportunities
Meeting up and getting in touch with prospective clients is such an important and exciting deal. It opens up to new ideas, changes, and feedback. Welcoming clients on board is a morale booster for everyone involved.
Should you get an appointment setter?
The answer to this question lies in how you're able to handle your business's core activities and engagement scheduling tasks. If you're an entrepreneur or a startup business, getting an appointment setter may pay off in the long run.