Top 40 call centers in the Philippines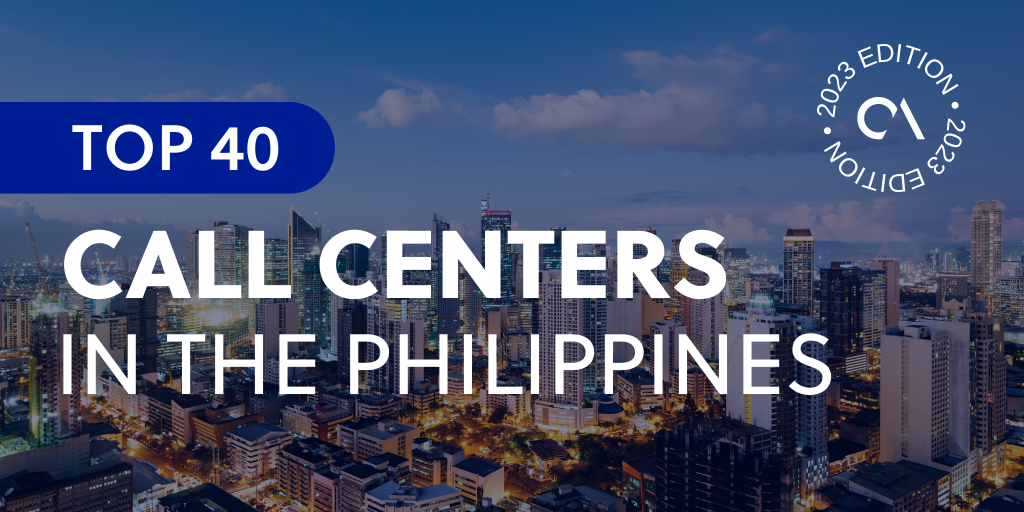 The business process outsourcing industry in the country continues to grow in the post-pandemic world. Hitting a US$26.7 billion growth in 2020, BPOs, especially call centers, quickly adapted to remote working to serve their clients better.
As the world slowly opens up again, call centers are expected to remain a major contributor to the Philippine and global economy. For this, the industry projects a US$29 billion revenue and more jobs to generate by 2023.
The country's business process outsourcing industry is what it is today thanks to call centers. They laid out the foundations of the industry and paved the way to being able to offer more services to global clients.
As a global business, you would need help in navigating the roundabouts of call center outsourcing whenever you need it. For this, we listed the top 40 call centers in the Philippines to help you.
Top 40 call centers in the Philippines
Call center definition
A call center is a part of the broader outsourcing industry, which can also cover business process outsourcing (BPO), shared services, seat leasing firms, as well as home-based outsourcing, and even virtual assistants and freelancers. Call centers can be located onshore (domestic market) or offshore.
The terms for each of the above firms can be used somewhat interchangeably.  Call centers generally refer to the larger business that caters to enterprise clients and processes high-volume, high-repetition tasks, such as customer service, sales, and account management.
There is an association with the call centers that they typically offer the older, more traditional solutions in the outsourcing market and usually work with the bigger multinational enterprises.
Call centers can also encompass shared services operations.  These shared services are purpose-built branded call centers that serve just one parent company — which is typically one of the large multinationals.  Common examples of shared service operations are HSBC (banking), American Express (payments), Shell (petroleum), and Manulife (insurance).
The Philippine call center industry
In 1992, call centers laid the foundations of the business process outsourcing industry that the country is enjoying today. Call center and outsourcing companies' efforts in contributing to the Philippine economy were even recognized by the World Trade Organization in its 2019 report.
From its beginnings in email response and managing services, call centers expanded their services to all forms of customer service. They, as well, expanded into other industries such as travel, tourism, and banking industries.
Aside from costs and 24/7 service, call center outsourcing in the country flourished due to several other factors.
Language compatibility. The Philippines ranks 27th out of 100 countries in terms of English proficiency. Filipino agents have neutral accents when speaking to their customers due to the language being ingrained in them since childhood.
Cultural compatibility. The country was once occupied by the US. With this, most of the population heavily adapts to the Western culture, from entertainment, sports, to art.
Unique Filipino traits. Filipinos are well-known for being hospitable, courteous, and caring for their customers. They easily adapt this in the workplace with the utmost care they give to them.
Outsource Accelerator's comprehensive BPO directory
Outsource Accelerator is the world's leading outsourcing marketplace and advisory. We list over 3,000 BPO firms located across the globe in our global directory, and we provide detailed information, price guides, and reviews.

Whether you're a solopreneur, SME owner, or corporate executive, we can help you find the most suitable outsourcing provider for your business.

Explore our outsourcing directory now. You may also check out our Top callcenter  lists per country here:
Top 40 large-scale enterprise call centers in the Philippines
Founded in 2006, Concentrix is one of the established leaders in BPO services including marketing, IT, and customer service. Its merger with Convergys in 2019 made its worldwide talent base bigger with over 265,000 worldwide, 80,000 of it based in the Philippines.
VXI Global is ranked as one of the top US telemarketing companies to date with over 10,000 employees in the country. Since its inception in 1998, the company saw a rapid growth in its expertise – particularly in multilingual support and call center services.
Another established institution in the call center industry, Teleperformance offers an omnichannel customer experience in around 160 markets worldwide.
The company grows consistently due to its investment in research and development, studying and analyzing its customer's needs and changes over time.
Known as TTEC, TeleTech provides traditional customer service and global outsourcing to its clients worldwide.
It is one of the oldest call centers in the world with a branch in the country established in 2002, offering call center and management consulting services.
Sutherland Global Services was founded in 1986. It was considered as the leading service provider for process transformations that applies the Six-Sigma method in its operations. Sutherland employs about 40,000 people for its 150 clients around the world.
Sitel is one of the largest customer service organizations in the world with operations spanning different continents from North America to Asia. its latest acquisition with Sykes aimed to enhance its current offerings and provide more competent CX solutions around the world.
Started with 50 employees in 2001, Telus now spans its operations to over 25,000 employees around the world. 12,000 are employed in several offices in Taguig, Makati, Pasig, and Quezon City.
Six Eleven Global Teleservices or simply SixEleven is one of the longest-running call center outsourcing services outside Manila. Garnering more than 15 years of experience, the company has seen outstanding growth of up to more than 3,000 employees serving global companies.
Connext Global Solutions is a back-office Business Process Outsource (BPO) service provider in the Philippines. The firm has been providing highly skilled professional staffing services at a minimal cost since 2014.
Enabled by seamless cloud connectivity, Connext Global Solutions solve the staffing challenges of their clients. The firm achieves this by building exceptional remote teams that contribute to the smooth running of their client's businesses.
Being the oldest company on the list, IBM Solutions mainly provides IT, software development, and customer and technical support services to clients around the world.
Known as the Big Blue, IBM has ventured and expanded its offerings to other offerings including consumer products, government, and travel.
HGS is considered a leader in optimizing customer experience in the contact center, back office, and HRO solutions. They combine technology-powered automation and analytics with the domain expertise to deliver more work impact to their clients.
One of the remarkable things about the company is their take on the true "globally local" approach. HGS has around 44,000 employees in seven countries, including the USA, India, and the Philippines.
Founded in 2002, IBEX Global currently employs over 7,000 people globally. They focus on customer service and back-office operations that can retain 'customer lifecycle experience' for their clients.
With IBEX, clients have the chance to offer great features in their customer service. This includes having multilingual support. They offer support in 11 languages including English, Filipino, Arabic, German, French, and Spanish.
Created in 1995, Transcom is a global customer experience specialist that has 29,000 employees across 20 countries, including the Philippines.
The company aims to deliver the utmost customer experience since they recognize that customers are an integral part of a company's growth.
Alorica is one of the best-known and established outsourcing suppliers in the country. The company has 100,000 employees across sixteen different countries including the Philippines that are aimed to provide a great customer experience worldwide.
Formerly known as 24/7 Customer Philippines, 24/7.ai redefines the way in creating customer interactions. The company also combines automation with human expertise to maximize efficiency in providing customer support services.
Genpact Services once started as a business unit for General Electric in 1997. Currently, they have more than 77,000 offices across the world with head offices in New York City, Palo Alto, London, and Delhi.
One of the leading business service partners worldwide, Conduent provides a diversified business process specializing in financial transaction processing, automation, and customer experience.
Accenture is one of the most popular and reliable outsourcing brands worldwide. The company's major points include technology, high-value consulting, and customer service outsourcing.
Accenture has more than 400,000 employees across the world, 45,000 of which are based in the Philippines.
Also known as SPi Global, SPi Technologies aims to provide world-class business transformation solutions to clients worldwide. The company is also considered as one of the pillars of the country's BPO industry.
Founded in 1998, Startek is considered a customer engagement BPO company. They deliver customer relationships through superb customer experience insights and brand perception to their clients.
Wipro BPO Philippines is the Philippine wing of India's Wipro. Formed in 1945 as a vegetable products vendor, the company is now a global powerhouse for Information and Communications Technology.
A member of the UnitedHealth Group Family, Optum aims to help healthcare providers in making people live healthier. They also help in making the health system work better for every individual.
PITON Global is a Philippines-based call center services provider that has been offering "world-class tech call center and back-office services" for the last 20 years. The award-winning firm mainly caters to high growth enterprises in the US, Canada, UK, and Australia.
HSBC is one of the largest banking and financial services worldwide with around 6,600 offices in 81 different countries, including the Philippines. They aim to help businesses and consumers achieve financial success and connect them to the world.
A subsidiary of the Deutsche Bank, Deutsche Knowledge Services offers customer support and financial management services to Deutsche Bank's global internal businesses. The company has 2,000 employees across the country alone.
Shell Shared Services (Asia) is a joint venture between Shell and Occidental Philippines, aiming to serve the oil industry and explore the development of the offshore. The company is mostly based in the Philippines with its headquarters located in the Netherlands.
Originally responsible for the development of the Malampaya reservoir, Shell Shared Services provides the required personnel and technology to help their clients manage their oil projects successfully.
Operated by the Australia and New Zealand (ANZ) Banking Group, ANZ Global Services and Operations has been one of the top outsourcing companies in the world.
The company focuses on building and maintaining alliances within shareholders, customers, and communities in New Zealand, Australia, Asia Pacific, America, and Europe.
Manulife Business Processing Services operates in two countries – China and the Philippines. Providing financial management and consultation services, the company currently has over 100 clients in 22 countries.
Founded in Singapore in 1995, TDCX is one of the first to tear down walls and face challenges in the industry. The company offers 360-degree customer experience solutions for some of the world's leading brands.
TDCX currently operates in 11 countries, including its headquarters in Singapore and its branch in the Philippines.
The customer experience wing of American Express, AmEx International values customer relationships and aims to maintain delivering exceptional products, services, and experiences to them.
Founded in Toronto, Thomson Reuters Corp. is a Canada-based media conglomerate. They are one of the world's leading news and information-based tool providers to professionals globally. Their Manila office, meanwhile, provides support, compliance, and content services to Asia and their headquarters.
Affiliated Computer Services (ACS) in the Philippines, Inc. is itself a Fortune 500 company. They provide support to clients in more than 100 countries with 74,000 employees globally.
Established in 2004, the company offers flexible, reliable, and responsive business processing and information technology services. ACS supports companies in several commercial and government parallels.
Maersk focuses on global shipping and logistics. They provide end-to-end transportation and communication services to global businesses aiming to improve the global e-commerce industry.
With 30,000 employees in around 114 countries, the company also helps reduce a certain company's environmental impact through its supply chain.
JP Morgan Chase & Co. is considered one of the oldest financial institutions in the United States. The company established operations in the Philippines in 1961 providing fully integrated banking and investment services.
Today, the company operates in 60 countries housing over 240,000 employees globally. They aim to provide unparalleled high-quality service to their clients and customers.
For Stream, caring for employees matters in helping leads and customers convert into a business's fans. The company helps the Fortune 1000 companies to improve their operations and savings by providing sales, technical support, and customer care services.
They have established their service quality by being the "Provider of Choice" to some of the leading companies in several industries.
One of the pioneers in the Philippine BPO Industry, Emerson has been operating for the past 20 years.
They are mainly a global technology and engineering company that provides business processes and professional solutions to companies in the industrial, commercial, and residential markets.
Being a Fortune 500 company, Emerson has a record of $14.5 billion in sales and operates in 155 locations worldwide, This includes the Philippines.
Established operations in the country in 1920, AIG is one of the world's leading property and general insurance providers. They operate in more than 100 countries and serve around 88 million customers globally.
Their Philippine employees are among the 64,000 globally that take on challenges to help build and secure their customers' futures.
ePLDT, Inc. is the ICT arm of PLDT Enterprise. Aside from its main IT-related offerings, the company provides support and digital transformation services to domestic companies around the country through their subsidiaries.
Personiv is one of the most established suppliers in terms of years of service. Being in the industry for more than 30 years, the company provides and trains top talents that can deliver high-quality services for their clients.
They mainly provide customer care, accounting, and back-office services to businesses worldwide. Currently, Personiv operates in the Philippines, India, Australia, and the United States.
Been in the industry since 2006, iSupport Worldwide is one of the leading outsourcing companies in the world supporting fast-growing companies and small and medium-sized businesses (SMBs).
One of the advantages of the company is the control. iSupport lets their clients take full control of their offshore team while saving on costs and providing 24/7 services. Aside from this, their teams provide multilingual support for global companies, particularly in English and Spanish.