---
---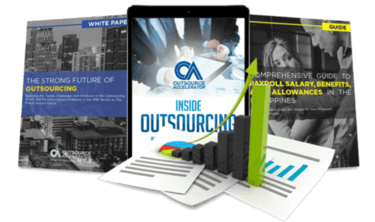 Outsource the right way, the first time
Get up to speed in outsourcing with this all-in-one tool kit
GET YOUR FREE TOOLKIT

PARTNER

PRO
About Connext Global Solutions
Connext Global Solutions is a premier outsourcing company that caters to businesses in healthcare and real estate. They specialise in providing 24-hour staff leasing, specialised BPO, and call centre services to their clients in the US.
Currently, they have 350+ seats in two different locations in Pampanga.
Connext Global Solutions office
Both of Connext's offices are located in Pampanga, in Angeles and Clark. Their main office in Philexcel Business Park is the seat of the BPO industry in Clark Freeport Zone. Around their vicinity are several other companies, restaurants, and the Air Force City Golf Course.
In Angeles, meanwhile, their office is located in the heart of Nepo Center, in Entec Building 1. Situated along Teresa Avenue, the building sits other outsourcing companies and is surrounded by restaurants, leisure centres, and government agencies.
Connext Global Solutions address
Unit 1F-6, Business Center 9, Philexcel Business Park, Clarkfield, Pampanga 2009
8th Floor, Entec 1 Building, Angeles City, Pampanga
What Connext Global Solutions offers its clients
Connext has a diverse service portfolio, including customer care, collections, virtual assistants, graphic design, applications and web development, data analytics, medical billing and claims processing, payroll, HR support services, public accounting services, reservations and bookings, property management, title and escrow, and more. We are uniquely positioned to take on new projects, regardless of size and scope.
How Connext Global Solutions outshines the competition
The Connext claim to fame is client engagement. It is our obsession. Our front-line team members are accustomed to intraday communication with client POCs via voice, data, and real-time video connectivity. The Connext-to-Client window service is a two-way CCTV package that allows our clients to see and interact with the team supporting them from anywhere in the world. All Connext to client reporting is custom, available periodically, real-time or on-demand.
Connext Global Solutions company structure
Connext is a privately held entity, owned and operated by its Hawaii-based president, Tim Mobley. Ron Rhodes, the company's general manager, leads operations out of two Philippine locations.
Sample highlight service offering of Connext Global Solutions
Connext offers multiple pricing packages based on skill profile and volume. Larger accounts are offered the Connext-to-Client window service is a two-way CCTV package absolutely free of charge.