---
---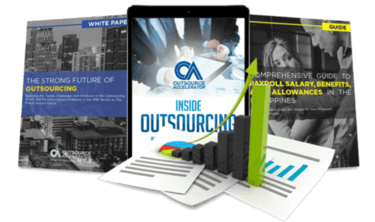 Outsource the right way, the first time
Get up to speed in outsourcing with this all-in-one tool kit
GET YOUR FREE TOOLKIT

PARTNER

PRO
About Cloudstaff
Cloudstaff is a premium outsourcing provider with over 2,500 staff spread across 8 offices in Metro Clark, Manila, and Cebu.
We help our clients grow their businesses by offering flexible and tailored workforce solutions. We provide them with top quality staff; industry-leading technology; enterprise-grade data security; and 24/7 service and support.
With a verified 98.1% retention rate, Cloudstaff doesn't just provide staff, we are committed to building sustainable long-term partnerships.
What Cloudstaff offers its clients
More than just simple back-office processes, Cloudstaffl provides high-end professionals such as accountants, architects, engineers, lawyers, and software developers.
Cloudstaff also breaks down the barriers of distance by making remote staff management easier and more convenient than ever before.
Our suite of apps and platforms can be tailored to meet the individual needs of our customers and allows them to monitor staff, assign tasks, and view important details directly from their phones.
How Cloudstaff outshines the competition
Cloudstaff's industry-leading 98.1% staff retention rate is verified by BDO and minimizes time lost on avoidable recruiting and retraining.
This is done on the back of an ironclad commitment to ethical outsourcing practices. Our staff are valued & respected and receive competitive salaries, as well as regular perks and incentives. In turn, our staff are happy, loyal and motivated to deliver exceptional results for our customers.
A few metrics about Cloudstaff
Cloudstaff news, podcast and articles
The Source
Being proficient at managing employees can already be challenging. Leading a cloud staff takes more…
Cloudstaff videos & images