---
---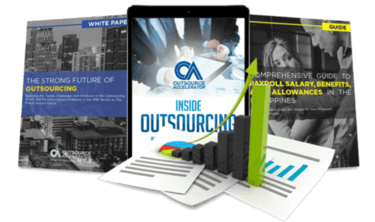 Outsource the right way, the first time
Get up to speed in outsourcing with this all-in-one tool kit
GET YOUR FREE TOOLKIT

PARTNER

PRO
About Intelliworx Ph
Intelliworx Ph is a start-up agency in the Philippines that offers online business solutions ranging from customer support (email, chat, and calls), graphic design, video & podcast editing, copywriting, customer outreach, client correspondence to more specialized services such as web development, SEO, market research and many more. At affordable rates, we offer the services of our highly qualified office-based team with high-powered equipment, excellent facilities and an efficient management team.
What Intelliworx Ph offers its clients
Our BPO focuses on providing specialized skills needed by small and medium businesses to help them grow and support their business. We have excellent support from our team to ensure business continuity no matter the situation. We offer services for start-up, small and medium businesses from the point of setting up, onboarding, training, management and retention. We conceptualize and align our approach and strategies based on what would help our clients succeed.
How Intelliworx Ph outshines the competition
Intelliworx Ph started with the strong intention of forming a bridge between the available professionals & talents in our local area and the increasing demand of skills of small & medium businesses around the world. Our company understands the importance of maximizing the value out of each service availed from our company. We offer flexibility in our services and we ensure transparency and trust in each working day. What we can best offer is our very competitive rates that are relatively lower than most of our competition due to the fact that our location is not in a capital city with very high costs of living. We are located outside Manila, in a province with significantly more affordable resources that allow us to be more flexible with our service rates. This means you will get the same or even better quality of service, but for more friendly rates.
Intelliworx Ph company structure
Intelliworx Ph is a start-up company based in San Jose, Occidental Mindoro, Philippines 100% owned by partnership of 3 Filipino professionals who are experts in their own fields: business, operations and information technology.
Sample highlight service offering of Intelliworx Ph
We provide highly-skilled and professional agents and teams for various business needs at a friendly rate as low as $800/month inclusive of overhead fees. However, price varies depending on role requirements and complexity of skills needed. With our pool of contacts and recruitment channels, we are confident that we can provide, train and manage the professionals you need to support your business.