Top 25 BPO companies in Brazil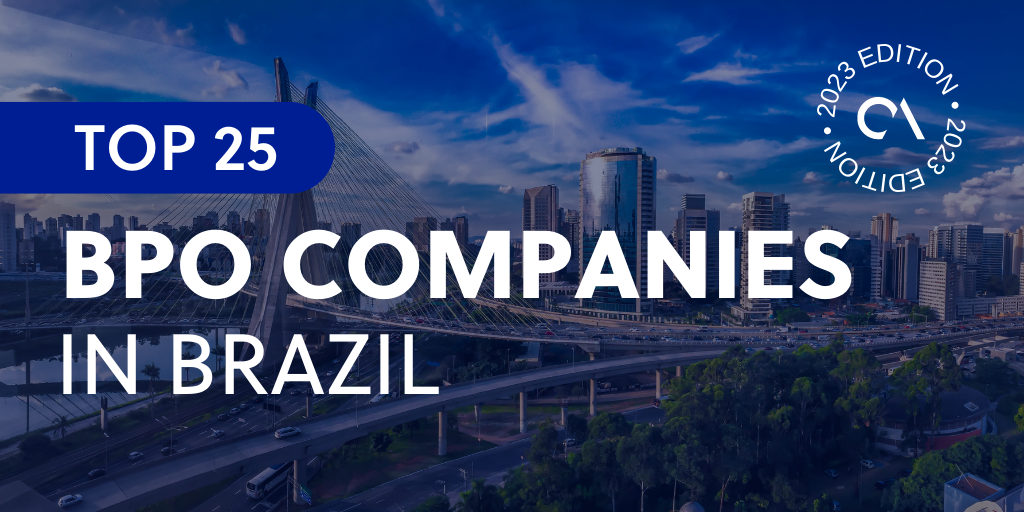 South America has set itself apart from other possible nearshore and offshore vendors. The labor force in Colombia, Chile, and Brazil are now seizing new opportunities, especially in the call center industry.
A lot of South American countries' populations are known for speaking both the English and Spanish languages fluently. This is one significant edge in terms of the growing demand for bilingual Business Process Outsourcing (BPO) services. 
As for Brazil, its government provides several federal advantages and tax breaks to entice call center investors. These policies have boosted regional economic growth by creating jobs and improving the quality of life for Brazilian inhabitants.
Let's take a quick peek at the outsourcing sector in Brazil. Further, be familiarized with the top 25 BPO companies in Brazil. 
Top 25 BPO companies in Brazil
About the BPO industry in Brazil
Brazil has established itself as South America's primary location for call center services during the previous decade. It has generated an enormous opportunity for multinational investors seeking to optimize their nearshore outsourcing.
This country has a highly-developed technology and transit system, as well as easy access to coveted global markets. It has the eighth-highest GDP (Gross Domestic Product) globally, and Brazil has a large pool of call center agents to support its developing sectors.
Brazilian business process outsourcing companies assist both companies and their customers in communicating efficiently.  They also help provide better marketing prospects for organizations by producing strong leads and expanding market networks. 
Top global outsourcing lists
Outsource Accelerator is the world's leading outsourcing marketplace and advisory. We list over 3,000 BPO firms located across the globe in our global directory, and we provide detailed information, price guides, and reviews.
Whether you're a solopreneur, SME owner, or a corporate executive, we can help you find the most suitable outsourcing provider for your business.
Explore our outsourcing directory now. You may also check out our Top BPO Outsourcing lists per country here:
Top BPO companies in Brazil
Here's a list of the top BPO Companies in Brazil:
Aidey is a BPO company that offers flexible and cost-effective outsourcing solutions to businesses. They also assist their clients in managing their operations more efficiently.
Different brands use Aidey's various services like customer service, technical service, customer success, and back-office functions.
With industry-leading capabilities in transaction processing, automation, analytics, and constituent experience, Conduent is the largest provider of various business process services globally.
The firm assists government and commercial clients in providing high-quality services to the people they serve. For a significant section of the US healthcare system, Conduent also oversees patient and insured relationships.
Neobpo is a company that combines CX, UX, and Design Thinking consultancy to provide solutions, technology, and BPO services. The organization assists its clients with digital transformation and the establishment of new service days, reinventing how consumers and businesses interact while also lowering expenses.
Central 24 Horas believes that how a firm connects with the market is essential in determining its success. Central 24 Horas has assembled a portfolio that considers the best in the convergence of Information Technology and Communications to meet critical qualities such as speed, flexibility, integration capacity, and innovation (ICT).
In addition, they blend various hardware and software components to solve problems or develop new capabilities.
The goal of JobHome was to improve the quality of your client service. They use cloud technology to monitor our full-time operators, acquiring control of all actions taken in the service position and their surroundings.
JobHome operators can work from home anywhere in Brazil and save spending hours caught in traffic.
i9 Contact Center invests in human resources with extensive industry experience and assembles a strategic team to deliver effective services, partnerships, and business opportunities.
The company is set to break into the Call Center and Telemarketing markets with one-of-a-kind initiatives that share each firm's investment risk while focusing on qualitative and quantitative outcomes.
Amaro has been in business since 1999, providing practical solutions for developing projects that benefit its customers. With the Contact Center concept, the corporation hopes to integrate its relationship with the end consumer by leveraging many simultaneous and immediate communication channels.
Additionally, Amaro developed its training system for its personnel, guaranteeing that we make the most of every interaction and that our customers are delighted.
BlueLab is a service automation firm that employs voice and chat bots. It provides comprehensive service to its customers, including robot persona development, installation, and technical support, as well as an ongoing knowledge base, IT infrastructure, and integrations, at no additional cost.
BizPRO comprises partners, directors, managers, employees, and business partners. All of them are interdependent at the same time. They form a group primarily concerned with joy, contentment, pride, pleasure, interest, taste for what we do, the results we produce, and our contribution to society.
GEP assists multinational corporations in being more efficient and effective, gaining a competitive advantage, increasing profitability, and increasing company and shareholder value. GEP develops and implements unified business solutions with unrivaled scale, strength, and efficiency.
TerNet is a software development company that also provides BPO services. They were founded in 2002 and serve the health sector. They have a decade of experience producing organizational web access alternatives such as Data Center, VOIP, VPN, Website Hosting Firewall, Email, Data Communication, and Dedicated IP.
TerNet's team comprises professionals with diverse backgrounds in hospitals, clinics, laboratories, health insurance, and pharmacies.
Ubiminds offers a white-glove solution that focuses on cultural fit and personnel expertise to help you deliver on your product vision while saving time and money. The client is at the center of our best practices because of this creative and intelligent approach.
CSG has simplified business by providing cutting-edge customer experience solutions that assist organizations in attracting, monetizing, engaging, and retaining customers. CSG manages billions of crucial customer interactions every year across more than 120 countries.
Further, its award-winning software and services assist companies in dozens of industries in tackling their biggest business difficulties.
Grupo Meta RH, formed in 1983, has been serving its clients for over 25 years. The firm preserves long-term and effective collaborations and contributes to its legacy of quality services, credibility, reputation, and partnerships.
Tempo Solutions BPO, situated in Rio de Janeiro, was founded in 2008 and had projects throughout Brazil. Information management specialists were the focus of the company's services. They also track their clients' data to streamline procedures, increase quality, and lower risk and costs.
Alert Brasil is a Contact Center and BPO services company with over 15 years of expertise in the Brazilian market, specializing in customer relationship management, voice, and digital solutions Alert Brasil is a firm offering intelligent solutions with agility and security, a consultative approach, and cutting-edge technology.
Its featured outsourcing services include back office, call center services, help desk support, and IT functions.
Vermont develops tailored solutions for your business problems by integrating best practices in people, infrastructure, technology, and process management. Customer Care, Receptive and Active Telemarketing, Product Support, and Service Infrastructure Rental are just a few of Vermont's offered services.
Ultracall is a contact center and personal sales company founded in 2011. The company aspires to be recognized as a company that delivers excellent services, works transparently, and reinforces credibility in the market, customers, workers, and partners.
Softtek is a leading provider of IT solutions with over 30 offices across the world. Softtek significantly improves business solutions, lowers the costs of existing applications, and offers better developed and tested applications in the United States, Mexico, China, Brazil, Argentina, Spain, and India.
Liq is a leader in offering efficient, safe, and dependable integrated relationship solutions with skilled workers and advanced technology in a continuous improvement and innovation process.
Rhodes Contadores offers accounting and professional services to clients in Consulting, Auditing, Expertise, and Business Advisory. The company's employees have vast knowledge in Business Management, having over 30 years of experience in accounting.
ST Consultores has held a significant presence in the national and regional markets since its foundation in 1996, providing advisory and system development services as well as experienced project workers.
QUALCO is a market-leading software and service supplier with more than 15 years of experience in assisting clients in gaining control of customer data across the credit lifecycle.
QUALCO provides a solution to assist clients in creating efficiencies and streamline your collections and recovery operation and strategy. Whether you want to modernize your internal collections platform, delve deep into the analytics of your whole debt portfolio to drive future strategy or leverage the power of external service providers.
Cobrart provides credit recovery and recovery services to large institutions for 18 years. The company offers credit recovery services by utilizing results-oriented management. Cobrart also focuses on technology and service excellence.
Daleth AC is a technology and telecommunications provider producing technology solutions in architecture and software development, systems integration, and BPO contact center since 2008. It caters to a wide variety of industries like aviation, IT, retail, and service.