Top 20 BPO companies in Sri Lanka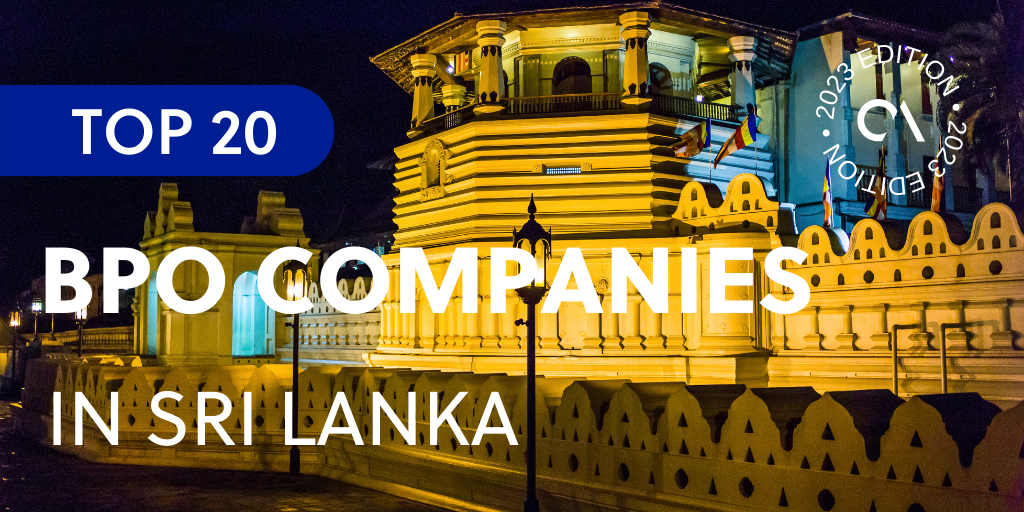 Top 20 BPO companies in Sri Lanka
Companies that outsource their services gain significant benefits such as cost-savings and access to specialized skills. As the demand for IT services increases, so does the need to expand the company workforce to cater to clients' needs. 
Indeed, outsourcing is the go-to resource for businesses wanting to remain competitive and boost productivity in their core business functions.
Asian countries like India, China, and the Philippines have long been destinations of choice for outsourcing services. In South-East Asia, Sri Lanka is also progressing in the global outsourcing community.
Currently, Sri Lanka produces around 7,500 graduates and 2,500 individuals with IT/BPO-related credentials. These graduates are being prepared to fill available BPO positions to sustain the growth of the IT and BPO sector in the country.
Let's take a look at 20 of the top BPO companies in Sri Lanka that foreign organizations can outsource to.
Top global outsourcing lists
Outsource Accelerator is the world's leading outsourcing marketplace and advisory. We list over 3,000 BPO firms located across the globe in our global directory, and we provide detailed information, price guides, and reviews.
Whether you're a solopreneur, SME owner, or a corporate executive, we can help you find the most suitable outsourcing provider for your business.
Explore our outsourcing directory now. You may also check out our Top BPO Outsourcing lists per country here:
BPO industry: An essential emerging sector in Sri Lanka
Sri Lanka provides a wealth of leisure options, and it has a generally favorable business climate.
This country is a tropical paradise to live and work in due to its exquisite beaches, wildlife sanctuaries, cultural heritage sites, gorgeous hill country vistas, and vibrant nightlife. 
Besides being a tourist attraction, Sri Lankan IT-BPM companies have also been recognized for providing exquisite services at competitive costs. 
According to SLASSCOM, more than 300 IT firms operate in Sri Lanka, and the IT-BPM sector offers BPO company positions and directly employs over 80,000 individuals.
Why Sri Lanka is an ideal outsourcing location 
Sri Lanka is widely becoming a top outsourcing location for multinational firms for the following reasons: 
Sri Lanka's talent pool is vast, with a portion of its graduates opting to participate in a work-study or certification program. The completion of the program allows them to enter the workforce early. But companies offer a significantly cheaper entry-level salary for these applicants.

The country has a competitive edge in outsourcing for Western-based enterprises because English is the country's principal business language.

Sri Lanka's English-speaking workforce provides excellent quality work that results in a positive increase in ROI. This allows businesses to increase their employees' incentives.

Additionally, the country's population has developed technical knowledge in accounting and Knowledge Process Outsourcing (KPO).
Top 20 BPO Companies in Sri Lanka
Here is the list of the top 20 companies in Sri Lanka:
Emapta is a next-generation solution provider of business outsourcing, assisting its clients in gaining access to people and constructing dedicated teams in offshore locations.
Tim Vorback, the company's CEO, created Emapta in 2010 to help other firms access exceptional talents. The organization was formed on the notion that the talent it provides should seem like a natural extension of the client's activities.
Emapta assists its clients by identifying, hiring, and retaining talent on their behalf. They also offer office space, legal employment, human resources, and IT support.
What's fascinating is that they allow their clients to conduct day-to-day employee management as if they were part of their firm.
JFS was founded in 2012 to assist Sri Lankan enterprises with recruiting services. Since its foundation, the firm has expanded fast to become a formidable force in the industries in which it operates.
Its exponential development has been astounding in less than ten years of existence. There are more than 100 workers in this company, and they are still growing. The corporation primarily engages in four industries: BPO, Agro Food, ICT, and Extreme Sports.

Exroasia comprises a team with over five decades of combined expertise in umbrella employment, HR outsourcing, global PEO outsourcing, payroll outsourcing, and investment advisory throughout Asia.
This BPO company assists small to mid-sized businesses to establish a compliant commercial presence in any country in Asia.  ExroAsia offers strategic direction and assistance with compliance, labor, and legislation to begin operations in a new region.
Bellvantage is an outsourcing company delivering high-performance business solutions and professional services with 90% control in outbound and inbound contact center outsourcing.
Its featured services include contact center hosting, software development, quality assurance, and IT consulting.
Somro BPO Services provides accounting, finance, and human resources management functions to Sri Lankan and foreign businesses.
The company aims to serve its clients to become more competitive by providing the best IT outsourcing services. Somro's top goal is to be globally recognized as an IT BPO partner for clients across the globe.
Rigor Consulting provides its clients with comprehensive finance, accounting, and payroll process outsourcing services. It helps clients to save expenses and improve efficiency, uniformity, transparency, and precision.
The rigorous procedures, standards, and software applications of Rigor Consulting Services create a unified platform for quick delivery and execution.
Axcim Business Solutions is an industry leader in business and knowledge process management. 
Its featured services are business process management, accounting & financial services, customer service, and HR outsourcing. Axcim also assists other organizations with curating marketing models that generate new business opportunities.
Sydpro offers comprehensive technical recruitment solutions and provides talents for all levels of seniority in IT and finance/accounting. Its efficient employees work with a mission to assist businesses in locating cost-effective solutions for their technical workforce requirements. 
Since 2008, Sydpro has been recruiting for the Australian market, and since 2014, they have been providing dependable offshore resourcing solutions from Sri Lanka. 
Sydpro's distinctive business approach enables them to accommodate various job types, such as – permanent onshore staff, onshore contractors, permanent offshore staff, and offshore contractors.
Biz-Elevator provides business solutions to entrepreneurs and company entities at all phases of the business lifecycle. They also have a business development program and investment opportunities that seek to encourage and accelerate the growth of entrepreneurship in Sri Lanka.
This outsourcing company provides services under three segments: business development, business services & outsourcing, and investment opportunities.
URSIDEKICK began its services in 2014 to assist small business owners overwhelmed with the technology side of their operations.
Today, URSIDEKICK focuses on growing its global presence with clients from various industries. It has now become a well-established IT solutions provider with local and international clients. 
Its team of experts manages several services, and among their offerings are social media platforms management, e-mail management, cloud services, data backups, development tools, collaboration tools, and analytics.
Infomate was established in 2005 and is Sri Lanka's first shared services provider (accounting BPO).
This firm has over 100 clientele, and some possess the biggest brand names worldwide. Infomate's expertise in accounting BPO ranges from end-to-end accounting to data entry, HR and payroll, image annotation, and back-office services.
QuickMonday is a premium virtual assistant firm founded in Sri Lanka in 2013. 
This outsourcing company supports founders and executives in moving their businesses ahead by offering highly experienced assistants. They have talented VAs their clients can rely on to represent their company and carry out essential tasks—all for a low monthly fee.
MedSource is Sri Lanka's most prominent medical transcription company. Its specialists provide clients with the best value for their money through top-of-the-line technology and excellent quality services. 
The firm's US-based customer service team ensures customers the best client experience (CX).
Additionally, MedSource does work for many of the best hospital groups in the US. It has more than 250 people who do medical transcription. 
Their onshore and offshore approach ensures to provide the best solutions for their clients.
Manpower Sri Lanka boasts 75 years of experience in recruitment and staffing, training, HR services, consulting, and outsourcing services for all kinds of industries.
Both business leaders and employees working in Manpower Sri Lanka believe everyone has a unique degree of expertise, commitment, and experience. This outsourcing firm strives harder to develop its employees to work at their best at all times.
Over the last several years, Data One Solutions developed into a formidable unit comprising many skill sets and resources.
Data One Solutions not only help its clients to reduce operational costs but also improve their process flows to allow them to focus on core tasks. The company comprises experts specializing in accounting, finance, marketing, and customer care.
Businessfocus360 offers competitive pricing and guarantees high-quality services.
The main goal of this company is to quantify customer satisfaction and attain feedbacks that translate to actual strategic planning for the management.
Businessfocus360 has a team of talented, dedicated, and skilled professionals that handles documentation, communication, and administration that can be completed based on the client's KPIs.
Colombo Corporate Solutions (CCSL) is a leading accounting service company that offers the most compatible, convenient, and accomplished accounting services worldwide.
Its featured services are internal audit, virtual CFO, project evaluation, quarterly business review meetings, secretarial, payroll, and financial services.
CCSL ensures that its clients are satisfied by providing quality and comprehensive financial, administrational, and other professional services.
Flatorb started as a small company that provides simple web-based controlling solutions for various businesses worldwide. 
Today, Flatorb is crafting simple and elegant automated solutions for complex client concerns. Its talented team helps its clients to be more productive and function with the highest quality work ethics.
In 2016, Acril Holdings began offering business process outsourcing and KPO. It has extended its client base to the United States, Europe, and Australia.
This outsourcing firm's featured services include call center services, data entry, social media marketing, marketing and lead generation, healthcare BPO, finance and accounting services, and legal process outsourcing.

DMS Software Engineering (Pvt) Ltd is a subsidiary of DMS Holdings (Pvt) Ltd, one of the nation's oldest and most esteemed information and communication technology (ICT) organizations.
DMS began its legacy in 1983 before it set out to transform the technological landscape of Sri Lankan businesses by engineering software products for banking and financial institutions.