Top 20 BPO companies in Guatemala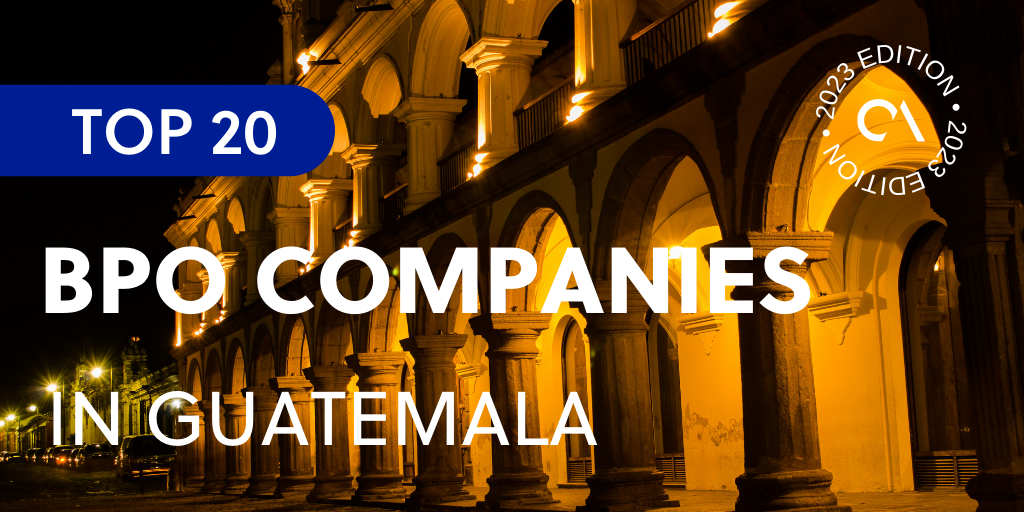 Top BPO companies in Guatemala
Top global outsourcing lists
Outsource Accelerator is the world's leading outsourcing marketplace and advisory. We list over 3,000 BPO firms located across the globe in our global directory, and we provide detailed information, price guides, and reviews.
Whether you're a solopreneur, SME owner, or a corporate executive, we can help you find the most suitable outsourcing provider for your business.
Explore our outsourcing directory now. You may also check out our Top BPO Outsourcing lists per country here:
Guatemala is a prime location for business process outsourcing (BPO) companies.
The country's strategic location is between Northern and Southern American countries. For BPO investors, its low labor costs help them cut operational expenditures and increase profits.
Guatemala's central location makes it an excellent offshoring destination. It is a viable option for companies looking to take advantage of Central America's time zone and proximity to the United States.
Additionally, Guatemala is a Central American Free Trade Agreement (CAFTA)-compliant nation, which makes it an even more attractive economical option.
CAFTA is a trade agreement between the US and five Central American countries – Guatemala, Costa Rica, El Salvador, Nicaragua, Honduras, and the Dominican Republic.
The Guatemalan government has done much to support the growth of this industry through a series of tax incentives, such as the 10-year import tax exemption enacted in 2016.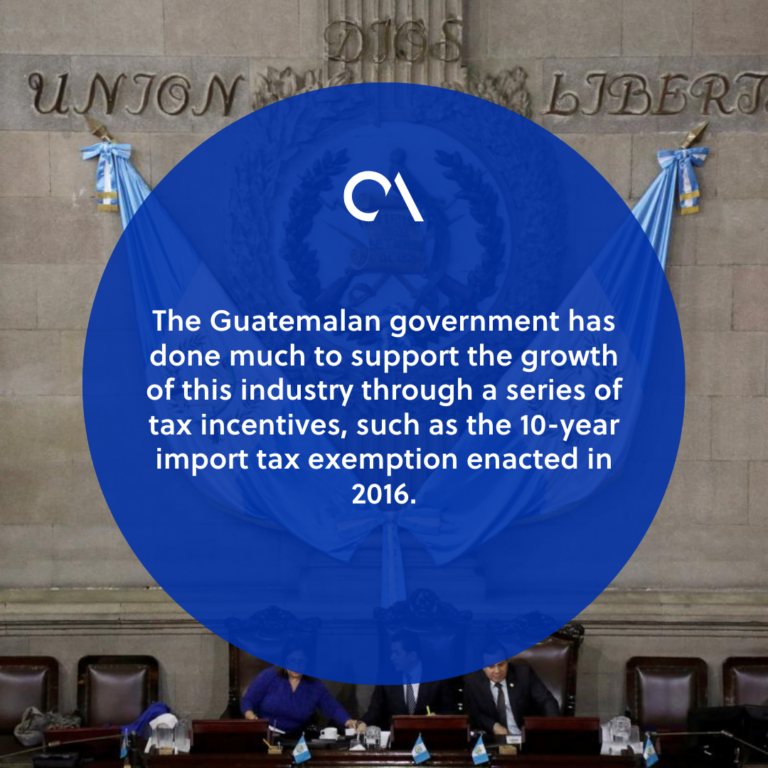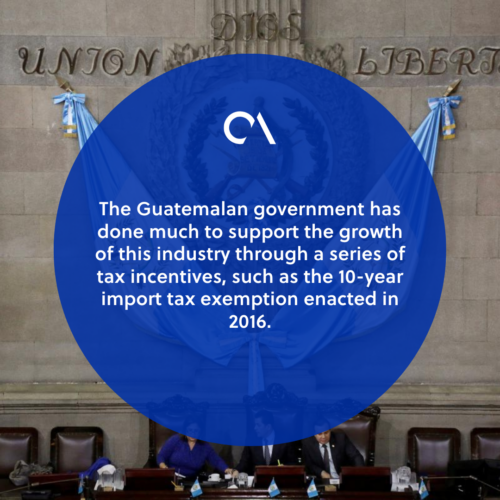 Its government's efforts to strengthen the country's BPO industry have encouraged many investors to venture into the country.
To help companies considering outsourcing to Guatemala, we've compiled in this article the country's top BPO companies.
The BPO industry in Guatemala
Many of the top BPO companies in Guatemala are located in the country's capital, Guatemala City.
Guatemala has one of the lowest labor costs among Central American countries, making it an attractive nearshoring destination for North American companies.
Aside from the allure of cheap labor, Guatemalan BPO providers boast bilingual capabilities – an important asset for US companies with Hispanic target markets.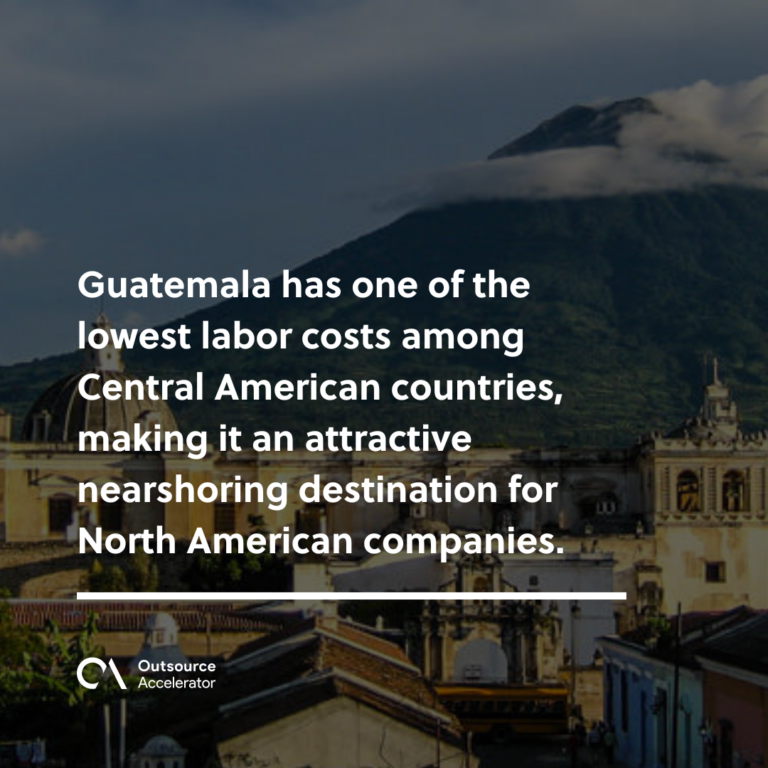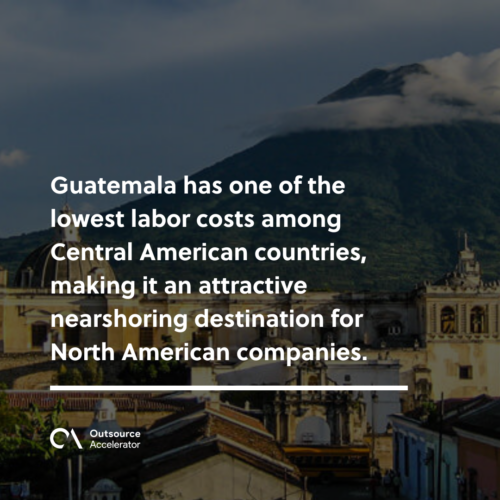 Top 20 BPO companies in Guatemala
Let's take a look at 20 of the top BPO companies in Guatemala:
MCI is a privately held, tech-enabled business process outsourcing (BPO) company that provides Global Customer Experience Outsourcing, Technology & Contact Center Services.
Driving modernization through digitalization, MCI ensures clients do more for less. MCI operates globally offering a wide array of pricing configurations.
Nearsol is a business solution that helps companies manage, track and fulfill all their business requirements.
The company provides all the tools to help companies save time and money and manage and measure performance.
Whether you have built your own IT department with in-house employees or outsourced your entire IT infrastructure – Nearsol can work with you in transforming your business.
VXI Global Solutions was founded in 1998. It helps businesses attain world-class transformative and innovative customer services and customer experience (CX) through outsourcing solutions.
The company has grown into a global service provider with operations spanning North America to Europe and the Asia Pacific region.
VXI's serves a wide range of industries, from automotive, communication media, and financial services to insurance and retail.
ProntoBPO is a leading provider of remote back office services in Guatemala.
Over the span of 10 years, it has helped thousands of businesses from around the world send work to its highly skilled work-at-home agents.
The company has been serving clients from sectors like financial services, information technology, healthcare and insurance, telecommunications, retail, and logistics, among others.
KIVO is a technology company that utilizes artificial intelligence and machine learning to:
Automate coding processes

Provide customizable automated scripts and workflows

Bring automation and intelligence to businesses that previously didn't have it
The company provides an integrated platform for businesses in many industries to achieve cost savings, automation, visibility, and control.
KIVO's platform enables the world's largest organizations to de-skill knowledge work, automate processes and deliver better customer outcomes with new or existing technologies.
Infinity Center BPO services all areas of business operations and maintenance.
It contributes to clients' success by providing quality services, support, training, and education on all business processes and technology available in the market.
Infinity Center BPO provides outsourcing services focusing on customer-centric solutions delivered by expert project managers. It also offers competitive pricing and an unmatched level of commitment to quality.
Everise is the unparallel customer experience platform enabling brands and enterprises to establish a better relationship with their customers.
The company supports hundreds of firms in driving their business forward by transforming customer care into something extraordinary.
Everise's processes are all backed by enterprise-grade tools that allow the company's teams to deliver consistent, positive experiences across the globe in 32 languages.

At its core, Everise welcomes people of different backgrounds, experiences, abilities, and perspectives.
Comdata, now a part of Konecta, is a leading BPO provider for Customer Management.
The company helps clients optimize their business processes by providing – process reengineering, data management, and pre-paid billing to the telecommunications, energy, insurance, and retail industries.
Comdata works closely with its customers. It acts as an important agent that helps them quickly fulfill their short-term needs while they build relationships that last long-term into the future.
Teleperformance is a leading provider of BPO services.
With over 3,000 call centers and 50, 000 associates, Teleperformance provides customer support to over 4,000 clients worldwide.
The company specializes in customer service, sales, and technical support outsourcing services across 18 markets with 12 regions.
It has more than 1,800 dedicated employees speaking Canadian French. It also provides call center training and senior managers with experience in business development, human resources, and operations.
World Connection is a medium-sized BPO company that offers bilingual contact center and other BPO services.
The company ensures its teams constantly receive education and training on the latest industry technologies, services, and analytical tools.
World Connection plays its company size to its advantage – large enough to handle over 2,000 agents but small enough to remain agile and provide its partners with individual attention.

Genpact is a leading global professional services company providing a broad range of services and solutions in strategy, consulting, digital, technology, and operations.
Drawing upon their integrated offerings and deep industry experience, Genpact's professionals help clients improve their performance and create sustainable value for their stakeholders.
The firm partners with the world's most innovative companies and is a driver of digital innovation for small and medium enterprises to Fortune 500 companies.
Guatecall is an American-owned bilingual call center outsourcing company that also provides other BPO services.
The company offers a wide range of multichannel services, including inbound customer service, customer retention and acquisition, online web chat, and appointment scheduling.
Guatecall's services are marketed to companies in the US, Canada, and Mexico, as well as other Latin American countries.
[24]7.ai is a global customer and sales services provider with operations in Guatemala, the Philippines, Colombia, India, and North America.
The company started out with just 30 employees in Guatemala back in 2006.
Since then, its staff has grown to more than 4,000 across four cities in Guatemala and neighboring Colombia.
The People Company is a Latin American BPO services provider with more than 20 years in the outsourcing industry.
The BPO company serves countries in the LatAm region, such as Guatemala, Nicaragua, The Dominican Republic, El Salvador, and Honduras.
Its services include sanitation, payrolling, recruitment, and facility management.
Atento is one of the pioneers of the outsourcing industry in Guatemala.
The company is the largest provider of customer relationship management and business process outsourcing services (CRM BPO) in Latin America. It is also among the top five globally, revenue-wise.
Atento is also a premier provider of CRM BPO nearshoring services for companies that operate in the US.
Perlimpio Business Process Outsourcing is a primarily cleaning outsourcing services provider that also offers other BPO services.
Aside from outsourced cleaning, Perlimpio offers recruitment and personnel selection services.
Perlimpio assures quality results with its recruitment services through the use of psychometric tests and other candidate screening tools.
Alorica is one of the world's leading BPO services providers, with operations in more than 100 locations around the world.
The company employs over 100,000 staff globally and serves more than 250 clients from various industries.
Alorica boasts a 10-year average client tenure – a testament to the company's excellent services and commitment to providing client satisfaction.
Capgemini is a global leader in providing Cloud and other tech solutions for businesses.
The company utilizes its expertise to help its clients leverage technology and transform their businesses into drivers of innovation.
Capgemini uses various technologies, such as AI and Cloud, to address the needs of its clients from various industries.
It operates in over 50 countries worldwide and is partnered with 85% of the 200 largest public companies in the Forbes Global 2000 list.
White Label Nearshore, as the company name implies, is a Guatemalan white-label outsourcing firm that utilizes its strategic location to offer nearshoring services to US companies.
The company offers white-label solutions across various verticals to its clients from the US. These verticals include social media, graphic design, web/software development, photo/video editing, and website building.
White Label Nearshore helps its clients by hiring, managing, and training world-class talent tailored specifically to their business needs.
24-7 Intouch is a global provider of contact center and other customer services solutions.
The company takes advantage of leading-edge technologies, data-driven insights, and dedicated brand specialists in providing an omnichannel approach to its services.
It serves clients from diverse business sectors, including FinTech, Health Tech, Consumer Tech, Digital Commerce, and Digital Apps and Ecosystems.
The firm has bagged several awards for its excellence in its field, including being named Best New Contact Centre at the European Contact Centre & Customer Service Awards.