Top 20 BPO companies in Mexico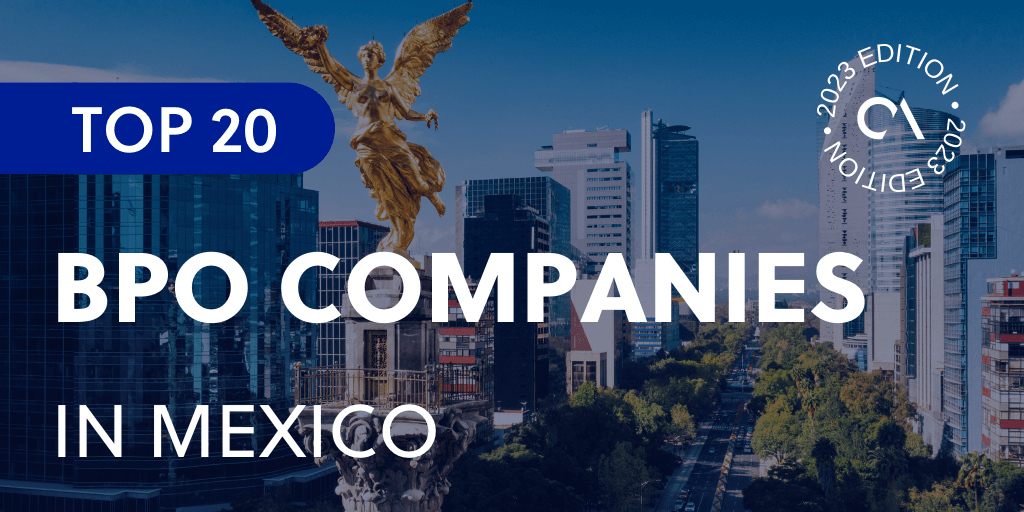 The BPO industry in Mexico has been growing steadily since the turn of the century. 
Its outsourcing industry has been a major contributor to the country's economy. It has been growing at a very fast pace and is expected to continue doing so for the next few years.
Mexico is well-positioned to cater to foreign clients looking for cost-effective solutions to their business needs.
According to Statista, Mexico's Business Process Outsourcing (BPO) sector employed nearly 176 thousand workers. 
In 2020, outsourcing services in the country were expected to generate revenues of approximately 2.4 billion U.S. dollars. The BPO industry in Mexico is expected to continue growing at an exponential rate over the coming years. 
In this article,  get to know the top 20 BPO companies in Mexico that businesses can outsource.  
Top global outsourcing lists
Outsource Accelerator is the world's leading outsourcing marketplace and advisory. We list over 3,000+ BPO firms located across the globe in our global directory, and we provide detailed information, price guides, and reviews.
Whether you're a solopreneur, SME owner, or corporate executive, we can help you find the most suitable outsourcing provider for your business.
Explore our outsourcing directory now. You may also check out our Top 40 BPO Outsourcing lists per country here:
The outsourcing industry in Mexico 
Mexico has a well-established BPO industry. It is one of the top outsourcing destinations in Latin America, along with Brazil and Colombia. 
The country's BPO sector's roots can be traced back to the 1990s when a wave of telemarketing companies opened up shops in Mexico City and other parts of the country.
Today, call centers account for more than 70% of all BPO activities in Mexico. The rest is divided among IT, consulting, and back office work.
The following are some reasons why outsourcing to Mexico is an attractive move for foreign companies:
Highly-skilled workforce.

Mexico has a large pool of qualified labor force with the necessary skillset needed for outsourced services. 

Lower labor costs.

The average wage in Mexico is only $7.03 (USD) per workday. 

Reliable infrastructure.

The country has a progressive infrastructure plan for IT, transportation, and energy projects. 
Top 20 BPO Companies in Mexico
Here are the top 20 BPO companies in Mexico:
Wing Assistant is the world's best assistant for business. Wing provides businesses with dedicated assistants who will take over busy work such as basic research, data entry, social media management, and lead generation.
MCI is a privately held, tech-enabled business process outsourcing (BPO) company that provides Global Customer Experience Outsourcing, Technology & Contact Center Services. Driving modernization through digitalization, MCI ensures clients do more for less. MCI operates globally offering a wide array of pricing configurations.
ConnectUSA BPO is a new breed of business process outsourcing company with the mission to change the industry from within. 
ConnectUSA offers a wide variety of services customized to fit clients' needs. It offers outbound, inbound, chat, email, text, social media support, customer acquisition, relationship enhancement, retention and revenue/profitability enhancement, and CRM optimization.
Virtual Latinos is a human resources company. Its mission is to connect entrepreneurs and agencies from around the globe with virtual assistants and professionals in Latin America. 
Virtual Latinos provides time management solutions that help clients in the United States, Canada, and others across the globe focus on business growth. 
Founded in 2020, CallTree BPO is a midsize call center company comprised of agents offering solutions to clients. The company's use of infrastructure helps a wide variety of strategic goals and objectives.
CallTree BPO offers call center services, back office outsourcing, customer service outsourcing, and sales outsourcing.
Gelsa is a BPO company headquartered in Monterey, Mexico. With over 17 years of experience, Gelsa has been a leader in the results using comprehensive call center solutions.
The company has experts in customer service, telemarketing, collection management, sales, and surveys. It also uses technology for sending SMS messages to cell phones or voice messages to cell phones or landlines.
Requordit is an outsourcing firm with  20 years of experience leveraging the latest software and workforce to offer tailored services for clients. 
The company provides solutions to simple and complex content management and process requirements utilizing Workflow, Case Management, Enterprise Content Management (ECM), Optical Character Recognition (OCR) technologies, and modern solutions like RPA. 
Part of the company's offering includes data entry, validation, high-volume document scanning, invoice processing, and indexing. 
Callcom is a contact center and BPO company headquartered in Monterrey, Mexico providing a wide range of outsourcing solutions for clients. 
The company offers services including customer service, telemarketing, different kinds of collection, autodialer, and market analysis. 
Intugo is a nearshore call center in Mexico providing solutions in the contact center, Information Technology, and back office support. 
The company offers services to small or mid-sized businesses with a dedicated office built to suit the needs of clients.
This organization delivers high-quality, tailored solutions through payroll, tax, accounting, human resources management, purchasing services, screening, and recruiting. 
Adentcom is a call center headquartered in Monterrey, Mexico. Its objective is to contribute to the growth of clients by offering specialized solutions. 
Its services include back office, tech support, lead generation, surveys, and database update.
Intelya is a BPO company with more than 17 years of experience providing solutions through telemarketing, Face to Face, and Help Desk. 
The company's experience and specialization in providing contact center services to clients have allowed them to establish long-term business relationships with clients.
Beliveo is a small call center company and non-voice bpo/back office services company headquartered in Guadalajara, Jalisco, Mexico. It offers solutions focused on voice services and non-voice bpo/back office services.
Remote Team Solutions help growing businesses in hiring and building their virtual teams. It was recognized as one of the top B2B companies and recruiting firms in 2020 by Clutch. 
This staffing solution's provider is based in La Laguna, Mexico. Its services include invoicing, tech support, executing assistant, legal assistant, engineering design, medical processing, designers, and other positions. 
APEX Call Centers is a call center and BPO service provider that was founded in 2017. It provides businesses of all kinds with a full-service center where they can have all of their needs.
Established in 1982, Softtek is the largest, at the same time, leading IT outsourcing provider in Latin America. This multinational outsourcing company also has a global presence across Europe, Asia, and Canada.  
GGA Solutions is an international provider of nearshore business services. They leverage expertise and experience, including a wide range of knowledge, tools, and technologies, to deliver quality solutions for clients around the world. 
The company focus on delivering excellent value through senior management involvement and attention to detail. 
GGA Solutions offer BPO services, including customer service support, back-office support, telemarketing, insurance claim support, as well as IT outsourcing. 
MOTIVA contact center offers the best customer experience in Mexico with a proven, high-tech, and stable platform that provides round-the-clock communication and support to clients.
With over 20 years of experience, its team of experts develops solutions that delight customers while improving their return on investment (ROI).
Part of the company's offerings includes customer service, data entry, technical support, telemarketing, sales, and lead generation. 
SMART-CONNECT is a nearshore call center company with more than 15 years of combined experience in this industry.
The company offers various outbound and inbound outsourcing services such as sales, telemarketing, lead generation, cold calling, customer service, retention, consumer affairs, debt collection, and tech support.
Wexpand is a human resource and outsourcing company founded in 2019. The agency mainly focuses on recruitment, administration, and management of high-level talent from Mexico. 
Its featured outsourcing roles include customer service, marketing strategy, IT-managed services, and back-office outsourcing.
Voxcentrix is a call center outsourcing provider founded in 1999 that delivers customer experience to clients outside of the US. 
It offers solutions through customer services, telesales, telemarketing, tech support, collection partners, data collection, and call center outsourcing.