Top 20 BPO Companies in Colombia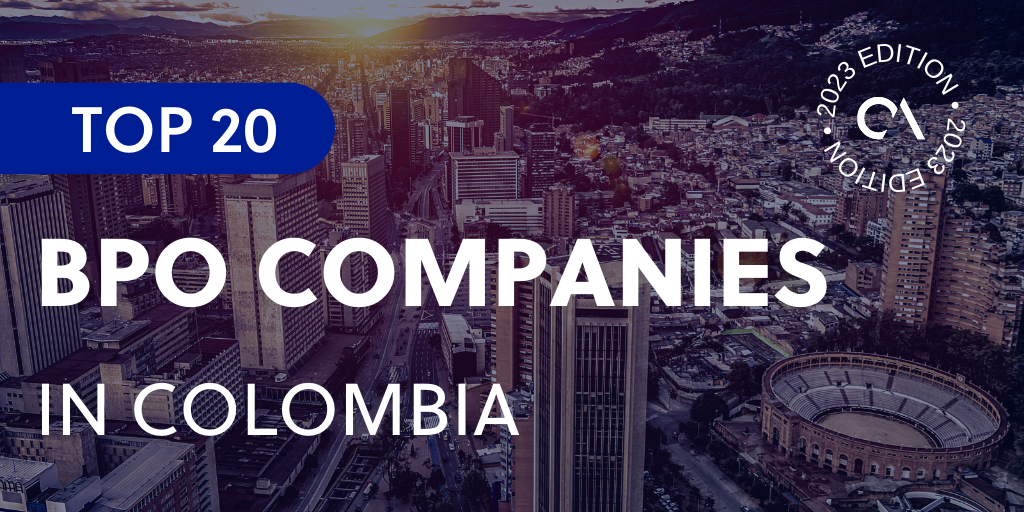 Colombia is the fourth-largest economy in South America, ranking below Argentina, Chile, and Uruguay.
Although the country's economy is primarily supported by the mining, agriculture, oil, and manufacturing industries, the service sector is still Colombia's largest employment sector.
Colombia's BPO sector has helped the country weather the pandemic era. In the early days of the coronavirus pandemic, the outsourcing industry helped create over 15,000 jobs spread over the major industrial regions of the country.
The country's top-notch telecommunications network and infrastructure and its government's efforts to make the outsourcing process smoother for foreign investors have solidified Colombia's position as the leading outsourcing destination in South America.
Top 20 BPO Companies in Colombia
Top global outsourcing lists
Outsource Accelerator is the world's leading outsourcing marketplace and advisory. We list over 3,000 BPO firms located across the globe in our global directory, and we provide detailed information, price guides, and reviews.
Whether you're a solopreneur, SME owner, or corporate executive, we can help you find the most suitable outsourcing provider for your business.
Explore our outsourcing directory now. You may also check out our Top BPO Outsourcing lists per country here:
Outsourcing in Colombia
Colombia is a fast-growing outsourcing destination not only for neighboring countries in the South American region but also for major economies like the US and Spain.
With over 600,000 thousand highly qualified and skilled contact center professionals, Colombia is more than able to meet the demands of outsourcers for competent and competitive services.
Aside from the abundant human resources, Colombia also boasts the lowest salary range in the region.
Salary Explorer places the average salary of a Colombian employee at 4,690,000 COP (USD 1,169) per month, 80 percent lower than the average monthly wage of a US employee.
The potential for cost-efficiency, combined with Colombia's diverse and robust talent pool, has made this Latin American country a top choice for companies seeking to outsource their operations to the region.
Top 20 BPO companies in Colombia
With the growing number of BPO companies in Colombia, it may be rather tricky to choose which company you'll partner with for your outsourcing needs.
To help you in this aspect, we've compiled a list of the top 20 BPO companies in Colombia.
Check out our top picks below.
EMAPTA is a leading example of the new generation of outsourcing suppliers who offer a flexible, but highly professional service. They specifically cater to the small and medium businesses, have 11 high-quality sites around the Philippines and towards 3,000 employees. Read a full review of EMAPTA, here.
Booth & Partners overcomes the challenges of businesses by understanding their needs. We help you drive growth and achieve a better way of working through our uniquely designed outsourcing solutions. Our goal is to co-evolve with our clients by taking them on a journey of business transformation, one that results in mutual growth and synergy.
Read a full review of Booth & Partners, here.
OP360 is a global business process outsourcing firm that offers 24/7/365 professional services. Its services include inbound and outbound call center, data center, and accounting. OP360 also offers technology support, back office,  application and web development.
Founded in 2006, the all-around organization has grown its business, with locations in the United States, El Salvador, Guatemala, San Marcos, India, and the Philippines. Read a full review of OP360, here.
GetCallers is a cloud call center and virtual assistant solution for small and medium-sized businesses.
Since 2008, the company has been a reliable, modern solution for a variety of common business needs. Its inbound and outbound call center representatives and virtual assistants are ready to help customers, manage administrative tasks, and grow your business.
Atlantic Quantum Innovations provides top-level customer experience for small and medium firms in various sectors. Its commitment lies on helping their clients become more competitive through process efficiency.
A leading BPO company in the Atlantic region for more than nine years, the firm thrives on its pillars: client focus, consistency in operations, and continuous innovation.
AtlanticQuantum Innovations operates in seven locations within Baranquilla and Bogota.
CustomerServ is an expert in "rightsourcing" solutions, matching clients with the most suitable contact center providers since 2006.
Its team of thought leaders bring their decades of experience in the outsourcing industry, continuously redefining "success" in every outsourcing partnership.
Headquartered in Texas, CustomerServ has outsourcing partners in over 100 countries, including Colombia.
OrigenBPO is one of Colombia's reliable offshore back office outsourcing partners. It clientele is made up of finance institutions and companies that handle finance-related activities such as bail bonds and credit reports.
More than an outsourcing provider, the firm always looks to build lasting relationships with their clients by being hands-on with their processes. It offers various services including appointment setting, help desk support, and telemarketing.
OrigenBPO is located within the bustling Edificio Cross Business Center in Medellin.
Accelerance combines their resources with topmost professional advisory to offer the best software outsourcing solutions to organizations.
The agency aims to ease its clients' doubts on outsourcing by optimizing their processes according to client standards. Currently, it has matched thousands of experts to suitable companies across the globe.
Accelerance curates the top 1% of software development teams worldwide. This includes Colombia, with over 2,400 developers.
Outsourcing COS is one of Colombia's biggest BPO providers. The firm has been providing top-notch outsourcing services for over a decade – and it currently employs over 8,000 employees!
Serving over 50 corporate clients, COS currently offers outsourced back office, sales, contact center, and HR management services.
Headquartered in Bogota, Callzilla is a full-service contact center and BPO firm catering to US and European enterprises. Clients rely on the firm for their inbound and outbound contact center, back-office, and outreach services.
Callzilla's experience-focused approach drives them to offer solutions that optimize customer satisfaction and employee experience at once.
SkyTel is an established outsourcing company with over 30 years of experience in bringing BPO, KPO, and IT outsourcing services to organizations.
The firm combines their expertise with new technology and strategies so their clients can scale more quickly. Its operations are spread across three countries: Argentina, Paraguay, and Colombia.
Fusion BPO Services is a reliable contact center provider for businesses in the e-commerce, healthcare, telecommunications, and energy sectors. It prides itself in offering multilingual contact center, lead generation, and back-office services.
Aside from taking their client's businesses to the next level, the firm is committed to become the pioneer in customer satisfaction and business growth.
Exela is a renowned BPO company focused on improving customer experience with the help of top-tier quality of work.
It offers a wide range of solutions to improve business processes, strengthen their competition, and increase satisfaction within customers and employees. Some of their offerings include occupational heath and safety, staffing, and payroll services.
Erevu TechWorks is an IT outsourcing company helping clients create flexible, efficient, and robust IT systems. Focusing on software development and cloud computing, the company takes care of the design, development, and deployment of systems on behalf of their clients for better efficiency.
Their operations in Baranquilla helps them strategically vet and match the best developers for US businesses.
More than an outsourcing provider, Quantica BPO prides itself in making customer interactions memorable through their expertise and vision. They keep their client's trust by giving their best service possible in upselling, market research, and customer support functions.
Quantico BPO operates in three Colombian cities: Barranquilla, Bogota, and Medellin.
Iconoi is an IT services and consulting company providing tech solutions for companies coming from various industries.
It caters to a wide range of industries, including health, financial and banking, retail, government, legal, and human resources.
Iconoi's specialized consultants assist clients in improving their business's human resources, industrial, commercial, and financial aspects with business intelligence (BI) and management systems.
Profitline markets its outsourcing services to a diverse set of industries. These industries are the health, pharmaceutical, retail, food and drinks, insurance, home public services, and telecommunication industries.
Founded in 2004, this ISO-certified company offers salesforce, business intelligence, back-office operations, portfolio and orders management, reverse logistics, and technology outsourcing.
BRM stands for Brand Relationship Management – and this is exactly what this BPO company offers its clients.
Founded in 2005, BRM quickly became Colombia's relationship marketing agency.
Now ISO-certified, this leading relationship management company offers a wide range of products and services, including customer relationship management (CRM), digital analytics, content marketing, social listening, contact center services, and search engine optimization (SEO) and search engine marketing (SEM).
DevCo is a software development company that assists other organizations in implementing DevSecOps within their own ranks.
Aside from DevSecOps, this firm also offers software quality testing and assurance, software development, and cloud services.
Solvo claims to be "not your typical outsourcing provider" – but a firm that aims to provide simplified staffing solutions with dedicated and trained professionals.
As described on their LinkedIn page, Solvo is "a nearshore service provider through which companies transfer their employees or business processes to a more cost-effective region near their headquarters."
The company currently has four offices all over Colombia, plus two in the Unites States and Argentina.