Top 20 BPO Companies in Colombia
Last updated: July 19, 2022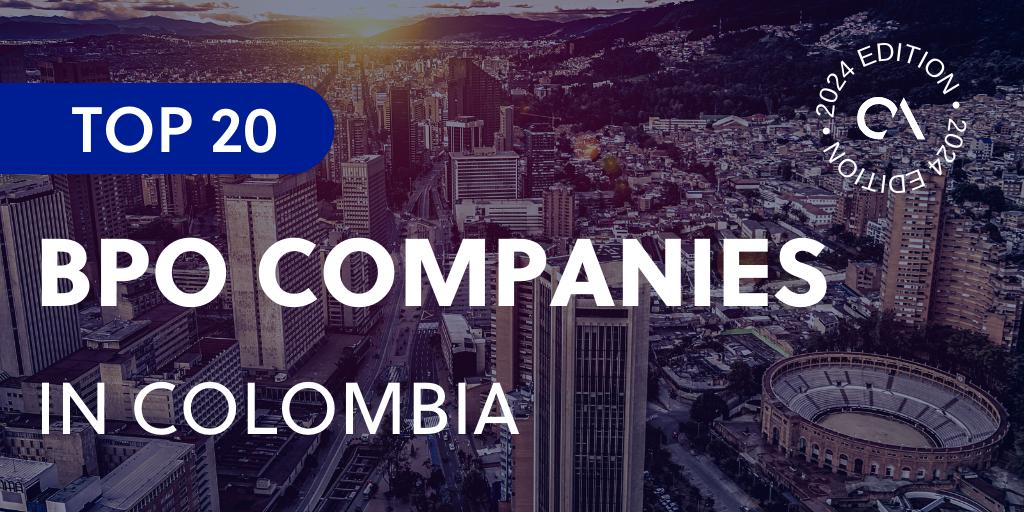 Colombia is the fourth-largest economy in South America, ranking below Argentina, Chile, and Uruguay.
Although the country's economy is primarily supported by the mining, agriculture, oil, and manufacturing industries, the service sector is still Colombia's largest employment sector.
Colombia's BPO sector has helped the country weather the pandemic era. In the early days of the coronavirus pandemic, the outsourcing industry helped create over 15,000 jobs spread over the major industrial regions of the country.
The country's top-notch telecommunications network and infrastructure and its government's efforts to make the outsourcing process smoother for foreign investors have solidified Colombia's position as the leading outsourcing destination in South America.
Top 20 BPO Companies in Colombia
Top global outsourcing lists
Outsource Accelerator is the world's leading outsourcing marketplace and advisory. We list over 700 BPO firms located across the globe in our global directory, and we provide detailed information, price guides, and reviews. Whether you're a solopreneur, SME owner, or corporate executive, we can help you find the most suitable outsourcing provider for your business.
Explore our outsourcing directory now. You may also check out our Top BPO Outsourcing lists per country here:
Outsourcing in Colombia
Colombia is a fast-growing outsourcing destination not only for neighboring countries in the South American region but also for major economies like the US and Spain.
With over 600,000 thousand highly qualified and skilled contact center professionals, Colombia is more than able to meet the demands of outsourcers for competent and competitive services.
Aside from the abundant human resources, Colombia also boasts the lowest salary range in the region.
Salary Explorer places the average salary of a Colombian employee at 4,690,000 COP (USD 1,169) per month, 80 percent lower than the average monthly wage of a US employee.
The potential for cost-efficiency, combined with Colombia's diverse and robust talent pool, has made this Latin American country a top choice for companies seeking to outsource their operations to the region.
Top 20 BPO companies in Colombia
With the growing number of BPO companies in Colombia, it may be rather tricky to choose which company you'll partner with for your outsourcing needs.
To help you in this aspect, we've compiled a list of the top 20 BPO companies in Colombia.
Check out our top picks below.
MAS Global Consulting is a leading hybrid onshore-nearshore outsourcing company servicing the US and South American region.
Headquartered in Florida, US, this firm is founded by a Colombian native and operates its primary development hub in Medellín, Colombia.
Aside from DevOps and QA automation, it also offers its clientele Agile software development, cloud solutions, and modern application integration.
Heinsohn Business Technology is one of Colombia's leading software development and consultancy company and boasts 40 years of industry experience.
Among this firm's offered IT services are big data analytics, cloud computing, software development in diverse technologies, and integration (SOA-BPM).
This leading nearshore software outsourcing company provides clients with UX/UI specialists, QA specialists, and business analysts, as well as IT services ranging from mobile app development to DevOps and front-end and back-end development.
Aside from these, Teravision Technologies also has a project rescue team more than willing to take over a project that proved too much for your in-house team.
BairesDev is a leading nearshore technology solutions company providing clients with high-performing and scalable solutions for their business needs.
This multinational company's roster of services includes staff augmentation, software outsourcing, and the trademarked Staffing Hero, an artificial intelligence (AI) solution for drastically improving a company's team recruitment capabilities.
HatchWorks is an enterprise software service company that provides clients with comprehensive software solutions.
This AWS Certified Partner company helps businesses accelerate digital transformation through Cloud Solutions and its integrated US and nearshore Agile teams.
HatchWorks caters to the healthcare and financial services industries, offering services ranging from software design and development, software redesign and modernization to analytics and AI/ML in data intelligence services.
Founded in 2004, this end-to-end digital services company has grown from a two-person operation to more than 1,200 across the world.
10Pearls provides clients with an impressive array of services ranging from IT staff augmentation and CloudOps and DevOps solutions to salesforce platforms and accelerating digitalization.
It also engages in emerging technologies, including non-fungible tokens (NFTs), AI, and augmented/virtual reality.
Accelerance is a leading provider of outsourced software solutions.
Aside from providing solutions ranging from custom-developed software to various technologies and platforms, this firm also offers outsourcing advisory services to its clients.
Accelerance has hand-picked and scrutinized over 8,000 software development companies against more than 500 criteria to ensure they can point clients to only the top 1% of outsourcing firms.
Sigma Software is another multinational IT solutions provider that provides a wide selection of software solutions and other IT services.
Among its services are AI, big data, e-commerce, gaming solutions, BMP/document management, and Software-as-a-Service (SaaS).
This firm's range of services is matched by the number of industries they cater to, including media and advertising, banking and finance, construction and real estate, energy, and gaming and gambling.
Perficient is a global digital consultancy company providing services in digital marketing and customer experience, data and intelligence, platforms and technology, and strategy and transformation, among others.
Operating in more than 40 countries, this multi-awarded nearshore/offshore software development firm has partnered with leading industry brands, including Microsoft, Adobe, Oracle, Google, and SAP.
This IT and technical services company was founded in 2002 and has expanded its operations from Phoenix, Arizona, to the nearshore technology centers in Colombia and Costa Rica, as well as the UK and other US states.
Intertec International provides its clients with engineering solutions and consulting services and IT and cybersecurity services.
Leanware offers its clients technology consulting to assist them in adopting technological innovations.
Aside from aiding clients in adapting to technological changes, this multidisciplinary firm also offers digital product development, as well as data integration and data engineering services.
Erevu TechWorks is a nearshore outsourcing company providing its clients with IT products and platforms focusing on software development for different platforms, including mobile, web, and Cloud.
The firm also provides business process automation (BPA) services using robotic process automation (RPA) software.
Erevu also specializes in cloud development and helping clients migrate their data.
Compunet provides its customers with quality IT services, including SAP consulting and licensing, cloud services, data center, automation and business management, electronic billing and payroll, and 360 support.
This ISO-certified firm assures its clients of quality service and information security policies.
Compunet operates in four major Colombian cities, including the capital city of Bogota and the US.
ExperTech specializes in giving its multi-sectoral clientele top-notch tech solutions and helping them integrate technological innovations with their business processes.
This firm provides its customers with IT solutions and cloud computing services and helps them understand the need to upgrade their existing infrastructure not just to adapt to the changing environment but also to save on costs.
Iconoi is an IT services and consulting company providing tech solutions for companies coming from various industries.
It caters to a wide range of industries, including health, financial and banking, retail, government, legal, and human resources.
Iconoi's specialized consultants assist clients in improving their business's human resources, industrial, commercial, and financial aspects with business intelligence (BI) and management systems.
Kolvoz offers selective telemarketing services to its customers.
This selective telemarketing company promises to boost its partner companies' sales through the combination of three factors to success: human resources, technology, and process.
Kolvoz's services include customer database management, brand recall, data centralization, and patient follow-ups, among others.
This firm caters to clients in the veterinary, pharmaceutical, and medical fields.
Profitline markets its outsourcing services to a diverse set of industries. These industries are the health, pharmaceutical, retail, food and drinks, insurance, home public services, and telecommunication industries.
Founded in 2004, this ISO-certified company offers salesforce, business intelligence, back-office operations, portfolio and orders management, reverse logistics, and technology outsourcing.
BRM stands for Brand Relationship Management – and this is exactly what this BPO company offers its clients.
Founded in 2005, BRM quickly became Colombia's relationship marketing agency.
Now ISO-certified, this leading relationship management company offers a wide range of products and services, including customer relationship management (CRM), digital analytics, content marketing, social listening, contact center services, and search engine optimization (SEO) and search engine marketing (SEM).
DevCo is a software development company that assists other organizations in implementing DevSecOps within their own ranks.
Aside from DevSecOps, this firm also offers software quality testing and assurance, software development, and cloud services.
Tailorsoft provides its clients with solution-based design and development.
Though initially catering solely to the fashion industry, this firm has since expanded to include other sectors, such as automotive and construction, in its client base.
Among Tailorsoft's services provided are supply chain management, direct selling, and web and mobile development.