Top 40 BPO companies in Europe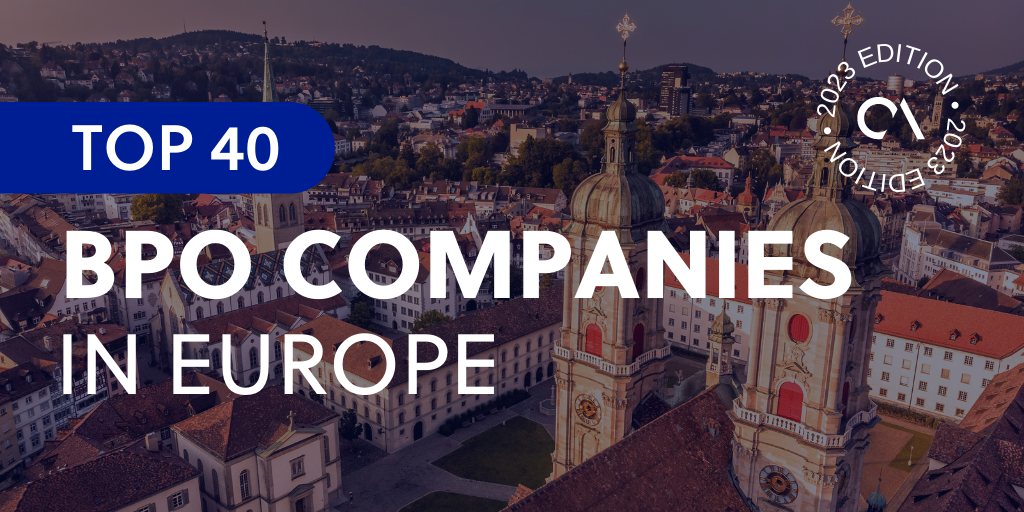 Other than having picturesque sceneries and booming economies, the continent of Europe is one of the most diverse places on the planet. From the cities of the United Kingdom and the Scandinavian nations to the districts of Spain and Portugal, BPO companies have been having a great time building their roots in these places.
According to Contact Centre Helper, a study had shown that more than three million people are employed by contact centers all over Europe.
Now that more and more companies are outsourcing their services to external service providers, this just means that there will be more opportunities for the labor force.
For businesses that are looking to contract out work to European outsourcing providers, you have come to the right place! Here we have listed the top 40 BPO companies in Europe to help you explore your options.  
Top 40 BPO Companies in Europe
Telus International (Bulgaria)
Cience (Ukraine)
SupportYourApp (Ukraine)
Simply Contact (Ukraine)
Limtc (Ukraine)
Mindy Support (Cyprus)
Globalbilgi (Turkey)
Customer Umbrella (Bulgaria)
Wow24-7.io (Ukraine)
Oworkers (Bulgaria)
Belkins (Ukraine)
Baltic Assist (Lithuania)
Cyclad International (Poland)
IntelligentBee (Romania)
Genli (Poland)
Avedo.de (Germany)
N-ix (Poland)
Pearl Lemon Leads (UK)
Curral (UK)
Data Rob (Estonia)
Leadable (Ireland)
Commversion (UK)
Conectys (Portugal)
Dalerio Consulting (Albania)
Simply Contact
Lead Desk (Finland)
Grupo Unísono (Spain)
Abtran (Ireland)
Comdata Group (Italy)
Moranti Services A/S (Denmark)
Asistentka CZ (Czech Republic)
TELAG AG (Switzerland)
In2com (Belgium)
Heloo (Croatia)
AlldayPA (UK)
Top global outsourcing lists
Outsource Accelerator is the world's leading outsourcing marketplace and advisory. We list over 3,000 BPO firms located across the globe in our global directory, and we provide detailed information, price guides, and reviews.
Whether you're a solopreneur, SME owner, or corporate executive, we can help you find the most suitable outsourcing provider for your business.
Explore our outsourcing directory now. You may also check out our Top BPO Outsourcing lists per country here:
The European BPO sector
It's not a surprise that the northern and the western part of the continent is littered with well-established and new BPO companies. The services that these providers offer help other businesses (whether they too are based in Europe or not) focus on their core tasks and responsibilities.
As the BPO sector grows more, many working individuals are hoping to score a role in the industry. One of the known perks of being a BPO employee is continuous career growth within your respective organization.
Despite the challenges of the pandemic, the European BPO industry still provides amazing opportunities for those who want it. According to CBI.eu, the sector's contract value grew to an impressive €2.9 billion (or an annual increase of 61%) in 2019.
There is no denying that the European BPO sector will continuously thrive in full swing in the foreseen future. 
Our list of top 40 BPO companies in Europe is just one proof of how this industry is providing great opportunities to both the labor force and the global business field. 
Top 40 BPO companies in Europe
Below we our top 40 BPO companies in Europe: 
MCI is a privately held, tech-enabled business process outsourcing (BPO) company that provides Global Customer Experience Outsourcing, Technology & Contact Center Services. Driving modernization through digitalization, MCI ensures clients do more for less. MCI operates globally offering a wide array of pricing configurations.
A Sweden-based multinational organization made its way on our Top 40 list. Transcom is yet another established company that took root in Europe and expanded around the globe. They offer outsourced campaigns, from email support to inbound calling services.
Telus is a multinational BPO company with offices around the world. The company is already well-established and can be considered as a 'household name' when it comes to the BPO industry.
The organization provides call campaigns, back-office support, non-voice tasks, and more.
Altamira is a progressive international company that was recently expanded as a result of merge with GBKSOFT. The company offers a broad spectrum of custom software development services and outsourcing services.
They work with clients from the US, UK, Middle East, and Europe offering them the highest quality of service and bringing innovation into their business. Realize, unlock, grow – their motto speaks for itself, they revolutionize the adoption of technologies for businesses!
"Become a unicorn" is SupportYourApp's invitation to prospective clients. The company provides omnichannel customer support to its client base. SupportYourApp has its bases covered, from day to night.
With a multilingual team, Simply Contact prides itself on providing top-notch services all around the calendar. Their teams work with different names from different industries, their expertise spanning across numerous practices.
7. Limtc
(Ukraine)
Limitless is what the company calls itself. Limtc provides all three levels of technical support to their client base, alongside pre-sales and sales support.
Mindy Support is trusted by Fortune 500 companies from all over the world. With over 600 projects worked on, the company never tires in delivering high-quality service.
Globalbilgi is a Turkey-based company with more than sixteen thousand employees all over their local and international offices. The Turkish company offers sales and collection services to its client base. 
It's safe to say that Customer Umbrella is not like the other companies on this list. The Bulgarian company provides game support such as content moderation and digital enablement. Of course, all of those are offered alongside non-gaming services, like e-commerce support and inbound requests.
With a service geared towards startup companies,  Wow24-7 really do their best to wow their new and existing clients. Alongside their startup service, the company also offers eCommerce help and support.
This Bulgaria-based data entry company is Covid-19 ready. Upon visiting their website, a banner would appear, saying that their workforce is 100% home-based at the moment. Oworkers offer multilingual data entry services to their entire client base, spanning different practices.
Seeing tangible results is what drives Belkins to do their jobs right. They deliver outputs beyond expectations and more.
From lead generation to appointment setting, Belkins got you covered.
Baltic Assist is a hire-a-virtual-assistant business based in Lithuania. With their impressive statistics of having numerous positions outsourced, the company prides itself on providing the best customer service support in the Baltic region.
Cyclad International specializes in providing Recruitment Process Outsourcing (RPO), IT, and programming services. The firm currently has six offices, with its headquarters located in Poland, France, Morocco, and the Philippines. 
This Romanian outsourcing company focuses on software development alongside customer support. IntelligentBee provides high-quality mobile app and web development services to their client base.
17. Genli
(Poland)
Genli generates over 1,500 leads every month for their clients. By using LinkedIn's database, the organization is able to deliver high-quality prospects to its consumers.
Hailing from Germany, Avedo supports numerous industries including (but not limited to) recycling, telecommunications, sports, and logistics. With over 16,000 employees around the continent, the company ensures its services' quality.
Getaline GmbH will start off their prospective clients with a piece of sound professional advice—if they so choose. The call center agency tailor fits their solutions to their client base and their needs.
20. N-ix
(Poland)
N-ix has been a tried-and-trusted software development firm since 2002. The firm provides a range of outsourced services – including mobile application development, game development, and software QA testing. 
As an established BPO firm, N-ix has collaborated with industry leaders like OpenText, Novell, Lebara, Currencycloud, and over 50 other medium and large-scale businesses.
Pearl Lemons is a one-stop SEO and PR agency based in London—and they have a sister lead generation company operating under them. Pearl Lemon Leads has the expertise of generating valid and quality leads for their clients.
Curral is another agency based in London, they specialize in delivering leads and prospects, along with LinkedIn marketing. The company lends its hands to businesses that want to optimize their digital marketing strategies as well.
Boost your sales with Data Rob's B2B lead generation tactics. With a 99% conversion rate from their qualified leads, your company will rise above the competition.
Let your in-house team focus on closing deals and leave the lead generation to Leadable. The Irish company lends its support to SMEs and businesses from all over the world. 
Cience is an award-winning People-as-a-Service (PaaS) company providing sales research, inbound lead qualification, and outbound appointment setting services.
This firm assures its clients of the analytical skills of a data science company in the services it provides. These services include digital marketing, sales outsourcing, project management, account-based marketing, sales intelligence, and B2B sales, among many others.
Commversion prides itself in increasing your sales via human-powered live chat. From landing pages to contact forms, Commversion has got you covered.
Conectys provides content moderation support all the way from Portugal. Alongside customer service and digital management, the firm offers 24/7/356 clientele support.
This Albania-based company is digital marketing and a BPO company in one. From managing marketing campaigns to providing multinational customer support, Dalerio Consulting has experts to assist you.
Simply Contact is a leading Ukrainian customer support outsourcing company boasting multilingual and multichannel services across the world.
With more than nine years of experience in the BPO industry, this firm prides itself on raising the standards of call center outsourcing with its 96 percent call resolution rate — done within the call's first 20 seconds.
With an impressive industry range, Quantanite has served companies such as American Express, Time Inc., and TripAdvisor. The company provides around-the-clock customer support services to its clients.
Grupo Unísono is a Business Process Services company based in Spain. The organization spans across different European countries, providing omnichannel and multilingual customer support.
32. Abtran
(Ireland)
This company's mission is to make customer and business process management and outsourcing easy. Abtran makes sure that they deliver the best possible support to their client base.
Comdata Group is a business process outsourcing company responsible for providing digital solutions to companies in most of Europe. 
Moranti Services A/S believes in providing the best resources and services for their client base. From customer services to collection management, the company ensures top-notch support.
Based in the Czech Republic, Asistentka is an aggregator for virtual assistants where clients can outsource and delegate tasks to them. The company provides training for each employee they hire—no more hassle on their clients' side.
36. TELAG AG
(Switzerland)
With over six decades of experience, TELAG AG is considered one of the pioneers in the contact center industry. The company mainly offers support to SMEs and local businesses in Switzerland.
37. In2com
(Belgium)
Provide top-of-the-line customer service with In2Com. The Belgian company provides assistance to public service organizations, NPOs, and private sectors.
38. Heloo
(Croatia)
Heloo prides itself when it comes to delivering customer satisfaction. They say that happy employees perform better. From basic customer service campaigns to more specific ones, Heloo does the job with a smile.
ICM's mission is to provide its clients with fully scalable customer solutions. By doing so, they are able to secure future success—especially in customer satisfaction.
AlldayPA's services range from virtual assistants, remote receptionists, and outsourced call agents. With these under their belt, it's not a surprise that they are considered to be one of the most prolific companies in the UK.