Top 25 BPO companies in Malaysia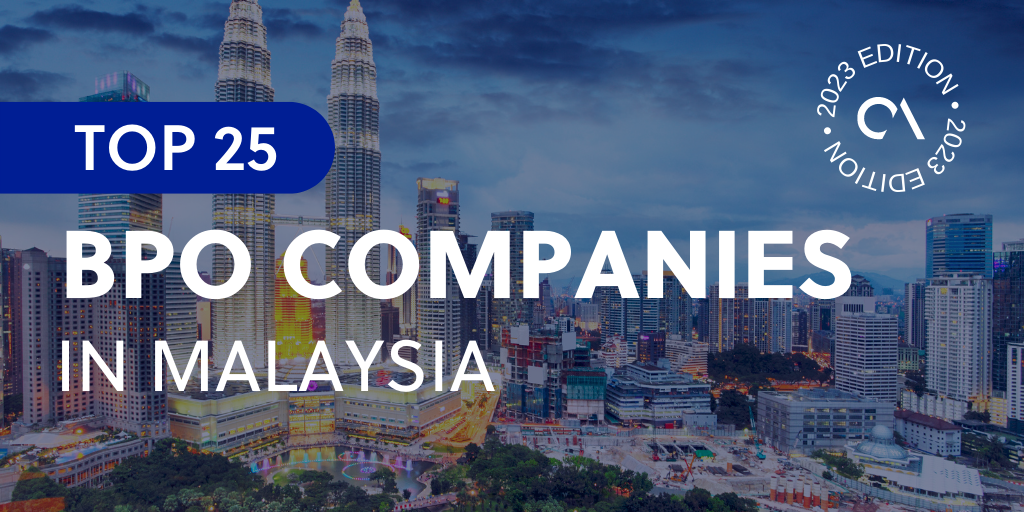 One of the reasons why top BPO companies in Malaysia are on the rise is to fulfill the demand for quality and dedicated workers by clients all over the world. While Malaysia is a scenic Asian country that is known for its tight-knit community and rich culture – it's not falling behind when it comes to producing a young, booming, and talented workforce.
Further, the industry of business process outsourcing in Malaysia—and the rest of Asia—continues to grow exponentially, all thanks to the globalization of jobs.
What is business process outsourcing (BPO)?
Business Process Outsourcing (BPO) refers to the activity of offloading jobs and responsibilities to external service providers. There are some organizations that provide outsourcing services but are limited to a few specialties and practices.
Most, if not all, of these companies provide a multitude of services to partners and clients in exchange for a fee.
This is to say that while it is a cost-efficient business model to adapt, it is rather an expensive and major decision. There are things that an organization needs to consider before outsourcing.
Top BPO companies in Malaysia in 2023
Top global outsourcing list
Outsource Accelerator is the world's leading outsourcing marketplace and advisory.
We list over 3,000 BPO firms located across the globe in our global directory, and we provide detailed information, price guides, and reviews.
Whether you're a solopreneur, SME owner, or corporate executive, we can help you find the most suitable outsourcing provider for your business.
Explore our outsourcing directory now. You may also check out our Top BPO Outsourcing lists per country here:
Services that can be outsourced to BPO companies in Malaysia
To preface, there are certain responsibilities and jobs that businesses shouldn't outsource—the reasons may vary but the sentiment remains the same.
Of course, other than those off-limit roles, there are jobs that can be outsourced freely, whether it's to an outsourcing company or to a freelancer, it won't matter as long as the job gets done correctly.
Back-office tasks

Digital marketing

Accounting and bookkeeping

Customer service

Voice campaign

Non-voice campaign
Top 25 BPO companies in Malaysia
These companies offer a multitude of services that organizations, partners, and clients can opt for. Choosing a service provider may not be easy but this article—along with other research materials—can assist businesses in narrowing down choices.
EMAPTA is a leading example of the new generation of outsourcing suppliers who offer a flexible but highly professional service. They specifically cater to small and medium businesses, have 11 high-quality sites around the Philippines, and towards 3,000 employees.
Read a full review of EMAPTA here.
ENVO BPO is an outsourcing company located in Selangor, Malaysia. The company provides top-notch outsourcing services such as customer service and help desk, lead generation, telemarketing, and IT outsourcing.
ENVO guarantees freedom in workload, professional outsourced teams, and allowing businesses to focus on what truly matters.
Another top BPO company in Malaysia is located in the state of Selangor: Upstream BPO.
With services such as inbound call centers, helplines, telesales, cold calling, and appointment setting, the company is amongst the most successful Malaysian outsourcing companies in the country.
In 2015, the company was awarded the MSC status Malaysia from MDEC.
From customer experience management and talent outsourcing to IT outsourcing, Brandt International from Kuala Lumpur gives it all its best, earning its spot among the top outsourcing companies in Malaysia. 
They made the promise of empowering their customers and clients to focus on core activities while they do their job
Wingo Starr Group offers cybersecurity services on top of outsourced customer service activities, making them one of the top outsourcing companies in Malaysia at this point.
Located in Kuala Lumpur, the company serves clients from all over the country and the world, spanning different industries.
Also known as RBCC from Selangor, they provide inbound and outbound outsourced activities to their clients, who happen to span across different countries and numerous industries.
From seasonal contact centers to loyal management systems, they have it all.
Canaan Communications & Technologies of Kuala Lumpur sets itself apart from other top outsourcing companies in Malaysia. 
From their website, they have employee upskilling programs to allow their employees to do better at their jobs. 
Apart from this, they provide contact center solutions and outsourced digital marketing activities for their clients.
Customer Connect Malaysia, or CCM, is another top outsourcing company that aims to provide worldwide customer service, telesales, tech support, and insourcing to its clients.
With an office in Kuala Lumpur, the company aims to align themselves with their clients' goals and objectives as a whole.
Through combined expertise, capabilities, and overall world-class outsourced services, VPO Services of Kuala Lumpur aims to achieve ultimate customer satisfaction while maintaining a healthy work-life balance. 
From inbound and outbound calls, the company provides endless talents to its clients and partners.
Formerly known as NXG Shared Services, NXG Global provides quality outsourcing services to their clients—including but not limited to, sales, marketing, branding, HR, finance, and customer contact management.
The 'first MSC status company in East Malaysia' is a top contender for the best BPO company in Malaysia, given their experience in the field.
On top of managed ICT services, VADS Berhad of Kuala Lumpur provides outsourcing services too. Making them another top BPO company in Malaysia that offers social media engagement, tech support, contact center services, and much more
Located in Kuala Lumpur, SRG Asia Pacific's services span four different branches of outsourcing:
Knowledge Process Outsourcing

Human Resources Outsourcing

Business Process Outsourcing

Information Technology Outsourcing.
With these multitudes of services, the company aims to provide adequate support to its clients and business partners.
DayThree is a modern outsourcing company running on modern technology and standards, providing curated services such as CX management, back office and administrative tasks, and robotic process operations.
The Selangor-based company provides these services to their prolific clients, who come from different industries and sectors.
CALLMARK Solutions is another Malaysian BPO company from Selangor. They provide outsourced services such as B2B marketing and lead generation, data management, inbound and outbound call center services.
At its core, the company believes that human interactivity is the most important aspect of everything they do as an organization.
Moving into the bigger and better premises in telemarketing services to customer care solutions, Bendigo Marketing still hasn't changed its mission to provide world-class outsourcing services to its customers and clients.
The organization's ethics are consistent when it comes to offering services such as telemarketing services to customer care solutions.
Teleperformance is undoubtedly one of the top Malaysian BPO companies in the world, with its expansive reach spanning countries from the east to the west.
With its reach, the company provides world-class outsourcing services such as back-office assistance, inbound and outbound campaigns, telemarketing, and so much more.
With two offices in Malaysia, ABeam Consulting has been taking different industries by storm. What started out as a consultation firm expanded to 16 different outsourcing offices stationed all over the world.
From supply chain management to sales support and financial accounting, ABeam Consulting makes hard work all worthwhile.
RSM Malaysia stated one reason why companies should outsource: it's to allow them to focus on their core responsibilities and tasks while achieving long-term objectives.
Located in Kuala Lumpur and Johor Bahru, the company provides outsourced services such as accounting and financial, payroll services, and even staff placement services as well.
Scicom Berhad is different from other top Malaysian BPO companies on this list as they offer WFH BPO services as a reliable remote CX.
They provide large-scale business solutions to their clients from all over the globe, proving that remote work is an efficient model of working.
With an office in Kuala Lumpur, Scicom Berhad remains to be one of the multilingual outsourcing hubs in the country.
EPS Malaysia is the country's most trusted recruitment and outsourcing specialist. Their clients from different industries can outsource HR practices, payroll activities, and even recruiting efforts straight to the company.
With four offices dispersed in the country, EPS Malaysia offers outsourcing and RPO services with no holds barred.
Staying true to their name, Documation of Selangor, Malaysia is an outsourcing company that focuses on data and document process outsourcing.
Their services may be a little bit different from other top Malaysian BPO companies on this list but at their core, it's closely similar.
The company helps organizations to translate their data into eligible information in a secure environment.
"Let us take care of your business service needs, while you take care of your clients." That's how Crowe Malaysia introduces its business outsourcing procedure to the masses.
The organization doesn't mind the size of their client's company—no matter how small or big the workforce is, they aim to provide assistance (payroll, CFO, audit, and tax reporting) from start to finish.
Another well-known outsourcing company lands on this list, TDCX Malaysia.
The major player provides outsourced services such as content moderation, e-commerce assistance, revenue generation, and inside sales to their most trusted clients.
More and more employees around the world are looking for a stable remote work environment, so TDCX steps up with a work-at-home regime for them.
Startek Malaysia is another contender for remote and cloud working—opening opportunities for employees to continue working without ever going to the office.
On top of teleworking, the company provides outsourcing services to their clients like CX engagement and omnichannel support.
Startek wants to prove the effectiveness of remote working in 2022.
Conduent Malaysia's reach spans across 12 different practices and industries but the quality remains to be world-class.
With a multitude of outsourced services such as CX engagement and healthcare management, they aim to provide automated and flawless outputs to their worldwide clients.
How the Malaysian BPO industry changed during the pandemic
COVID-19 continues to ravage communities and economies all over the world—there are ongoing debates as to whether we are on the tail end of it or not.
Despite the dire circumstances, the Malaysian BPO industry managed to maintain a growth rate of 3.1% over the period of 2019 to 2024, according to Global Data.
This goes to show that the BPO industry, no matter how harsh the external conditions are, is still a stable sector that brings up economic growth in any country it touches.