Top 30 BPO companies in Jamaica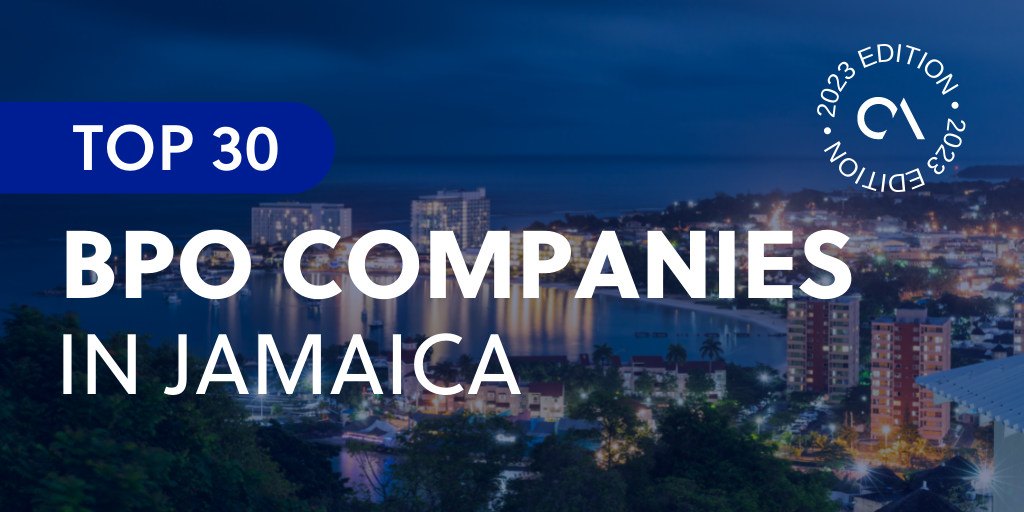 The global Business Process Outsourcing (BPO) industry will continuously soar. As expected, more and more companies will tap into outsourcing for growth and expansion.
Besides this practice's boundless perks, clients are also given the opportunity to get a hold of seasoned global talents through offshoring.
Outsourcing, in general, does not just aid thriving businesses but also helps developing countries in their economic growth. What's more, this industry's steady progression globally creates more job opportunities for every working population.
This is especially true with outsourcing companies in Jamaica.
Many people may not be aware that this tropical country is more than just its magnificent beaches and stunning topographies. Jamaica is slowly emerging as a global outsourcing hub in terms of online digital services, IT-enabled services, and call center functions.
Here we have compiled a list of the top 30 BPO companies in Jamaica. More so, discover why Jamaica is now an emerging outsourcing location not just locally but globally. 
Top 30 BPO companies in Jamaica
Global outsourcing list
Outsource Accelerator is the world's leading outsourcing marketplace and advisory. We list over 700 BPO firms located across the globe in our global directory, and we provide detailed information, price guides, and reviews. Whether you're a solopreneur, SME owner, or corporate executive, we can help you find the most suitable outsourcing provider for your business. Explore our outsourcing directory now. You may also check out our Top 40 BPO Outsourcing lists per country here:
BPO as a lucrative industry in Jamaica
The world knows Jamaica for its luscious beaches, majestic waterfalls, and its boosting tourism.
Quick trivia: The island is the native home of the famous Bob Marley, who introduced us to reggae music.
This island country that is situated in the Caribbean sea is now also emerging as one of the optimum destinations for the global BPO services industry.
Over the last few years, the outsourcing industry in Jamaica has played a huge role in the country's economic progress. At present, Jamaica has over 60 BPO companies, mainly located in Mandeville, Montego Bay, Kingston, and Portmore.
In general, these BPO Companies can provide roughly about 36,000 jobs to the country's population. A good number of jobs given to Jamaicans also came from corporations listed in our top 30 BPO companies in Jamaica.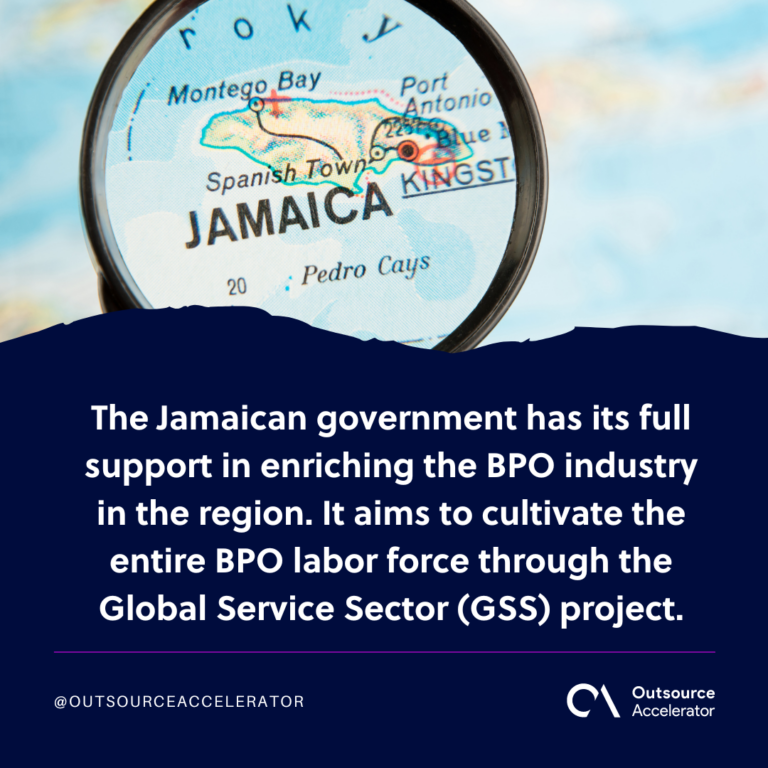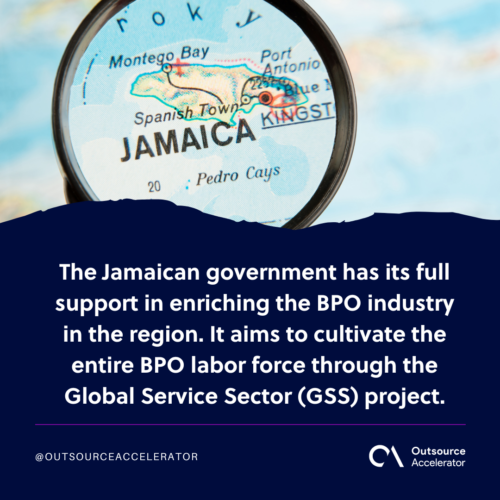 Why US firms are outsourcing call centers in Jamaica
The BPO sector in the country has been an offshoring destination for international companies located in Europe, Asia, and more. It has also been a nearshoring powerhouse in terms of call center roles for companies in the US.
Nearshoring enables these organizations to save up to over 40%-60% of their costs compared to having their call centers in-house.
Close proximity, cultural compatibility, and economic ties are essentially what draw American companies to nearshore to Jamaica. Further, the country is also considered the third-largest English-speaking nation in the Western Hemisphere.
The Jamaican government has its full support in enriching the BPO industry in the region. It aims to cultivate the entire BPO labor force through the Global Service Sector (GSS) project.
GSS projects involve various skills development programs that are more focused on the call center field for secondary school students. These programs include language and communications skills and technical training.
GSS initiatives also offer customer service certification courses and career advancement programs for both customer service and data operations.
For US companies that are looking to nearshore in the country, we have a good number of call centers in our list of top 30 BPO companies in Jamaica. 
Top 30 BPO companies in Jamaica
In the next few years, as foreseen in the coming years, more BPO companies will be established in the country. 
At present, here is our list of top 30 BPO companies in Jamaica:
At present, ADS Global has a total of 250-999 employees at its headquarters in Montego Bay. Aside from traditional call center roles, this BPO company also provides consulting, contact center management solutions, and audience development services to different firms globally.
Global Outsourcing Solutions was established in 2012 and is located in Montego Bay. This outsourcing provider prides itself on offering high-quality and cost-effective call center solutions for international clients.
Part of GO solutions featured services are debt collection, technical support, telemarketing, customer service, and back-office support.
itel has its physical locations in Montego Bay, North America, and Latin America. It mainly offers smart solutions for business processes and contact center management services for organizations of all sizes.
itel is known as an international, award-winning customer experience provider that serves different industry sectors. Among these industries include Automotive, Entertainment & Gaming, Retail, Ecommerce, Healthcare, and more.
Etech claims to be the leading outsourcing provider of customer engagement solutions for several well-renowned brands across the globe.
Founded in 2003, the BPO company is currently partnered with more than 47 happy and satisfied clients from various locations.
Etech offers a variety of call center functions, including inbound and outbound calls, email, live chat, back-office support, tech support, and more.
Besides its headquarters in Kingston, this multinational BPO company can also be found in 42 other countries scattered across the globe.
VXI Global Solutions Inc has continued to set the bar high for global customer care services and customer experience since its inception in 1998.
Fusion BPO is one of the leading names in BPO services worldwide. They offer premium contact center solutions to companies across several industries and specializations.
Fusion BPO is spread in multiple locations across several countries, including the US, the Middle East, and Jamaica.
Based in Miami and Kingston, Callux provides top-quality call center services to global firms. They aim to provide round-the-clock services at an affordable rate and give their clients the greatest chance to connect with their customers.
Advantage Communications has widespread locations in Canada, Mexico, and Jamaica. Founded in 1996, through its industry experience, it delivers high-standard customer service solutions that conform with the client's requirements and budget.
Advantage Communications can be found in two locations in Jamaica: Kingston and Portmore.
CEAC Outsourcing Company is a Kingston-based BPO firm specializing in human resource management, staffing supply, logistics, and business support services.
CEAC Outsourcing tailors its services to clients' needs and maintains compliance according to the labor regulations and restrictions of a company's location.
True to its famous tagline, "Customer engagement matters," Startek offers customer care solutions in a different and more meaningful way. Together with its command center in Kingston and several locations scattered across the world, this BPO company has been serving its global clients since 1987.
For several years, Startek has been partnering with businesses in Technology, Cable Media, Healthcare, Retail, Telecommunications, and more.
NK Customer Solutions is one of the Top BPO Companies in Jamaica. It strives to be able to sustain a type of working environment that feels more like a home for both their employees and clients.
Headquartered in Annotto Bay, this outsourcing firm has featured services like billing & collections, customer service, data entry, order entry, and more.
Yateman International is an all-around BPO vendor that has been operating in Portmore since 2004. Its featured services are digital marketing roles, customer service, administrative support, and data entry services.
They also offer virtual assistant support for international clients. According to their website, Yateman International is one of the top-rated agencies in Upwork, and it has a 100% job satisfaction rate from all clients.
Among NICE Global's customer service solutions are technical support, after-hours help, sales, back-office operations, answering service, and email.
This nearshore inbound call center provider can be found in Montego Bay. More so, its industry focus is in the financial services, business services, consumer products & services.
JOBSltd provides telesales and call center services for a wide range of industry sectors. This outsourcing company works well with organizations from small to medium-sized and large companies.
As per JOBSltd, the BPO company aims to be the main source of outsourcing clients' in fulfilling their outsourcing needs.
CustomerServ claims to be one of the largest and mature call center outsourcing companies in the Caribbean. This call center outsourcing provider has been catering to nearly every industry sector for over 30 years.
Over the years, CustomerServ has also been supporting several charity organizations like Texas Children's Hospital, Habitat for Humanity, School Lunch Fairy, and more.
The founders of Collective Solutions are entrepreneurs that seek to offer the collective call center solutions for large corporations and their fellow entrepreneurs. Aside from its physical office in Sandy Bay, its global presence can also be seen in Honduras, Philippines, and California.
The Office Gurus is an international award-winning call center outsourcing company that has its headquarters in El Salvador, US, Belize, and Jamaica.
This renowned outsourcing company utilizes state-of-the-art technology to achieve cutting-edge performance and satisfy their client's needs.
The Office Gurus makes use of the latest call center tools like skill-based routing, IVR, speech analytics, learning management systems and more.
With over 12 years of call center outsourcing experience, Happy Customers LLC has employed professional experts in the outsourcing industry. This BPO company offers fast and effective call center solutions with flexible pricing systems.
Hands Working Virtually Inc has all-in-one outsourcing solutions to help organizations scale their operations. Its offered services range from data entry, social media management, content moderation, phone support, and more.
Some of their global clients include My Daily Choice, Hempworx, 8 Sheep Organics, Designing Digitally, etc.
Flat Bridge Ltd offers both local and international virtual workforce for marketing & sales functions, managed services, and customer services.
This BPO company employs skilled professionals with various specializations who are always ready to represent a client's brand with grace and integrity.
VL BPO helps multinational companies to effectively attend to their customer's needs and, at the same time, achieve high customer satisfaction.
This outsourcing service provider ensures to exceed their client's expectations, deliver superb outcomes, cultivate long-term relationships and increase cost and profit margins.
Intelec BPO is a call center outsourcing company that can be found in Kingston. It specializes in inbound sales, health insurance, and tech support.
Its offered call center solutions help streamline an organization's call center operations while continuously saving up on their overall costs.
Visucom Global Solutions is a Knowledge Process Outsourcing (KPO) firm that is situated in Kingston. This outsourcing company is also a member of the Kaizen Group of companies.
Additionally, Visucom Global currently has over 200 outsourcing staff that works with different clients in several industries.
Genesis Support Solution is a customer support solutions provider based in Montego Bay, Jamaica. Comprised of a team of call center veterans, the firm is committed to providing unmatched support services to global companies of all sizes.
"Excellent client experience" is Key BPO's top priority. This BPO services company offers an array of outsourcing functions for all types of businesses.
Among its featured offers are social media management, virtual assistants, software development, technology support, and more.
Visionary Outsourcing Solutions was founded in 2016 and is established at Montego Bay. This BPO company specializes in inbound & outbound call center functions, including automated & interactive services.
Part of the company's mission is to be able to provide low-cost nearshoring solutions,  along with having a talented workforce, top-quality services, and outstanding customer satisfaction.
Platinum BPO proclaims itself as the leading provider of contact center solutions worldwide. Its contact center solutions are composed of – tech support, customer service support, sales support, and back office services.
Its clients are organizations in the Finance, B2B, Insurance, Telecommunications, Hospitality, and Healthcare industry.
Tactical Development Solutions Ltd featured outsourcing functions are customer service, sales, debt collection, email chat support, lead generation, and data entry. Its core values are solely focused on integrity, ethics, and innovations.
Anglin Global Affiliates is another international award-winning BPO company that is based in Montego Bay. Its specialization is focused on customer acquisition management.
This outsourcing company also offers call center rentals with high-speed internet, data security, and BPO support services.
Jmh Teleconnections and Events is an outsourcing and offshoring services company that caters to multinational clients in the US, UK, Canada, and the Caribbean.
Aside from inbound and outbound call center solutions, this outsourcing company also provides financial services to different organizations worldwide.
Are you in the top 30 BPO Companies in Jamaica list? Get in touch with us today!
If you are one of the top 30 BPO companies in Jamaica listed above, don't miss the chance to be listed in our BPO directory! Contact us today at [email protected].
You may also check out our outsourcing podcasts. Our CEO, Derek Gallimore has insightful discussions with some of the seasoned outsourcing business leaders around the globe!