Top 20 BPO Companies in the UK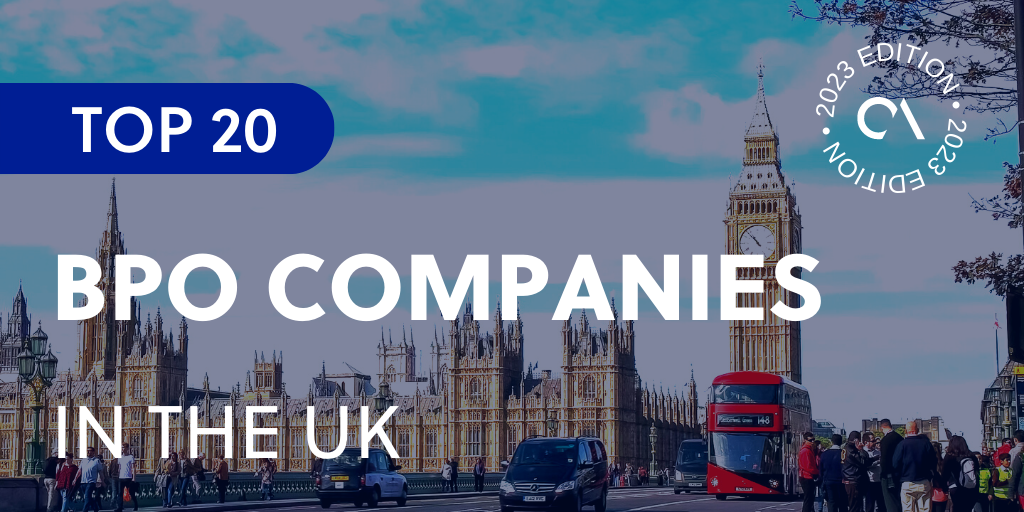 Not all businesses have the staff, the resources, and the necessary skills to meet client expectations, especially in call center service.
While companies can certainly hire in-house customer service personnel, it can be too expensive as they also need to pay for customer service training and other facilities required to make it happen. 
Many enterprises across all industries face this problem. In this case, business process outsourcing (BPO) call centers are a huge help. 
Why Companies Should Consider Outsourcing
Business process outsourcing is extremely beneficial to all kinds of businesses, especially to huge enterprises whose vision is to provide unwarranted customer satisfaction. Here are some of the many advantages of outsourcing:
Lower operational and labor costs.

This is usually the main reason why companies outsource. When done correctly, it substantially impacts company revenue, resulting in considerable savings.

Leverage global knowledge.

Through

offshore outsourcing

, businesses can tap into and utilize a global knowledge base, acquiring access to top-notch capabilities.

Maintain emphasis on their core business processes.

By giving external organizations equally important but mundane and time-consuming tasks, businesses can focus on their core business process. 

Reduce expenses and reserve capital to maximize earnings.

In many situations, outsourcing is done to reduce costs and give businesses a capital reserve that can be used to leverage resources to maximize revenues for the business.

Expand market areas.

In other cases, outsourcing is done for businesses to grow and enter new market areas by moving the manufacturing and service delivery locations closer to their new target market. 
Top 20 BPO Companies in the UK
Top global outsourcing list
Outsource Accelerator is the world's leading outsourcing marketplace and advisory. We list over 3,000 BPO firms located across the globe in our global directory, and we provide detailed information, price guides, and reviews.
Whether you're a solopreneur, SME owner, or a corporate executive, we can help you find the most suitable outsourcing provider for your business.
Explore our outsourcing directory now. You may also check out our Top BPO Outsourcing lists per country here:
How to Choose the Right Outsourcing Destination
As more and more companies use outsourcing services to fulfill their business operation requirements, the number of BPO companies across the globe continues to rise.
While India and the Philippines are probably the most familiar names for outsourcing services, countries in America, the Middle East, and Europe also have thriving BPO industries.  
How do businesses choose where to outsource? Here are some of the things to consider:
Profitability. The affordability of outsourcing to any foreign country must be taken into account. Business owners may examine the country's tax policies and other economic aspects that influence the prices of the services.
Skilled Talent Availability. Every outsourced location and outsourcing firm has a talent pool with specialized areas of expertise. Ideally, business owners should choose an outsourcing country that best meets the talent requirements of their company.
Government Regulations. Choose a country for outsourcing with legislation supportive of the practice and a favorable business climate. Government assistance through tax breaks, labor rules, and public infrastructure can help the company's outsourced ventures succeed.
Cultural and Linguistic Differences. Business owners should choose an outsourcing location where their market won't face many linguistic and cultural barriers. Primarily, clients can easily find countries with strong English proficiency and work cultures they can easily integrate into.
Top 20 BPO Companies in the UK
The United Kingdom, one of the European countries with a better economy, also has a flourishing BPO industry. Below are the top 20 BPO companies in the UK. 
MCI is a privately held, tech-enabled business process outsourcing (BPO) company that provides Global Customer Experience Outsourcing, Technology & Contact Center Services. Driving modernization through digitalization, MCI ensures clients do more for less. MCI operates globally offering a wide array of pricing configurations.
Face For Business started in 2012 when its founders recognized the increasing demand for call-answering services. With headquarters in Burscough, England, the company began taking its first call in 2013 following thorough study and an extremely selective hiring procedure. 
Face For Business provides outsourcing services, including telephone answering service, virtual receptionists, outsourced switchboard, diary management, and live chat. 
Situated in Thatcham, United Kingdom, call answering service provider Verbatim Virtual Receptionists was established in 1997. The team of roughly ten workers provides back-office and non-voice BPO services.
Verbatim's outsourcing services include call answering, virtual receptionist, web chat answering, 24/7 call answering, business continuity, lead qualification, and a virtual call center.
The Contact Company is an outsourcing company with over 250 workers headquartered in Birkenhead, United Kingdom. It was launched in 2006 and specializes in BPO voice and back-office services.
The team collaborates with SMEs and huge enterprises from different industries, including business services, financial services, retail, telecommunications, and e-commerce.
The organization provides customer contact, insight analysis, and compliance support services. 
Since it was founded and has been running in Leeds, UK, for over a decade, Arise is known to be the pioneer of technology outsourcing and on-demand customer management. 
Its robust cloud-based platform offers a virtual network across the country to link organizations needing scalable and unwarranted customer service and sales support with work-from-home service professionals. 
Arise provides services to companies from different industries, including retail, travel & leisure, eCommerce, energy & utilities, telecom & media, and distribution & logistics.
Deeper Insights is a machine learning and data science consultancy in London and was established in 2014.
Its ten-person company has another headquarters in Portugal and specializes in business consultancy, big data consulting, artificial intelligence (AI), and custom software development. 
The primary industries served by its midmarket and enterprise clients include advertising, consumer goods, financial services, and healthcare.
AMD Consulting is a small firm in London, UK, and was established in 2019 out of the founder's search for suitable partners in the B2B and B2C economy. The company provides outsourcing services, including outreach plans, growth marketing, and business consulting. 
AMD Consulting offers services to companies from different sectors like business services, legal, financial services, information technology, and eCommerce. 
SmartPA is the top provider of virtual assistants in the UK. The company was established in 2008 and now employs over 300 people to cater to companies of all sizes.
SmartPA provides outsourcing services, including diary and email management, bookkeeping services, transcription and typing, document production, data entry, and CRM support, travel management, human resource and employment, back-office support, and personal assistance. 
Medium-sized sales outsourcing business Operatix has offices in Fleet, United Kingdom, California, and Dallas, USA. The company, founded in 2012, specializes in call center and sales outsourcing services. 
Operatic offers marketing, channel, senior leadership, and sales solutions to startups, SMEs, and enterprises from eCommerce. Information technology and telecommunications industries. 
Answer4U is a BPO company providing phone answering services. It was founded in 2004 in Nottingham, UK, and offers voice and back office services.
Being a midsize company, Answer4U comprises seasoned call-handling agents who are customer-centric and provide customer service with unwarranted expertise and professionalism. 
The company also provides outsourcing services, including virtual reception, outsourced customer service, and inbound telemarketing. 
Founded in 2017, Curral started as a two-person lead generation agency in Stevenage, England. The company does an omnichannel outreach strategy to produce business development in the UK, US, Middle East, & Europe. 
Curral provides direct marketing, voice services, and social media solutions to small and mid-market companies from different industries, including business services, advertising & marketing, medical, financial services, media, and information technology.
Established in Norwich, England, in 2019, The Lead Gen Dept assists B2B businesses in generating and interacting with sales-ready leads through ideal customer profiles (ICPs). It also assists clients in connecting with and scheduling meetings with pre-approved target accounts. 
The Lead Gen Dept does all top-of-funnel tasks that result in a prospect asking for a call and have extensive experience in the enterprise sector.
Founded in London in 1998, CallCare is an agency that provides voice, non-voice, and back-office services. The company is committed to always putting people first – they offer services that add value and make their clients' lives easier and less complex. 
Among the services that CallCare offers include customer services, incident management, and receptionist services to companies from across all industries. 
Known as an international leader in customer experience solutions, Konecta was established in 1999 in Milton Keynes, United Kingdom. Comprised of over 10,000 employees, it provides flexible model solutions which can be customized to suit the requirements of each of its clients.
The company's focus areas include digital customer experience, digital transformation solutions, and complete BPO services. 
Founded in 2010 in Southend-on-sea, United Kingdom, Ventrica is a call center that provides various services, including voice, non-voice, back office, and human resource services.
It also offers digital solutions, including omnichannel, conversational commerce, and CX software development & consulting.
Ventrica caters to business services and consumer products & services industries. 
The marketing company Growthonics was established in London in 2014. With over 1,000 employees, the company caters to small and mid-market business services companies with email marketing and business consultancy solutions. 
Among the services that Growthonics offers include data management, lead research, outbound marketing, and sales development representative to companies from across different industries. 
AllDayPA started as a midsize agency founded in 1999 and headquartered in Salford, United Kingdom. It is a contact service center that offers telephone answering, virtual receptionist, outsourced call center, and call handling services.
Comprised of skilled talents with relevant expertise, AllDayPA caters to companies from the property, legal, healthcare, information technology, marketing, and advertising industries. 
The Telemarketing Company is a reputable, high-quality B2B telemarketing and telesales services supplier for companies around the globe. Operating in Brighton, the company has focused on voice-based outbound demand creation and lead generation since 1990. 
The company offers flexible, multilingual telephone-based services for businesses globally and has over 200 seats across its dedicated telemarketing, research, and inbound departments.
The sales outsourcing business SalesCaptain was established in 2021. The company has a small group in London, United Kingdom. Aside from call center services, SalesCaptain also offers sales outsourcing, direct marketing, CRM consulting, and SI.
The company caters to companies from advertising & marketing, business services, financial services, medical, and information technology industries. 
Ant Marketing was founded in 1989 in Sheffield, UK. The company provides services that focus on customer experience and business development, ranging from customer service and crisis management to business continuity.
Ant Marketing caters to companies from different industries, including advertising & marketing, automotive, business services, financial services, gaming, information technology, media, and utilities.