Top 20 BPO companies in Morocco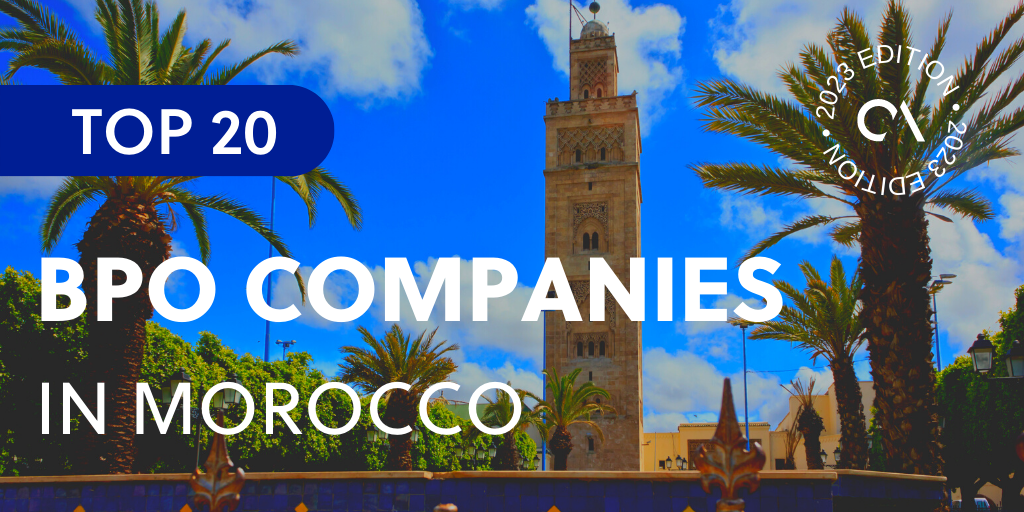 List of BPO companies in Morocco
Business process outsourcing is a hundred-billion-dollar industry. In 2022, it had a market size value of $329.9 billion globally. It is predicted to continue to grow in the coming years as demand persists.
Meanwhile, BPO companies in Morocco are generating about $1.4 billion annually. They attract both local and international organizations in the U.S. and Africa due to their low-cost services and expert professionals.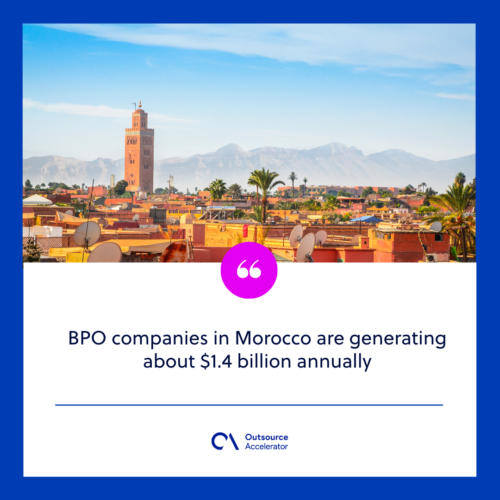 Morocco's outsourcing sector
The outsourcing sector in Morocco consistently thrives with the increasing demand for BPO services. It is said to be the fastest-growing industry in the country. In fact, it creates 10,000 jobs in the country every year.
Many businesses across different sectors rely on the services that BPO companies in Morocco offer. IT functions, human resources, customer support, and knowledge process outsourcing are the most outsourced services in the nation.
Different types of BPO companies
Many BPO companies in Morocco have specializations. If you are considering partnering with one, you must ensure they offer the required services. 
Here are the different types of BPO companies you must consider:
Front-office BPO
Any customer-facing services are put under this category. If you are in need of tech support, customer service representatives, and marketing professionals from third-party vendors, then you require front-office services.
Back-office BPO
On the other hand, back-office BPO includes accounting, human resources, legal processes, and IT-related services. These jobs don't require people to face or speak directly to customers, yet they are still essential in business functions.

Offshore BPO
Services that come from overseas third-party vendors are called offshore BPO services. Companies often decide to partner with BPO organizations abroad because their services are usually more affordable.
Onshore/Domestic BPO
Domestic outsourcing happens when a company uses the services of a local BPO company. This is the term used for outsourcing services from a company in another city, state, or region.  
Top global outsourcing lists
Outsource Accelerator is the world's leading outsourcing marketplace and advisory. We list over 3,000 BPO firms located across the globe in our global directory, and we provide detailed information, price guides, and reviews.
Whether you're a solopreneur, SME owner, or corporate executive, we can help you find the most suitable outsourcing provider for your business.
Explore our outsourcing directory now. You may also check out our Top BPO Outsourcing lists per country here:
Top 20 BPO companies in Morocco
Here we have 20 of the leading BPOs in Morocco:
Location: Oulad Bou'abid

Founded: 2010
CALLINNOV is a trusted business process outsourcing company that is focused on back-office, inbound, and customer service outsourcing.
The organization partners with small businesses in the e-commerce industry. They have clients operating in France, Germany, Italy, and other European countries.
Location: Casablanca

Founded: 2004
Based in Casablanca, Fusion BPO Services is also present in 13 countries around the globe. It provides customer engagement, digital solutions, utility billing, and capabilities to clients in the US, Canada, the UK, India, and other Asian countries. 
The company delivers services in 40 languages. Some of the industries they focus on include banking and finance, healthcare, edtech, and hospitality.
Location: Tanger

Founded: 2016
Leads2success was established to address the lack of Dutch-speaking call center agents in Tanger. Since 2016, the company has become one of the most sought-after BPO organizations. 
The majority of the clients of Leads2success use its call center services. Although, many are also choosing it for its HR consulting and direct marketing services. 
Location: Rabat

Founded: 2005



For more than 15 years, Marketing Call Center has endeavored to be the best partner in customer relationship management. It caters to small businesses, midmarket, and enterprises.

From acquiring new customers and building loyalty to optimizing business processes, the company is here to meet customer management needs. Currently, Marketing Call Center has four office locations and more than 500 employees.
Location: Casablanca

Founded: 2010
Newco Communications is one of the top choices when it comes to near and offshore BPO. For more than 10 years, it has been serious about offering high-quality and multilingual operational experience. 
This BPO company in Morocco is focused on business consultancy, inbound and outbound services, as well as customer service outsourcing. It also has headquarters in Spain and Belgium.
Location: Marrakech

Founded: 2012
Midmarket and small business in Marrakech choose Market Wave for its superior customer service and back office outsourcing. It has hundreds of virtual assistants, call center agents, and other professionals.
The company started by offering a tool for effective commercial performance management. Later on, its services are focused on various facets of customer service. It has mastered live-chat and call-back services. 
Location: Rabat, Casablanca, and Lille

Founded: –
E-Call Services Maroc is a reliable company offering nearshore BPO to clients in Morocco, France, and Madagascar. In addition to call center services, it is also an expert in business consulting, accounting, and web development.
Location: Casablanca

Founded: 2003
For the best multi-channel, multilingual, and multi-service customer relationship strategies, partner with Groupe Outsourcia. This company has focused on helping businesses internationally, particularly in sub-Saharan Africa.
Groupe Outsourcia works with clients in different industries, including e-commerce, banking and finance, publishing and media, and automotive.
Location: Casablanca

Founded: 2001
MD Call Center has been in the outsourcing business for more than 22 years. As the pioneer of the call center service in the country, the organization understands the unique needs of its clients in various sectors. 
MD Call Center is indeed the right partner when it comes to call center services and business consulting. It helps businesses with telesales, appointment setting, surveys and polls, and call reception.
Location: Casablanca

Founded: 2011
Infomineo is one of the leading providers of brainshoring in Morocco. It has a team of experts who tackle high-level tasks that needs extensive critical thinking and creativity. 
Information is also the leader in back-office outsourcing, market research, data analytics, graphic design, and business translation.
Location: Tangier

Founded: 2005
Call center services, marketing strategy, and HR consulting are some services that Tingis Group offers. The company is proud to be the first multimedia contact center in the north, delivering reliable and instantaneous response and assistance.
Tingis Group has three centers in and outside Tangier. It is committed to optimizing business development so that clients can achieve optimum results.
Location: Dar-el-Beida

Founded: 2003
EOL is a well-known multidisciplinary contact center with more than 15 years of industry experience. It specializes in different outsourcing solutions, such as telemarketing and multi-channel relationship marketing.
EOL Center is also a reliable source of IT engineering, providing technical support, after-sales service, and a service desk among others. 
Location: Dcheira El Jihadia

Founded: 2009
For those looking for an experienced contact center in southern Morocco, consider Offshore Valley. The company has been offering remote customer relationship management services for more than 10 years. 
Offshore Valley also caters to businesses needing web development, web hosting, SEO, and other IT-related services. It has multiple clients in the country as well as France.
Location: Casablanca

Founded: 2007
Finatech Group meets clients' unique requirements through technology-driven business solutions. This BPO company delivers end-to-end systems, helping businesses with software design and development, IT consulting, and systems integration.
Operating globally, Finatech Group is also providing HR consulting, back-office outsourcing, and business consulting.
Location: Rabat

Founded: 2000
Webhelp is all for creating game-changing experiences for customers in today's digital world. It's secrets? Investing in global talents, innovative technology, and proprietary processes.
The company partners with startups and scale-ups, offering them the comprehensive CX services they need to achieve specific goals.
Location: Tangier

Founded: 2010
Using the most efficient technology, Cosmos Call Center delivers the highest level of customer service experience. It utilizes omnichannel, chatbots, and IVR to optimize business processes and lower operating costs. 
Cosmos Call Center can also handle lead generation and back-office tasks with its hundreds of professional employees. It works with small to medium businesses in Morocco and Madrid.
Location: Oujda

Founded: – 
Notoriety is a rising BPO company in Oujda that offers telemarketing, after-sales services, telesecretariat, as well as technical and administrative support. 
The company aims to journey with their clients towards commercial development and gaining notoriety. It partners with businesses in the consumer products industry and government agencies.
Location: Casablanca

Founded: 2004
Right Place Call is an ISO 9001 Certified BPO company with ORIAS Accreditation. It is one of the first major call centers in Morocco in 2004. Fast forward to today, it now has 800 collaborators and hundreds of clients. 
As a multi-channel contact center, the company assists clients in positioning themselves for global economic competition. Services include telesales, appointment setting, and sales administration.
Location: Rabat

Founded: 2015
Since its establishment, Digital Works Company has committed to pushing the boundaries of the customer experience. It helps businesses in optimizing business processes to conquer challenges and achieve goals.
Digital Works Company designs innovative customer relationship strategies, creating mobile apps and marketing campaigns as well as digital strategy.
Location: Casablanca

Founded:

2001
Serving the EMEA region, Xceed is a BPO company that aims to exceed client expectations through tailored call center services. It strives to help businesses in the technology, retail, automotive, and transportation sectors beat the competition. 
Xceed offers offshore and onshore client solutions, including customer care, technical support, human resources, and revenue generation.