Definition
Onshore outsourcing definition
Onshore outsourcing, also known as domestic outsourcing, is the practice of outsourcing business functions to a company in the same country where the business operates. It is becoming increasingly popular with businesses that are pulling their operations back to their home countries.
Benefits of onshore outsourcing include smaller travel expenses, similar time zones, similar cultural expectations, and, on occasion, easier legal compliance.
The cost of staffing is not as competitive as with offshore outsourcing. However, some experts argue that when considering all things, onshore outsourcing is just as competitive an option for business owners.
Issues that can arise due to a mismatch in expectations can be more easily resolved because of lower travel costs and similar time zones, for example.
Why are companies onshoring?
Giving work to an organization in your own country is referred to as onshoring. When a firm outsources onshore, it might be because they lack the expertise or don't have the right talent accessible right away since they can't afford to keep employees.
Onshore or offshore outsourcing is adopted by various businesses to keep their operations functioning while saving costs.
Onshore vs offshore outsourcing
Onshore and offshore outsourcing offer different benefits in terms of accessibility, language barrier, and cultural compatibility.
Onshore outsourcing, for one, makes it easier for businesses to visit their teams on site since they are only located within their home country. Thus, actual face-to-face meetings, team building, and collaborations are much easier and more fruitful.
However, there is a possibility that their team will be affected by local calamities and disruptions like their in-house teams.
Offshore outsourcing, meanwhile, is more technology-driven. Teams collaborate with online tools most of the time. However, outsourcing partners still encourage their clients to visit their teams from the other side of the world and meet them personally.
One advantage of it is offshore teams can't easily be affected by the local calamities that can bring disruption to their business. This ensures continuity in providing services to their customers.
Onshore outsourcing advantages
Most outsourcing companies establish a local office in the country they are servicing. Whilst most of the operations are done offshore, the accounts executive team is usually based onshore to keep a good working relationship with the client. A lot of businesses have built their outsourced team with a mix of onshore and offshore talents.
Outsource Accelerator specializes in helping small and medium-sized enterprises (SMEs), with two to 500 employees, typically based in the high-cost English-speaking world. We are the experts in transforming these businesses with outsourcing.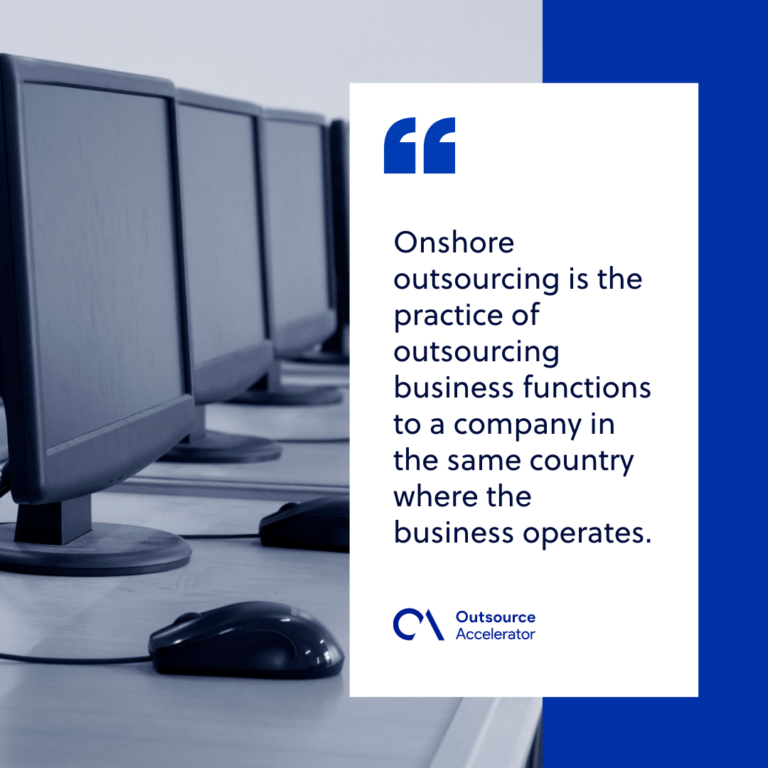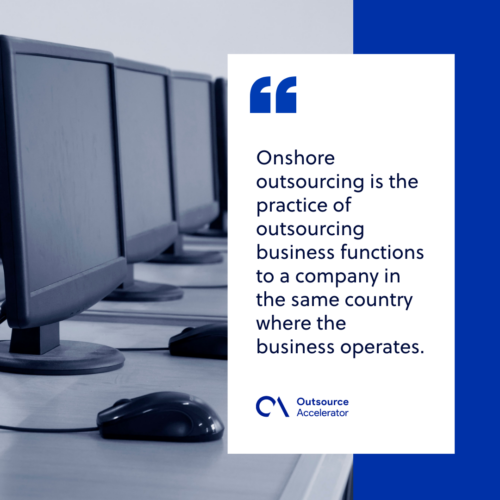 Some of the reasons why onshore outsourcing is a smart choice for your company are as follows:
Communication
While language difficulties are one of the most noticeable obstacles to effective communication when working with offshore contractors, you need also consider time zone variations.
Working with the onshore team has no time zone difference. If there's an issue that has to be resolved right away the onshore provider can respond on time because there's no time zone to mind and language barrier.
Increased control, response, and dependability
Issues such as quality control are easier to manage when you outsource onshore. You may also send a request that allows for personal encounters, practical demonstrations, and a better knowledge of what's necessary if you need to train or onboard your service provider to operate in a particular manner.
Onshore outsourcing is a great strategy to increase control in the business process since distance creates additional issues that can create a significant delay unless the company is willing to take additional services for the processing.
Less cultural distinction
When you outsource offshore, cultural differences might become more of a challenge. When working with offshore contractors, there are also variations in the way they approach work and business. Some cultures may value recommendations and ideas, but others may criticize your company indirectly.
Language and cultural barriers won't be much of a problem with onshore outsourcing. Advice and guidance can help you obtain better outcomes immediately, with fewer unsuccessful attempts and adjustments to specifications. This makes the task more efficient onshore than it would have been if the work had been outsourced offshore.
Skill sets that are locally appropriate
When you outsource tasks within your onshore, you know that the individuals who will be assisting you have a certain set of talents that are determined by local conditions.
You can be certain that you understand the level of local qualifications; however, some companies find it difficult to acquire an identical qualification in another country. The standard of the knowledge bases required in another country may differ.
Knowledge about your industry 
When businesses outsource customer service or marketing responsibilities, they need to deal with companies who are familiar with your client's demands.
Without this information, even the most well-intentioned measures may fail. Any subsequent conflict impacts your business since your outsourced market-facing communications will represent the brand image.
Intellectual property protection
Companies will prioritize protecting their intellectual property and ensuring that the firm has a reputation for dealing with others' intellectual property. Generally, they don't want their original ideas to be widely distributed.
Further, companies do not want to be charged for copyright or patent infringement. Most local businesses you outsource to will avoid doing so, however, organizations or foreign nationals may not be as cautious in their work.
Onshore outsourcing services
While any role, especially core business functions, can be outsourced, some companies choose onshore outsourcing for specific roles such as the following.
Software development
Outsourcing software development to an onshore company helps businesses take control of their operations and culture better. At the same time, this saves them the hassles of facing intellectual property issues since it is under the jurisdiction of their home company.
Project management
Firms can also outsource project management duties to onshore providers that can handle localized projects and functions for them. Delegating this function also frees up their time so they can focus on maintaining their operational excellence further.
Support services
In some cases, businesses choose to delegate customer and technical support within the same country, especially for their local market. This helps them minimize cultural and language barriers since agents speak the same language as their customers.