Definition
About offshore outsourcing
Types of offshore outsourcing 
Offshore outsourcing definition
Offshore outsourcing, also referred to as business process outsourcing (BPO),  is the process of having work done for your business using qualified staffing solutions from countries with lower labor costs.
Commonly, IT, sales, and administrative roles are carried out for businesses across the world from countries such as the Philippines and India.
Companies can benefit from accessing other countries that have more resources for people with specialized skills. At the same time, they get quality work at a fraction of the costs.
Like nearshore outsourcing, companies prefer having minor tasks outsourced to a service provider so that the in-house team could focus on the core business functions. One perk of offshore outsourcing for businesses is that they do not need to think about the overhead expenses when they hire domestically.
Overall, the company could benefit from lower human resources costs, equal or higher-quality outputs, and higher profits.
Benefits of offshore staffing
The world is becoming increasingly globalized. Technology, software, and communications improvements now enable easy access to a globalized workforce. This has many advantages, but the primary benefits of offshore staffing are that:
You can significantly cut costs (typically saving 60%-80%)
Access large pools of highly qualified and highly capable staff
Source staff from across the globe instead of being limited by the local population
The benefits of offshore staffing impact small, medium, and large enterprises across the globe.  These businesses can access more affordable resources to help streamline and grow their business.  This is a win-win for all parties involved.
Offshore outsourcing example
Companies turn to offshore outsourcing for cost savings, cheaper wages, and better quality work. Just like nearshore outsourcing, companies prefer having minor tasks outsourced so that the in-house team could focus on the vital functions of the business.
One popular example of offshore outsourcing is customer service through call center companies. These BPO companies offer quality customer service at a much cheaper rate than hiring locally.
Offshore vs onshore outsourcing
The opposite of offshore outsourcing is onshore outsourcing, which is the practice of outsourcing your business functions and non-core teams to a third-party supplier in the same country where the business operates. It is also commonly referred to as "domestic outsourcing."
Unlike offshore outsourcing, the business does not save as much on employment costs – which is the main reason why businesses turn to outsourcing in the first place.
Since the outsourcing provider is in the same location, both companies will have the same cost of living and labor laws applied. However, with onshore outsourcing, you wouldn't have to deal with cultural and time-zone differences.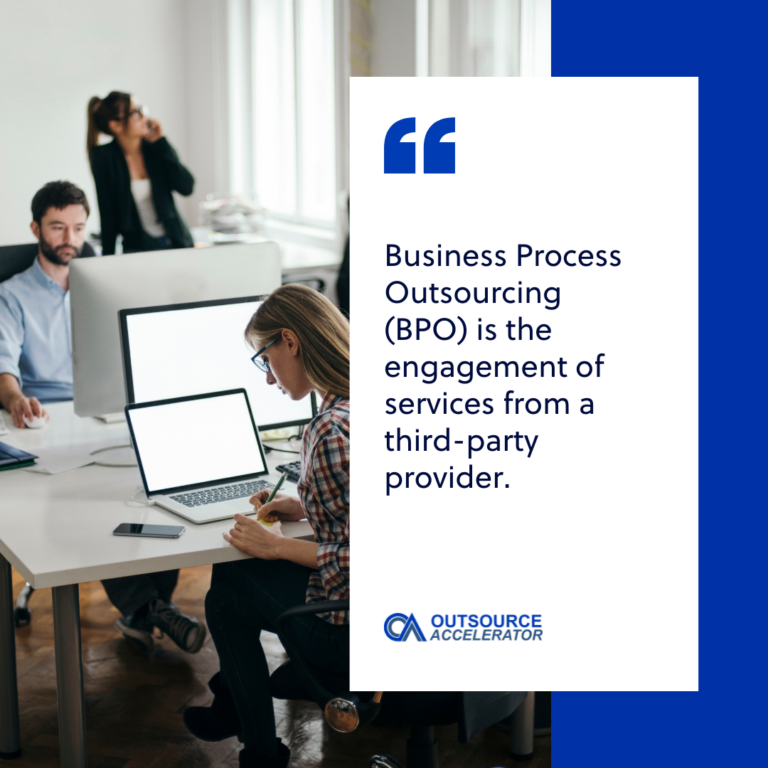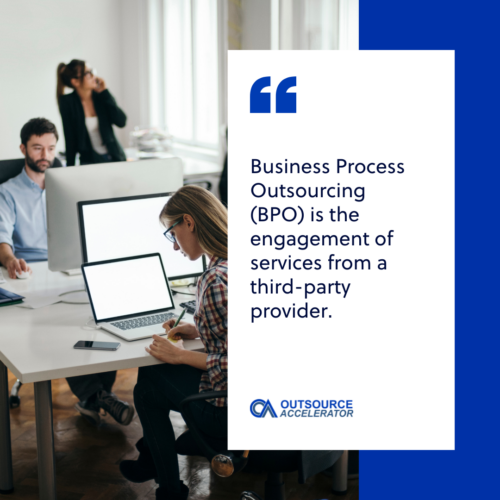 Offshore outsourcing pros and cons
Companies can turn to offshore outsourcing for almost every business role – whether they're in need of customer service teams, virtual assistants, bookkeepers, graphic designers, IT consultants, and more.
Further, before diving into the world of offshore outsourcing, it's best to be informed of its pros and cons.
Pros of offshore outsourcing
Substantial savings
Access to a flexible, diverse, versatile, and proficient offshore team
Experienced and competent team leaders will guide your remote team
Diminished operational costs and fewer legal responsibilities (because your outsourcing provider will take care of everything)
Cons of offshore outsourcing
Occasional delivery delays
Time zone, language, and cultural barrier
Possible disclosure of confidential information
Possible cyber security risks
Offshore outsourcing in the Philippines
The Philippines is the leading offshore outsourcing destination in the world. With 1.3 million BPO workers and counting, large corporations and even small to medium-sized enterprises all over the world trust that their Filipino workers and remote teams can provide excellent outputs, customer service, or IT assistance at a cost-effective price.
Outsource Accelerator provides you with the best customer service outsourcing companies in the Philippines, where you can save up to 70% on staffing costs. We have over 5,000 articles, 350+ podcast episodes, and a comprehensive directory with 2500+ BPOs… all designed to make it easier for clients to learn about, and engage with, outsourcing.
Types of offshore outsourcing
Here are some types of offshore outsourcing, as listed by Rezaid:
Production offshoring
The actual movement of the physical manufacturing process overseas, generally at a significantly cheaper cost in terms of personnel and materials, is known as production offshoring.
Front-office and back-office processes and functions are the two primary types of offshored processes and functions. Customer service, inbound and outbound telemarketing, virtual assistants, and technical assistance are all examples of offshore.
HR and recruiting, accounting and bookkeeping, mobile and web development, and design and graphics are other examples of production offshoring.
System services offshoring
Information technology (IT) will be a key subject to get right given the multiplicity of procedures and minute-by-minute activities of any corporate operation.
In the 1990s, a huge amount of communication infrastructure allowed nations like India, which has a big pool of English speakers and a technically skilled workforce, to lead the sector by luring companies like HP, IBM, Microsoft, Oracle Corporation, Intel, and Cisco.
Innovation and software offshoring
In computer science and software development services, Asian countries lead the world. High-tech product companies, including those in Silicon Valley, have begun to offshore innovation work to Colombia, Belarus, South Africa, Mexico, and Ukraine.
Using these countries' highly trained labor pools results in considerable cost savings and faster production cycles.
Reshoring
Reshoring, also known as back shoring or inshoring, is the opposite of offshoring. Companies like Google, Facebook, and Amazon have been criticized in Europe for allegedly concealing income and avoiding taxes. They reportedly did this by booking non-US earnings from major advertisers through its Dublin branch in low-tax havens like the Republic of Ireland.
As a result, it started in January 2018 that it would book those earnings and pay the taxes on those profits in the countries where they were generated.
Want to learn more about outsourcing? Check out the Inside Outsourcing book as well as the Inside Outsourcing book review today!