Top 20 BPO companies in Vietnam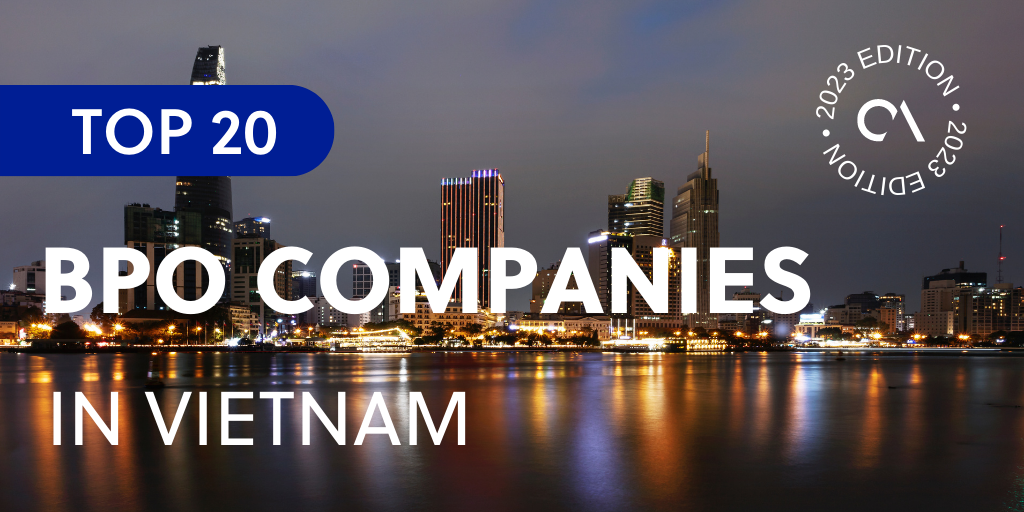 Top 20 BPO companies in Vietnam
The outsourcing and offshoring business process outsourcing (BPO) industry in Vietnam has rapidly grown in recent years.

Lower labor costs, tax exemptions, and several other policies from the government have encouraged foreign and local organizations to outsource their services to Vietnam.
As such, the country has started attracting foreign companies looking for new outsourcing destinations in the Asian region.
If you're looking for the best Vietnamese BPO companies to help your business, you've come to the right place.
This guide will outline 20 of the country's top-performing BPO service providers.
Why businesses should consider outsourcing to Vietnam
Despite being flanked by major Asian outsourcing hubs like the Philippines and China, Vietnam has proven itself a viable business outsourcing destination.
The country is home to about 74.3 million residents boasting a 95.7% literacy rate – a telltale sign of a good source of skilled labor. Vietnam's government also invests in vocational training centers for its citizens, further strengthening its workforce's capabilities.
Another point in favor of Vietnam's viability as an outsourcing destination is the country's economic stability. During the height of the COVID-19 pandemic, Vietnam is one of the few countries to post growth despite the virus's devastation to global economies.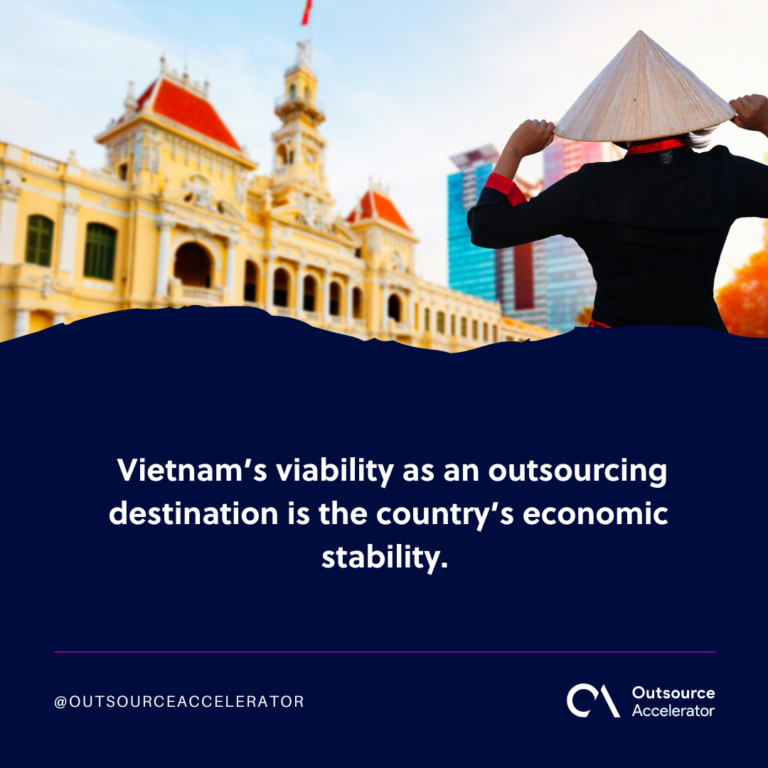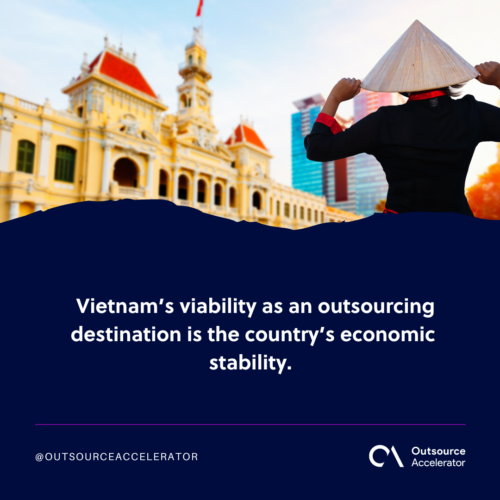 Top global outsourcing lists
Outsource Accelerator is the world's leading outsourcing marketplace and advisory. We list over 3,000 BPO firms located across the globe in our global directory, and we provide detailed information, price guides, and reviews.
Whether you're a solopreneur, SME owner, or a corporate executive, we can help you find the most suitable outsourcing provider for your business.
Explore our outsourcing directory now. You may also check out our Top BPO Outsourcing lists per country here:
Top 20 BPO companies in Vietnam
Below are the top 20 BPO companies in Vietnam:
Saigon Technology is the leading Vietnam-based Agile software outsourcing company in Vietnam, established in 2012. Through hard work and dedication over the last decade, Saigon Technology has grown to four different continents with 400+ software engineers.
Saigon Technology is specialized in providing professional Offshore Software Development and Software Outsourcing Services with ISO 9001 and ISO/IEC 27001 and a mature development process which offers seamless communication to clients.
Our mission is to deliver the best and most cost-effective Agile software development offshoring and outsourcing solutions to customers in areas. The team has supported clients in a wide range of sectors, including banking, finance, e-Commerce, medical services, manufacturing, import/export, logistics, and more.
BEETSOFT is an outsourced IT solutions provider based in Hanoi, Vietnam, and Tokyo, Japan. The company offers a wide range of services, including game, software, app, and web development.
BEETSOFT focuses its expertise on six industries, namely, healthcare, banking and insurance, manufacturing, retail, education, and start-ups.
The company aims to further extend its services to the Greater Mekonglink Subregion (GMS), or the region surrounding the Mekong River – Asia's third-longest river system.
Mekonglink serves various industries, including medical and healthcare, food and agriculture, and industrial and scientific.
KOTWEL is a unique BPO service provider in Vietnam known for providing businesses with artificial intelligence (AI) and linguistics solutions.
The company offers AI data training and language-related services, such as localization, translation, and transcription.
KOTWEL has offices in Hanoi, Vietnam, and New York, US.
GoodLand Informatics is a BPO provider that offers four primary services: software development staffing, data processing, contact center, and IT administration.
The company's headquarters are in Ho Chi Minh City, Vietnam, while its US representative is located in Garland City, Texas.

NMS Callcenter is a provider of software outsourcing, BPO, and IT managed services. The company offers outsourcing solutions to customers in the government, education, finance, and telecommunications industries.
Its offices are located in the cities of Hanoi and Ho Chi Minh, and Tokyo, Japan.
THIENTU is a Vietnamese BPO company that helps businesses provide exceptional customer support and increase the lifetime value of customer relationships through outsourcing solutions.
The company's services include inbound and outbound call center functions, data entry, and omnichannel services.
THIENTU has been helping businesses for over 20 years since its establishment in 2000.
CallUs is a BPO provider located in Ho Chi Minh City, Vietnam focusing on telesales and customer care services. The company lends its expertise to businesses in the sectors of finance, banking, and insurance.
Aside from customer care and over-the-phone marketing services, CallUs also offers consultancy services to its clients.
Innovature BPO is a leading provider of outsourced accounting, finance, and customer services. It has offices in Ho Chi Minh City, Vietnam, as well as in the US and the Philippines.
The company aims to provide businesses in the North American, Australian, and APAC markets with affordable business and technology solutions through outsourcing.
Innovature BPO has been recently cited as one of the "Best Companies to Work For in Asia" by HR Asia – an award-giving body for organizations exhibiting high levels of employee engagement and satisfaction across the Asian region.

Cekindo Vietnam is one of the country's leading global market entry services provider. It provides businesses with a one-stop solution promised to make their entry into Vietnam's market as smooth as possible.
The company's BPO services include accounting, payroll processing, and recruitment, among others. It also offers business setup and product registration services on top of its BPO offerings.
Confluence is a global technology solutions provider located in Ho Chi Minh city. It offers managed services and various other solutions.
The company has an extensive list of services, including regulatory risk and compliance, ESG solutions, and performance and analytics.
Inspiro is a part of the Relia Company Group with Vietnam offices in Hanoi and Ho Chi Minh. It is a leading provider of outsourced solutions worldwide, and it has operations covering Europe, North and Latin America, and the Asia-Pacific.
As a global company, Inspiro boasts a multilingual staff that caters to a diverse range of industries – from media, entertainment, and insurance to automotive and healthcare.
Base Business Solutions is a call center services provider with offices in the cities of Ho Chi Minh and Hanoi. The company offers services tailored to the needs of both large enterprises and smaller-sized businesses.
It also offers a customer relationship management (CRM) platform that can be easily integrated into contact centers and has multi-channel capabilities.
Transcosmos Vietnam is the Vietnamese branch of Transcosmos Inc., a global provider of customer service solutions.
Transcosmos has been in the industry since 1966, and its Vietnam office in Ho Chi Minh City, Vietnam, has been operating since 2014.
The company offers inbound and outbound call center services, back-office support, sales and marketing, and document management solutions.
Mat Bao BPO is among Vietnam's foremost BPO service providers. It offers payroll management, facilities management, outstaffing, and contact center services to its clients.
The company has been in the outsourcing business for over eight years and has served more than 200 foreign and domestic customers since its inception.
Expertrans Global is another provider of professional and high-quality Language BPO services in Vietnam.
The company has been serving small businesses and Fortune 500 companies alike since 2005. It employs more than 5,000 freelancers from around the world and offers 24/7 availability with 100% data confidentiality.
Expertrans Global caters to various sectors, including government, advertising and marketing, IT and ICT, e-commerce and retail, manufacturing, and energy. Its services include localization, translation, and interpretation, as well as call center and data services.
NashTech Vietnam is located in the city of Ho Chi Minh. It is one of the Asian branches of the global BPO provider, NashTech. It helps businesses better navigate the digital world and give their customers a better experience.
The company caters to companies in five sectors: financial services and insurance, education, logistics, media, and technology.
Its outsourced solutions include technology advisory, data, analytics, AI, application services, business process solutions, and quality assurance and security.
DIGI-TEXX is a wholly German-invested BPO and digital services company with offices in Ho Chi Minh and Can Tho, Vietnam, and Fukuoka, Japan.
It has successfully positioned itself as one of Vietnam's leading service providers for various business verticals since its founding in 2003.
The company's services include document and data processing, data annotation, business support, document scanning, digital archiving, and image processing.
Hikari BPO Solutions is a Vietnamese company composed of staff from various nationalities. It started out in 2018 with only 10 staff and grew into a 100-staff organization still committed to its original business ideals.
The company offers IT-BPO, robotic process automation (RPA), and desktop publishing services.
BIPO is another global BPO service provider located in Ho Chi Minh, with services focused on human resources. Its enterprise-ready human capital management (HCM) solutions allow businesses to streamline their operations by:
Automating HR processes

Simplifying workflows

Providing actionable insights
The company is widely recognized as one of the world's leading HR outsourcing firms and employer of record services providers. It also offers global payroll management solutions that support multi-country payroll.