Top 20 BPO Companies in East Asia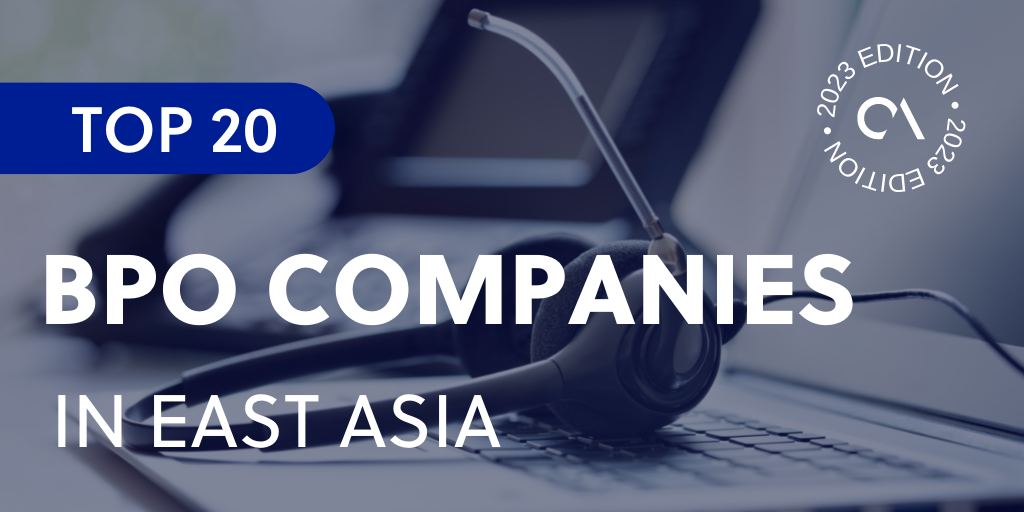 The BPO industry has witnessed immense growth over the past decades in terms of reach, covered industries, and serviced regions. Compared to when it started, the outsourcing trend has shifted towards Asia and the Pacific region.
COVID-19 has accelerated this boost by forcing businesses to adopt digital platforms and technologies, where most BPO companies excel at. The urgency to address changes in the business model and customer demands makes the BPO industry even more attractive.
This article explores the top BPO companies in East Asia.
East Asia's Outsourcing Market
The rise of BPO services in East Asia was spurred by the trend of launching start-up companies and the advent of automated technology systems. The inclusion of AI systems, self-learning applications, and big data analytics has changed the dynamics of outsourcing.
BPO companies in the region incorporated these services. Chinese companies offer AI-powered solutions across all industries, from healthcare to gaming and app development. Japanese companies, on the other hand, focus on financial services. 
Taiwanese companies are Information Technology and telecommunications geared. Meanwhile, South Korea's BPO industry is more HR-oriented. 
The country specializations identified in this article should not be treated with finality. All BPO companies offer some, if not all, of these services as a package.  
Top 20 BPO Companies in East Asia
Top global outsourcing lists
Outsource your work to the best BPO companies in the world. Explore our international directory and get in touch with our advisors to find out how we can help you save valuable time and resources. 
Outsource Accelerator is the world's leading outsourcing marketplace and advisory. Find the list of over 3,000 BPO firms around the world and learn more about their price guides, reviews, and other information that can help you make the best decision for your business. 
Top 20 BPO Companies in East Asia
Here are the top 20 BPO companies located in East Asia:
Established in 1997, 800 Teleservices is a multilingual BPO company combining modern technology with commercial solutions to create valuable custom-designed services for its 4,000 clients globally.
This company is also well-known as a one-stop BPO service provider across multiple industries.
95teleweb is one of the pioneering BPO companies in China that incorporated customer operations performance centers into its system.
As a trailblazer in the industry, this company is securing various ISO certifications under its brand. It is currently ISO 9000 certified–a huge feat for any BPO company worldwide.
Backed with 35 years of expertise, ABeam Industry has enabled 5,000 companies to focus on its core competencies with its excellent and innovative administrative solutions.
As an industry veteran, this company helps businesses expand overseas through its diverse back office support, customer care solutions, and smart business models.
Beetsoft is an IT outsourcing company providing BPO solutions, annotation, and consulting services.
For six years, the company has engaged in various projects with UK, US, and Middle Eastern clients seeking IT and software development expertise. The company's headquarters is in Vietnam, with a branch office in Japan.
Banking on its HR and payroll competencies, C&B Solutions is the leading HR outsourcing company in South Korea. Focusing on its core mission to enable businesses to improve performance, it employs strategic HR solutions across all its solutions.
Callnovo has a diverse portfolio ranging from social media management, outsourced tech support, and market lead generation analytics.
As a multilingual BPO company, it caters to a wide spectrum of industries and countries as a result of its competitive advantage as a multilingual company. While it is a Canadian-managed offshore business, its core call centers are all based in China.
Focused on customer support, content management, and digital services, Conectys helps brands maximize optimal reach and improve customer experience by curating engaging UX designs and better content.
The company also provides multilingual services, making it easier for clients to target Asian markets. 
Starting as a small phone answering company in 2002, Enspyre has grown to be a leading B2B telemarketing firm in Taiwan catering to popular brands like Samsung. 
Taking pride in its technical know-how and world-class employee training, the company embodies the message of its client brands on various platforms and activations. 
A subsidiary of the KDDI group, the company focuses on providing consulting and IT solutions services for construction companies and their affiliated industries.
Banking on its efficiency and experience in communication technologies, it engages end-users to better interact and understand the services of its partners.
Since 1946, Kelly Services has mastered operational management and HR solutions which are both at the core of its solutions.
Armed with 76 years of experience in the industry, it has combined its strategic expertise with cutting-edge technologies to enable businesses to balance processes with clients' needs.
Prestige International offers a wide mix of services ranging from operational management to financial management and healthcare billing.
As an experienced outsourcing company, it empowers its clients to expand and differentiate portfolios with the help of its diverse business strategies and smart solutions. 
A globally recognized BPO brand, Task Us provides professional back-office support solutions geared towards higher revenue and faster turnaround time of deliverables.
Partnering with influential brands, most of its success stories are focused on integrating innovative solutions with time-tested, scalable business strategies.  
This company focuses on improving customer relations through collaborative and interactive communication strategies anchored on customer-focused business models.
As a well-known Japanese company, its advantage is its multilingual capability in servicing both BPO and KPO technical services.
Telkom International, or Telin, is an Indonesian-based investment company that expanded to Taiwan. The Taiwan branch aims to incorporate technology expertise in telecommunications and information technology solutions to the mother brand of Telin Indonesia.
TMJ is a multilingual BPO based in Japan with several accolades under its brand. Its notable awards include the Contact Center Award and the Ministry of Health, Labor, and Welfare Award, both achieved in 2017.
As an outsourcing company, the company excels in UX and CX designing and consulting. It also has AI solutions under its belt which adds more value to its solutions and services.  
Established at the height of the AI boom in China, TouchTech offers self-learning advertising platforms that support celebrity live broadcasts, robot applications, and big data analytics.
Banking on these nascent technologies, the company incorporates these solutions into brand and website planning and also into its call center operations. 
Transcosmos's Japanese headquarters was established in 1966, while its Korean branch started making waves in 2001 up to this date. Offering extensive back-office and contact center services, the company helps its clients through its digital content solutions.
Trusted by various e-commerce brands, Trinity BPO manages the content and graphic design of e-commerce websites to better engage with local and foreign markets. The company also offers SEO and customer service solutions to its partners for better global reach.
Initially created to address the pain points of ex-pats living in South Korea, the company has expanded to accommodate office-related operations such as logistical needs, document processing, and compliance regulations.
The majority of its services and solutions are directed at servicing individual job requests. 
WTTO is a technology-oriented BPO company specializing in back-office processes and customer focus solutions.
As a subsidiary of HKBN Enterprise Solutions, the company maximizes its cross-border networks and top-rank service providers to help its partners dominate the international market.