Top 20 BPO companies in Los Angeles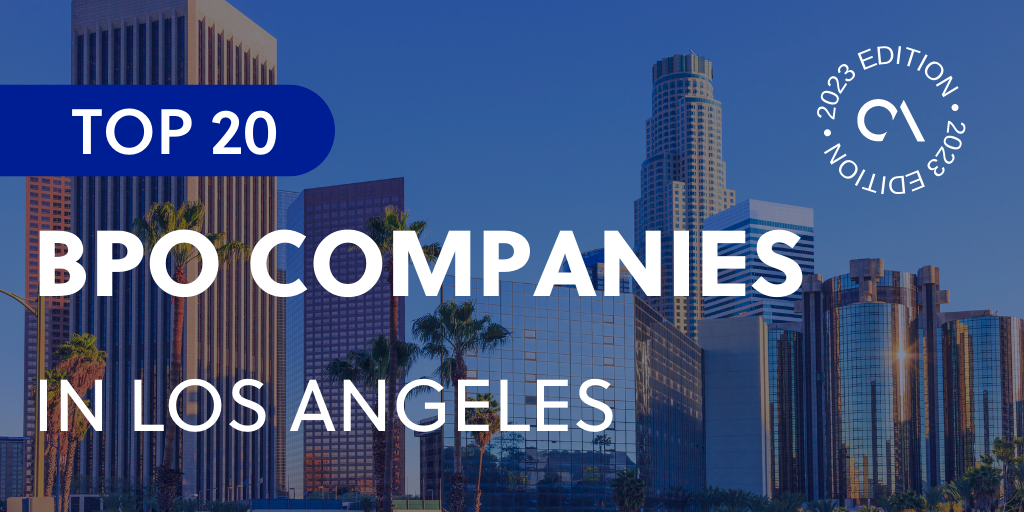 BPO companies are a diverse group of businesses that offer a range of services, from customer service to software development.
It's important to note that outsourcing is not only for large companies —even small businesses can benefit from it. The practice is especially common among technology companies, as they often outsource their support centers or call centers to third-party providers.
This is a way for them to save money and also ensure that their customers receive the best service possible.
What is BPO?
Business process outsourcing (BPO) refers to the process of delegating certain functions of a business to service providers. It can be anything from customer service to accounting and web development.
BPO is a common practice for businesses that don't have the resources or expertise to handle certain processes on their own. It can also be an important way for them to save money, as they don't have to pay employees' full-time salaries and benefits.
For example, if a company needs help with customer service but doesn't have enough staff members who are well-versed in this area, it might hire someone else to take over that function for them.
Why do companies choose to work with BPO companies?
There are many reasons why companies choose to outsource their business processes. Some of the most common reasons include:
Cost savings
Outsourcing allows businesses to cut costs without sacrificing quality. It can help companies reduce labor expenses and avoid hiring full-time employees. This can be particularly helpful for smaller businesses, which don't have a lot of capital available to them.
Improved efficiency
By outsourcing certain tasks to BPO providers, companies can improve the speed at which they complete these processes, such as customer service calls. This can allow them to provide more services or products to their customers while also reducing wait times and frustration levels.
Increased quality control 
Companies can ensure that the work they receive from BPO providers is of high quality by providing them with strict guidelines, regular reviews, and testing. This can help prevent mistakes and ensure that the work meets the company's standards.
Access to a larger talent pool
By giving some tasks to BPO providers, companies can hire a lot more people because they can choose from a larger pool of potential workers.
Minimized risk
By outsourcing certain tasks to an outside provider, businesses reduce the amount of time they spend worrying about whether or not these processes will be completed correctly. This minimizes the risk of mistakes being made that could cost businesses money in the long run.
Increased flexibility
Businesses that outsource certain tasks have more flexibility in their operations because they don't need to devote time and resources to perform these tasks themselves. With this, they can focus on other parts of their business while still making sure that important tasks are done right.
Improved employee morale and retention. 
As a business grows, its current staff cannot keep up with the growing demand for its services. By hiring BPO providers, companies can get the help they need without having to lay off their current employees or hire additional workers who may not be qualified for these positions.
Top global outsourcing lists
Outsource Accelerator is the world's leading outsourcing marketplace and advisory. We list over 3,000 BPO firms located across the globe in our global directory, and we provide detailed information, price guides, and reviews.
Whether you're a solopreneur, SME owner, or corporate executive, we can help you find the most suitable outsourcing provider for your business.
Explore our outsourcing directory now. You may also check out our Top BPO Outsourcing lists per country here:
Top 20 BPO companies in Los Angeles
Fusion BPO Services has a huge global staff of more than 13,000 professionals who use cutting-edge technology and personal connections to give customers in 14 countries an unbeatable experience.

The company provides a wide range of services like escalation handling, revenue management, customer retention, after-sales customer service, and complaint management.
Cleverly offers a modular solution that covers a lot of features, such as resource booking, workflow automation, sensor integration, payment processing, and more.
CX Collective offers a range of services, including consulting, strategy development, systems selection and implementation, employee onboarding, training, and development. The company offers predefined programs that are tailored to the customer's needs.
The business specializes in assessing, planning, and implementing solutions that significantly strengthen the team and overall organizational performance.

Clarke Executive Services Group is an operations consulting and team solutions firm that works with business executives to help enhance their companies' infrastructure, performance, organization, and procedures.
As a market leader in healthcare management services, Allzone offers operational expertise in medical billing, medical coding, and revenue cycle management to clients across the United States.

Hospitals, clinics, nursing homes, and medical billing offices are just a few of the many clients the business works with to manage and enhance its budgets, operational procedures, and technology.
Vargas Andrews envisions changing businesses and business owners' lives by focusing on the purposes, people, and processes that exist within a business ecosystem. This firm specializes in business transformation and turnarounds.
One Contact Center is a minority-owned Contact Center that provides Customer Service, Sales, and Recruitment Process Outsourcing to small and large businesses nationwide.
They create seamless, human-centric, and efficient customer experiences across different industries, such as telecommunication and media, healthcare, retail, and eCommerce.
Answering365 is dedicated to providing top-tier answering services for hospitals, corporate enterprises, and small businesses. The firm's services include inbound call-taking, messaging, dispatching, appointment scheduling, and more.
MedPOINT Management is dedicated to assuring a healthy future for providers and patients through adaptable, creative, and adaptive technology and service initiatives that assist providers in remaining at the forefront of value-based healthcare.

Their services include quality, and utilization management, hospital operations, credentialing, eligibility and benefits, and many more.
Omni is a progressive information management firm dedicated to providing expert administrative services and technological solutions to simplify complex bankruptcy case administration.
iProspex maximizes the client's marketing efforts with its tailored services.
They provide telemarketing for events, social media and email marketing, phone-based surveys, proven lead generation and appointment-setting solutions exclusive to the IT/software sector, and automated cross-channel marketing.
STAFFVIRTUAL offers turnkey back-office, IT, and business process outsourcing (BPO) solutions. They also provide professional employer organization (PEO) solutions, managing all pay, benefits, and legal compliance as the client's Employer of Record.
Transpeed Communications provides a full range of inbound, outbound, automated, and BPO services to local businesses. The business asserts that all facets of its voice and non-voice are rock-solid, as are sales, retention, technical support, and many other business processes.
Collective Solution provides real, sound solutions that the clients require for their call center needs while offering the flexibility to scale seasonally based on their market demands.
With the skills that CS Solutions have in business process management, it claims to be the best option for assisting in operational cost reduction while allowing clients to concentrate more on their core business operations and revenue development.
The company is well-known for its adaptable, customer-focused strategy, and it customizes each campaign to meet each specific organization's unique demands and requirements.

Every plan, decision, and action that SD&A makes considers what the client wants. While helping charities for over 38 years, the company was proud to have made more than a billion dollars for its clients.
Convoso is an outbound call center software company that uses innovative cloud-based technologies to help clients convert more leaders quickly.
Based in Los Angeles, California, CHB offers medical billing and coding services for all specialties of medicine. It serves healthcare professionals all across the country.
In addition, they provide a broad range of services, including payment posting, account receivable management, collection management, EHP implementation, customer assistance, and many more.
Nexus Healthcare Solutions is based in Los Angeles and offers medical practice consulting, billing & claims management, and EMS billing services. They also help physicians build profitable practices through revenue growth.
Meraki RCM Solutions is one of California's leading revenue cycle management companies. They focused on providing cost-effective process improvement seven days a week.
MMC HR is an HR consulting firm. They help minimize risks, lower overhead costs, increase efficiency, and provide all types of HR-related support like compliance and management, payroll processing services, HR audits, risk management services, and many more.