Web design outsourcing: The ins, the outs, and the between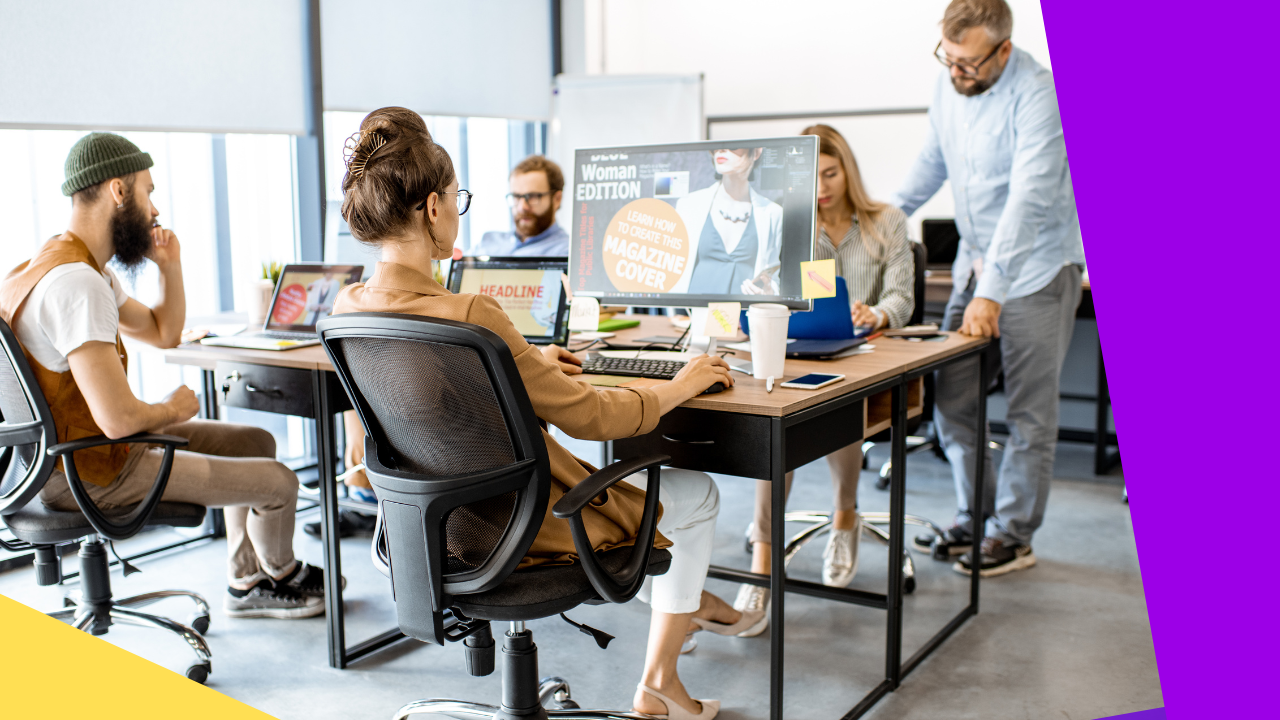 Web design is a crucial part of any dynamic and static page nowadays. Just like in any other sector, design trends also shift—quite drastically. 
Before, loud colors, chaotic media placements, and nearly-unreadable fonts were all the rage. Nowadays, it's all about minimalism, quirky captions, and straightforward approaches.
Another trend that came forward with the demand was web design outsourcing. With this, designers from all over the world were given the opportunity to work alongside the world's biggest brands.
Outsourcing also gave businesses access to world-class talents by partnering with business process outsourcing (BPO) companies.

Remote web design outsourcing in 2023
With the pandemic that continued to ravish communities and industries, somewhere in between, they are sectors that continued to thrive. These industries have one thing in common: they weren't wholly affected by the mandatory lockdown.
Remote-first companies and home-based freelancers weren't heavily affected by the work-at-home orders as they're already working in the comfort and safety of their own dwellings.
That being said, these corporations and individuals had unwittingly become ready for what seems to be one of the most talked-about issues in the professional world: remote work.
As the name suggests, designing sites can be done on any modern computer with the ability to connect to the internet. Naturally, designers shouldn't be contained in offices, working 9-to-5s. 
When the localized lockdown hit most cities and countries, some remote designers had done little to no change to their workday.
So what's stopping companies from unshackling remote and/or outsourced employees—in this case, online site designers—from working at home?
That's a question that still lingers in their minds.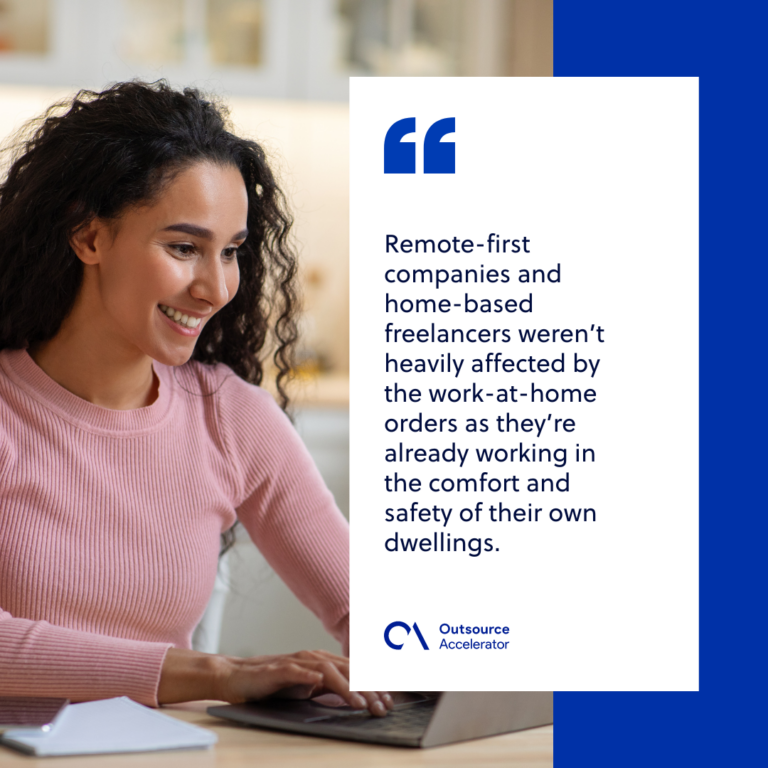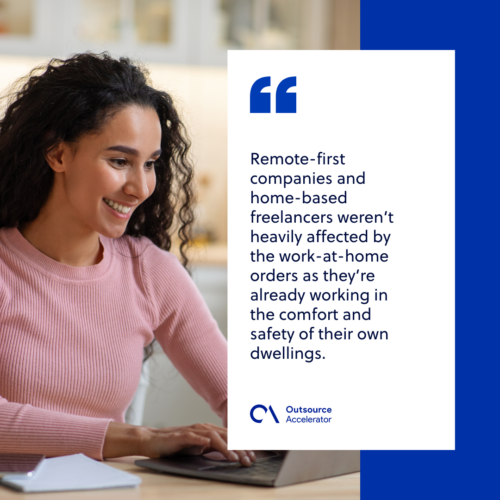 Web design: What does it mean?
This activity refers to the overall look and feel of a site's page. It encompasses both internal processes and external experiences that designers and customers have.
Since then, designers have solely worked on designing pages for desktop browsers. But when mobile devices started coming around, they worked on creating and designing online pages optimized for mobile devices too.
They are responsible for ensuring that the site or page they're working on is readable, accessible on any digital device, and optimized for the content.
They're also responsible for organizing and structuring content around interactive graphics and panels that the site has.
The difference between web design and web development
In some cases, website design and web development are lumped together, frustrating both designers and developers in the process.
While most of it is an honest mistake, some take advantage of this phenomenon to further lowball designers and developers.
To clarify the difference between designers and developers, the latter refers to the process and coding of making a functional site. The latter, as previously discussed, pertains to the look and interactivity of the said site.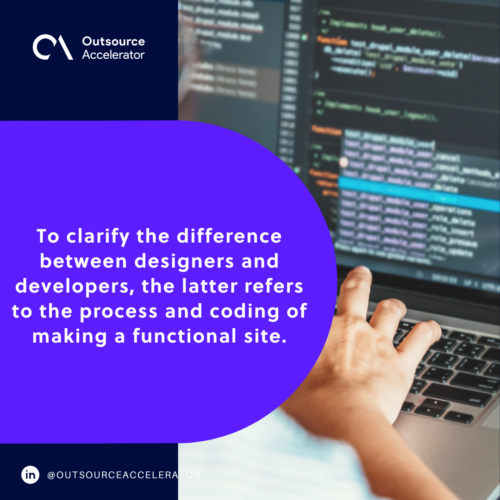 Why web design is important
It's important due to the fact that most of us are trained to use aesthetically pleasing and accessible sites. When people don't find the site pleasing to the eyes and easy to use, they tend to look for another site to visit instead.
The overall look and vibe of the site affect how a company markets its products, goods, or services to the masses.
If all they get are bouncing visitors and higher bounce rates, it will be nearly impossible to garner organic traffic.

Should companies invest in web design outsourcing services?
Short answer: Yes. Companies and businesses should invest in online site designers, especially if they want a substantial presence on the internet. More so, it's best to invest in web design outsourcing services, especially for long-term projects as needed.
Major corporations usually have a handful of in-house employees working for them. But some businesses often outsource their design activities to freelancers or to design agencies.
Nevertheless, digital outsourcing is a booming subsector, as more and more people are upskilling and looking for a stable yet flexible career.

The dos and don'ts of web design outsourcing
Like any other subsections, web design outsourcing has its dos and don'ts too. 
Taking a general look at outsourcing, there are things that apply to each and every job it touches.
Keep in mind that outsourcing does not always mean partnering up with BPOs and digital outsourcing firms. Jobs can be outsourced to freelancers and independent contractors, too.

Do #1: Invest in proper tools
It's given that they need to have proper tools when it comes to fulfilling their jobs. In web design outsourcing, always make sure that you (as the client) have the means to provide what they need.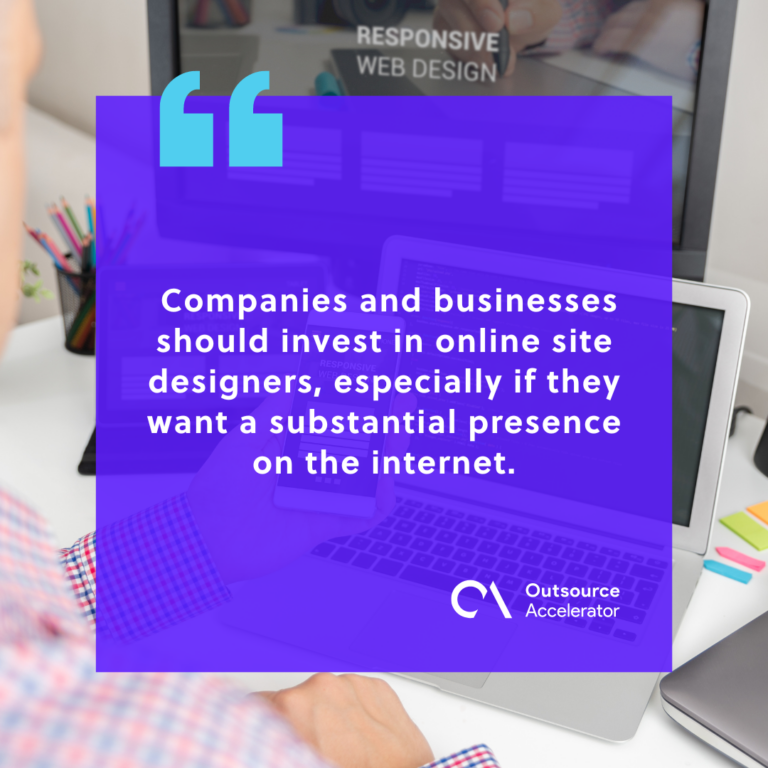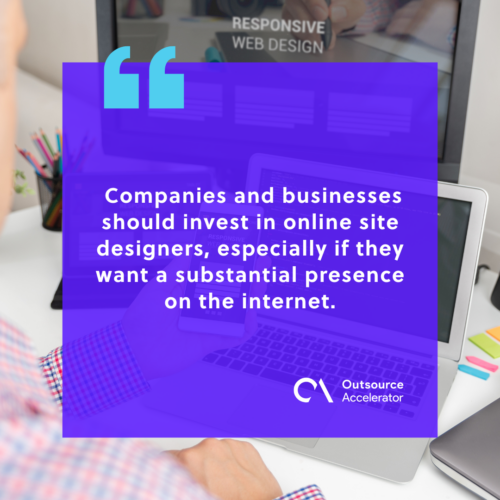 Do #2: Compensate appropriately
In most cases, these activities are far more inexpensive than hiring an in-house employee. But this doesn't mean that you, as the employer, can skimp out on payments.
Designing a functional and aesthetically pleasing site takes hours upon hours of work. Not to mention the effort that was put into it.
Appreciate employees and staff members and compensate them appropriately.

Do #3: Give realistic deadlines
Unless you (the client) can pay the rush job fee, it's better to give outsourced online site designers an ample amount of time before the deadline.
As mentioned earlier, designing sites and its subsequent pages takes time. Perfecting layout placements and the functionality of buttons, scrollers, and pages won't happen in a snap of a finger.
If you wouldn't rush an author writing a book, why would you rush an online designer designing a site?

Don't #1: Underestimate
web design
outsourcing
Some people grossly underestimate web design outsourcing as it "takes away jobs from the local talent pool."
These claims have little to no basis as outsourcing has created millions of jobs across industries. But on a smaller scale, some employers discredit outsourcing activities as most designers nowadays are self-taught and did not come from a design institute.
In some professions, having degrees and certificates doesn't really matter if one has the necessary skills.

Don't #2: Be vague
When it comes to giving instructions and ideas to your in-house or outsource designer, be as descriptive as possible. Tell them about your ideal aesthetic and vibe, supply them with your ideas for the font and the color family.
If you're working with web design outsourcing firms, be in contact and be involved in the project they're working on for you.
That being said, try and stay open to any comments or artistic suggestions that they may have. Communication is key.

Don't #3: Be afraid of web design outsourcing (or outsourcing in general)
Some people may find the idea of outsourcing scary as it involves letting an external party "inside" their operations. But in countless cases, this kind of setup can help businesses be more successful in the long run.
Website design outsourcing is a bountiful subsector of outsourcing. Many people and companies work together hand in hand to achieve business and career goals. 

What does it take to be a website designer?
Being an online site designer takes patience and skill. While some tenured designers believe that coming from a proper design institution can help rookies, some counterpoint this with the practice of self-learning.
The truth lies somewhere between the two opposing points of view. 
For some, classroom training is where they thrive. And some chose to pursue another path and then upskilled once they're in a professional setup.
That being said, if one has the perseverance and the resources to become an online site designer, all it takes is one perfect opportunity to launch their career.

Must-have skills for internal and outsourced website designers
Whether website design outsourcing firms accept non-degree holders or not, there is one thing that makes or breaks a bonafide designer: skills.
As we all know, there are two types of skills that we can accomplish: soft skills and hard skills.
For creatives, they have their own set of skills too.
Soft skills
Soft skills are important in any profession, as it shows just how well a person can adjust to a completely new environment at work.
As a designer, one must have the ability to communicate well with different clients and work well with teammates. Having the ability to communicate is just one of the soft skills we listed below.
These skills can be beneficial to everyone and not just to designers alike.
Written and verbal communication

Team player

Attention to detail

Resourcefulness

Ability to take constructive criticism
Hard skills
Hard skills are skills that are taught, learned, and honed throughout one's life. These skills are practical in nature and can be applied to one's career, be it in school or at work.
Skills like these can be learned and they will eventually evolve over time, as long as the individual wants to and is willing to put in the effort to learn more.
Website design expertise

Technological knowledge

Keen sense of style

Flexibility
How much do web designers make in a year?
In the USA alone, they make about $48k a year, according to Indeed's 2021 database of web designers' salaries.
Hopping off of that number, outsourcing firms pay their designers about $24 per hour. Some freelance designers and independent contractors base their wages here, going higher or lower depending on their experience and skills.

Web design outsourcing: Is it worth it?
Investing and partnering with website design outsourcing companies are worth every penny. Having a well-designed and laid-out site is a definite must-have for any business with an online presence.
As mentioned earlier, aesthetically pleasing and functional sites are what make the customer want to browse around more. This raises the chances of them interacting with a product or service that they're interested in.
Web design outsourcing activities may be new to some, but it definitely pays off in the long run. To ensure that your investment will pay off, partner up with trusted BPO providers like MVP Asia Pacific.