Top 30 BPO Companies in Honduras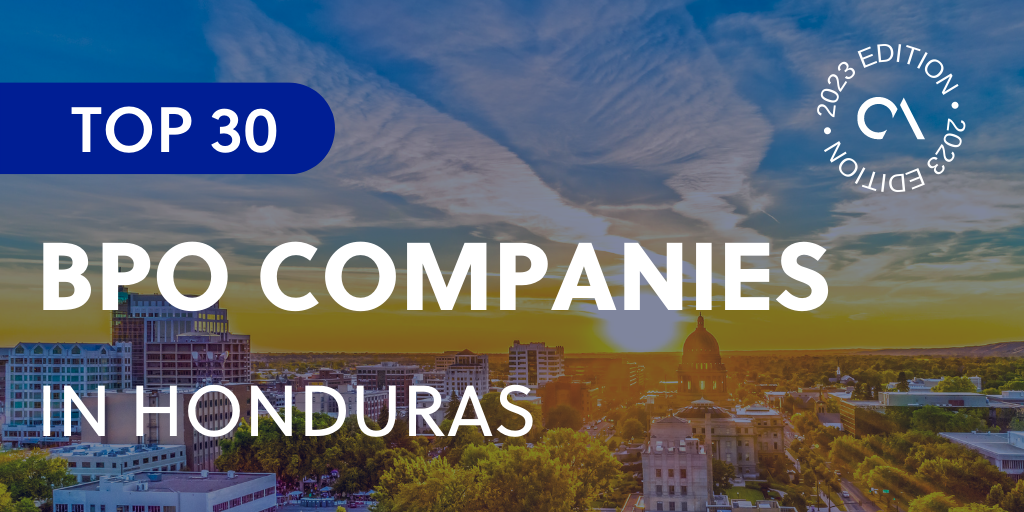 Throughout the years, the demand for business process outsourcing services has been continuously growing. Many organizations outsource specific services to adapt to the ever-evolving complexity of the global market.  
Today's modern businesses have been slowly becoming dependent on BPO companies to support their day-to-day operations. According to Statista, the global IT outsourcing sector alone is forecasted to reach over $395 billion this 2022. 
Traditionally, Western companies would offshore services to developing countries like the Philippines as it is more cost-effective. Particularly in the US, around 300,000 jobs are contracted out by American companies per year. 
Although offshoring remains a more strategic practice, a lot of US companies no longer have to search far and wide to source high-quality services. Honduras is poised as the new nearshoring destination in Latin America. 
Top 30 BPO companies in Honduras
Top global outsourcing list
Outsource Accelerator is the world's leading outsourcing marketplace and advisory. We list over 3,000 BPO firms located across the globe in our global directory, and we provide detailed information, price guides, and reviews.
Whether you're a solopreneur, SME owner, or corporate executive, we can help you find the most suitable outsourcing provider for your business.
Explore our outsourcing directory now. You may also check out our Top BPO Outsourcing lists per country here:
The viable BPO ecosystem of Honduras
Honduras, a country referred to as the green heart of Central America, has been recently gaining traction in the outsourcing scene. With its large pool of young and bilingual professionals, this country is becoming among the most attractive destinations for call center outsourcing services. 
It was 10 years ago when business support services, specifically the call center sector, started operating in the country. Later on, Altia Business Park built its first intelligence tower in San Pedro Sula to pave the way for business support services providers. 
KM2 Solutions was the very first BPO company to locate in the country. Examples of other renowned call center service vendors that are now established in Altia Business Park are – Startek, San Services, Zero Variance, Alorica, and Concentrix. 
The capital of Honduras, Tegucigalpa, is another prominent city rigged with BPOs specializing in call center services. Tegucigalpa and San Pedro Sula are two BPO hubs connected by the country's North-South highway. 
Honduras is the third country in the whole of Central America with the working population employed in the call center field. In 2020, 50.21% of the entire employed population in the country were in the services industry – Statista.  
Honduras as an attractive nearshoring destination
Many of the multinational companies contracting out services in Honduras are mainly coming from Canada, the US, and other EU countries. 
What makes it a very attractive outsourcing destination is the following reasons: 
A wide pool of young and easy-to-train labor force with excellent skill sets in customer care, data entry, and technical support. 

Similar time zones make nearshoring services more effective for companies in the US, Mexico, Canada, Southern, and Central America. 

Bilingual and experienced call center agents with a neutral accent. 

Competitive labor costs, enabling US companies to save up 50% of their overhead. 

The vastly growing BPO industry in a country with a stable market. 

World-class infrastructures backed by the Honduran government and the public sector financial investment. 
The Honduran government is committed to supporting the growing BPO industry in the country. It has solid plans to develop new BPO locations and schools wherein teaching English will be a priority in the coming years. 
Top 30 BPO companies in Honduras
Below is the list of top 30 BPO companies in Honduras:
CONNECT is an international servicer to the BPO industry, specializing in Customer Care and Solutions development.
It is a new kind of BPO with an established leadership team that has a strong track record in making an impact on the experience of every customer.
What makes Pronto BPO different is that it is a multilingual contact center service provider with locations in Guatemala, Honduras, and El Salvador. Its expertise revolves around sales, technical support, customer service, and back-office support.
Allied Global has two headquarters in Honduras, which are located in Tegucigalpa and San Pedro Sula. This BPO provider offers business process services and several IT outsourcing functions. 
Sans Services is a web development outsourcing company to global businesses. It provides highly skilled professionals specializing in – web design, e-marketing, software development, graphic design, and other IT-related services. 
Sans Services is headquartered in Altia Business Park, San Pedro Sula, Honduras. 
PartnerHero offers services like customer support, software QA, content moderation, account security, identification verification, and payment fraud compliance. It has 19 remote offices in over six countries, including Latin America. 
Zero Variance provides customized BPO services that are according to each client's type of needs. Aside from automating customer engagements, it also offers other business solutions to help companies have efficient, smarter, more agile operations. 
Startek has an array of outsourcing solutions for different business segments like customer engagement, social media, analytics, insights, and omnichannel services. 
Startek currently has 40k+ professionals that cater to over 250k+ clients all over the world. 
KM2 Solutions has been a trusted outsourcing service provider to global clients since 2004. Its specialized services include technical support, back-office processing, business management, customer care, sales, and marketing. 
KM2 Solutions has offices not only in Honduras but also in Barbados, Dominican Republic, Grenada, Saint Lucia, and Colombia. 
Interpretia is a premier customer service interpreter provider with physical locations in Honduras, Peru, Ecuador, Nicaragua, Argentina, Guatemala, and The Savior. It provides customer service agents that are proficient in German, English, French, Spanish, and Portuguese. 
Code Exitos helps companies and entrepreneurs create top-of-the-line digital products. This IT service outsourcing company is packed with seasoned engineers, web designers, developers, and experienced digital innovators. 
Collective Solution (CS) is an esteemed call center outsourcing company backed by over 10 years of industry experience. Its Honduras base offers a wide pool of well-experienced bilingual (English and Spanish) customer service professionals with neutral accents. 
CS is also located in other parts of the world like the Philippines, where it all started, Jamaica, and the US. 
ICC offers omnichannel customer and language services with an agile approach to help clients provide outstanding customer experience. 
Aside from customer service, ICC also has other outsourcing functions like interpreters (English to Spanish), tech support representatives, and customer support.  
Techline Contact Center has the best phone service solutions for functions like telesales, customer service help desk, collection management, order taking, and social media management. 
It caters to businesses in the retail, energy, banking and finance, and technology and telecommunications industries.  
Teleperformance is another globally renowned and award-winning BPO company. It offers a wide selection of outsourcing services from customer experience management, AI operations, consulting, and analytics to other specialized services. 
TDS Global Solutions, previously known as TeleDevelopment Services Inc., was primarily built as a boutique consulting firm. 
Today, this BPO company has expanded its services from HR and operational support to contact center services, call center assessment, management consulting, and executive recruitment. 
24-7 Intouch is a world-class outsourcing provider that has been supporting its global clients for 20 years now. Examples of its services include omnichannel customer care, brand trust and safety, and strategic solutions. 
24-7 Intouch has its strategic locations all around the world, from Latin America, North America, and the Caribbean to the Asia Pacific and the EU. 
Koala Outsourcing is an information technology consulting firm that has been in the outsourcing industry for 25 years. It has a team of experienced application development experts specializing in different programming languages, databases, and operating systems.  
Koala outsourcing also offers business solutions for e-commerce, accounting, financial, and production applications. 
number8 is a premier nearshoring destination with headquarters in Kentucky and nearshore locations in Costa Rica and Honduras. 
Its featured outsourcing functions are staff augmentation, cloud integration, custom solutions, QA automation, new product development, and agile transformation services. 
Agile Solutions is a software development and IT professional outsourcing services company. It has a variety of technology, consulting, and other outsourcing services. Its physical offices are situated in Honduras, Boston, Texas, and Brazil. 
ResultsCX has ideal offshoring and nearshoring locations for companies looking for high-quality customer experience solutions. Aside from its Honduras office, ResultsCX also has 23 other hub offices all over the world. 
Go Consultores is another IT outsourcing firm with cutting-edge services. These include application development, system integration, application platform support service desk, web development, and business intelligence. 
Go Consultores has two IT outsourcing hubs in Honduras: Tegucigalpa and San Pedro Sula. 
Tecoloco is one of the prominent employment exchanges in Honduras, having the largest professional database with over 1.5 active resumes. Its popular employment categories include call center, IT, finance, accounting, office support, and management. 
Janus BPO is a 100% Honduran-based company specializing in collections and customer service. It supports businesses in the health, automotive, education, manufacturing, banking and finance, and telecommunications sectors.  
Grupo Levanter also has two office sites in San Pedro Sula and Tegucigalpa, Honduras. This outsourcing provider has all-around services for business process and management, finance and accounting support, IT consulting and staff augmentation, and strategic services sources assessment and planning. 
This BPO service company has its head office in Miami and is also operational in Tegucigalpa, Honduras. Workloop prides itself on being an employee-centric company, which is also its primary edge over its competitors in the outsourcing market.  
Workloop offers specialized solutions for customer engagement and back-office processes. 
Grupo Vision is an IT outsourcing provider with a range of IT solutions for smart security, identification and biometrics, and digital transformation of businesses. 
In addition to that, it also has other IT outsourcing services like design and consultancy, monitoring services, professional services, maintenance, and support. 
Back Office Outsourcing & Consulting is another popular nearshoring destination in the heart of Central America. 
It provides specialized services focusing on back-office and administrative functions. Its featured outsourced roles are HR, accounting and finance, payroll management, billing, and messaging services. 
QuipuTech is composed of dedicated professionals specializing in financial services and solutions. This financial technology services company is headquartered in Lima, Pero, and Tegucigalpa, Honduras. 
Apart from being one of the top global BPO companies, Alorica is also an award-winning outsourcing vendor. It provides customer management solutions that cover the consumers' entire customer lifecycle.
Alorica can be found in 16 countries across the globe, from the EU, Asia Pacific, and North America to the Caribbean and Latin America.
BPO Honduras has a selection of consulting and outsourcing services for businesses in different industries. Part of its offered outsourcing roles is legal services, accounting, and human resources.