Top 20 BPO Companies in New York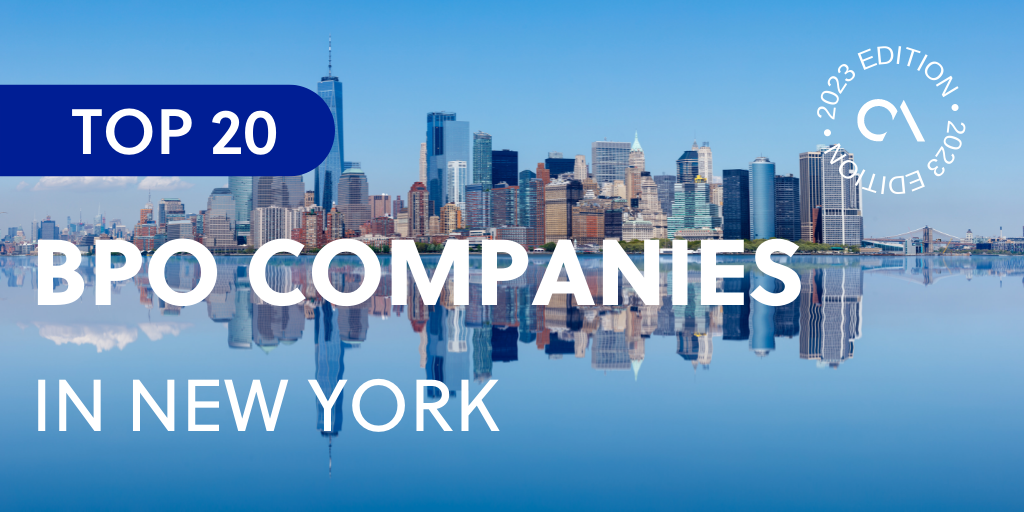 The competition in the market has never been as challenging as it is today. That said, businesses should hyper-focus on their target market's demands. But how could they do that if they have a lot of tasks at hand? 
Business process outsourcing can help enterprises focus on improving their products and services. These companies provide efficient solutions for scaling up resources, improving service quality, and enhancing productivity. 
Let's look at the top 20 BPO companies in New York. 
How does BPO work?
Businesses outsource some of their processes to outside suppliers or subcontractors, known as business process outsourcing (BPO) companies.
BPOs provide firms with access to cutting-edge technology resources they would not otherwise have. BPO partners and businesses continuously try to enhance their operations by implementing the newest technology and methods.
In addition, they give businesses the advantages of better productivity, immediate resource reassignment, and rapid and accurate reporting.
Top 20 BPO companies in New York
Top global outsourcing list
Outsource Accelerator is the world's leading outsourcing marketplace and advisory. We list over 3,000 BPO firms located across the globe in our global directory, and we provide detailed information, price guides, and reviews.
Whether you're a solopreneur, SME owner, or corporate executive, we can help you find the most suitable outsourcing provider for your business.
Explore our outsourcing directory now. You may also check out our Top BPO Outsourcing lists per country here:
Advantages of hiring BPO companies
When it comes to advantages, BPO companies indeed offer a lot to their partners.
Improved operational efficiency
First, BPO companies allow enterprises to put all of their focus on their core business operations. They enable companies to be efficient enough to meet and exceed their customers' expectations regarding their products and services. 
Cost-effectiveness
BPOs are also cost-effective. Businesses can save money by hiring a BPO company instead of hiring a certain individual to do the job, which requires a more expensive rate. 
Improved technology
BPOs allow businesses to access more advanced technologies without paying much. They also have professionals to work on specific technical issues. 
Source of customer feedback
Since most BPO workers interact directly with consumers. They frequently get first-hand feedback on the products and services their business partner provides. They may use this insightful criticism to enhance the services they offer.
Top 20 BPO Companies in New York
Web Design Sun is a business outsourcing company with headquarters in different locations, such as New York, Barcelona, and London. It is a fully-remote business that specializes in creating personalized web solutions. 
Founded in 2012, Web Design Sun operates with effective and efficient SEO techniques to help brands in different parts of the world. The company's focus areas include UX design, mobile application development, website development, BPO, and testing services.
Prograsys Business Solutions is a BPO company founded in 2007. They take pride in providing digital transformation to small, medium, and large businesses through top-notch data and marketing services. 
The company specializes in a customer-centric business approach to guarantee agility to step up in a competitive market. Prograsys Business Solutions is located in New York and Karnataka. Their industry focus includes Information Technology, E-commerce, and Advertising. 
Founded in 2017, Abacus Cambridge Partners became one of the promising tech consulting BPO companies in New York. The company takes pride in helping other businesses to accelerate transformation by providing innovative and secure business ideas and solutions. 
Abacus Cambridge Partners has also been known for their notable project API customization. The company uses a specialized API gateway to help integrate services to telecommunication providers.
Diligence Agency is a creative website design outsourcing company located in New York City, New York. The company was founded in 2012 to connect virtually with SMBs worldwide. 
Their services include website design, SEO, social media advertising, and revenue-focused marketing. The company also takes pride in being an ISO-certified business.
Lease A Sales Rep is a marketing and PR-focused BPO company founded in 2003. The company takes pride in developing personalized sales solutions which include support services and strategic sales and analysis. 
Lease A Sales Rep provides top-of-the-line services, such as appointment setting, lead generation, external and internal sales departments, and telesales. 
Horatio is a tech-focused customer support company located in New York City, New York. Founded in 2018, the organization takes pride in being a trusted business partner for different fast-growing businesses around the world. 
What makes Horatio stand out is its cost-effective customer support that helps its clients optimize the integration of the latest technologies and improve workflows. 
With more than five years of combined experience, Triyock BPO takes pride in providing top-notch data collection and research outsourcing services. The company provides process consulting services, artificial intelligence and automation, and digital marketing to offer quality, speed, and a holistic approach.
Triyock BPO has also handled over 200 projects and is an ISO-certified company.
Vee Technologies is one of the leading business process management companies in New York. The company was founded in 2000 and now has offices in India. Vee Technologies takes pride in providing outstanding business process services to streamline operations and maximize compliance. 
Vee Technologies has earned a spot on the IAOP Global Outsourcing's list of the best outsourcing service providers in the world. Thanks to its continuous client satisfaction achievements, it is also among the fastest-growing American businesses.
Tech2Globe Web Solutions LLP was founded in 2014 as of the youngest software developing companies. The company takes pride in having a team of professionals who work hard to provide their clients with top-notch solutions. 
Tech2Globe specializes in windows, website, and ERP solutions. The company also provides services such as data processing, web research, MIS reporting, and management services for e-commerce.
Medical Billing Wholesalers is a BPO company founded in 2007. The company is located in New York and supports US-based medical billing and EMR companies. 
Currently, Medical Billing Wholesalers has more than 700 workers, from coders, accounts receivable professionals, and medical billers. 
The company takes pride in building technology solutions, such as robotic process automation, analytical tools for collections, workflow automation, and performance improvement.
Ubiquity Global Services is a global outsourcing company located in New York City, New York. Founded in 2012, the company takes pride in providing cutting-edge customer experience management solutions to increase user happiness while lowering overall service costs.
The company has created a one-of-a-kind digital platform that drives operations designed for excellence and provides its clients with insightful and helpful business analytics.
Canon is a BPO company providing outstanding customer services for different businesses worldwide. Located in Madison Avenue, New York, the company helps businesses digitally transform and upgrade their products and services through innovative approaches. 
Canon's services include workflow automation, data analytics, and Six Sigma methods.
Open Call Centre is a BPO company founded in 2017 in New York City, New York. The company specializes in appointment setting for different industries, such as healthcare, technology, retail, and telecommunications. 
Curvearro is a digital marketing agency founded in 2018 in New York City, New York. The agency is considered a leading and award-winning business with a turbocharged ecosystem. 
They also take pride in helping brands and businesses navigate the digital landscape and defining growth opportunities.
CrewBloom is an outsourcing company founded in 2016 in New York. The company takes pride in helping businesses find skilled talent for their brands.
CrewBloom serves clients from different industries, such as e-commerce, healthcare, logistics, IT, Insurance, legal, and real estate. 
Forrest Solutions is among the pioneering BPO companies established in 1976. As an onsite outsourcing company, they provide top-of-the-line solutions in finding the right talents for a specific job. 
Forrest Solutions also offer strategic counseling. They take pride in providing businesses with skilled professionals that have been through Forrest Solutions' extensive recruitment process. 
Founded in 1997, Genpact is a global professional service company providing outstanding results that help every business transform to its best form.
The company takes pride in collaborating with the world's innovative companies to create supply chains that drive digitally-enabled operations. 
TalkAgent is an outsourcing company located in New York. The business offers outstanding and award-winning non-voice support services to different companies worldwide. Their services include live chat, email, technical, lead generation, and ticket support. 
Ring Savvy is a business outsourcing company located in Nesconset, New York. The company offers top-of-the-line answering and virtual reception services to different industries, such as real estate, medical, and legal. 
Conlon & Company is one of the pioneering BPO companies that was established in 1984 in Rochester, New York. The business takes pride in assuring its clients that the specialized service they receive results from years of advanced training, practical experience, and business savvy.