Top 20 BPO companies worldwide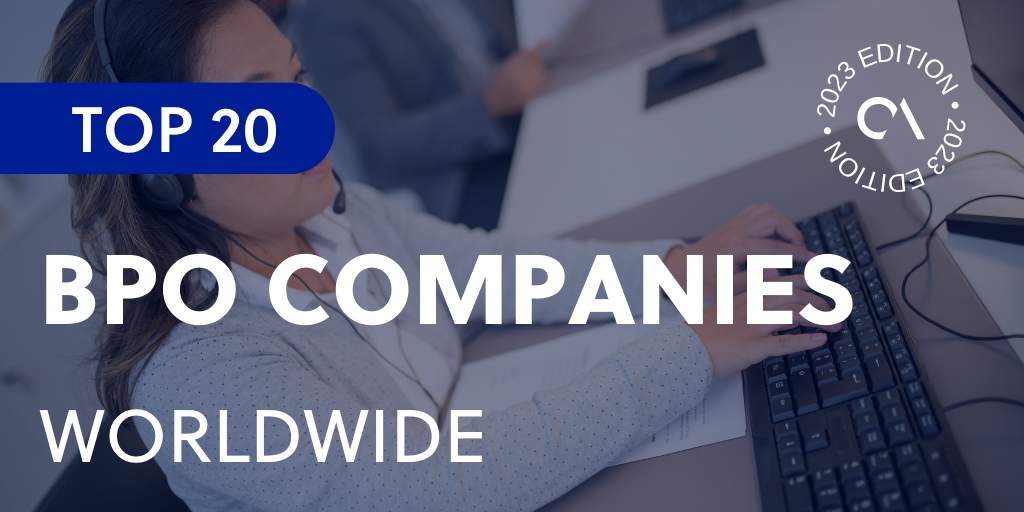 As digitization continues to take place, businesses look for ways to take advantage of new technologies while also reducing costs and increasing efficiency.
By outsourcing business functions to a third-party provider, companies can focus on their core competencies and get the job done at a lower cost. 
This industry is skyrocketing. According to Grand View Research, the global BPO market is valued at $249.9 billion and is expected to grow at a rate of 9.1% until 2030.
Renowned publications like Forbes regard this practice as beneficial to businesses, no matter their size. These are strong evidence as to why the industry continues to thrive today. 
In this article, we look at the top BPO companies worldwide that are changing how businesses operate today.
Why your business needs to work with a BPO provider
Outsourcing has been a growing trend among businesses of different sizes. A business should work with BPOs that offer specific services for their industry.
With the right team, a BPO with a skilled and diverse workforce may help your business save money on overhead costs and increase productivity. The following benefits motivate companies to opt for this strategy.
Increased productivity 
Outsourcing will drive efficiency of each task and open the door to sales and revenue growth without having to staff full-time employees. This saves companies from rising employment costs and consumers from price markups. 
Scalability
For startups, mistakes can hinder business growth. Working with BPOs staffed with experienced professionals allows companies to avoid making rookie mistakes, especially during its growth phase. It also lets businesses make the most of limited resources.
Flexibility
Outsourcing providers offer a broad range of work arrangements and outsourcing pricing models that help businesses only when needed. Businesses can opt for hourly or project-based help and other options to help meet objectives fast. 
Top Global Outsourcing Lists
Outsourcing is a viable and cost-effective way to expand your business. The Outsource Accelerator directory has been the first stop for thousands of companies looking for outsourcing solutions online. We help our users browse through over 3,000 BPO service providers who cater to small businesses and large corporations alike. 
In this list, you'll see a lot of contenders stemming from all around the globe. But if you're looking to work with a local company, see some of the country-specific roundups we have below: 
Top 20 BPO companies worldwide
Are you looking for a top BPO company to grow with? This fast-growing industry has a competitive list of providers that you can choose from. Leaders in this industry shine because of their skills, experience, and innovation which lessens the load on their customer's plates.
See the leaders of business process outsourcing.
Accenture is a global professional services company based in Dublin, Ireland. Its huge presence at the forefront of the industry helps it secure a spot in this list of top BPO companies worldwide.  
The company offers services for various industries, from infrastructure to business strategy. Recognized by different publications and organizations worldwide, it is known for its digital, cloud, and security services. It operates in over 120 countries.
Headquartered in Teaneck, New Jersey, Cognizant provides various business process services, including IT, consulting, and cloud solutions.
Their mission is to enable businesses to adopt operating models that drive performance and customer satisfaction. Its customer base includes the top pharma, finance, telco, and healthcare companies. 
IBM offers hardware, software, and services for both developers and businesses. For its BPO services, the company offers data extraction, AI model creation, and order management infrastructure.
The New York-based IT company has over 38 locations worldwide. 
Wipro is a leading global information technology, consulting, and business process outsourcing company. It is known for its IT services and solutions focused on helping clients with enterprise applications and business intelligence. The company is headquartered in Bengaluru, India. 
JPMorgan Chase & Co. is a multinational financial services holding company headquartered in New York City. It was founded in 2000, but its heritage dates back up to 200 years.
The company's services are catered to small businesses, commercial, banking, and financial transaction processing. 
Infosys Limited is an Indian multinational company with business consulting, information technology, and outsourcing services. Its services range from blockchain, automation, sourcing, and procurement.
Backed by 20 years of experience, it serves customers in 35 locations worldwide. 
TaskUs is a digital outsourcing company with a strong focus on content. Some of its well-known clients include Doordash and Facebook.
The company's services are available for businesses of different sizes. Some of them include content moderation and digital support. 
A subsidiary of SYNNEX Corporation, Concentrix provides customer engagement and business performance solutions through customer engagement and revenue growth services. The company is best known for its customer experience solutions.
Concentrix is based in Newark, California, and provides services to more than 40 countries. 
Telepormance is an omnichannel company that serves over 88 countries and different markets. The Paris-based company offers services ranging from customer acquisition management to customer care.  Its client base includes Samsung and Grubhub.
Teleperformance has been recognized by award-giving bodies like Fortune and Great Place To Work.
Telus is involved in Canadian and global telecommunications infrastructure. Its business process services offer solutions for healthcare, travel, ecommerce, finance, and a whole range of industries. Its solutions range from customer experience to back office and automation. 
IT service management company Conduent is based in Florham Park, New Jersey. Established in 2017, it provides digital platforms for businesses with solutions focused on improving efficiency and revenue.
Conduent's BPO services include document automation, finance, procurement, and legal and compliance solutions. 
EXL Service is a global analytics and digital solutions company. The New York-based BPO provider offers services to a range of industries, from banking to media. Its leading data and analytics services have been recognized by award-giving bodies. 
TCS is a multinational company based in India. The company under Tata Group operates in 150 locations globally. Its cognitive business operations services assist clients in designing, enabling, and executing business operations.
HCLTech, a leading multinational technology company with offices in 54+ countries, offers different technology services and products to help businesses progress. This includes finance and accounting, digital and content, and Software as a Service, among others. 
CGI is an IT services and consulting company based in Montreal, Quebec. It is powered by over 30 years of experience and operates with automated workflows to improve user experience and processing time.
Sitel is a company based in Miami, Florida. The BPO service provider supports each stage of the customer journey, from the learning stage up to the digital stage. 
It offers a range of services, from back office support to customer authentication. The company works with different industries, including government, telecommunication, and retail. 
Automatic Data Processing, Inc. (ADP) is a New Jersey-based company that provides human resources management software and services to help clients drive business efficiencies.
The services in this company's roster include payroll to tax services. It operates with cloud-based human capital management solutions. 
NTT Data is a known IT and business service provider headquartered in Tokyo. Clients trust the company for data and intelligence, cybersecurity, and salesforce, among other business facets. Offering assistance to over 50 countries, the company has helped a range of clients through different means, be it through health plans or banking services.
Capgemini is a Paris-based company with a strong focus on data and cloud services. Its business process, known as the Frictionless Enterprise, integrates AI-augmented operations to help businesses grow. Their services apply to supply chain, customer, finance, and people solutions.
Genpact is a global professional services firm that operates in three principal lines of business: Consulting, Digital, and BPO. Its services include customer care, supply chain management, and accounting.
The company offers transparent work processes led by data. Forbes named Genpact one of the World's Best Management Consulting Firms in 2022.