Top 20 BPO companies in Chicago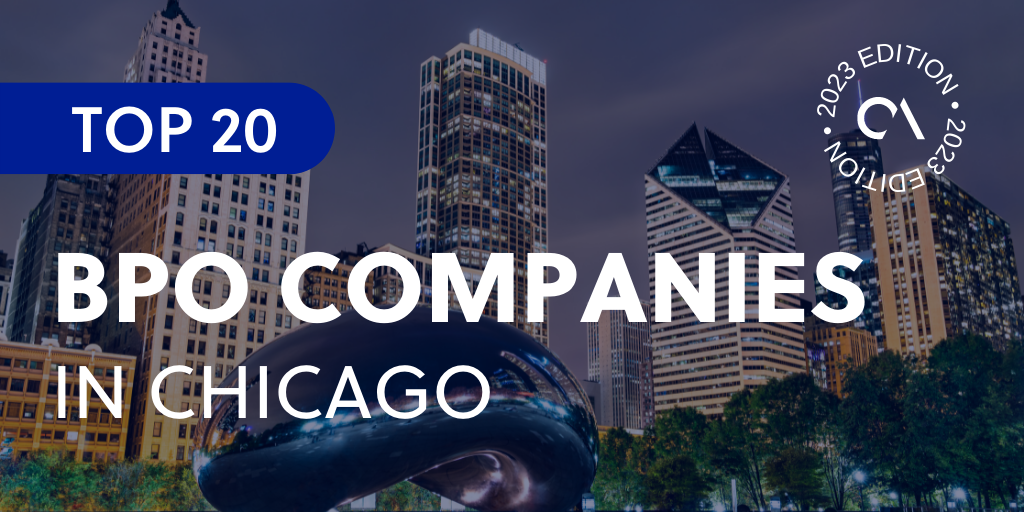 Hailed as the Best Big City in the United States for six years by Condé Nast, Chicago does not only boast its world-famous culinary scenes and astounding architecture. Its booming economy is also a key player in the local and global business scenes. 
While it is the third-most populated city in the United States, setting up an office for in-house customer service operations or marketing teams can be costly and challenging, especially for startups.
Good thing Chicago offers top business process outsourcing (BPO) firms reputable for goal-driven marketing advertisements, lead generation, and more with its competitive workforce.
Companies aiming for efficiency and productivity in the City of Big Shoulders have a shoulder to lean on with Chicago's top BPO firms. 
If you are searching for the right BPO for your Chicago-based company, this article provides the top BPO companies in Chicago.
Top global outsourcing list
Outsource Accelerator is the world's leading outsourcing marketplace and advisory. We list over 3,000 BPO firms located across the globe in our global directory, and we provide detailed information, price guides, and reviews.
Whether you're a solopreneur, SME owner, or corporate executive, we can help you find the most suitable outsourcing provider for your business.
Explore our outsourcing directory now. You may also check out our Top BPO Outsourcing lists per country here:
Outsource Accelerator identifies the top trusted outsourcing firms after comprehensive research to produce dependable lists for those searching the suitable outsourcing providers. 
Top BPO companies in Chicago
Chicago is a thriving corporate scene, being one of the world's largest and most diverse economies, offering abundant opportunities for hiring talented individuals with experiences from various industries such as food, health, tech, automotive, and more. 
Below is the list of the top 20 BPO companies in Chicago with their descriptions. 
PricewaterhouseCoopers (PwC) is the second-largest international partnership brand of firms offering professional services and has an office in Chicago, Illinois.
Considered one of the Big Four accounting firms (Deloitte, EY, and KPMG), PwC provides two professional services in two categories: Trust Solutions and Consulting Solutions.
Trust Solutions includes financial statement audit, tax services, and governance insights center, while Consulting Solutions includes clouding and digital and cyber risk and regulatory, among others. 
24/7Digitize is a tech and outsourcing firm headquartered in Chicago dedicated to optimizing and executing non-core activities so businesses can prioritize their progress more. 
The company offers a wide range of services, from data management, litigation support, and Acumatica bookkeeping to customer support, design and marketing, and custom development. 
Morae Global is an award-winning, global professional services organization trusted by leading law firms, legal departments, and compliance functions internationally for helping solve complex legal and compliance problems by delivering customized and cost-effective solutions.
Although headquartered in Houston, Texas, it has offices in Chicago and more across Europe and Asia, serving the energy, technology, financial services, and life sciences industries. 
A Chicago-based, family-owned-and-managed company, Tab Service Company is a one-stop shop BPO firm that has been in the business since the 1960s. 
Tab Service Company serves the legal, healthcare, and higher education industries by processing survey data and data capture and forms, data entry service, document scanning, and tax form processing, among many others. 
Situated in Oak Brook, a suburb of Chicago, this firm specializes in workflow and critical document archive solutions that ensure business support with credible responses. 
The Millennia Group offers services that cater to different departments, such as accounting, finance, tax, HR, legal, and engineering. It also provides services such as data management and smart scanning. 
PeopleScout is a recruiting solutions provider offering competitive-edge recruitment process outsourcing (RPO) that is customizable using industry-leading technology, Affinix platform, and service-oriented support in a client's talent acquisition process. 
Awarded as a Leader on HRO Today's 2022 RPO, PeopleScout garners a successful rate of 97% in its client retention. 
The company's president, Benjamin Koppel, is a licensed public accountant (CPA) and chartered financial analyst (CFA). His company offers services from a chief financial officer (CFO), bookkeeping, income tax and payroll preparations, and internal revenue service (IRS) representation.
BKA represents diverse clients, from those in the cannabis industry, real estate, and tech developers, to auto mechanics and individual taxpayers.
ARO is a results-oriented organization that offers innovative solutions such as managed services, BPO, hospitality design, document management, eDiscovery, and digital lockers, to name a few. 
The firm uses strategic assessment and in-depth evaluation of its clients to identify problems that business owners could have overlooked or unexamined to achieve cost-efficiency and improve agility and safety.  
SPSGZ has been a full-service outsourcing company since 2001, focusing on national stock plans and tax form reporting. 
With certified public accountants (CPAs) on their team, the company offers filing and reporting services and stock plan administration with flexible rates.
Advanced Group of Companies is a talent and recruitment outsourcing service provider comprising several brands under its wing.
Depending on their needs, clients can tap the network for clinical development organization, human relations, business transformation, data analytics, development services, and optimized recruitment solutions. 
Walker Sands is a B2B growth agency founded in 2001, conducting tailored marketing solutions to help accelerate the growth and innovation of its clients. Its services include branding, creative services, demand generation, marketing strategy, and web services. 
CCC is a service specialist in securities and antitrust class action claims. It is committed to solving its clients' burdens with its best claim filing service and customer service using innovative technology and intuitive systems. 
The company has been in the business for 29 years, serving over 2,000 clients since 1992.
Access One is an information technology (IT) services and support outsourcing firm offering various solutions such as cyber security and managed IT like technical account management.
It also has additional services of available virtual chief information officer (CIO) or chief information security officer (CISO) and cloud services. 
The company also offers voice and data services using the best voice quality for high-performance phone service and data networks. 
A market-leading software development outsourcing and consultancy partner, ELEKS has offered its clients digital transformation and scale development efforts that are cost-efficient and flexible since 1991. 
ELEKS has more than 2000 in-house multi-skilled technological experts with firm backgrounds in math and physics dedicated to creating solutions involving IT resourcing gaps. Some global enterprises that trust ELEKS are Aramex, TAIT, Autodesk, Blackboard, and more. 
A leading provider of cloud-based telephony solutions, Cloud5 Communications is trusted by the hotel and hospitality industry for its guest internet (HSIA), contact centers, and communication services. They are serving 4,000 clients worldwide, one being the Marriott group of hotels.
Cloud5 Communications also serves other industries like retail, eCommerce, multi-dwelling units, and consumer and business.
The company has a good reputation in the hotel industry for providing high-performance and cost-efficient communications using advanced and commercial technology.
Known to be a growth partner of small and medium enterprises in Chicago since 1992, Spectrum is now a full-service Internet marketing company.
It delivers quality online marketing and lead generation sales ecosystem, a one-stop system for marketing tools essential to captivate, maintain and grow leads into bottom-line revenues. 
The company offers intuitive software solutions to promote the growth of businesses. 
Assivo prides itself as one of the world's fastest-growing BPO firms, focusing on communication, management, quality, and honing a holistic working environment for its trained employees and scale teams to be a competitive and adaptable partner. 
Trusted by more than 150 high-performing companies such as Adobe and Yale University, the firm puts up offshore teams customized to match every client's needs. It mainly caters to startups, middle-market businesses, and growing companies from various industries.  
Positioning itself as "Chicago's Internet Marketing Agency," Proceed Innovative is a team of experienced professionals that produce tailored and integrated marketing solutions for businesses. 
The firm has successfully assisted its clients in meeting their goals, such as objectives and return on investment (ROI), by providing customized internet marketing objectives to fit the client's budget. 
As a next-generation technology services provider, Nitel is a self-funded Chicago-based BPO providing IT and network solutions. It makes complex technology landscapes simple for their clients to help them grow, become more productive, and prioritize their business problems.
Nitel has earned itself a name for its superior customer service and tailored solutions, trusted by thousands of businesses and service providers. 
iCare Billing is a private Chicago-based healthcare information technology company that provides services like medical billing, practice management, and healthcare RCM to hospitals, healthcare practices, and large-scale medical organizations nationwide. 
Highly rated by Google and other institutions, iCare Billing is trusted for its medical billing services and solutions with its specialty-focused support.