Top 20 BPO Companies in Ghana
The Business Process Outsourcing (BPO) industry in Africa continues to evolve as it becomes an ideal outsourcing hub for various services. Over the years, it has been one of the preferred outsourcing destinations outside Asia.
As per the report published by Data Bridge Market Research, the African BPO market is projected to reach $20,554.24 million by 2029. This forecast is mainly due to the market growth in the tech industry. 
There has also been an increasing trend in the outsourcing field in Ghana, despite the COVID-19 pandemic. More and more companies are adopting outsourcing practices as part of their business solutions, thus, choosing the country to farm out services.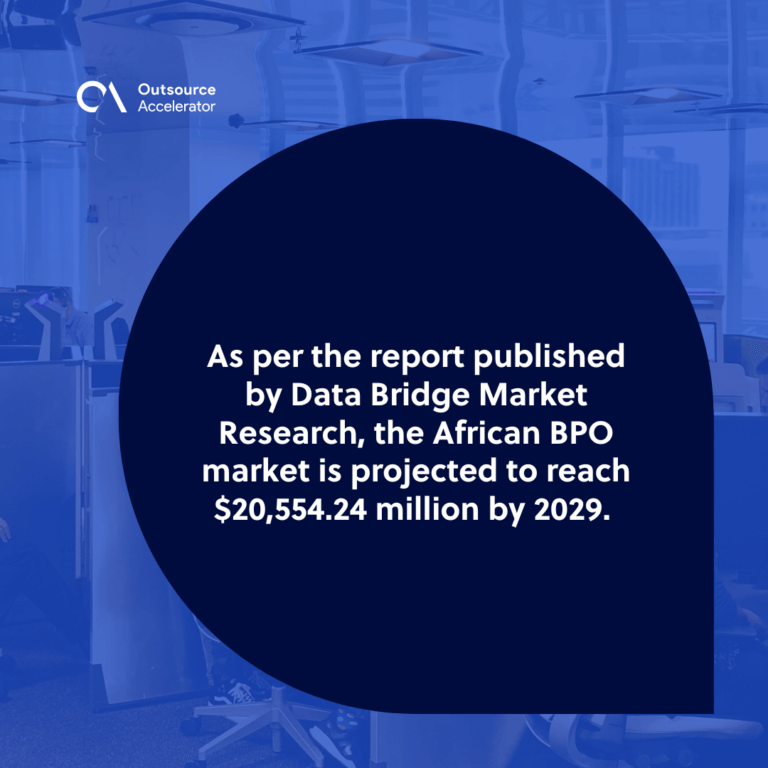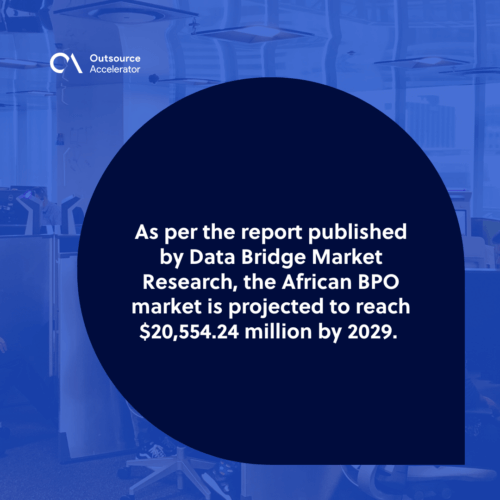 Ghana's BPO industry caters to different industries, including telecommunications, finance, insurance, banking, healthcare, oil & gas, and the energy sector.  
In this article,  get to know the top 20 BPO companies in Ghana that businesses can outsource.  
Top 20 BPO Companies in Ghana 
Top global outsourcing lists
Outsource Accelerator is the world's leading outsourcing marketplace and advisory. We list over 3,000 BPO firms located across the globe in our global directory, and we provide detailed information, price guides, and reviews.
Whether you're a solopreneur, SME owner, or corporate executive, we can help you find the most suitable outsourcing provider for your business.
Explore our outsourcing directory now. You may also check out our Top BPO Outsourcing lists per country here:
The BPO industry in Ghana 
Ghana is one of the leading Business Process Outsourcing (BPO) destinations in Africa. It offers 60% to 70% lower outsourcing costs than other source markets. 
Moreover, Ghana offers tax incentives for international businesses that outsource to the country, examples of these tax incentives include:
Income tax exemptions on profits for the initial ten years.

Tax credit for companies that employ local graduates. 

Double taxation exemption for foreign investors and employees. 
This coastal country's most commonly outsourced services are – knowledge process outsourcing, recruitment process, legal process, account process, and payroll processes. 
The surge in business process automation and security risks played a big part in the development of the outsourcing industry in Ghana.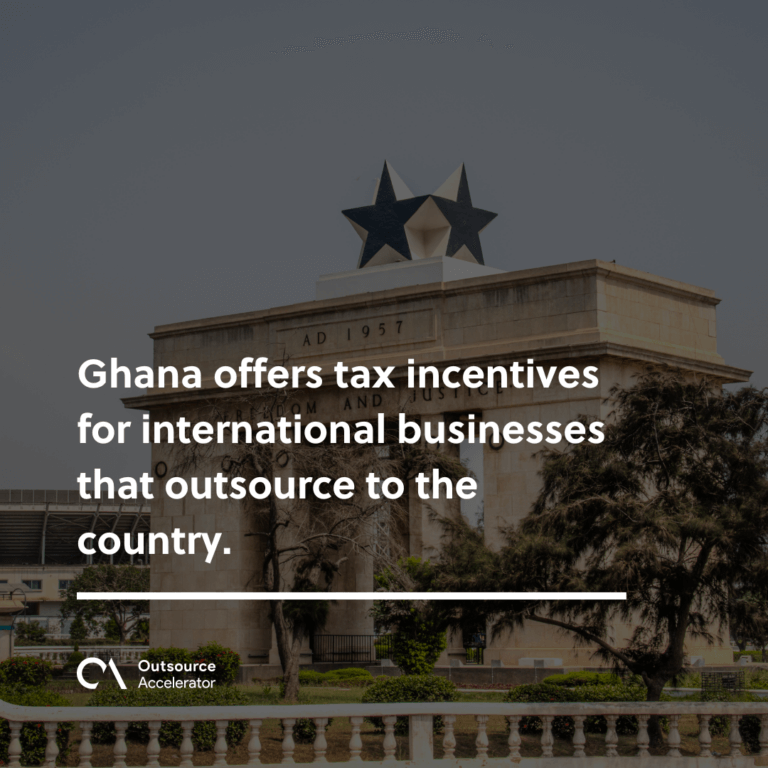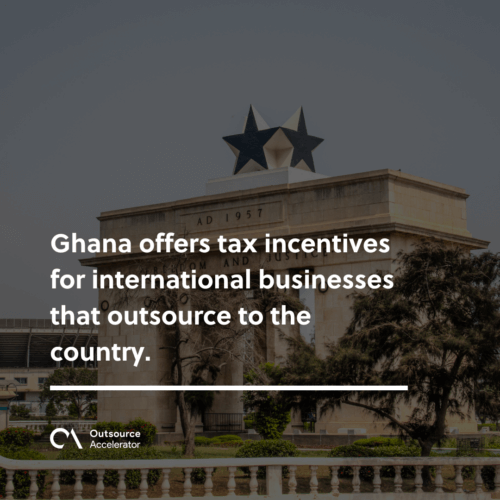 Top 20 BPO Companies in Ghana 
Here are the top 20 BPO companies in Ghana: 
First Manpower is an outsourcing company founded in 2019, and is located in Tema, Ghana. It provides various Manpower services, including direct hiring, managed staffing, payroll administration, immigration support & training, HR advisory permits & licenses, and management consulting services. 
Manpower Ghana is a subsidiary of Manpower Holdings, a multinational company that operates in more than 110 countries. This outsourcing firm claims to be the "most well-known manpower solutions organization" in West Africa. 
Manpower helps businesses of all sizes grow and accomplish their business goals. Part of its offerings include staffing, payroll, recruitment, human resources, global employment, and other BPO services. 
JobHouse Ghana is an award-winning recruitment agency specializing in staff outsourcing, HR consultancy, payroll management, and general recruitment services. 
With over 12 years of experience, JobHouse Ghana offers tailor-made solutions and high-quality outsourcing services to a lot of businesses in and outside the country. As of 2020, it has employed 18 full-time staff based in Accra, 7 in Northern Ghana, and more than 800 outsourced staff. 
Goal Consult is a global contact center provider as well as corporate training services company that offers BPO services to clients across various industries. 
The company helps small, medium, and large businesses by providing them with contact center services, virtual assistant services, social media management, digital marketing, website development & management services. 
Goal Consult clients realms in various sectors, including banking, finance, insurance, telecommunication, retail & consumer, manufacturing, and healthcare.
Founded in 2017, Fncee Consult is one of the BPO services providers and accredited training & skills development consultancy firms in Ghana and across Africa. It offers on-site training and development solutions for small to large businesses, governmental bodies, or non-profit organizations.
The company also provides outsourcing services such as inbound & outbound management, back-office management, and social media management. 
Abelway Technology has over 15 years of experience, and it continues to provide outsourcing solutions for businesses in Ghana. The company specializes in transactional data entry, software development, procurement, CRM platform development, and business process consulting.
Additionally, Abelway Technology is an experienced firm in terms of contact center and customer support services, serving global Fortune 500 companies.  
JPCann Associates Limited is a management consultancy company founded in 2004, and is based in Accra, Ghana. It specializes in business consulting, BPO services, training, and capacity building. 
This outsourcing company has served clients in both private and public sectors in Africa and beyond. Its featured offerings are accounting, payroll, tax administration, monitoring, and evaluation. 
Kobb Outsourcing is a Ghanian staffing and recruitment services firm that provides clients with the best capable talent pool in the market. 
The company serves businesses of all sizes specializing in outsourcing services, permanent recruitment, and temporary & contract recruitment. 
Headquartered in Accra, Ghana, Zuzo Company Limited is a BPO firm specializing in various outsourcing services. 
Part of the company's offering includes contact center solutions, inbound customer service, back-office support, UCaaS, content moderation, lead generation, training & workforce management (WFM).
Firstcode Management Services is said to be the leading provider of contact support services in Ghana. It offers businesses regulatory compliance, back office support, and management support services. 
It also provides offers specialist corporate support services to investors who are interested in doing business in Ghana. 
Founded in 2001, Acreaty Ghana Limited specializes in providing human resources and outsourcing services to clients across several industries. 
It was founded as a joint venture between Acreaty and Jospong Group of Companies. Acreaty Ghana is also considered to be a leading consulting company providing effective solutions to clients in local and international markets. 
Part of the company's offering includes recruitment, business consulting, people and process outsourcing, skills development, and more. 
Edge Outsource Ghana Ltd is one of the trusted outsourcing companies in Ghana that works with public, private, and development sectors. It offers innovative solutions specializing in people, process, and function outsourcing to help clients accomplish their business goals. 
BYF Consulting has been operating since 2012, providing growth solutions to companies local and international. The company's service lines include recruitment, staffing, HR outsourcing payroll, training, consultancy, and manpower management.
L'AINE Services is a BPO company founded in 1994 that specializes in human resource development and a wide variety of services across various industries. Its main office is in Sakumono, Tema, and it has three other branches in Adabraka, Kumasi, and Takoradi. 
It also offers tailor-made functions such as outsourcing staffing, job placement, training, and career counseling. With over 20 years of experience, L'AINE Services is considered to be a  "one-stop-shop HR solutions provider" in Ghana. 
Origin-i Consults Limited is a BPO company based in Accra, Ghana. It specializes in human resources services, deploying highly experienced professionals that deliver tailored solutions for clients. 
Part of its other featured outsourcing roles includes outsourcing staffing, payroll, recruitment, training & development, and placement.
Liranz Limited is the leading IT consultancy and management company headquartered in Greater Accra, Ghana. It provides business solutions, IT consulting services, IT support, cloud services, and IT procurement management services to over 100 clients globally. 
With over 15 years of proven experience, Liranz Limited serves clients across various sectors, including oil & gas energy, law firms, agriculture, retail, financial services, technology, and telecommunications.
Absolute Business Solutions Limited (ABS) specializes in HR and business support services providing services to the business community in Ghana. 
It offers a wide array of services, including HR shared services, business development, permitting & licensing, supplies & logistics, relocation services, and business intelligence & research. 
ABS serves clients in various sectors like oil & gas, financial services, power & energy, and manufacturing.
This software consulting firm based in Accra, Ghana, specializes in web, mobile & database development, and cross-platform custom software applications.
This IT outsourcing firm consists of a highly capable and multilingual workforce from Africa and beyond, offering robust software solutions across multiple industries. 
Majorel, also known as Majorel Group Luxembourg, is the world's leading provider of next-generation end-to-end CX solutions for digital-native and vertical brands. 
It has recently established its physical location in Ghana, where it is expected to create hundreds of job opportunities, employing excellent local talents.  
With around 20,000 team members, Majorel has a strong presence across Africa. Majorel is also operating in other countries, including Morocco, Egypt, Senegal, Ivory Coast, Togo, and Kenya.
Accra Digital Center is a BPO and IT-enabled services center provider with world-class infrastructure, support services, and programs for companies. This company aims to boost employment opportunities and push further toward Ghana's information and communication technology sector.