Top 25 BPO Companies in Spain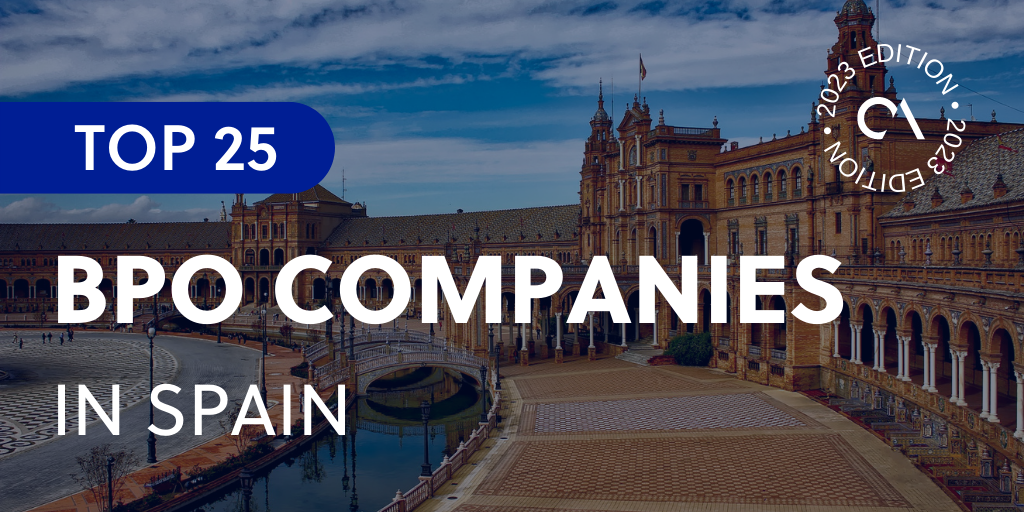 Spain is well-known for its delectable cuisine and breathtaking landscape. There are many reasons to visit Spain – including its rich history, stone castles, snow-capped mountains, huge monuments, and world-class cities.
Spain is also a constituent member of the European Union (EU). In Europe, its Ease of Doing Business score ranks it as one of the best areas to do business.
Overview of outsourcing industry in Spain 
Spain is an excellent option for outsourcing. In terms of cost against quality, they're quite competitive as they can provide a large qualified workforce. 
Between 2016 and 2020, the BPO industry in Spain is estimated to earn total sales of $4.3 billion, indicating a compound annual growth rate (CAGR) of 2.3%.
Spain is well-positioned to produce great IT sector products and services. The country has one of Europe's highest ratios in the number of technology graduates.
There are strict rules for foreigners who want to open and outsource a business in Spain. However, if they have a permanent residence in Spain, you will need to meet the same conditions as their locals.
Why do businesses choose to outsource to Spain?
Aside from rich culture and architecture, Spain has a lot to offer when it comes to business. Some advantages of outsourcing to Spain are listed below.
Spain has a robust economy
Spain has the EU's fifth-largest economy and is the world's 14th-largest economy worldwide as of December 2020. It has a population of 46.6 million people and a GDP of 1.3 trillion USD.
Markets in the Middle East, North Africa, and Latin America are also linked to the Spanish trade market, boosting the economy's overall growth.
It has a convenient location and time zone
Spain is a very accessible country. It is located in the center of Europe, which makes it convenient for travel.
Spain is also part of the Central European Time Zone (CET), which maintains it in time sync with most of Europe and only five hours ahead of the US Eastern Time Zone.
As a result, businesses no longer have to alter their regular business hours to communicate with their operations in Spain. 
Spain offer highly educated and multilingual professionals
When it comes to outsourcing, Spain stands out because of its workforce's technical and linguistic skills.
There is a rising number of people who are proficient in English and Spanish. The number of people who speak other languages is also expanding. Examples include those who speak Arabic, French, or Portuguese.
Top 25 outsourcing companies in Spain
Here are the leading 25 BPO companies in Spain:
Top global outsourcing lists
Outsource Accelerator is the world's leading outsourcing marketplace and advisory. We list over 3,000 BPO firms located across the globe in our global directory, and we provide detailed information, price guides, and reviews.
Whether you're a solopreneur, SME owner, or a corporate executive, we can help you find the most suitable outsourcing provider for your business.
Explore our outsourcing directory now. You may also check out our Top BPO Outsourcing lists per country here:
Top BPO companies in Spain
One of the most important administrative strategies for accelerating economic change is to deploy outsourcing operations. Businesses are always looking for new ways to improve efficiency and reduce costs.
Here are the top BPO companies in Spain where you can outsource:
Regarding digital customer service and sales acceleration, TDCX is the premier BPO provider in Asia. TDCX offers transformative digital customer experiences to different top companies as a global outsourced business service provider.
TDCX has also expanded into Europe and Latin America
Over the past two decades, Grupo Unísono has collaborated with international clients to meet their needs.
When it comes to increasing customer satisfaction, Grupo Unísono is a leader in the business process services, consulting, and multichannel contact centerfield.
Aidey is a BPO firm that offers flexible and cost-effective outsourcing solutions for companies of all sizes.
Aidey's different services include: 
Customer service

Technical service

Sales development 

Outbound and inbound sales functions
Newco is an outstanding Near-and Offshore Contact Center BPO provider that is committed to outstanding operational excellence and driven by an exceptional client experience.
Runway is a business process outsourcing (BPO) company that offers services in multiple languages. This multilingual contact center caters to customers in North America as well as Europe and Russia. 
Call center agents at Essentiel Outsourcing S.L. are fluent in multiple languages. The company offers benefits such as a centralized business process and implementing best practices across all nations in both the B2C and B2B marketplace.
Managing services for financial institutions and investment funds are the expertise of Wallner Group. This firm specializes in managing real estate and other movable assets as part of the overall business strategy.
When it comes to delivering custom high-performance sales and outstanding customer Experience solutions across various languages, markets, and channels, CPM International Contact Centre Barcelona is the real option.
They are also part of a large global outsourced sales and field sales organization called CPM Group. 
Bukit BPO is a global business process outsourcing company that serves as a technology and operational partner to clients worldwide in the BPO industry. It is the mission of Bukit BPO to assist organizations in achieving their goals and enhancing their performance.
Nova BPO offers assistance to companies in terms of back-office and document management. The company provides service and assistance, allowing your business to respond to rapidly changing market conditions.
In addition, the corporation can offer tools that benefit your business by lowering costs, converting fixed expenses into variables, and improving the services provided.
XTERNA Solutions is a Barcelona, Spain-based full-service consulting organization. Experts such as economists, auditors, tax advisers, lawyers, and social professionals are all available through the company. 
They are also experts in business management and advisory services.
Grupo CMC is a global technology and consulting corporation. Grupo CMC Group works closely with their customers, knowing their business, sharing their concerns, and giving value at every process level.
Abinitio provides customers with specialist management services from the start to assist them in improving their companies.
Through advisory services and specific activity outsourcing, the organization serves as a strategic partner in boosting business efficiency.
For more than 40 years, Daem has been a multifunctional organization offering its clients a wide range of services. Daem also has a team of software engineers and computer programmers, demonstrating its commitment to cutting-edge technology.
Data Comunicación is a digital marketing and communication agency located in Bilbao, Spain. The company offer specialists in the development of voice strategies, SEO, podcasting, and public relations.
Centro de Servicios Avanzados (CSA) was established in the financial industry but has now expanded to include the industrial, services, and public sectors.
The company can deliver complete answers to complicated challenges in an effective manner because of our expertise in different technologies and economic areas.
Tria Hora is a well-known innovative business enterprise in Spain. The company provides services to deal with unique issues. Their experts can answer within 12 hours due to their advanced technology.
Tick Translations is a well-known provider of linguistic services in the industry. Whether you require professional translation, interpretation, transcreation, or linguistic counseling, Tick Translation is the company for you.
They provide comprehensive services in all languages and subject areas, even the most specialized. The agency specializes in sworn translations as well as technical translations.
Cognodata is one of the world's most respected consulting firms. The combined data science tools, business analytics capabilities, and extensive industry-specific experience to their offered services. 
Cognodata helps companies all over the world establish effective customer-oriented business strategies.
Quarnstrom & Vang helps firms focus on their consumers without sacrificing the quality of the other services and products they supply.
For the companies, Quarnstrom & Vang is great customer relationships and sales expertise that sets them apart from their competitors and helps them increase revenue and profits.
Mediterranean Consulting is a management consulting firm founded by skilled consultants. Their personnel focuses on strategy, technology, management, and quality concerns. 
Mediterranean Consulting's strategy is based on a never-ending drive to grow and better serve our customers by expanding our capabilities and providing customized solutions for each new challenge.
Colom Bermejo is a business advice agency dedicated to improving the success of its client's businesses. All managerial decisions are made with the help of the company's trusted advisors.
In addition, the company serves as a trusted counselor to businesses and institutions on a variety of management issues.
One of the many services offered by Parera Consulting Group S.L. is integrated administrative management of a company's operations, which includes labor and taxation. They provide added-value services that help their clients make better decisions.
JMAE brings together around 45 highly trained experts from various backgrounds in the fields of business law and finance. Professionals from JMAE take care of the back office and provide individualized services with distinct values.
Merit Consulting comprises several business units whose primary goal is to manage the Human Resources of enterprises contemplating various fields. They can also cover your company's operation, with specific attention given to ongoing training.
Are you one of Spain's top BPO firms? Contact us now!
Let us know what you think of our list of the best BPO companies in Spain. Email us at [email protected] if you have anything to say or if you have any questions. We'd be delighted to assist you in any way we can.