Top BPO companies in Washington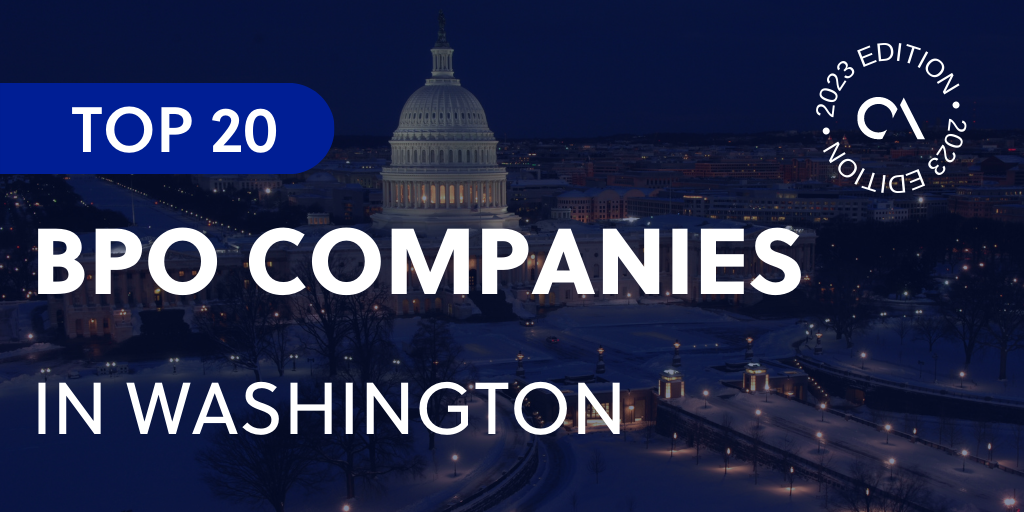 A BPO company needs a specific set of competence to succeed. The top BPO businesses all share attributes that are essential in making it to the top list of the best BPO companies that clients would love to partner with.
Company owners typically seek a specific set of qualities for success in businesses they would like to establish partnerships. When they select a BPO firm, they usually already have a list of requirements that they are looking for.
Although each business owner has unique outsourcing needs, fundamental characteristics are usually prerequisites in selecting the BPO companies they will partner with.
Why should business owners invest in outsourcing?
There are lots of reasons why small and big businesses should work with a BPO company.
Business process outsourcing (BPO) firms are frequently hired as independent contractors to complete a single or a variety of activities for a client organization. They collaborate with businesses in both their front and back offices.
Here are four main reasons why many businesses now rely on BPOs and how they helped them run their operations successfully.
Cost reduction
This is one of the primary reasons behind outsourcing for businesses. Businesses have the choice to outsource tasks to a third-party service provider rather than investing in pricey equipment, recruiting extra staff, and training them for a specific task.
One of the characteristics of an excellent BPO provider is a higher return on investment. Employing an outsourcing provider would also assist in reducing or even doing away with overhead expenses.
Concentrate on core business operations
Small businesses typically need more funding to expand their workforce and invest in new technologies.
Working with a BPO enables small companies to carry out their other tasks for this reason. This way, their internal team may concentrate more on the essential aspects of running the company.
Being one step ahead of the competition is important, especially in this fast-pacing digital environment.
Better use of talent
When businesses opt to partner with BPOs, they avoid the stress of HR recruiting and training expenses while still receiving the best service and abilities from the best in the business. The corporation is responsible for selecting the finest BPO provider to meet its business demands.
Instead of starting over and hiring another person to fill the position in the event of subpar performance, the company can work with another service provider.
Access to advanced tools
BPOs have access to the latest technical equipment that their clients might not have yet. Besides, if BPOs want to have more clients, they must always pursue innovation and be aware of the newest technical advancements that could make their jobs easier.
The corporate world is marked by intense competition. However, you don't need to feel afraid as there are lots of BPO companies that can surely collaborate with you to help your business continue competing.
How does a BPO company help a business?
Partnerships with BPO companies can be a brilliant tool to increase productivity and promote the growth of your business as they will operate, oversee, and manage the business process on your behalf.
The most obvious benefit of hiring a BPO company is the potential cost reduction for the company. A business owner can cut the running costs of the company by outsourcing less essential tasks. The BPO company will do away with the expensive staffing and infrastructure needed to manage these activities.
Partnering with a BPO company can also increase the productivity and efficiency of the company because it can now rely on the expertise of the service provider to make processes simpler. As a result, the business might achieve greater results faster.
Also, a BPO company might assist the business in expanding its activities internationally. This is because it is qualified and experienced to help the company's expansion into new areas.
Small enterprises can also outsource company processes. Scaling up operations may be a good choice for small firms.
If a company is considering outsourcing any business functions, getting in touch with a reliable and knowledgeable BPO service provider may be the best move.
They can assist in achieving business objectives and can provide advice on how to outsource business procedures effectively.
What are business owners looking for in a BPO company?
A trustworthy and capable outsourcing partner is crucial to a company's growth as it expands its market internationally. However, over the past ten years, the need for outsourcing has grown significantly, which has resulted in the expansion of numerous BPO service providers.
It is important to select the best service provider for the business, given the range of choices for BPO firms. A few crucial aspects should be taken into account while looking for a suitable outsourcing partner.
Experience in the Industry
Because you want to ensure that the partner has a successful track record, you must take into account their industry experience, as this will provide them with the knowledge and skills to offer the finest service.
An experienced BPO service provider would be knowledgeable in the industry and equipped to handle tricky scenarios in data input and other business procedures. The company's experience gives them a competitive advantage over other businesses that provide comparable services in the market.
Quality of service
The presence of qualified resources is one of the essential aspects to take into account when selecting a BPO service provider. To complete the work on time, the outsourcing company should have qualified staff.
It is important to take a BPO company's customer care and support into account when working with one by ensuring that they have a group of experts on hand to assist should the company run into any problems.
Facilities and innovative equipment
In order to build up their teams and equipment, a BPO service provider needs to have world-class facilities and equipment. For their workflow to run well, infrastructure such as high-speed internet, phone connectivity, hardware, and software are needed.
Recent technological advancements have been shown to increase the BPO service provider's production and efficiency. If somehow the company is not utilizing the most recent technology, make sure that it is still appropriate for the business process they are working on.
Cost-efficiency
The associated costs must also be taken into account when thinking about business process outsourcing, as it is always wise to choose a partner that is within the company's price range.
Consider the costs before making a choice because working with a business process outsourcing firm can be pricey. 
It is usually advised to evaluate the costs offered by various outsourcing businesses and assess the caliber of the services they provide. While a relatively low price could mean poor service quality, a high advertised price could also be a premium that some businesses cannot afford.
BPO companies in Washington
There are lots of competent BPO companies all over the world, but the only challenge a business may have when looking for a partner is its preference for how close the BPO company should be.
BPO companies may work onshore, nearshore, or offshore. In onshore outsourcing, a company partners with a third party with headquarters located in the same nation.
As opposed to employing a BPO provider in a country that is often on the other side of the world, nearshore outsourcing involves outsourcing to a nearby country.
If your office is located in Washington, US, and you prefer partnering with a BPO company that is located nearby, take a look at this list of reliable BPO companies in Washington.
Top 20 BPO companies in Washington
Top global outsourcing list
Outsource Accelerator is the world's leading outsourcing marketplace and advisory. We list over 3,000 BPO firms located across the globe in our global directory, and we provide detailed information, price guides, and reviews.
Whether you're a solopreneur, SME owner, or corporate executive, we can help you find the most suitable outsourcing provider for your business.
Explore our outsourcing directory now. You may also check out our Top BPO Outsourcing lists per country here:
Top 20 BPO companies in Washington
Searching for the BPO companies in Washington can be made easier if you already have a rundown of the best ones, so we are here to make the job easier for you. Here are the top 20 BPO companies located in Washington, US.
WideNet Consulting has established a stellar reputation as a top technology consulting and recruitment company by constantly connecting experts with amazing opportunities at the best, most exciting firms.
WideNet's efforts and quality services placed them as one of the 50 fastest-growing Eastside private companies by the Puget Sound Business Journal.
Conversica is a top provider of Intelligent Virtual Assistants that assist businesses in attracting, acquiring, and expanding their customer bases.
Conversica uses an AI-powered, SaaS-based software program called Conversica Intelligent Virtual Assistant that acts as a virtual team member and engages contacts, prospects, customers, or partners autonomously in human-like, two-way interactions at scale.
Cascade Answering Solutions assists with all after-hours calls, overflow calls during regular office hours, full-time service, or a combination of service types.
Their virtual receptionists answer phone calls for other companies, take messages, page their on-call personnel, process orders, set up customer appointments, and provide general customer care.
Offering a wide range of services such as text-to-speech software programs, bespoke implementation and reporting, campaign planning, high-quality transcriptions, and expert voice services, Vcare Corporation has become one of the top suppliers in the industry.
A group of highly qualified sales professionals, web developers, creatives, marketers, and customer service/support personnel make up iLocal, Inc.. This privately owned company employs and keeps skilled workers in the Puget Sound area.
With more than 500 sites around the US, Opus Virtual Offices offers the most comprehensive virtual office program in the business, giving every business the professional image they need.
A local professional services company, CFO Selections provides scalable, personalized solutions from strategy and leadership to meticulous project execution.
Leads at Scale assists B2B firms in generating warm sales appointments and qualified leads so that their sales teams can concentrate on closing deals and expanding their company.
Frontline Call Center offers devoted and diverse representatives that will help the business' customer service flourish.
BellMedex is an all-in-one medical billing firm with a full range of healthcare IT solutions and services, as well as a committed, world-class team of professionals ready to assist the company in maximizing profitability, boosting collection rates, and reducing disputed claims.
StatCall is a boutique answering service that has effectively blended cutting-edge technology with the traditional customer service skills of HIPAA-trained phone workers.
Pro Call Center provides a variety of communication services to clients, such as accepting messages, setting up appointments, processing orders, sending security guards, dispatching skilled trade personnel like plumbers and HVAC repairmen, and much more.
With the help of seasoned consultants in sales, marketing, project leadership, technology, and analytics, AG Consulting Partners develops strategies that aim to lead their clients' businesses to success.
Mandlis helps clients meet the best international business standards by implementing changes that cause attractive changes to the company, as their team is dedicated to client satisfaction and providing quality services.
Leading industry organizations have widely acknowledged Allegis Global Solutions for its enviable position in the market as a partner in transformational workforce solutions.
Morae Global is a company that offers legal consultation and solutions with the help of its 133 employees, the company provides its clients with non-voice BPO/back office services as well as voice/call center solutions.
As a premier single-source supplier of cutting-edge IT solutions, Matrix MSP provides design and consulting, communications services and products, Internet and intranet development, as well as network management.
Established in 1999, IT strategy consulting firm ComputerData Solutions, LLC specializes in IT strategy consulting, IT managed services, HR services, non-voice BPO/back office services, and more.
From its contact centers and delivery centers in the USA and India, Bluechip Call Center offers outsourced call center services to clients with a global clientele.
They offer a wide range of inbound call center services that includes customer care support, technical help desk support, 24×7 phone answering service, and email & chat support service.
Founded in 1986, Sound Telecom has been a national provider of call answering services, incoming and outbound call center programs, cloud-based phone systems, and unified communications with US agents.