Top 30 BPO companies in Costa Rica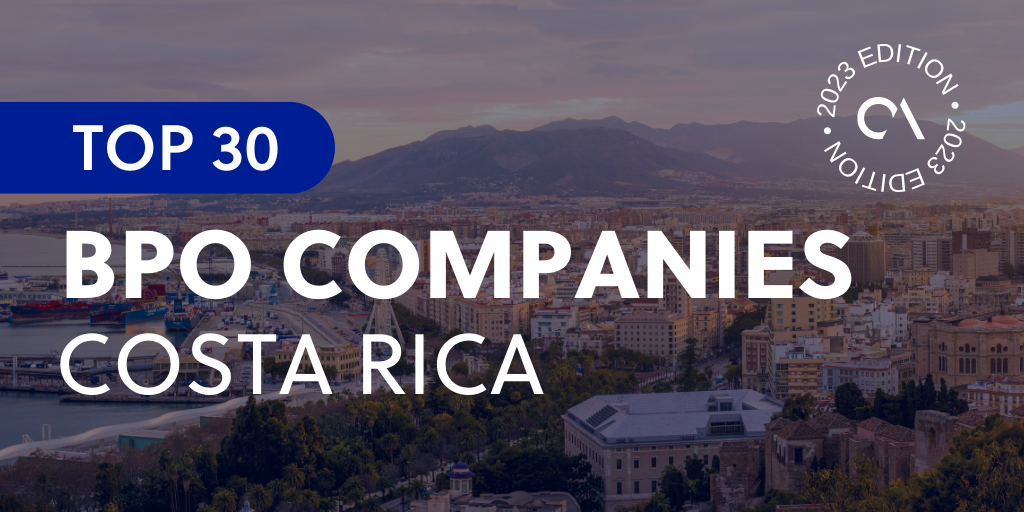 The global outsourcing industry will continue to thrive at present and in the coming years. Before, we were used to the norm of foreign companies offshoring to developing countries in Asia as it is more viable and efficient. Now, a lot more nearby countries are slowly making their name in the Business Process Outsourcing (BPO) industry. 
US companies are among the leading outsourcing clients that farm out services to other countries. This business practice has remained quite controversial as there are still downsides to offshoring to a faraway location. 
Over the recent years, Costa Rica has become a very attractive outsourcing destination for companies in Canada and the US. Besides geographical proximity, the country has been dubbed a hidden gem in terms of outsourcing services. 
Top 30 BPO companies in Costa Rica
Top global outsourcing list
Outsource Accelerator is the world's leading outsourcing marketplace and advisory. We list over 700 BPO firms located across the globe in our global directory, and we provide detailed information, price guides, and reviews.
Whether you're a solopreneur, SME owner, or a corporate executive, we can help you find the most suitable outsourcing provider for your business.
Explore our outsourcing directory now. You may also check out our Top 40 BPO Outsourcing lists per country here:
The Business Process Outsourcing (BPO) sector in Costa Rica
Latin America has become an emerging outsourcing destination over the last few years with Costa Rica as one of the primary players. Companies around its neighboring countries like the US, are opting to nearshore services in Costa Rica to support their growing businesses. 
Outsourcing to Costa Rica has been a more effective solution for its surrounding countries, especially in North America due to the following reasons: 
Language and cultural compatibility.

Highly skilled talent pool.

Minimal time-zone differences, with 3-5 hour flights from major cities in the US.

The country is considered as the safest country in Latin America.

Costa Rica is also the leading country in Latin America in terms of

innovation and business sophistication

. 
The country boasts its high standard education system. Since its constitution in 1949, Costa Rica has invested more in supporting its population's education instead of funding its arm forces. From 2018 up to present, the country has recorded a very high literacy rate of 97.86%.
The business process outsourcing in Costa Rica is continuously progressing especially in terms of contact center and IT services. 
Costa Rica's IT outsourcing sector
Costa Rica is now considered a tech hub from startup companies to well-established corporate giants. At present, the country currently houses 20+ of the Fortune 100 companies, including 200+ multinational companies. Some of the renowned companies that have invested in the IT services sector in the country include IBM, Intel and HP. 
San Jose, in particular, has been recognized as the Silicon Valley of Latin America. More and more international organizations are becoming attracted to its wider investment opportunities, especially in tech manufacturing. 
Costa Rica is also an ideal choice for outsourcing software development, specifically for Agile software development. On top of that, the country has a rich talent supply of proficient software developers. 
Top 30 BPO companies in Costa Rica
Unity communication is an international BPO company with locations around Costa Rica, Philippines, Dominican Republic and the US. This company prides itself as a leader in the outsourcing services field. 
Its specialized outsourcing services centers on back-office, ecommerce and technology support, call center, and other business processes. 
Costa Rica's Call Center (CCC) is an outsourcing company that specializes in telemarketing. Its headquarters can be found at the capital of the country, San Jose. It also offers other outsourcing processes like lead generation, appointment setting, virtual assistant, script writing, and more. 
Founded in 2016, Central Gate is considered as the Official Association of High Tech Service Providers in Costa Rica. It caters to global companies that are in search for reliable BPO and ITO providers. 
This outsourcing company's featured services revolve around back-office, contact center, engineering and design. Other outsourcing processes include human resource, financial processes and digital services. 
Lexitec offers management consulting and various BPO services in accordance with the best practices in the market. This outsourcing firm that is located in San Jose, has over 12 years of certified professional experience. 
GBT Technologies claims to be top-notch in terms of the BPO services industry. It provides different services in the contact center processes, market and research analysis, and hosting solutions. 
This BPO firm supports industries in Finance and Accounting, Government, Retail, Manufacturing, Logistics, Healthcare and Life Sciences. 
Aside from its headquarters in San Jose, Grupo BPO also has its physical offices in other countries like Panama, Guatemala and Nicaragua. 
Grupo BPO's features offerings include human resources, payroll, accounting and payment process. It also caters to industries in the Manufacturing, Retail, Government, Healthcare, Finance and Accounting sectors
Auxis has been serving multinational clients since its inception in 1990. This BPO company that is located in Heredia offers scalable, innovative and cost-saving solutions for business of all types and sizes. 
It is also one of the pioneers of nearshoring outsourcing services for organizations that are based in the US. More so, it offers processes that are focused on three primary areas such as customer service, IT and finance & accounting.  
Novacomp has remained true to its tagline  "leaders integration and innovation in IT" since its founding in 1997. Aside from consultancy, this outsourcing provider also specializes in mobile app development, QA and software testing, licenses, software factory, and other technologies.  
Ancersa Consortium is made up of experienced specialists in design and integral management of call center processes. Its service lines include voice and non-voice, as well as back-office services. 
Global Business System (GBSYS) is an IT outsourcing firm that is based in San Jose. Its service lines are centered in web development, mobile app development and customer software development. 
This renowned IT outsourcing provider has also worked with over sixty global companies like Avon, DHL, DOLE, and more. At present, GBSYS is serving more than 100+ active clients around the world. 
Soprinsa is an outsourcing company that specializes in employability services. The company provides human resources functions, payroll processing, employment benefits and compensation. 
It also offers risk and compliance management, employee training and development. Among its famous clients are Nestle, Colgate, Redbull and CBC. 
Bill Gosling Outsourcing is not your average call center service provider that is located in Heredia. The company was formerly named as "Allied International Credit," specializing in account receivable management. 
This multinational outsourcing provider has over 66 years of professional industry background, with 10 offices located across the globe. 
Netcom is a contact center outsourcing services provider that is headquartered in San Pedro. Its service lines are centered on IT management roles, IT strategy consulting, back-office support, and other non-voice BPO processes. 
It also supports companies in various industries such as finance, health, communication, technology, consumer goods, energy, public tector, and more. 
CNET Technologies System is an IT outsourcing company that has been catering both its national and international clients for over 17 years. 
This IT services provider is known for website design and development, telecommunications, technical support and sales teams. It also offers customized software solutions according to their client's business requirements.
GLS Labs is composed of Digital Strategy specialists that are based in Cartago. Its featured services include software development solutions that are based on their clients goals and needs. 
Its service lines are centered across cloud consulting and SI, Artificial Intelligence (AI) and mobile app development. 
Conexus is another BPO company that was founded in 2011, and can be found in Curridabat. Its featured outsourcing roles include relational and contextual marketing, contact center services, analytics, eCRM multichannel and loyalty programs. 
Grupo Electrotécnica provides IT solutions that are focused on protection of critical systems. This IT outsourcing company has been in the market industry since its inception in 1975. 
Over the years, its IT services have expanded and the company now also offers IT strategy consulting and IT managed services. It also has non-voice BPO and back-office roles. 
Although a little fledgling in the outsourcing industry, the company has been serving small to big corporations since 2015. This BPO company's features services are web and mobile development, cloud integration, digital marketing and ecommerce solutions. 
NG Technology is also an IT outsourcing company that is found in San Rafael. The company is made of expert professionals in the fields of digital marketing, digital business consulting, software development, and cloud solutions. 
Thorus Solutions is an IT outsourcing services firm that provides end to end solutions for organizations in different sizes and fields. Its offered IT functions revolve around custom software development, AR/VR development and team augmentation. 
Throus solutions also specializes in digital consultancy and IT strategy consulting. 
Three Rivers Software has been developing electronic document management applications since 2008. Most of its clients have been companies around Latin America, specifically in Mexico, Guatemala, Costa Rica, and Honduras. 
The software outsourcing company has service lines that are centered across CRM consulting and SI, ERP consulting and SI, including custom software development.
Established in 1991, Asesoftware is another international IT outsourcing and software development provider. It also has its other geographical locations in the US, Chile, Colombia and UK. 
Asesoftware industry focus is on retail, business, and financial services. Its service lines are application management and support, custom software development, and IT managed services. 
A lot of Latin American companies have been partnering with UFINET for its topnotch solutions in the wholesale telecom market. Its featured services are application management and support, advertising, big data consulting, BI and SI. 
UFINET also has other physical offices in Spain, US, Colombia, Panama, Honduras, El Salvador, Guatemala, Nicaragua, Brazil, and other countries. 
Interfaz has been in the IT outsourcing field for over 18 years, with teams of certified IT specialists who are backed with years of experience. This company is located at San Rafael de Escazú. 
Its services involve IT management, UX/UI design, and customer software development. Interfaz also attends to companies in retail, financial services, and information technology.
Perfiles Tecnológicos is a software development and IT services BPO company that is in San Jose. Its featured outsourcing processes are cloud infrastructure, software development, digital transformation, ITO and collaboration.
Efinit is a BPO company specializing in IT roles that was founded in the year 2014. This outsourcing provider has its headquarters in San Pedro. Its service lines are focused on It strategy consulting and IT managed services. 
Trantor Inc. is an international outsourcing company that specializes in a wide range of IT related services. Aside from Costa Rica, its global presence can also be found in Canada, India, and the US. 
Its services revolve around ecommerce development, software development, technology and marketing. 
Map Soluciones has technological solutions that are tailored according to their clients needs and business requirements. Among its services include, IT infrastructure, cloud services, technical outsourcing computer equipment, and MAP Finance. 
Backed with its industry expertise since 1995, Grupo Asesor en Informática S.A. has been providing IT services to its local and global clients. This outsourcing company has its physical office located at Curridabat. 
Its service lines are focused on IT strategy consulting and customer software development. 
MiWeb has its headquarters in San Jose and New York. Its wide array of outsourcing services include automation, site testing and personalization, advanced analytics, implementation, onboarding and data architecture.