Top 25 BPO companies in El Salvador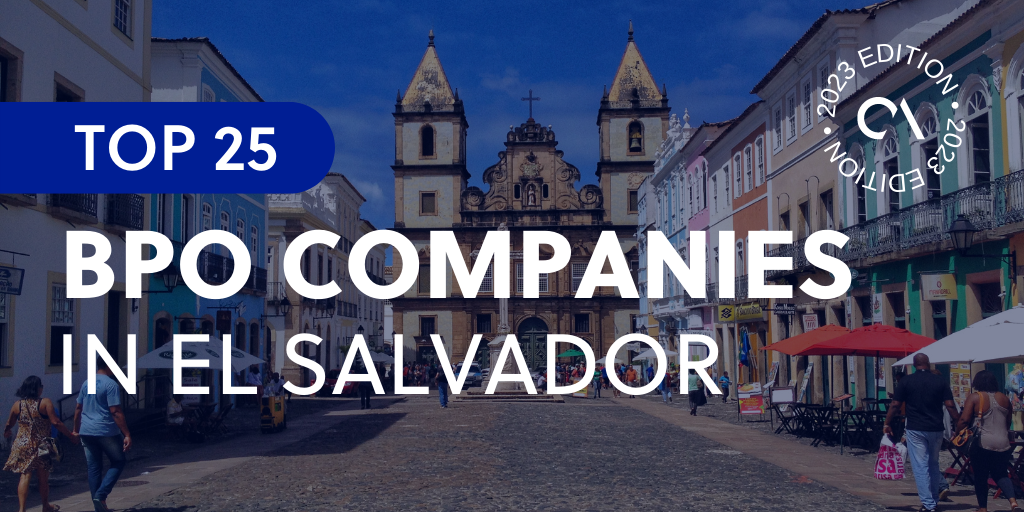 Of the seven Central American countries, El Salvador is the smallest and most heavily inhabited. Despite its lack of level ground, it was traditionally an agricultural country. Agriculture has always been the backbone of El Salvador's economy.
However, the country has also proven itself as an outsourcing powerhouse. In this article, we'll discuss the top BPO companies in El Salvador.
El Salvador is a fantastic location for nearshore business process outsourcing. The business partners in this Central American country are well-equipped to manage your customer support, sales, and lead-generating requirements.
The BPO industry in El Salvador
As service-oriented businesses are more efficient than product-oriented businesses and expand faster, Central American economies may benefit from outsourcing specialized services.
In 2004-2005, El Salvador was introduced as an outsourcing destination. In comparison to its neighbors, the country offers competitive pricing and uncomplicated requirements.
The following are the qualifications for BPO companies:
The size of the rented/purchased facilities should not be less than 500 square meters.
Register with the Ministry of Economy as a service provider.
A total of $150,000 in capital investment and salaries was invested in the first year.
Having a minimum of 10 permanent job openings
Having at least a one-year lease.
The conditions are simple enough for a medium-sized outsourcing firm to meet, demonstrating the government's desire to attract additional investment to the country.
Top 25 BPO Companies in El Salvador
Why companies outsource to El Salvador
Many firms may think that cultural similarities are the most significant benefit of outsourcing their operations to El Salvador. It helps to bridge the cultural divide, which can be an issue in professional relationships.
El Salvador BPO companies are a solid solution for:
Lead Generation
Telemarketing Sales
Technical Support
Order Taking
Customer Service
Appointment Setting
Back Office Processing
Text Customer Support
El Salvador has a varied and skilled pool of front-line agents who can provide excellent customer service. El Salvador has had significant expansion in the recent decade, particularly in the BPO industry.
Outsourcing to El Salvador is tax-free!
El Salvador could be a good option for your organization if it wants more cost-effective outsourcing services. The government has launched several incentive programs aimed at helping local BPO providers improve their core competencies.
Outsourcing to El Salvador is tax-free. Companies can bring or import any equipment, furniture, or office appliances required to perform outsourcing operations to the service parks.
Income tax exemption begins on the first day of operations in service parks. At the same time, the municipal taxes on firm assets are exempted for the duration of operations.
Many executives understand the great benefits of outsourcing to El Salvador. Outsourcing clients may quickly improve their client experience and increase their return on investment.
Complete BPO outsourcing directory
Outsource Accelerator is the world's leading outsourcing marketplace and advisory. We list over 3,000 BPO firms located across the globe in our global directory, and we provide detailed information, price guides, and reviews.
Whether you're a solopreneur, SME owner, or corporate executive, we can help you find the most suitable outsourcing provider for your business.
If you're thinking about operating a business in El Salvador or if you want to streamline your existing operations, outsourcing is a smart option to consider.
In this article, we've listed down the top 25 outsourcing companies in El Salvador in 2021.
OfficePartners360 is a specialist outsourcing firm that supplies small to medium-sized enterprises with unique back-office and customer support solutions. OP360 operates with high-end facilities, combining the most excellent infrastructure with top people to produce outstanding outcomes. Read a full review of OP360, here.
Pronto BPO is a Contact Center & BPO that provides services and high quality attention to its strategic allied, giving them -all in one- solutions, creating ties with a personalized treatment and professionalism.
Worldwide Call Centers is a well-known industry leader in local and international call center outsourcing. Their outbound call center agencies provide various services, including sales, lead generation, market research, fundraising, appointment arranging, collections, and telemarketing.
Easybee Answering Services ensures high-quality service by having a steady employee-to-supervisor ratio and assigning your calls to a small team.
The company also ensures that customers don't have to deal with dozens of voices and virtual receptionists get to know your company.
FEG Outsourcing Administrativo is a service provider specializing in creative BPO options, with abundant experience in the needs of global organizations, with headquarters in El Salvador and over 30 years of experience in the Central American region.
FEG Outsourcing Administrativo services enable businesses to reduce operational expenses by centralizing administrative outsourcing needs for Mexico to Panama, including the Dominican Republic.
SkyCom is exceptional in the business since it provides a wide range of services, including BPO, seat leasing, and a hybrid program.
SkyCom has been in the call center and outsourcing business for 15 years. The company can provide various services at a reasonable cost.
The Office Gurus (TOG) has strived to become an extension of their client's culture, vision, and values. TOG attracts the best talent by providing a culture that encourages both personal and professional development.
Fusion BPO Services thrives in bridging the gap between your business objectives and service standards.
Fusion BPO Services, as a BPO business, ensures high-quality service delivery across all communication channels in more than 40 languages. They also foster a strong bond between your brand and your customers.
CustomerServ, which was created in 2006, assists its clients in locating, selecting, and retaining the best-performing call center outsourcing contractors. The company helped lay the groundwork for today's call center and BPO businesses
OneLink's operational structure and geographical presence can develop and scale at the same rate as any other BPO provider.
OneLink invests resources and people in technologies and people to support your business
Focus Services created some incredible technology exclusively for the customer service business. For example, the company developed ClearView: an agent performance platform which is packed with tools and capabilities that empower agents to drive their performance.
EMAYA attempts to develop a growth relationship by including clients in all parts of the services they receive. When it comes to ensuring its clients' success, the organization spares no expense.
They work hard to provide the most excellent equipment, facilities, and quality providers to ensure that they have the best product possible
SEBPO received full stars for excelling in all judging categories for attaining a score of five or above in all judging categories.
SEBPO's Creative Services teams are dedicated to producing high-quality creative work for their clients. To assure success, the company's Data Solutions teams contribute vital skills and industry best practices.
ARGO is a one-of-a-kind provider of outsourced contact center and back-office services, delivering customized customer engagement in collaboration with their clients.
ARGO's management team has been reinforced by experienced veterans who have held executive roles with global industry leaders as service providers and buyers of outsourced services
Silverline Central America, formerly known as Adapta Technologies, was created in 2011 using Salvadoran financing. The company trains the top local talent in El Salvador and Central America to supply Salesforce services to the US and Canada under a nearshore model.
Nexus Corp has been providing highly inventive and technology solutions for over a decade by utilizing a rigorous development approach.
Their path has taken us from creating dynamic websites and desktop applications to creating key corporate solutions such as CRM and HRM.
Tribe BPO provides high-tech products such as RPAs (Robotic Process Automation) and chatbots. Both are game-changers for firms looking to attain high levels of efficiency by reducing response times, enhancing process precision, and increasing ROI.
Glass Mountain BPO is a nearshore and bi-lingual business process outsourcing company that offers various business support services. Glass Mountain BPO is a sister company to Glass Mountain Capital LLC.
Glass Mountain BPO is a nearshore BPO company that offers a wide range of business support services.
Visible Outsource arose from the necessity to identify the most significant people for the best jobs. To establish a balanced work ecosystem, the company formed forces to serve both job seekers and employers.
Visible Outsource provides many categorized and detailed profiles to help you select the right person for your work team. All dependably and securely.
Mercadeo Corporativo Empresarial comprises experts in personnel recruitment and selection, payroll administration, and human outsourcing. They also specialize in meeting the needs of recruiting and retaining talented, the best staff for El Salvador's corporate entities.
2M Service is a 20-year-old IT support company that was a leader in creating El Salvador's IT solution culture.  It offers various competitive technology and information services to its national and international clients.
BPC focuses on leadership development, inbound technical help, and customer care while providing flexible, high-quality customer support outsourcing solutions.
BPC offers advanced customer contact management solutions to businesses. It includes communications, financial services, healthcare, technology and transportation, lead generation, and leisure.
GBP (also known as Global Business Pals) is a BPO firm whose primary objective is to provide you with cost-effective solutions by providing high-quality professional services at reasonable pricing.
Language solutions are one of the company's key businesses, with extensive language pairings and on-time delivery.
SW Social Web provides both online and offline technical help. It offers high-quality customer service to businesses that need it.
SW Social Web is a firm dedicated to its work; they help their clients realize their visions by instilling trust, accountability, resourcefulness, and passion in each project.
Uassist.ME is one of the leading business process outsourcing (BPO) and virtual assistant companies in Latin America. Its award-winning services provide solutions and staff support to more than 300 fast-growing companies in the United States and worldwide. Read a full review of Uassist.ME, here.