Outsourcing to El Salvador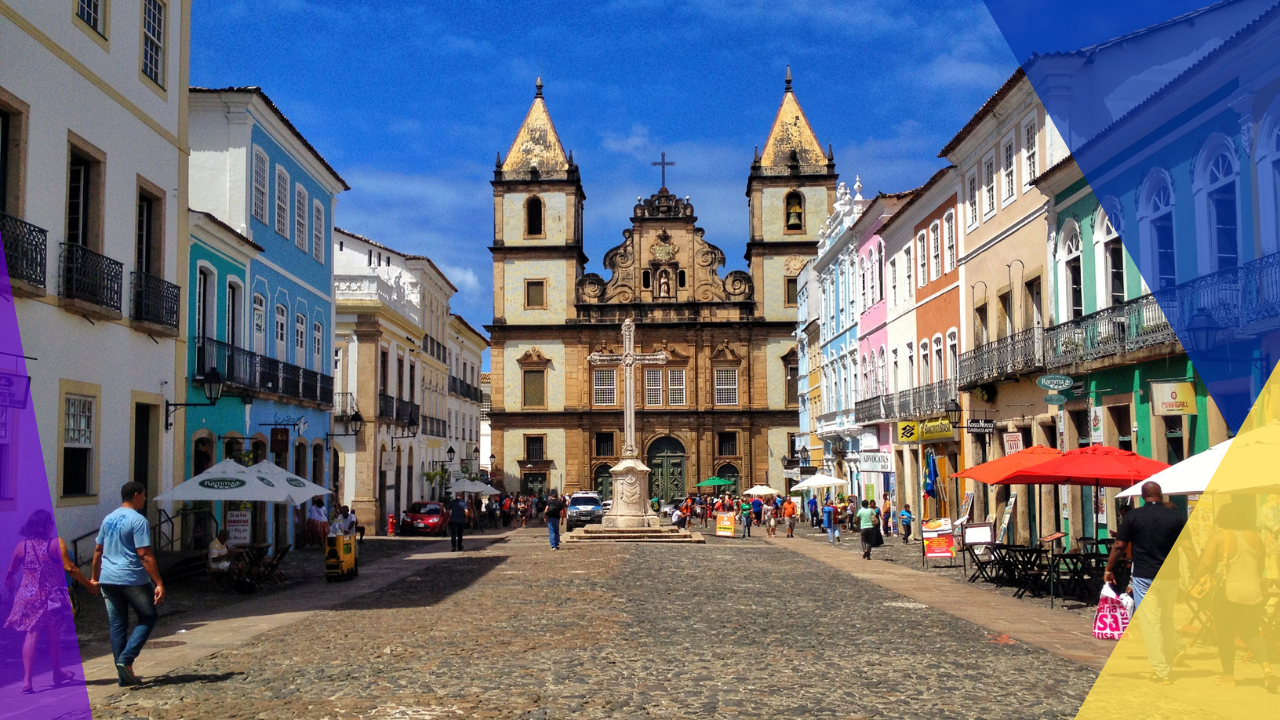 As more companies outsource business functions, they find more convenient ways to hire and engage staff. Most of them are looking at nearshoring as an option. 
Within the past year, US tech companies relied on the viability of the Latin American countries for nearshoring services. El Salvador, most especially, has become one of the most popular countries for them.
El Salvador has been in the industry for almost two decades. The country still has great potential to boost its strengths and become a leading nearshoring destination in the future. 
Get to know El Salvador, why companies outsource their services, and the top services delegated in the country.
El Salvador as an outsourcing country
Located south of Guatemala and Honduras, El Salvador is one of the smallest nations in Central America. Despite the effects of the civil war for almost 30 years, the outsourcing industry in the country continues to flourish.
It fares adequately with its neighboring nations in terms of population, development, and ease of doing business.
The outsourcing industry started in 2004-2005, with Dell and Sykes being the first BPOs in El Salvador. These first inceptions of BPO companies helped generate up to around 9,000 jobs for its citizens. 
As of 2010, there are 38 BPOs in El Salvador, 20 of them working exclusively for clients globally. The majority of them can be found in the United States and Canada.
Nowadays, the country adapts to cryptocurrency technology to further enhance BPO operations. Several firms also plan to improve infrastructures in adapting cryptocurrencies to expand their seats and make employees more agile and flexible.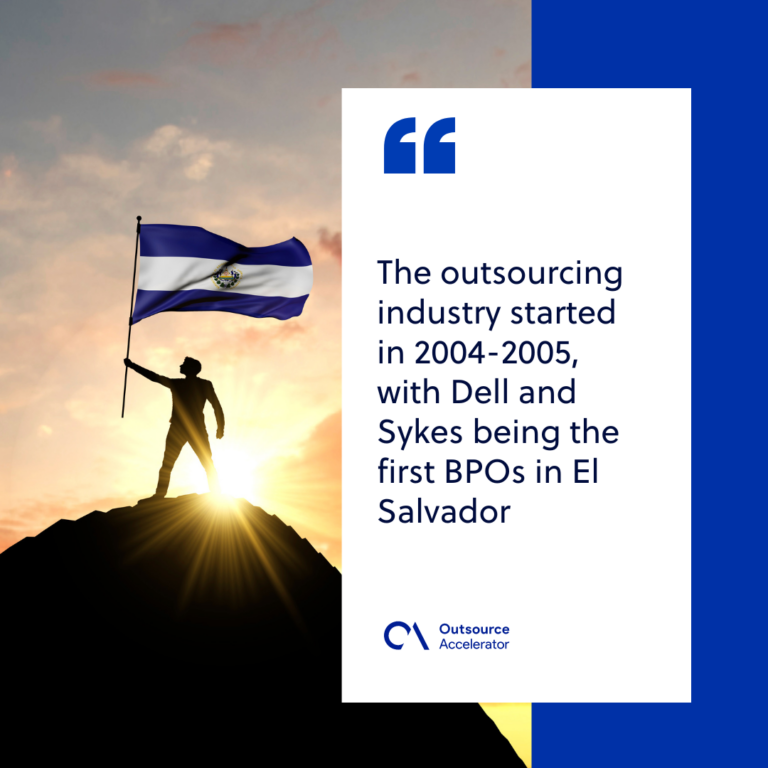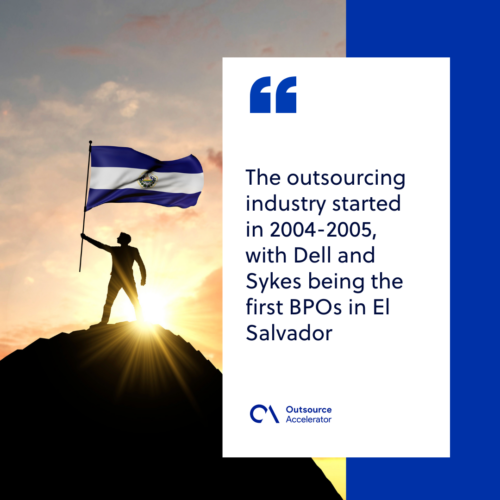 El Salvador fast facts
Geographical placement
Among Central American countries, El Salvador is the only nation that's not in the Caribbean sea. 
Oldest capital city
El Salvador holds the oldest capital city in the region: San Salvador.
Economy
The country operates on a mixed economy system, combining private freedom with centralized planning and government regulations.
English proficiency
El Salvador ranks 56th of 100 countries in the English Proficiency Index. 
Population
The country has around 6.4 million people to date.
El Salvador's outsourcing competitors
As a developing outsourcing destination, El Salvador can compete with the Philippines and India for low costs. For its services and other aspects, meanwhile, the country fares capably with its Latin American neighbors. 
Let's get to know El Salvador's outsourcing competitors.
Brazil
Slipping into 15th rank in Tholons this year, Brazil has established itself as the primary location for call center outsourcing in South America.
Brazil was named as the IT outsourcing alternative to India in 2010, boasting its relatively young workforce and a wide range of English-speaking population.
Puerto Rico
Another IT outsourcing destination in the region, Puerto Rico takes advantage of its easy access to the United States and cultural affinity in its outsourced services.
Puerto Rico climbed up to 47th ranking in the top outsourcing destinations in 2017 after entering the list in 2016 at 74th.
Costa Rica
Costa Rica continues to be known as a nearshoring and offshoring destination for companies around the world. As a result, large BPOs such as Sykes and Concentrix expanded their workforce in the country to grow their clientele further.
Aside from cultural and language compatibility, US businesses outsource to Costa Rica due to time zone compatibility and easy access to the workforce. 
Mexico
Nearshore manufacturing and IT in Mexico provide advantages to businesses of all sizes. 
Aside from lower labor costs, access to a talent pool, and low staff turnover, outsourcing clients enjoy benefits from trade treaties between the country and developed nations such as the US and Japan.
Why businesses outsource to El Salvador
Central American nations including El Salvador have been a competitive outsourcing alternative for foreign businesses now. For one, the government started providing benefits to outsourcing companies such as tax-free importations and tax exemptions. 
Costs in the country can compete as well with top offshoring destinations such as India and the Philippines. A bilingual Salvadoran agent usually earns up to $600 per month while Spanish-speaking agents can earn up to $350.
Those who decide to outsource to El Salvador also enjoy these benefits:
Cultural affinity to developed countries
The country has a strong cultural affinity with the United States. They share everything from TV shows, favorite pastimes, to work culture. A good number of Salvadorans even lived in the United States at some point. 
Aside from these, the country also has the US dollar as its currency, making it easier to transact with local businesses.
Bilingual services
Spanish is still the official language of El Salvador. Yet, a growing population of English speakers has been flourishing in the nation. They speak with a neutral accent, which makes communication better for their customers.
El Salvador's bilingual population provides the opportunity for foreign countries to tap on a new market and provide better services to their English and Spanish-speaking customer base.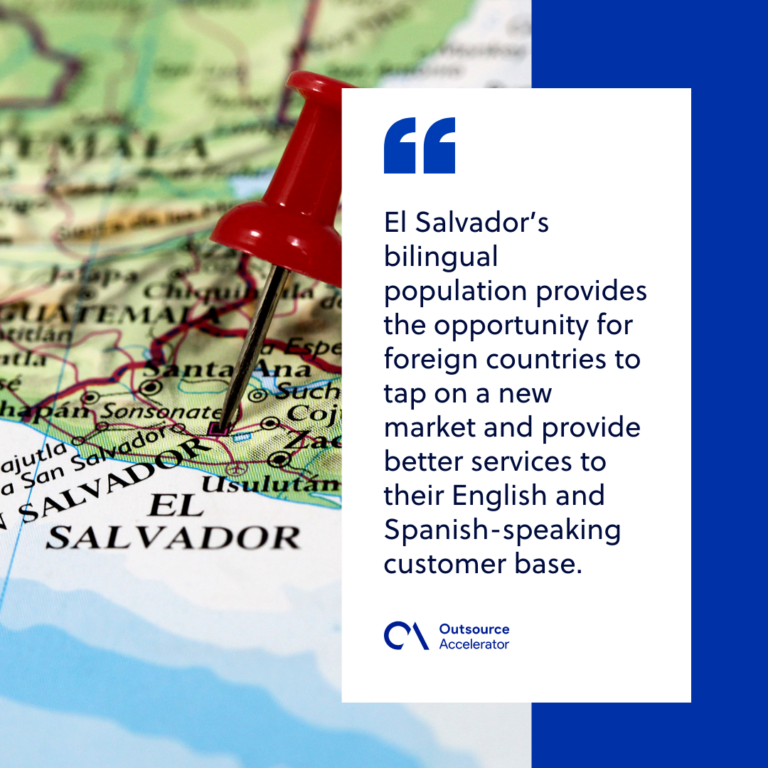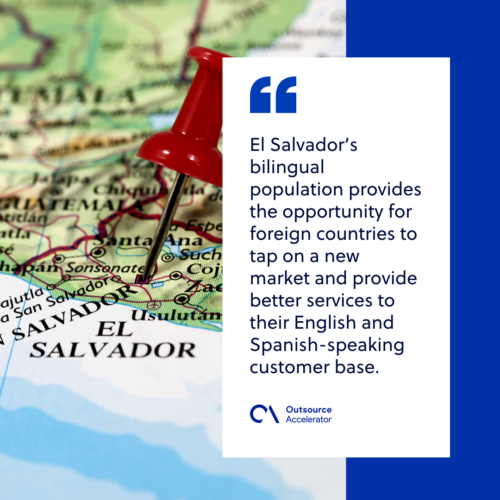 Easy access
Compared to offshore countries, El Salvador is only a two to four-hour plane ride away from North America. Companies in the US and Canada have easier access to their outsourced team in the country.
Communication and collaboration are simplified with this proximity. Companies don't have to spend much on landline costs and communication tools since they can collaborate in person whenever clients need it.
Time zone compatibility
El Salvador's geographical proximity has an advantage when it comes to time zones. The nation's workday and office hours fit exactly with US clients. 
The country uses Mountain Standard Time (MST), which fit with states such as Arizona, part of Idaho, Colorado, and New Mexico. This opens the possibility of better collaboration within the in-house and outsourced workforce.
Popular outsourced services
Customer service
El Salvador's most popular outsourced function is customer service. Call centers in the country are 50-60% cheaper compared to US and European agencies, which helps in generating savings for foreign companies.
Additionally, agents in El Salvador speak excellent Spanish and English. This helps companies tap a wider market in several Spanish and English-speaking locations. 
El Salvador is popular for inbound customer support, lead generation, sales support, and other related services.
Software development
For software development, foreign companies mostly choose El Salvador for its geographical proximity, stable infrastructure, and skilled, educated talents. 
Universities in the country offer robust IT and related programs for students. This qualifies them to produce highly-trained and competitive programmers and developers. 
Its capital, San Salvador, does not have a shortage of talent due to the quality workforce universities produce every year.
Also, project collaboration and communication are better within teams, thanks to its accessibility and time zone compatibility.
Payroll 
Companies primarily outsource payroll to El Salvador to either get to know the country or streamline their operations. 
Professional employer organizations (PEOs) and payroll companies in El Salvador are knowledgeable in handling payroll processes, tax documents, and other compliances in different countries. They have expertise in using payroll platforms, making their work more efficient.
Recruitment
Companies outsourcing recruitment and hiring to PEOs in El Salvador get the best out of their investment in the country.
Organizations that hire employees locally and remotely usually need help in following compliances in locations where their employees are. Instead of doing this independently, their firms take care of every aspect of this function. 
PEOs function ranges from managing online job posts, screening and qualifying employees, to filing requirements to proper employment offices for their records, benefits, and tax filing.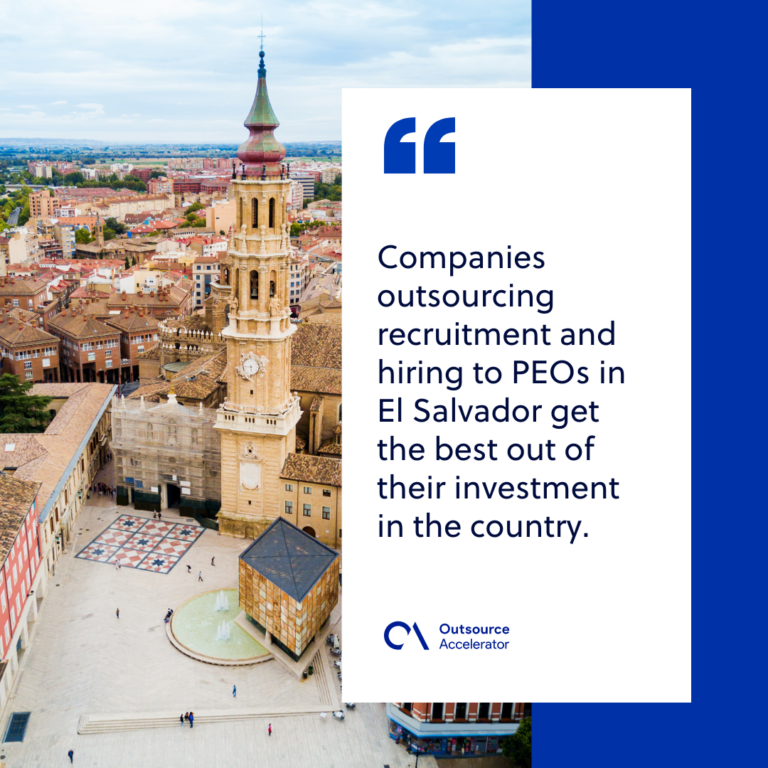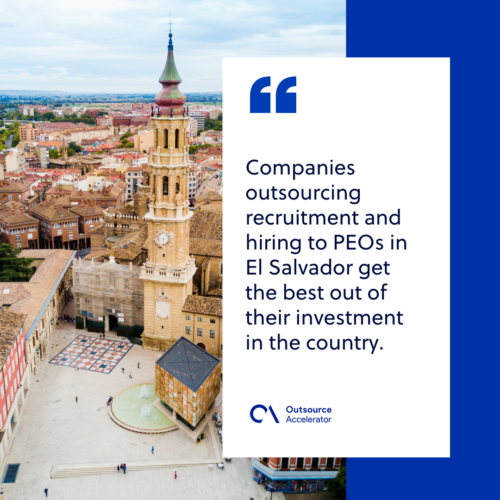 BPO companies in El Salvador
A good number of large and small-scale BPO companies established seats in the country to provide services mostly to the United States and Canada. As a result, clients get to outsource a wide range of services in the country. 
Here are some of the top BPO companies in El Salvador. 
With more than 11 years of experience, Uassist.me provides BPO and virtual assistant services to small and medium businesses around the world. They have a competitive edge in terms of providing flexible and scalable bilingual teams to their clients.
The company offers outsourced back-office and administrative services to different sectors such as e-commerce, real estate, and legal services.
Accelerance is a premier global outsourcing adviser for tech startups in different countries. Mostly focused on software development, they help companies find providers, outsourced teams, and solutions for their design and development needs. 
Novatech is a full-stack company that provides development solutions to improve customer satisfaction. They help develop a company's staffing and products using agile methodologies and communication strategies. 
They have worked with Fortune 500 companies in building optimal software solutions to their business needs.
Easybee Answering Services is considered to provide "the most cost-efficient live virtual reception service". They establish familiarity within customers and virtual reception by keeping a small team for each client. 
The company believes that by doing this, customers get to familiarize businesses and establish more connections with them.