Top 20 BPO companies in Kenya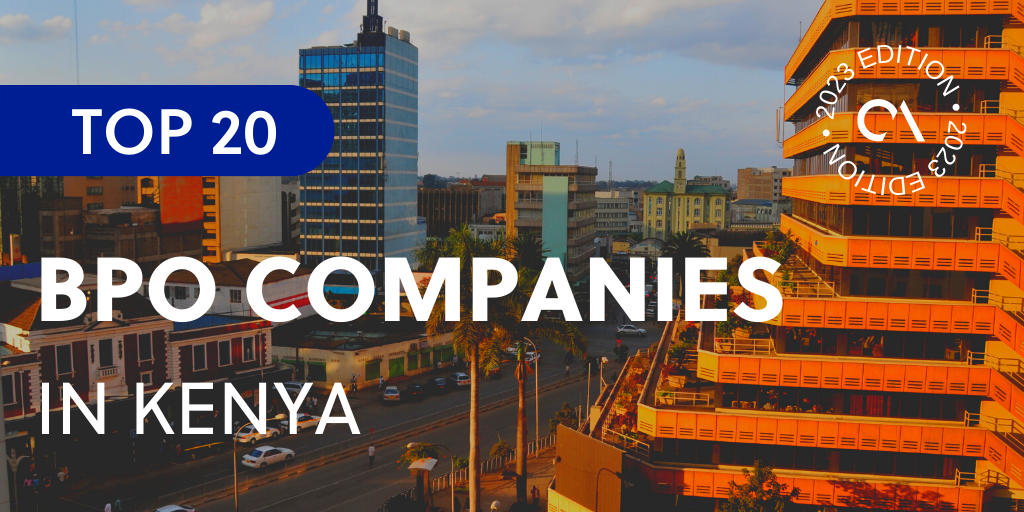 List of BPO companies in Kenya
The success rate of the BPO industry in Kenya has been growing rapidly in previous years. By providing skills training and employment to the youth, Kenya shows enormous growth potential for success in this sector.
Why BPO is a growing industry in Kenya
In the next five years, the BPO industry in Kenya is expected to reach one million jobs in the next five years. The Kenyan youth encompasses 80% of Kenya's population. This presents a huge potential to train and expand their skills base. 
More and more businesses are looking to invest in the country for business outsourcing services. The gig economy currently provides numerous opportunities to help disadvantaged families and communities in Kenya get educational and financial support.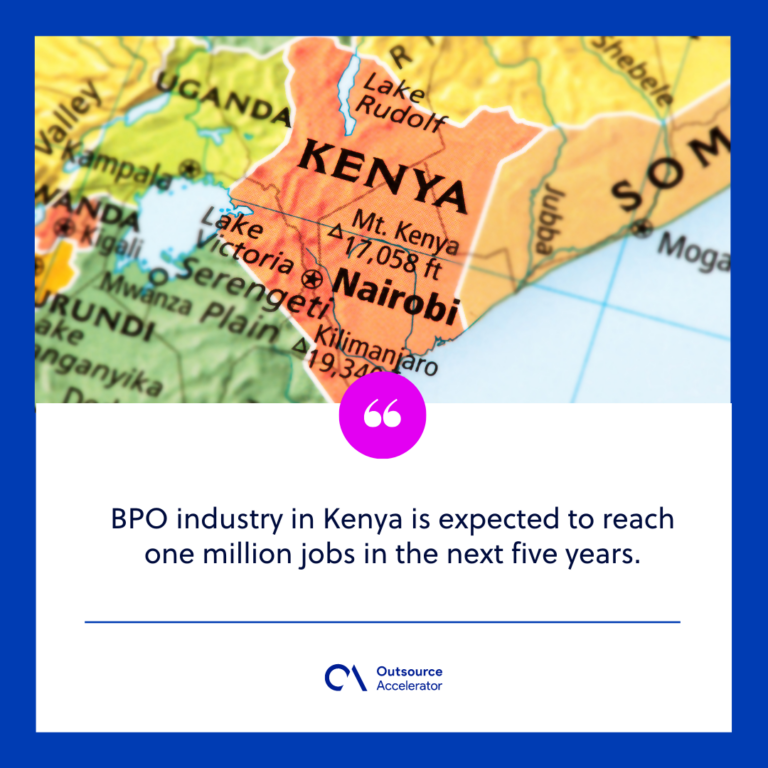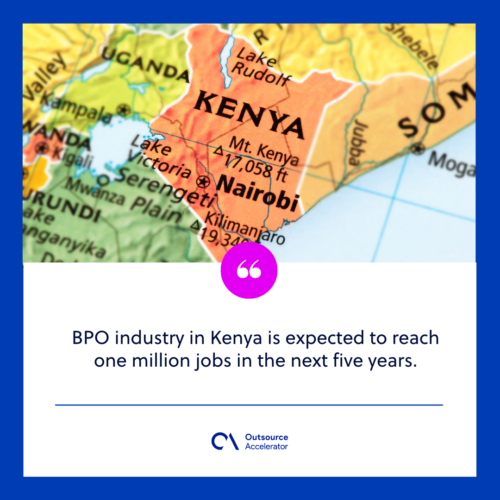 Global BPO status and foresight
The ongoing technological advancements paved the way for digital transformation. As a result, this helped the BPO companies effectively streamline their processes.
Cloud-based services enable BPO firms to deliver flexible and scalable digital solutions. By automating processes, BPO companies can leverage technology to drive successful business outcomes.
By 2027, the BPO industry is projected to produce a market volume of  $0.45 trillion dollars, according to a Statista report. Moreover, the increasing demand for data-driven services represents the growing need for organizations to stay on top of the game.
Top global outsourcing lists
Outsource Accelerator is the world's outsourcing marketplace and advisory. We list over 3,000 BPO firms located across the globe in our global directory, and we provide detailed information, price guides, and reviews.

Whether you're a solopreneur, SME owner, or corporate executive, we can help you find the most suitable outsourcing provider for your business.

Explore our outsourcing directory now. You may also check out our Top BPO Outsourcing lists per country here:
Top 20 BPO companies in Kenya
We've curated a list of the top 20 BPO companies in Kenya below:
Founded in 2018, Oasis Outsourcing is one of the leading social enterprises based in Nairobi, Kenya. The BPO firm offers a diverse range of outsourcing services, such as technical support, data entry, data annotation, accounting, subtitling, and transcription.
Oasis Outsourcing has a team of virtual assistants and remote foreign workers fluent in English and French in East Africa.
With more than 35 years of experience, C&R Group is the leading BPO share registrar headquartered in East Africa, with offices in Kenya and Uganda. 
Since 1986, they have been operating as an in-house department of the Barclays Bank of Kenya to offer share registrar services to the shareholders of the said bank.
Just recently, the firm just branched out to offer BPO services, mainly focusing on data entry outsourcing, personalized printing, patient management services, bulk mail packing, sorting, and mailing services.
Established in 2007, Adept Technologies is a leading BPO company based in Nairobi, Kenya. The firm offers onshore and offshore outsourcing for IT-enabled services (ITES). Their clients are based in Kenya, Switzerland, the US, the UK, and India.
Adept Technologies provides a wide range of digital services, including customer support, data management, transcription, captioning, machine learning, artificial intelligence, and cloud services.

Fusion Communication Systems is a Kenya-based technology services provider that was established in 2007. This tech BPO company delivers comprehensive digital solutions.
The firm currently offers business process outsourcing services to its clients from diverse industries. These include manufacturing, retail, healthcare, communications, and transportation. 
Their services range from internet security solutions, video conferencing, and virtual desktop interface.
Headquartered in Nairobi, ADEC Kenya is part of ADEC Innovations—a global BPO company with more than 12 delivery centers worldwide and thousands of associates.
ADEC Kenya delivers industry-leading solutions, including data assurance, image annotation, customer experience, and data capture. They also provide customized image annotation services for various data analysis processes.
Founded in 2016, TeleSky is Africa's fastest-growing digital call center headquartered in Nairobi, Kenya. The company services clients from various industries in the US, UK, Europe, New Zealand, Africa, and Kenya. 
The BPO firm provides 24/7 multi-channel customer support with experienced employees handling software development, technical support, and telesales.
Established in 2011, Lance Alexander Communication is an ICT-infrastructure company that provides reliable and cost-effective ICT solutions for a wide variety of industries.
With approximately 11 to 50 employees, Lance Alexander Communication offers comprehensive digital solutions that are mainly cloud computing services. The firm uses cutting-edge technology to match the needs of clients. 
Founded in 2018, Ideon Business Outsourcing Solutions provides data-driven digital solutions to clients across different industries in Nairobi, Kenya.
The firm offers advanced end-to-end customer life cycle management and expert telesales services. Ideon Business Outsourcing Solutions also provides inbound and outbound communication channels to help customers scale their operations.
Headquartered in Nairobi, CCI Kenya is the country's fastest-growing BPO company. The firm offers an array of professional outsourcing services to multi-national organizations from the US, Australia, and Europe.
Since its establishment in 2016, CCI Kenya has provided jobs to more than 3,000 employees in Nairobi. They are all working together to deliver cost-efficient customer management services to their clients worldwide.
Located in Nairobi, Dynamic Systems is one of the country's leading IT-BPO companies that provides scalable data solutions. The firm services clients from various industries such as manufacturing, healthcare, communications, transportation, and retail.
Dynamic Systems takes pride in its business portfolio focusing on infrastructure technology outsourcing and customized telecommunications solutions.
Started branching out as a BPO company in 2017, Acorns Investment is now one of the go-to business outsourcing firms in Kenya. Since then, the firm has been building strategic partnerships with relevant stakeholders in the public and private sectors.
Acorns Investment is now operating in three countries other than Kenya – Uganda, Rwanda, and Nigeria. Moreover, the company is working towards providing sustainable jobs for underprivileged youth and women in Africa.
Founded in 2015, Stelden is a leading IT and Enterprise Resource Planning (ERP) business solutions provider for SMEs and government agencies in East Africa. 
The firm partnered with globally trusted business software vendors to provide flexible business solutions for their clients. With a dedicated IT services department, Stelden can provide cloud computing and hardware/software support offered as SLA-driven managed services.
Started in 2011, iSon Xperiences is a multi-national call center and BPO provider with offices in more than 15 countries. The firm operates in Kenya, Nigeria, UAE, Egypt, South Africa, Ghana, Uganda, Zambia, Tanzania, Malawi, Rwanda, Botswana, Burkina Faso, Niger, and India.
With over 18,00 employees, iSon Xperiences delivers compelling and innovative digital solutions focusing on outbound sales and customer experience management. iSon Xperiences was awarded Great Place to Work for Best Practices in 2015.
Headquartered in Nairobi, FinSolution Consultants is one of the leading BPO and ICT consultancy firms in the country.
Their services are mainly focused on enterprise financial transformation, enterprise performance management, ICT strategy consulting, business digital transformation, ICT security consulting, corporate training, research, and development.
Established in 2010, Africa 118 is a top digital marketing platform for SMEs in the country. The firm currently caters to businesses in Kenya, Uganda, and Ethiopia.
At present, the company has a database that contains data for more than 800,000 businesses. Their team consists of field and call center teams trained in automated data collection.
Since 2003, CDL has been providing data-driven solutions for a wide range of human resource needs and outsourcing support around East Africa.
Headquartered in Nairobi, CDL is a one-stop human resource management consultancy firm specializing in labor force outsourcing, recruitment, training, and payroll processing.
Established in 2011, 2Max Group is among the exceptional BPO companies in Kenya. The firm caters to businesses in other parts of Africa, such as Uganda and Nigeria.
For more than 11 years, the firm has been supporting medium-sized businesses, corporations, and international companies. 2Max Group is also an ISO-certified organization that aims to deliver quality outsourcing services.
Founded in 2017, StepWiseprovides innovative outsourcing services and customized digital solutions in Kenya.
Aside from being an outstanding BPO company, StepWise also prides itself as a leading impact-sourcing provider for various industries. Currently, it has more than 1,000 employees.
For more than 12 years, Flexi Personnel has been one of the leading BPO and HR consultancy companies in Africa. 
Headquartered in Kenya, the firm is dedicated to providing services related to relocation support, people management, payroll processing, and tax administration.
Situated in Nairobi, Impact Outsourcing is one of the country's major BPO firms that work with local and international clients. 
The company assists various organizations, government institutions, and individuals in data management, customer support, data annotation, and transcription.
Impact Outsourcing is also dedicated to providing employment for vulnerable and disadvantaged communities across the East African region.