Business success essentials: outsource services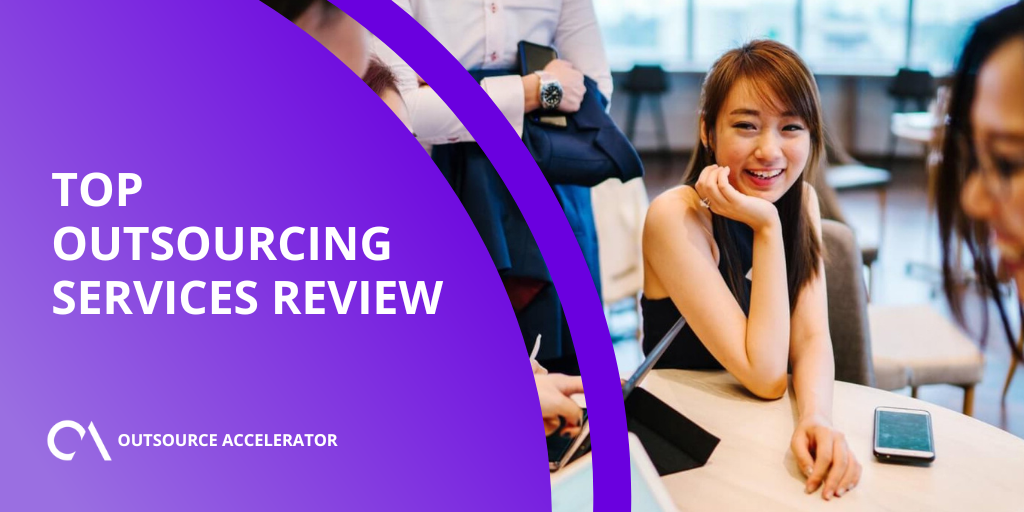 Not every business can afford to hire additional employees locally. SMEs and startups work on limited cash flow and need to be careful in spending on additional resources. 
Outsourcing services is a great solution for this, especially with the increasing customer demand in every aspect of the business. Even in 2023, the industry continues to grow as the demand for offshored teams increases.
List of outsourcing services in 2023
Outsourcing services – dedicated employees
Outsourcing is still a popular choice even in the age of automation. More than 80% of service providers expect outsourcing services overall to grow significantly. 
As per the Global Sourcing Association (GSA)'s report called 'Outsourcing in 2020', 70% of businesses who have outsourced before plan to outsource more services, while 35% plan to start.
Businesses continue to take advantage of outsourcing services due to the following reasons:
Human interaction.

Customers still

prefer interacting with a physical employee than AI

. While automation gives them a quicker and more customized approach in interaction, a live agent gives them a warmer and more personalized service.

More hands-on approach.

Businesses outsource services that need a more hands-on approach like in contact centers. Automated chatbots are mostly used for basic inquiries while live agents still attend to more complicated concerns. 
Cheaper than full automation.

Outsourcing tasks is

less expensive than going full automation

. The latter still requires equipment and the latest technology to handle.

Manpower to handle automated tasks.

Even when a business automates their duties, they still need manpower to handle more complex aspects such as maintenance and logistics. 

Outsourcing creative and complex tasks.

Creative tasks can only be done by a person (so far). Businesses consider outsourcing their creatives to have a more affordable yet high-quality output delivered.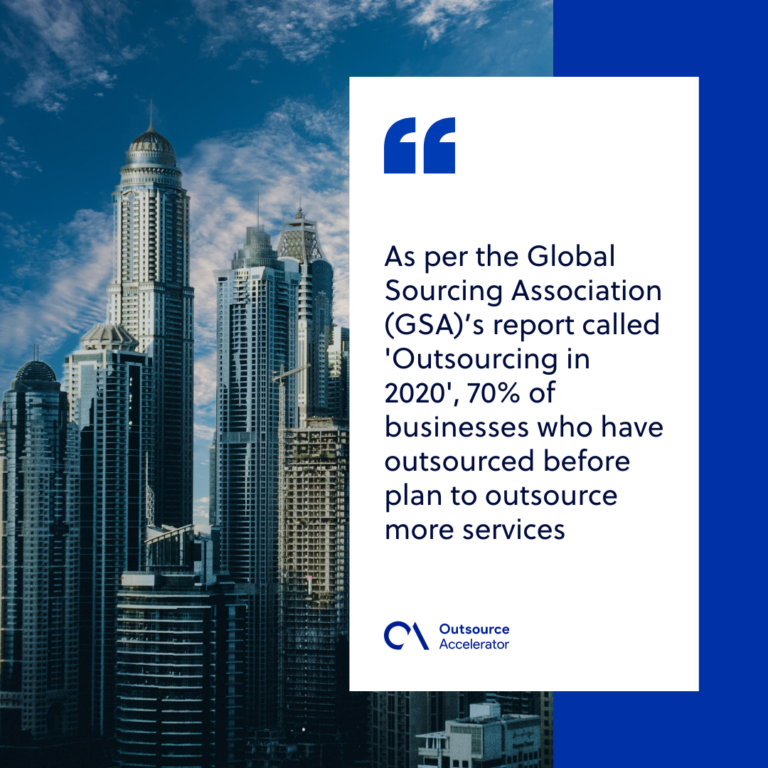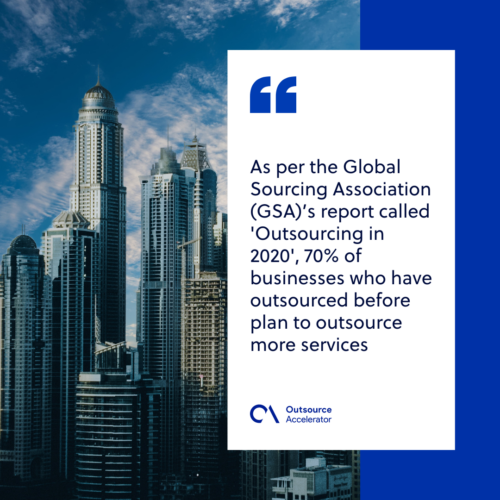 Outsourcing services list
Customer service
Outsourcing customer service helps to maintain and improve the business's relationship with its customers and lets them know that their needs are being taken care of.
Call centers are popular in managing customer service. Whether it is in email, live chat, or instant messages, they can handle different channels of communication to reach out to the customers and clients better.
Virtual assistant services
Business owners hire virtual assistants to help them delegate tasks and to serve as their henchmen. They help organize different aspects of a business from finances, marketing campaigns, and designs, to small tasks such as appointment booking and scheduling.
Unlike a secretary, virtual assistants can have a wide range of specialties aside from administrative duties. 
Web development
Having an expert to work on creating and maintaining a company website is much better than DIY-ing it. Some aspects such as domain hosting and web security should be handled by a professional that knows how to apply more complex features.
Outsource web development to an IT company to better take care of maintaining a website and its features. 
Recruitment Process Outsourcing (RPO)
Businesses should outsource their hiring process when they handle too many applications or are new to recruiting more employees. Outsourced recruitment specialists can handle most tasks from pre-screening and selection, applicant tracking, up to employee onboarding.
They will then compile their selection for their clients which will decide who will get hired. With this, employers can assure that they get the best talents screened and recommended by experts in hiring and recruitment.
Human resources
Aside from hiring, businesses also benefit from outsourcing other human resource duties such as employee training and monitoring. It allows them to have a professional HR team handle their manpower so they can focus on growing the business and improving the satisfaction of their employees.
Payroll management
Employers that single-handedly manage their employee payroll are prone to delays and bigger errors in processing salaries, benefits, and taxes. Outsourcing payroll allows them to minimize these errors, ease their burden on repetitive tasks, and focus on core tasks to grow their business.
They can also give better benefits to their employees with additional packages they can avail themselves of from their HR firm.
Bookkeeping and accounting
Businesses consolidate and update their books of accounts to keep them updated with their cash flow and comply with tax filing and payment. Accounting and bookkeeping are one of the most utilized outsourcing services.
Hiring a virtual bookkeeper and accountant helps them organize their books properly and keep up with their tax compliances on time. They can also get expert advice on how to improve their cash flow and manage their finances better. 
Lead generation
Sales calls are important since they make potential leads for businesses. The more potential customers an agent calls, the more leads they generate.
Outsourcing lead generation services can increase the chance of a business reaching a more targeted audience and have their customer service and sales operation handled by professional telemarketers that will do more than cold calls to clients. 
Market research
Market research is a specialized task that should be handled by expert researchers since this is an evaluation of a product or service of a company.
Surveys from third-party researchers also give them the chance to know their potential and existing customers. This is so that the company can give them an improved experience whenever they visit their site. 
Search engine optimization
One thing a small business should not ignore is keyword research. To generate traffic on the website, moderators should know how to properly incorporate and use appropriate keywords in content and product copies.
Hiring SEO experts that will handle time-consuming tasks from keyword research, studying analytics, to implementing strategies to make search engines notice their website. 
Writing and services
Writing content is more than putting words to form an article. It takes a lot of planning, research, and coordination to form high-quality content for a website. Unless they already have a team of writers for this or they have expertise in writing, this task should be outsourced to an expert in this field. 
With this, they can get different insights and writing styles from their team's outputs that can help improve the blog page of their sites.
Creatives
A presentable and functional website attracts a lot of visitors. The site visuals such as layout, logo, and other graphics are important since it contributes to the overall presentation. Going DIY into a graphic design can be good, but it is not enough. Having a local in-house designer, meanwhile, can restrict a business from exploring even better outputs.
Outsourcing graphic design to an agency or a BPO company allows them to gain more insights on how they can make their website and campaigns better. They can as well get the best input they can get at a fraction of an in-house employee.
Social media marketing
Currently, social media has become more than personal communication platforms. Some of the commonly-used platforms such as Facebook, Twitter, and LinkedIn are now used for professional connection and product advertisements.
Outsourcing social media marketing gives a company an edge since expert marketers handle their social media pages properly. They can easily gain an overview of their audience reach through their advertisements and grow their followers that will eventually become customers of their products.  
Content marketing
Before publishing content on a site, it must be reviewed by a content marketer. They combine writings, visuals, keywords, and links to improve content. In most cases, they also help in researching and writing an article.
Content marketers make sure that each article and copies published on a website are high-value to rank in search pages. Virtual assistants are also great content marketers since they are trained in different aspects of digital marketing.
CAD design services
Computer-aided designs (CAD) nowadays are not just limited to floor plans and interior layout. It applies to product placements as well. As a part of customer experience, online stores now provide 3D versions of their products for virtual interaction.
Outsourcing CAD design gives them the quality and flexibility of hiring a designer for their current demand since hiring in-house might cost them a lot of resources such as equipment, office space, and salary for a short-term contract. 
Transcription
Transcription is essential as part of a written record from an audio file. Medical services providers and educational websites commonly use this service for medical reports and podcast transcriptions for their customers.
Transcribing and formatting single audio can be time-consuming. With this, businesses either use transcription sites or hire freelance transcribers to ease their burden and have high-quality output.
IT infrastructure
Increasing in-house teams and functions means increasing IT infrastructure, from network to cloud to databases to manpower who will manage these.
Outsourcing IT infrastructure helps businesses scale depending on their needs. This also gives them access to the latest hardware equipment used for their infrastructures. 
Software development
Since this requires a lot of equipment and expert manpower in different aspects like resolving bugs and issues, startup companies outsource software development to better form and enhance their products.
With this, they can get access to the latest tools and professional services that their third-party company provides for them. 
Beta testing
Software products should be properly tested and checked before it gets released to the public. This can help the developers fix any glitches or errors that may happen when using the product.
It is better to outsource beta testing since its demand depends on the frequency of the versions or updates the company will release. In that way, they can benefit from flexibly scaling their teams while retaining their core employees to monitor and supervise their team's work.
Cybersecurity
In any business sector, cybersecurity is important to protect the sensitive data of both the business and its customers. IT companies ensure the top level of security to their clients by putting encryptions and security patches on their websites and applications.
Outsourcing cybersecurity duties to these companies also help protect the business from possible data breaches that can affect their entire operation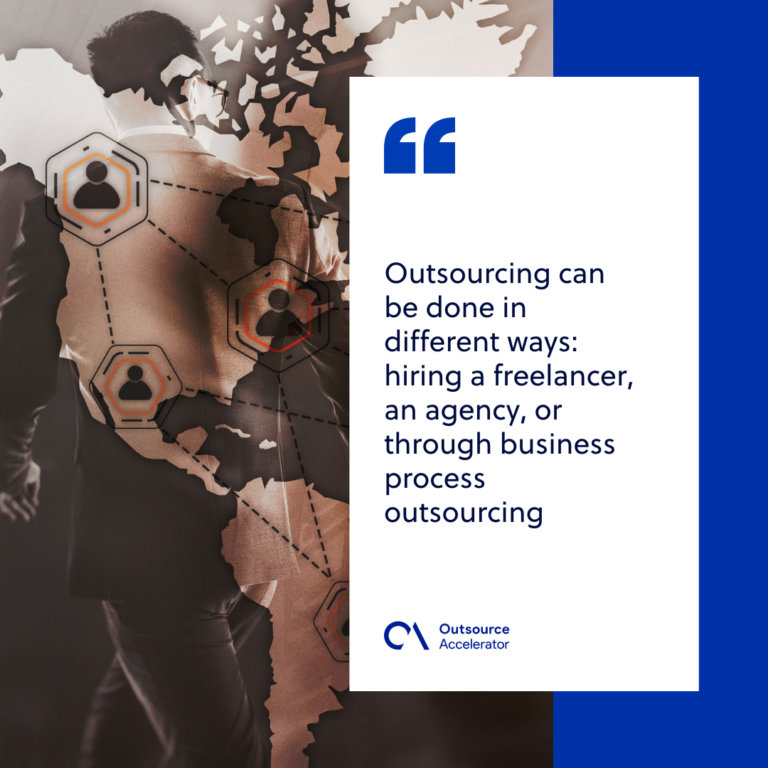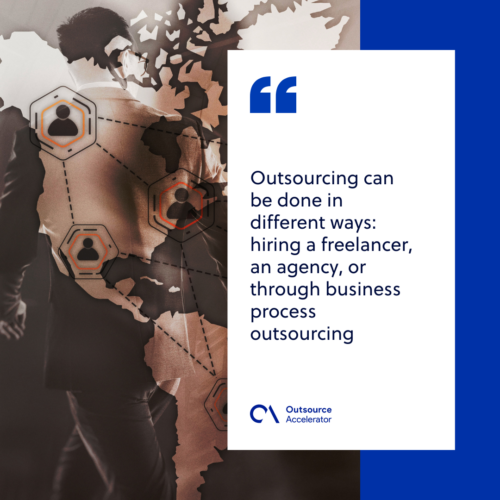 How to access outsourcing services: selecting the right outsourcing services provider
Outsourcing can be done in different ways: hiring a freelancer, an agency, or through business process outsourcing.
Freelancing
Freelancing allows employers to hire an individual contractor whether in a short-term or long-term project. Freelancers cater to a wide range of services, including virtual assistant services, graphic design, digital marketing, and software development.
Some of the most popular freelance platforms in the market include:
Agencies 
Businesses usually hire agencies for short-term projects. These agencies usually offer accounting, IT, and marketing services to name a few.
Some of the most popular agency platforms in the market include:
Business process outsourcing (BPO)
Lastly, business process outsourcing is the outsourcing of tasks to a third-party company. This company will set up a dedicated team for their clients, train the team, and implement the client's standards on their operation.
BPO companies will also cover the required resources for the team, such as the latest hardware, office space, and salaries and benefits of each employee. Check out the top 40 BPO companies in the Philippines to find out more.
In the end, the goal of outsourcing is to scale the business and get the best quality of work for less cost. Considering this to just save money may sacrifice the quality of service.
Plan what to outsource, where, and what company to consider to avoid its risks and outsource properly this year.
123Employee is one of the trusted outsourcing providers in our present day! This distinguished outsourcing company caters to small businesses to enterprises, from various industry sectors.
Partner with 123Employee for your voice services needs and get a hold of highly skilled and well experienced agents. With 123Employee, you are guaranteed to achieve positive results in no time!
Evolution of outsourcing services
Offshore staffing outsourcing has been happening for about 30 years now. The industry started with simple administrative tasks and mono-thematic call center functions.  Now, 30 years later, the types of outsourcing services have broadened and got infinitely more sophisticated.  Outsourcing services now cover the full spectrum of professional roles and virtually every function within a business: sales, marketing, admin, customer service, etc.
Now, the scope of outsourcing services is limited only by your imagination.