How to build the best remote team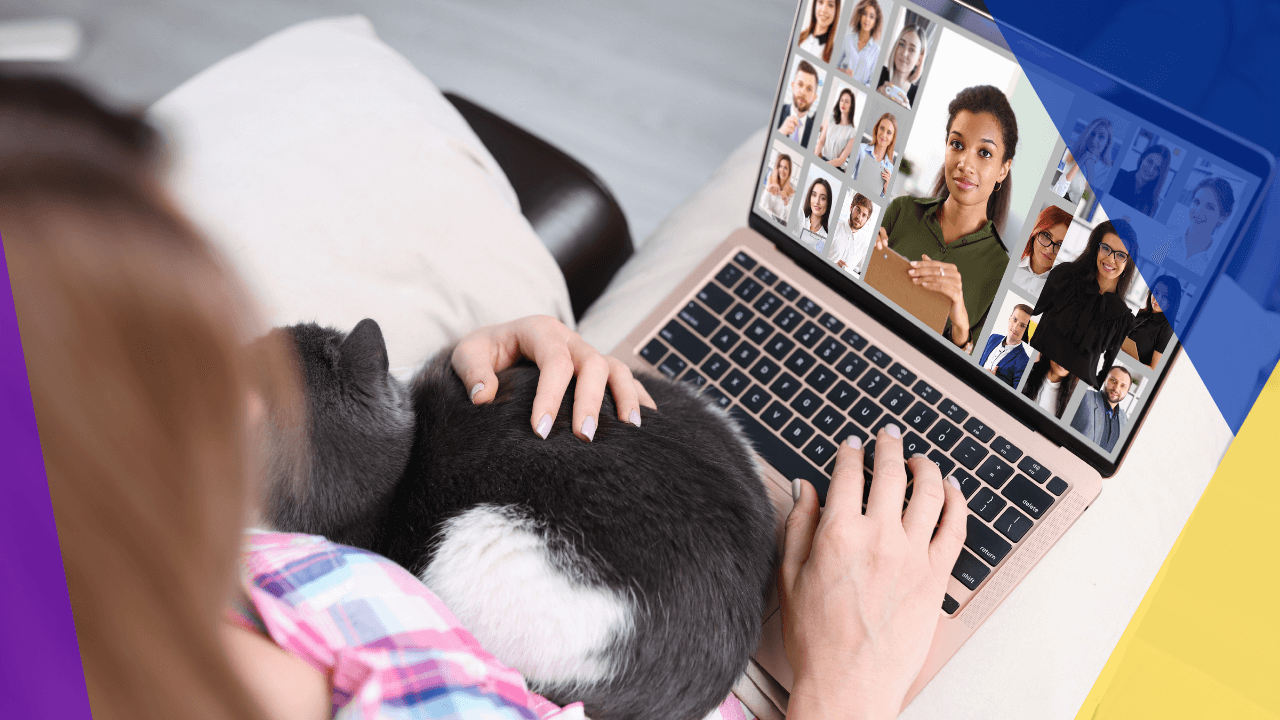 Having a remote team can be beneficial for any business. Aside from its efficiency and cost-effectiveness, it provides companies access to top employees from diverse backgrounds. 
The adoption of remote working over the past year permanently changed the corporate landscape. Remote work made both employers and employees realize that they can still continue to work in the comforts of their homes.
However, even though they can now be seen as a necessity, building remote teams can be a challenge for any team leader in every industry.

What's it like working with a remote team?
A remote team is a group of employees who work outside the traditional office space. They operate online and are often located in various places — sometimes extending to other countries across the world. 
There are several remote working arrangements offered in any industry. Remote employees can work temporarily or permanently, partially or full-time. 
Depending on their locations, a remote employee's salary may also be higher or cheaper than your in-house employees.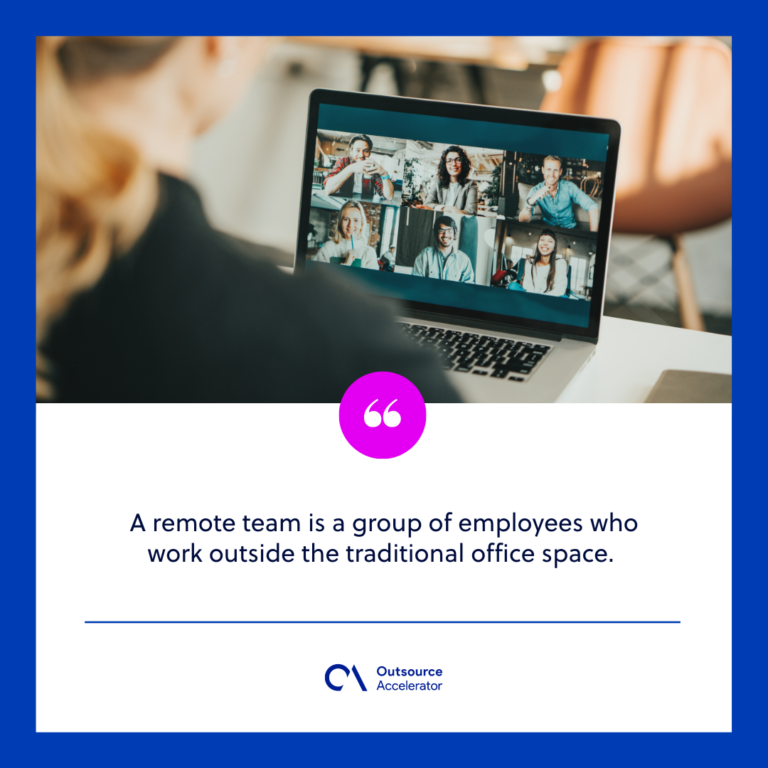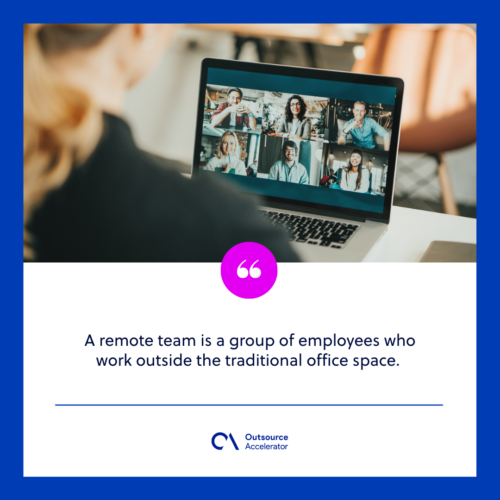 Remote teams during the pandemic
Due to the COVID-19 pandemic, businesses had to halt their physical operations. Companies were compelled to move their work online. This made remote teams gain attention over different organizations around the globe.
As the offices start to open, employers are finding it difficult to urge their employees to go back to their traditional office spaces. 
A 2021 survey from FlexJobs reported that 58% of remote employees are ready to find new jobs if their current organizations discontinue remote working. 
Working from home helped remote teams stay productive while staying safe from the virus. It also highlighted the fact that people do not need to commute to work every day just to finish their office workloads.
In addition, remote working helped online companies thrive over businesses who prefer their workers to stay on-site. Business leaders have also accepted the reality that their workforce will stay virtual for the foreseeable future.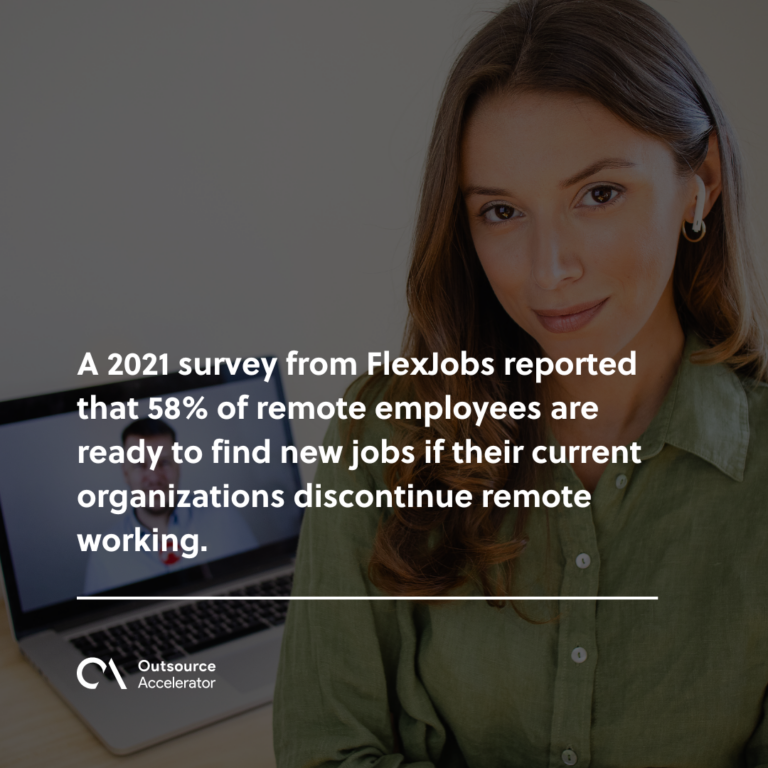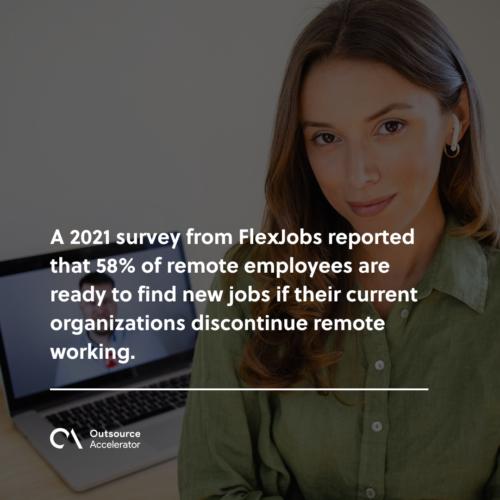 How to build the best remote team
Hiring qualified employees to work on-site is difficult. However, recruiting a remote team is even more challenging. 
To help you with this, here is a list of the best practices that you need to consider in building the best remote teams for your company.

Decide on the tasks that you want to delegate
Before calling on people to help you look for your remote team, you have to decide first the tasks and processes that you want to delegate. Make sure that you have the right estimate of people needed for each task.
You also have to ensure that each function in your company is covered. After all, the reason why you are hiring remote teams is to finish all your tasks. So make sure that you reach that goal.

List down the skills that you need
After deciding on the workload that you are going to assign to your remote team, it is time to decide and think of the skills needed for each job.
Building remote teams is just like creating a regular department in your office. You have to be certain that they are the right fit for your company and the tasks that they are going to take over.
List down the specific skills and abilities that you are looking for in a remote team. This step will help you determine who to hire when reviewing applications.

Put your applicants to the test
After receiving applications or recommendations, you can now put your candidates to the test. This step can help assess the applicants' abilities so you can see if they're the right fit.
Additionally, testing your remote team applicants can support the credentials that they wrote in their resumes. Through this test, you could witness their work ethics, reliability, consistency, and overall fit in your company.

Establish communication channels
Communication is the key for remote teams to thrive in any industry. Think of how you want your virtual team to communicate with you and with each other. Then, establish these communication channels as well as other guidelines that you may have.
Use different communication channels and software – such as email, online chatting, and video or voice conferencing services – to collaborate and exchange ideas efficiently.
You can also include guidelines on which communication modes to use, when to use them, and how quickly they should respond to messages. Interact with your team

When managing remote staff, it is important to create opportunities where everyone can interact and connect with each other. Interaction is crucial in the performance management and overall teamwork of remote teams.

Make it a habit to check in regularly with your virtual staff. Use these interactions not only to check their task status and provide feedback but also to get to know them better.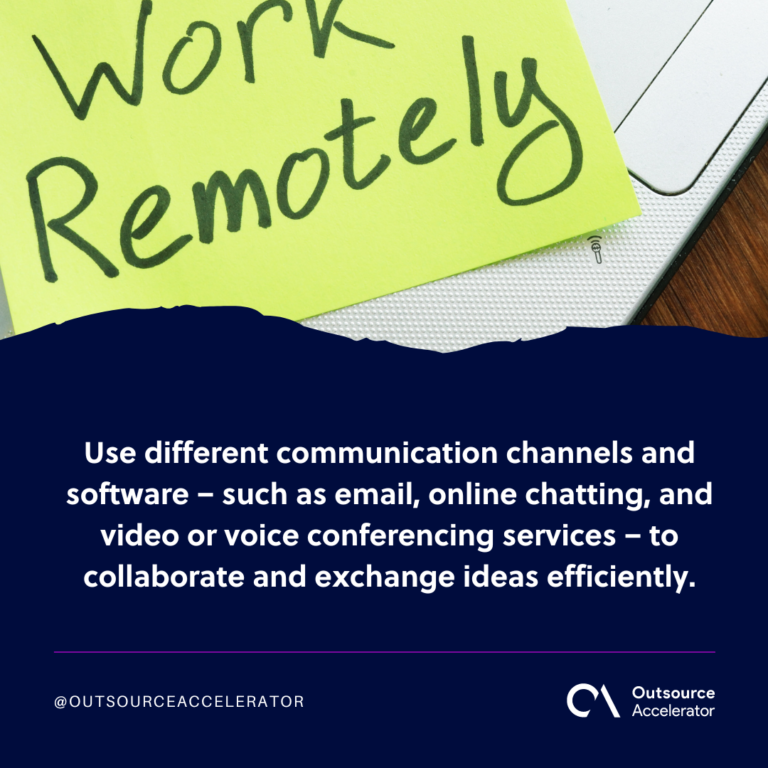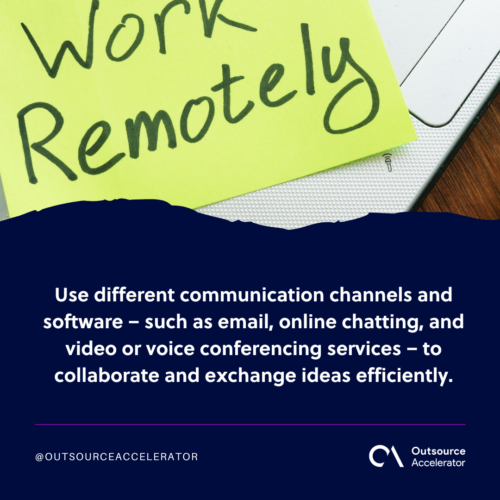 Build the best remote teams with Booth and Partners
Looking for the best employees for your remote team takes a lot of work. Luckily, you can reach out to outsourcing companies to help you build a high-performance virtual team. 
Easily build a top-quality offshore team that operates as an extension of your business. Through Booth & Partner's tailored outsourcing solutions, you can make finding and retaining top talents easier and more cost-effective while maintaining peak efficiency. 
Whether you're aiming to improve your productivity or corporate focus, Booth & Partners' bespoke staffing solutions will help you find the best remote teams to actualize your goals. 
With B&P's top-notch offshore team from the Philippines, their skilled workforce can keep pace with the abilities of an in-house team for a significantly lower cost.
Build the best remote teams now with Booth & Partners.