8 Essential qualities of an outsourcing partner
Top 8 qualities of an outsourcing partner you should look for
Choosing an excellent outsourcing partner can be confusing and difficult. There are various factors to consider, including their location, culture, available technology, cost, and service quality, among others.
More importantly, you'll want to find the best service provider that fits your needs and who will look out for your brand's best interest.  
Before partnering with a service provider, you must consider what qualities of an outsourcing partner you should look for. 
Outsourcing definition
Outsourcing is the practice of engaging with a third-party service provider to perform services that were traditionally done by the company's in-house employees. This may include a wide range of tasks — from back-office support to manufacturing.
With the help of an outsourced team, you can gain access to experts in a particular field— no matter where they live. Your internal staff can also now focus on doing the tasks where they are most effective.
How can an outsourcing firm help your company?
Businesses often outsource to improve their service and to cut costs. This strategy allows companies to rely on the service providers' expertise in performing their outsourced business functions efficiently.
Corporations often decide to outsource their supporting functions to help focus their in-house resources on their core tasks. However, small and medium-sized enterprises often outsource due to their inability to hire full-time staff to perform specific jobs.
Additionally, more companies are taking advantage of outsourcing for innovation.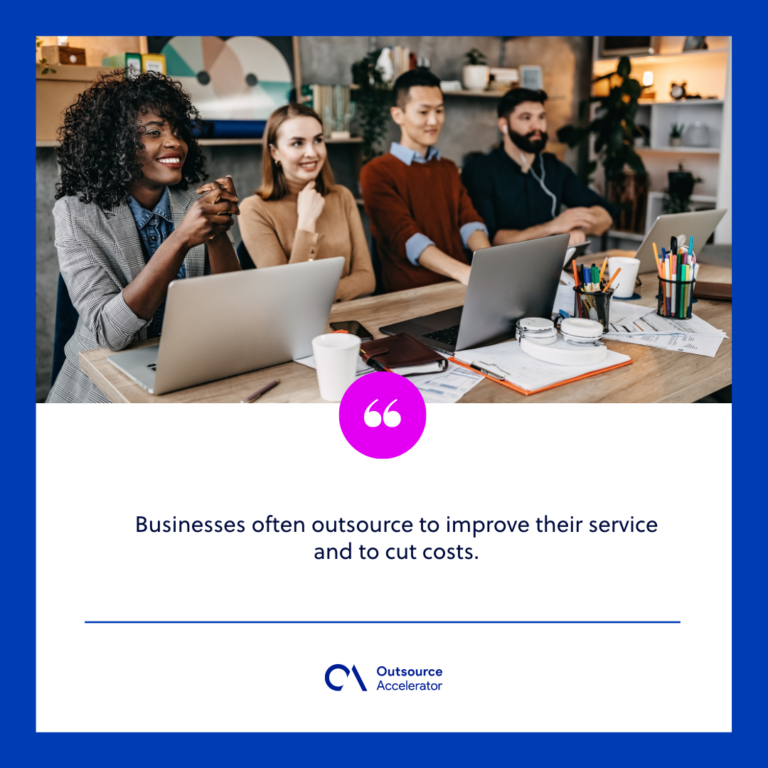 Top 8 qualities of an outsourcing partner 
A brilliant outsourcing partner knows how to deliver your services within your team's key performance indicators. They help in your business processes so you can focus on growing and developing your brand.
Here are the top 8 qualities of an outsourcing partner to help you carefully choose your long-term services provider. 
Expertise and reliability
In determining the right outsourcing partner for your business, always consider how they used to handle their past projects and clients. Look closely at their portfolios to discover their knowledge and expertise in your industry.
You need to collaborate with a service provider who has a good record of accomplishments. A company with an excellent backup plan in place is also ideal in case something unexpected happens on your project. 
Complete resources
It is also crucial to check records and visit your outsourcing provider regularly. This will help you see if they have complete resources and the latest technology you'll need for your tasks.
It is ideal to hire a provider who has the capacity and expertise to carry out your business strategies properly and effectively. This will assist in improving your brand's overall efficiency and eliminating misunderstandings and mistakes. 
Flexibility
Enlist an outsourcing firm that can work with your business structure. After all, the main reason why you are looking for an outsourcing partner is to make your workload easier. 
The partner you choose must have the flexibility to meet your current requirements. Consider how the different business models, communication options, and time zones can work together to fit your needs.
Transparency
Transparency and effective communication are essential qualities of an outsourcing partner. These two can help keep a healthy working relationship between your company and your service provider. This is especially relevant since your outsourcing partner is a remote extension of your team. 
Outsourcing requires constant communication to ensure that the processes are being fulfilled as agreed. Collaborate with a company that understands your business and is easy to communicate with.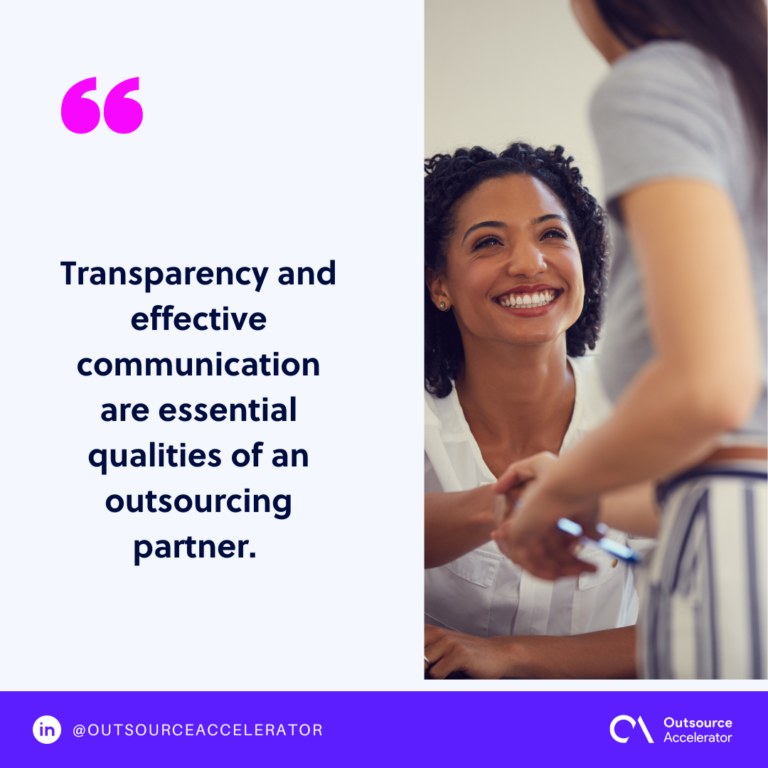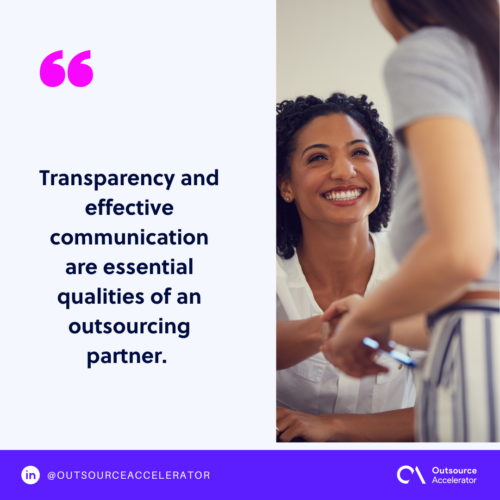 Dedication to quality service
Providing a quality service is the common goal of almost all establishments. Hire an outsourcing partner with a clear idea of the processes within your company and ensure quality in their service. 
Additionally, you need to create a list of what you would expect from your provider. You can document this properly to use when reviewing and evaluating their service later on.
Cost savings
Usually, labor and operations can be obtained at a lower price in developing countries. Because of this, outsourcing has become a cost-saving approach for industries across the globe.
In choosing an outsourcing partner, you should take into account the standard of service that they can deliver. This is one of the important qualities of an outsourcing partner you should look for. 
Make sure that your chosen outsourcing partner is not sacrificing the quality of services that it delivers to make up for the affordable cost that they are offering. 
Data security compliance
An outsourcing firm that offers data security services can help keep your systems protected and updated. They can also help you build an effective strategy that addresses your business' compliance and data management. 
It is ideal to hire a service provider that can create a multi-cloud solution for your company. Your outsourcing partner will assist your team in staying compliant with various security requirements and make data accessible to everyone in your organization.
High NPS
A high Net Promoter Score (NPS) is also one of the critical qualities of an outsourcing partner. This performance indicator will help you assess which outsourcing firm offers quality service by the number of their satisfied clients.
Working with a company with high NPS helps you feel confident with their performance. Since they have served their previous partners well, you can be assured that they will do the same for your business.
These are considered the main qualities of an outsourcing partner. It's important to note all of the above-mentioned so you can take advantage of all of the perks that outsourcing can provide.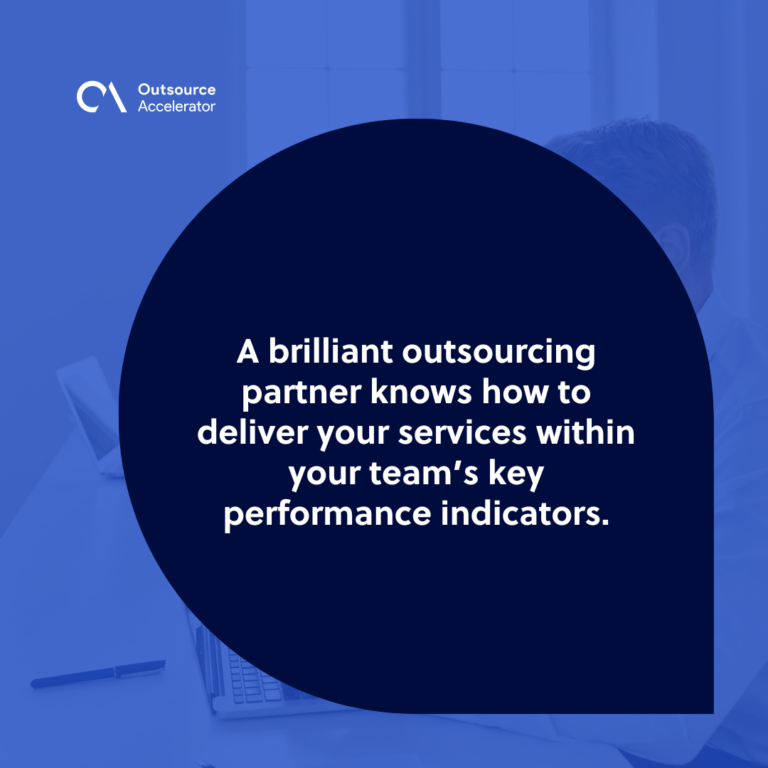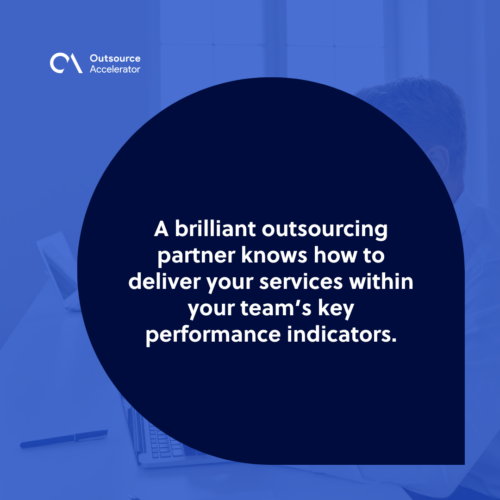 Collaborate with Infinit-O for your outsourcing needs
Many factors go into deciding which outsourcing provider you should work with to help your business. Infinit-O could be an excellent partner for you.
Infinit-O's main goal has always been to create long-lasting relationships with its clients through a strong combination of consultancy, process optimization, and outsourced services. With the use of the latest available technology, they guarantee excellent service for their partners.
Partnering with Infinit-O guarantees these five key benefits:
Cost reduction. High-quality service and highly-skilled teams with 70% operational cost savings

Scalability. Infinit-O can easily respond to every shift your business demands. 

Access to world-class talent. Infinit-O's A+ recruitment process attracts world-class talent with an industry-leading retention rate

Operational excellence. Collaborative SLAs and metric-intensive performance

Trusted partnership. Have confidence in Infinit-O's >97% client retention rate and 75 Net Promoter Score. The outsourcing company is also ISO 27001 & 9001 certified, GDPR, and HIPAA compliant.
Push your company to its full potential now with Infinit-O.