Definition
What is a net promoter score?
The Net Promoter Score (NPS) gives a comprehensive view of customers' loyalty and their willingness to promote or recommend a particular product or service of a company. This gauges customer satisfaction as well as loyalty to a company's product.
The customers are given surveys that ask how they would rate a particular product or service to their friends or colleagues. They may choose between a scale of zero to ten.
According to the ratings given by the respondents, they will be classified into three categories. These are the promoters, passives, and detractors.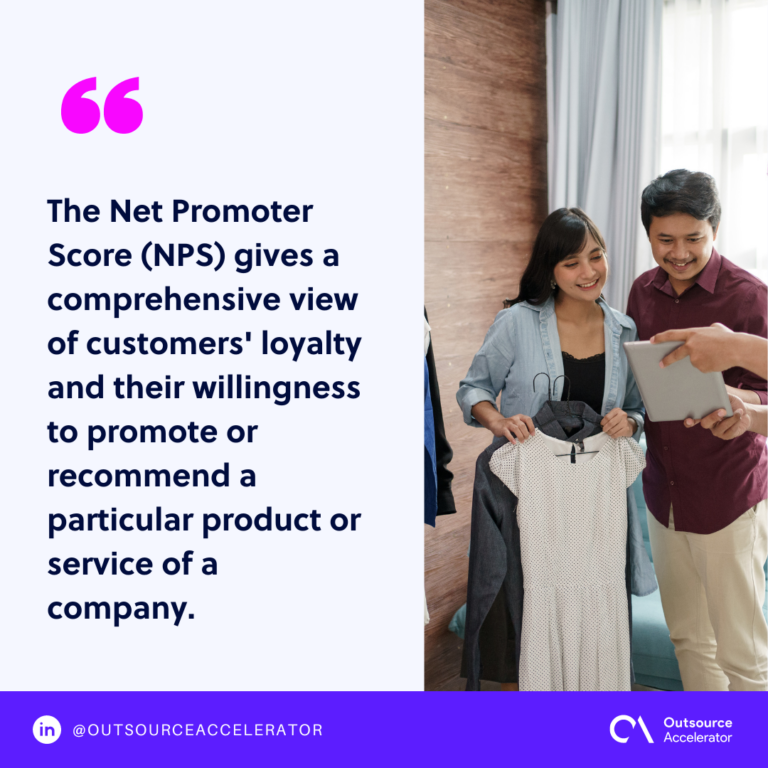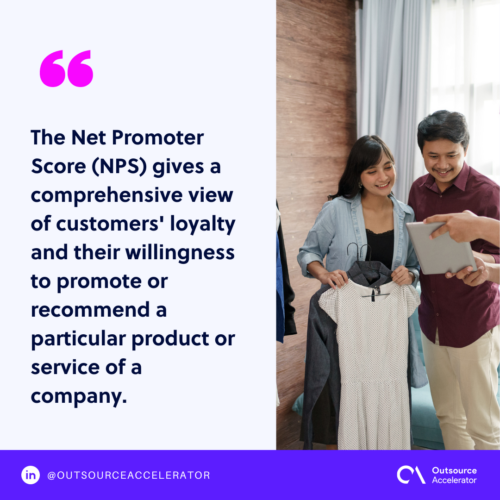 NPS meaning in BPO
The ultimate goal for call centers is to provide a positive customer experience for every customer. However, improving efficiency and productivity and retaining customers is impossible without quality assurance (QA).
Revenues and ROIs cannot be boosted without evaluating first how contact centers are successful in helping their clients.
NPS score is critical for businesses both operationally, tactically, and strategically. Beyond assessing customer loyalty and determining what customers feel towards a business, it also has a direct impact on how well a company performs in terms of customer service.
NPS leaders tend to outgrow their competitors as they gain more satisfied patrons that act as brand promoters for their families, friends, and colleagues.
How to measure Net Promoter Score
NPS scores are usually determined by the difference in the proportion of customers that will act as key drivers in promoting your business to prospective new clients and unhappy customers known that are commonly called detractors.
You can easily know your Net Promoter Score by handing out NPS surveys to every buying customer in your business. Include questions that ask about the likelihood of them recommending your brand— as well as products and services — to other people.
In order to get an accurate NPS score, customer service agents also provide a 0-10 numerical scale that customers can choose from. This gives you an idea of areas of improvement you can focus on to raise your overall score.
After customers answer the NPS survey, a company could now group their customers into three categories.
Response rates that fall between nine and 10 or the "promoters" are the ones who are willing to talk about your brand to new customers.
Those who would give lower scores that range between zero to six are the "detractors" or the unhappy customers.
Meanwhile, customers who would give a score between seven and eight are the "passive" or the ones who are not guaranteed to expand your brand recognition to a wider audience.
NPS formula
After determining which of the customers are promoters, passives, or detractors, it is now time to get your overall NPS percentage.
This is the formula for getting a company's NPS rate:
Percentage of promoters – Percentage of detractors = Net Promoter Score
For example, you gave out NPS surveys to 1,000 customers and 700 of them are promoters, 100 are passive, and 200 are detractors, your NPS would be at 50%.
The importance of NPS
As mentioned above, the Net Promoter Score predicts the overall customer-company relationship of a business. A higher NPS score means that you have a solid customer following which in turn, predicts lengthens the lifespan of the company.
Measuring your NPS also provides the following advantages:
Gain more customer feedback
Through NPS surveys, companies have the chance to gather more customer feedback from their new and existing clients. It gives them a chance to determine and improve the parts of the customer journey that their clients like, as well as correct the unhappy customers' negative impression of the brand.
Differentiate the promoters, detractors, and passive customers
By checking each customer responses, NPS analysts are able to put promoters, detractors, and passive buyers into their own groups. Putting them into categories allows agents to plan the appropriate approach for each group and how they can address their needs.
Drive revenue growth
Loyal customers are usually the ones who are set to come back to a company or brand and repurchase their products or services. This means that the more loyal customers a store has, the faster they are to experience business growth and development.
How to improve NPS
Customer satisfaction is more subjective than objective. Because it depends on what the customers feel towards the brand, it can be unpredictable and usually varies from client to client.
Although there are no guaranteed ways of instantly improving the NPS score of a company, there are some practices that you can use to enhance customer experience and achieve happier customer interactions in a business. Here are some of them:
Remove silos in the call center
Aside from quality assurance, almost all customers want to experience a faster service. They do not want to go through different departments before getting an effective resolution to their problems.
Removing silos within your call center and technical support services allows your buying customers to easily and quickly find the answers that they require. To do this, you should train and empower your call center agents to answer all of the queries that they receive.
Make sure your average handling time of any questions is shorter but provides efficient answers that would help shoppers with their problems.
Identify poor performers and provide training
Gathering customer feedback from your market research circles enables business leaders to find poor performers in the company. Through this, businesses can act on these customer reviews and make changes within the company.
Maintain consistent customer service
Customer loyalty is a crucial aspect of the Net Promoter Score. To achieve this, agents must cultivate customer satisfaction in each customer that they encounter.
Giving consistent service is the key to reaching customer satisfaction. Set attainable standards that can be measured, easily shared, and easily translatable. Depending upon the data you collect, it can help you determine the retention rate of the client, staff churn rate, and first contact resolution rates.
Measure QA as part of daily operations
Customer responses in NPS surveys must be consistently studied and compared. If you do not know how to start, the adjustment may not be necessary. Make a regular NPS report that identifies promoters, passives, and detractors.
The reports should have responses to follow-up questions and open-ended questions. With this, you will be able to pinpoint the factors which directly influence NPS scores as an individual.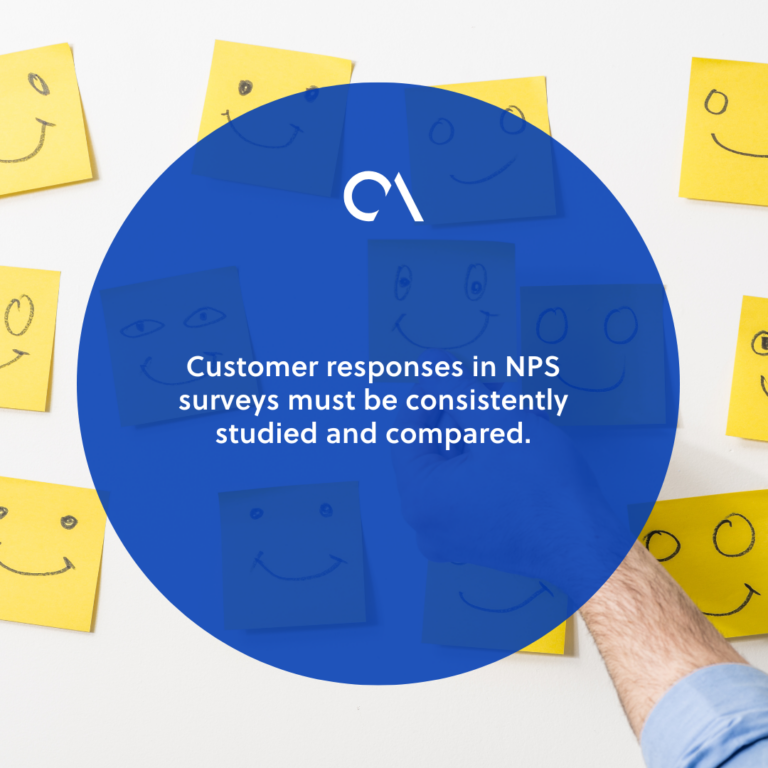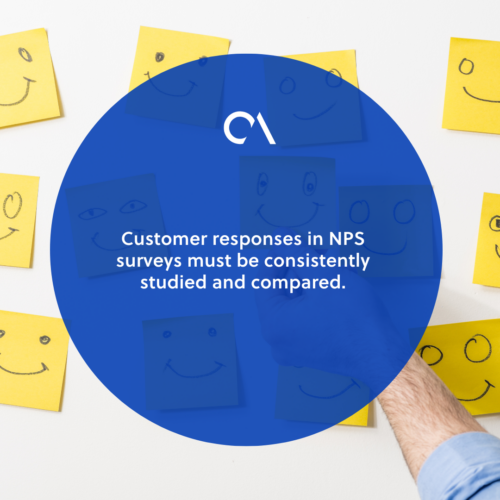 Engage with customers
Ideally, you should engage all clients — whether loyal customers or unhappy customers. Welcome, take note, and address every customer feedback.
Keep everyone updated with the results of your NPS surveys so that they would know who they should engage more.
Net Promoter Score for companies
The NPS is calculated by deducting the detractors' percentage from the promoter's percentage, which is the generated result or score between negative one hundred and one hundred.
Your customer NPS gives you an idea of the level of customer satisfaction you've achieved thus far. The higher your NPS, the greater number of promoters, or happy customers, you have relative to detractors, or unhappy customers.
Measuring customer NPS over time informs companies how customer perception is changing —and if it's trending positive or negative. If NPS is steadily increasing, your company is making customers happy.
But if the Net Promoter Score takes a dip — or if you start getting more passives than promoters — that's a sign that you need to dig into customers' qualitative feedback.
Outsource Accelerator has over 5,000 articles, 350+ podcast episodes, and a comprehensive view of over 2500 BPO companies… all designed to make it easier for customers to learn more about Net Promoter Score and all the data points needed to keep a higher NPS over your competitors.