Inside Outsourcing – How Remote Work, Outsourcing & Global Employment is Changing the World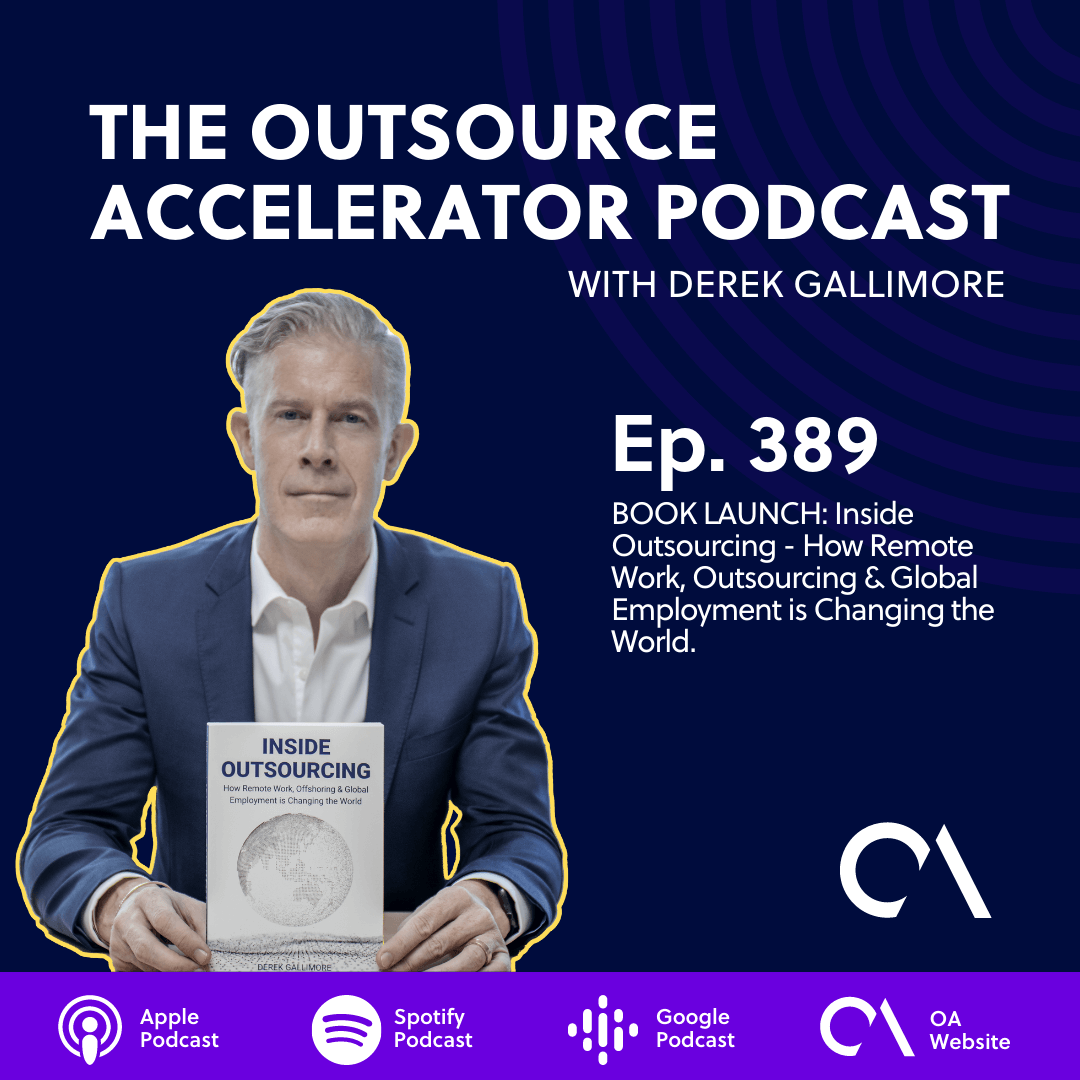 About Inside Outsourcing
In this episode, Outsource Accelerator CEO Derek Gallimore reads the introductory chapter of his new book titled "Inside Outsourcing: How Remote Work, Outsourcing & Global Employment is Changing the World."
Derek describes the book as "the culmination of [his] four years of work [in OA], 20 years of experience in business, 12 years in outsourcing, and nine years of living in the Philippines, the seat of the global outsourcing industry."
Derek says Inside Outsourcing is "a guide for those that are unfamiliar with outsourcing" as well as with everyone in the industry and those that are aware of how outsourcing works.
Derek implies that outsourcing and offshore staffing are seeing a boom due to COVID and the increasing labor shortage in developed countries. He added that organizations suffer from the lack of suitable talents that will help them run their business.
As globalization becomes normalized in society, countries have become more connected in any aspect, including employment. Derek believes that outsourcing "will be a normal mix of [a company's] employment strategies" for years to come.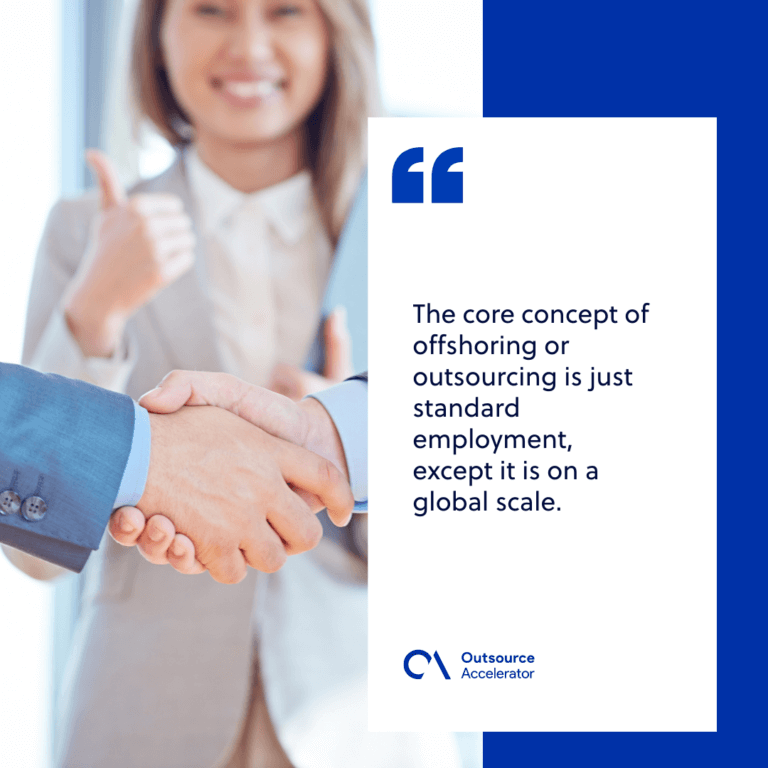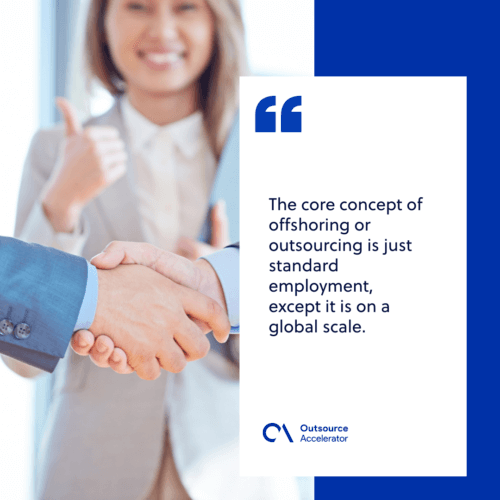 What Inside Outsourcing will discuss
One of the aspects that Inside Outsourcing will point out is its relation to the human connection. 
Per Derek, outsourcing "is the continuation of the evolution of mankind," where humanity becomes increasingly networked. Its concept, meanwhile, is "standard employment on a global scale" made possible through technology and changing habits of remote staffing.
As described in its introduction, the book is split into four parts.
The progress of human corporation and globalization

Introducing outsourcing in concept

The 30-year-old industry and its specifics

Outsourcing in practice and how companies can get started
Inside Outsourcing introduction
A wild ride
In the first part of the introduction called "A Wild Ride," Derek describes Manila as he first steps into the Philippines in 2011.
As Derek recalls, he learned about outsourcing by hiring an employee managed by a BPO company in the country. Having no upfront knowledge of the industry, he went to the country to learn further about outsourced staffing and how it actually works.
This brought him to Eastwood, one of the "recently-built business districts" that served as a response to the industry's explosive growth.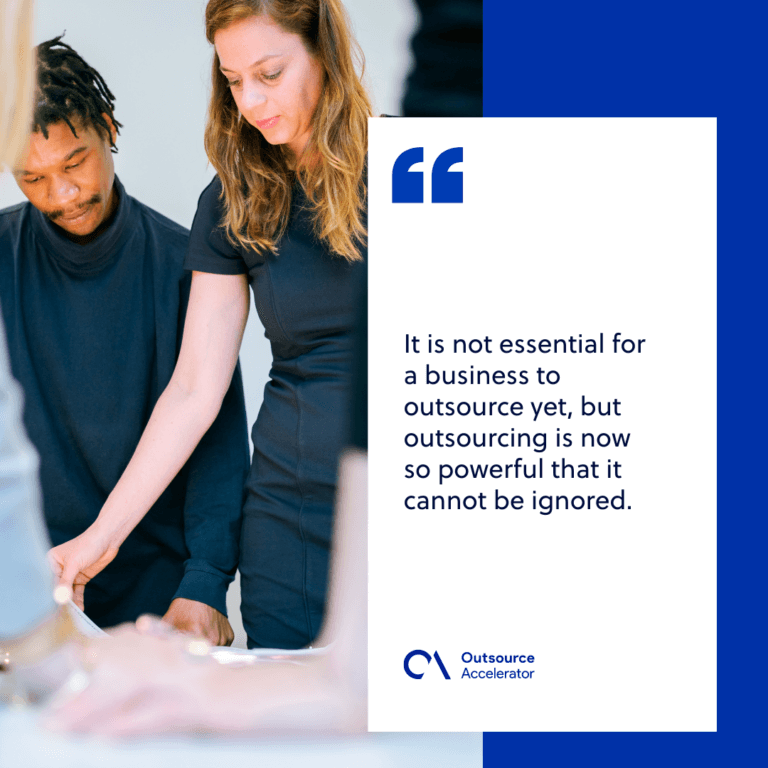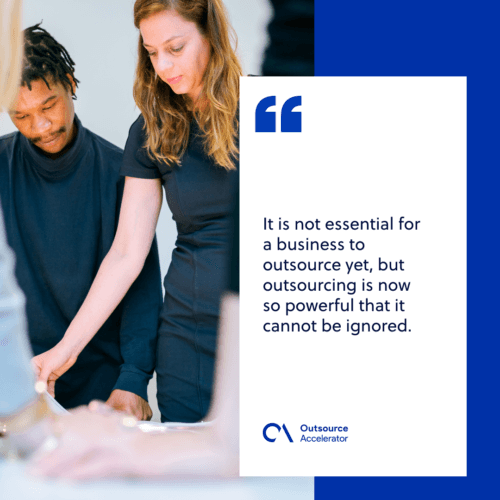 Humble beginnings
The second part starts by telling the history of the Homebrew Computer Club, where a simple meet-up would become an influential factor in technological advancements and the culture of Silicon Valley.
Per Derek, "no one could envisage the potential that computers would have had on the world." However, this is not surprising since humanity "is bad at foreseeing trends."
Indeed, most experts before did not see the future of everyone using computers, the internet, or even a smartphone. Technological advancements are usually seen as science fiction or fads that will go away easily.
Nowadays, globalization is quickly pacing around the world. As Derek states it, humanity is moving from finite geographical locations to a single global community "interfaced by a laptop and internet connection."
This even affects employment in general. Derek projects that "the next 10 to 20 years will see a complete switch from localized jobs to a globalized workforce" with the visible trendline of technology, globalization, and online work.
Inside Outsourcing: How Remote Work, Outsourcing & Global Employment is Changing the World will be launched on June 8 in paperback, Kindle, and audio formats. Interested buyers can go to the website or through Amazon.
Listen to more podcast episodes here: