Outsourcing is the process of leasing skilled resources from third-party providers. It can be separated into two categories: onshore and offshore outsourcing.
While onshore outsourcing means outsourcing your business functions to a company in the same country where the business operates, offshore outsourcing means getting these outsourced jobs done from a far-off country.
Most Western companies favor offshore outsourcing to countries like the Philippines due to its proven efficiency and cost-effectiveness.
Why consider outsourcing?
Offshore outsourcing has been the go-to move for businesses considering expansion, task delegation, and technology adoption for many years. With the COVID-19 pandemic forcing companies to adapt and take more risks in order to survive, people are again looking at outsourcing as a saving grace.
The main reason why companies outsource is that outsourcing reduces employment costs and other overhead expenses by up to 70%. However, while you're saving money, this doesn't mean that you'll settle for crappy outputs and performances.
Leading outsourcing providers like Cloudstaff ensures that your remote team will be made of excellent, skilled, and dedicated individuals that are perfectly suitable for their respective roles.
Outsourcing also lets the company's core team focus on more essential responsibilities catered to the business' growth and development. By delegating repetitive and tedious tasks to an outsourced staff, core teams are focused on the tasks at hand.
Leaving the time-consuming data entry, recruitment, and IT support services, among others, may seem like small changes. But, it can change and improve the company as a whole in the long run.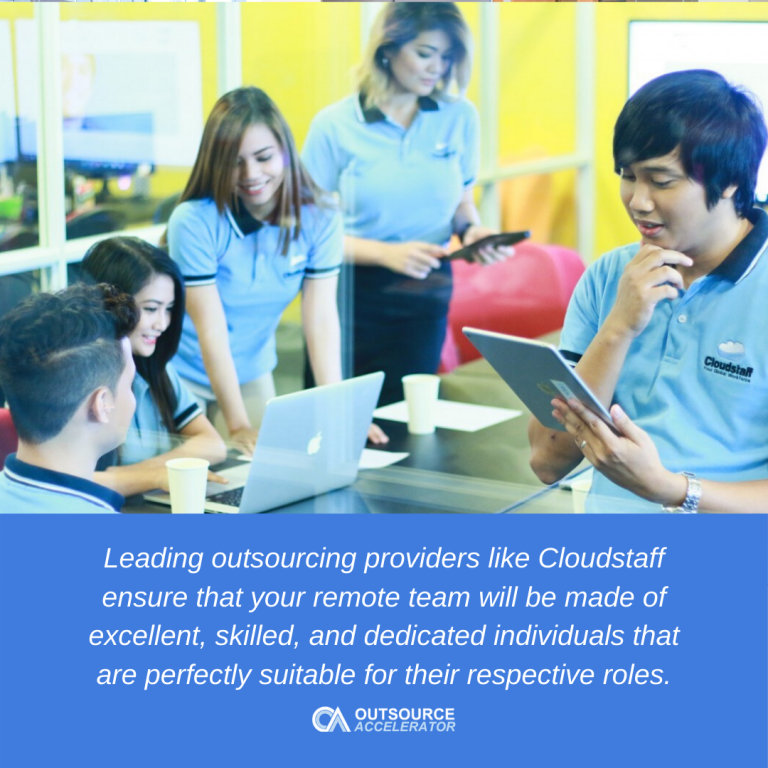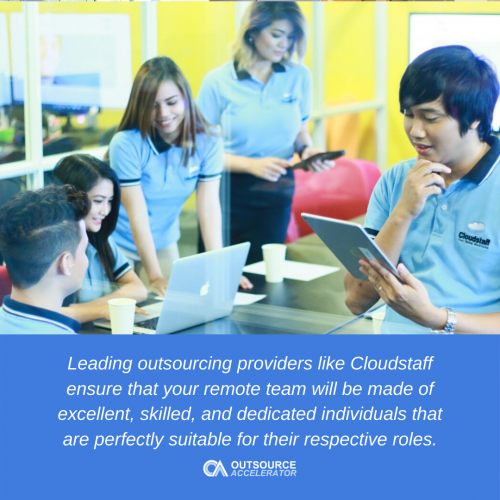 Key benefits of outsourcing
Saving on employment costs and delegating non-essential tasks to a dedicated outsourced staff are not the only benefits to cloud staffing. Here are 12 other key advantages to outsourcing:
Professional recruitment
Professional outsourcing providers know the significance of finding and hiring the people to a team and organization's productivity and success. Further, it is common knowledge that you can only get access to a skilled and competent workforce if they're being recruited by professional recruiting experts.
Cloudstaff has developed specialized software and testing procedures to ensure that the candidates fit your requirements and company culture. As candidates undergo a comprehensive interview, examination, and training process, you're sure that you're getting more than you bargained for.
Rapid deployment
Some outsourcing processes may take two months from initial consultation to hire; but with Cloudstaff's pool of highly-skilled candidates ready to join the workforce, you can have a team up and running with a week!
We understand that situations needing immediate solutions happen. Our account managers will work closely with you so you can meet and work with your team as soon as possible.
Western management
One of the concerns when it comes to offshore outsourcing is communication barriers and cultural differences. It is totally understandable. While we believe that our Filipino staff is fully experienced, skilled, and flexible, Cloudstaff has come up with a way to help Western companies easily transition and adjust to cloud staffing.
Our Western Account Managers are always available to lend a helping hand to provide rapid deployment and help integrate your local and remote teams. With Western management, concerns about communication and cultural differences can be put to rest.
Flexibility
A business' needs will change over time, and cloud staffing provides the flexibility that growing companies need in order to easily adapt, adjust, and expand. Outsourcing providers create flexible solutions and packages to enable you to scale your team as required.
Cloud staffing may not let you physically work alongside your team, but it still lets you be in full control.
Custom technology
With cloud staffing, your team will be provided with the right tools needed to ensure the utmost productivity and efficiency. For clients, Cloudstaff has developed a suite of custom applications designed to help manage, monitor, and communicate with your remote team.
These state-of-the-art custom technology and innovations make Cloudstaff stand out from its competitors. You will not only be connected with your team at all times. These technologies and tools are also conducive to remote team-building and other activities.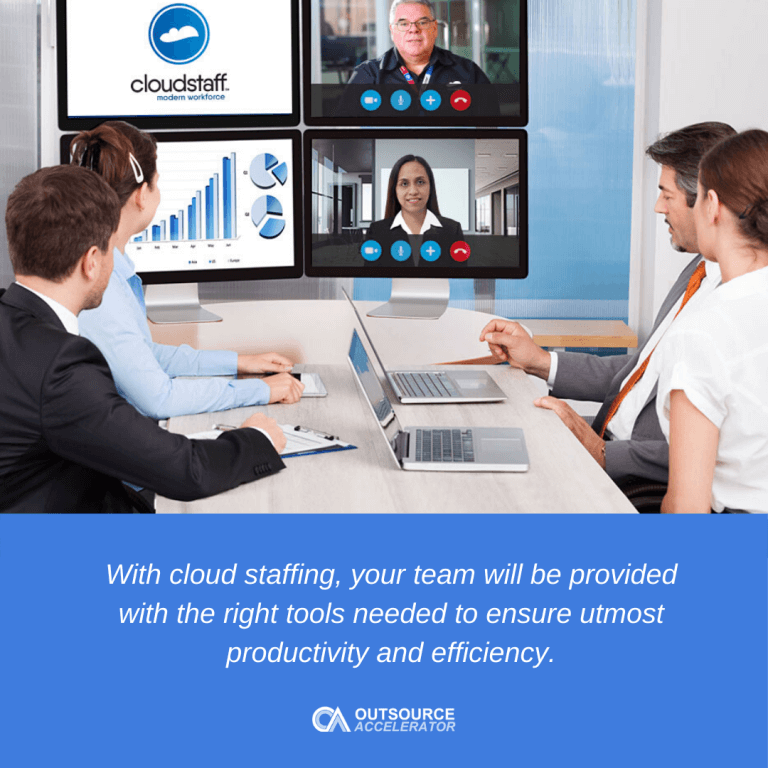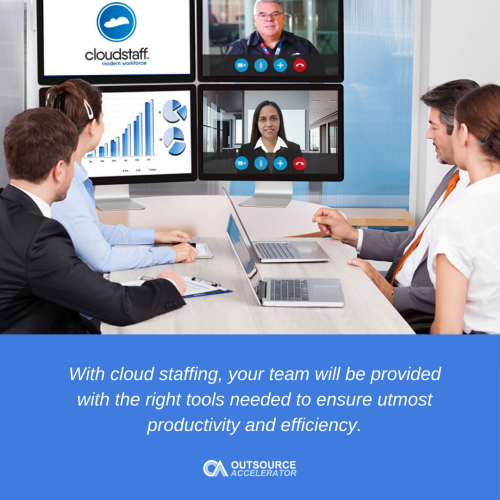 Scalable solutions
An evolving company like yours will have to change resourcing needs. With this, Cloudstaff is here to provide scalable solutions based on what you need RIGHT NOW. As your firm undergoes through some changes and ups and downs, cloud staffing can easily and quickly scale your workforce up or down.
There's no need to wait out a year-long or 10-person team contract when it's not working. With Cloudstaff's scalable solutions, your resourcing adjustments will be provided as you need it.
Modern workplaces
The value of a modern and fully-equipped workplace is often put at the bottom of the list of priorities when looking to outsource jobs. With cloud staffing, your remote team will be provided with a conducive working environment designed with productivity and relaxation in mind.
From meeting rooms, production suites, pantries, and other recreation areas, your remote team will surely find a home away from home.
Custom workplaces
One thing that Cloudstaff has focused on and has given priority to is flexibility and scalability – and that just doesn't apply to staff packages and pricing solutions.
The firm's abovementioned modern and fully-featured workspaces are highly configurable. That means you can choose the security you need, the services you want, and branding options that make the workspace your own.
Code of Conduct and Ethics
One of the biggest misconceptions when it comes to outsourcing or cloud staffing is that the employees are being overworked and severely underpaid. This is nowhere near the truth for legitimate business process outsourcing companies.
With Cloudstaff, there is no need to worry about violating labor laws and encouraging unethical workplace behavior. The company's strict Code of Ethics and Behavior delivers working conditions that meet Western standards.
Cloudstaff's upper management and HR team ensure that the company complies with all local labor and tax laws and that they're providing a safe and healthy work environment for your staff.
Highly-skilled staff
Cloudstaff takes pride in its large pool of pre-screened candidates that are perfectly suitable for your company. With its professional recruitment team and expert hiring strategies, getting access to the right people for the job is not going to be a challenge.
The Cloudstaff HR team also works directly with educational facilities and to get first access to the country's top talents.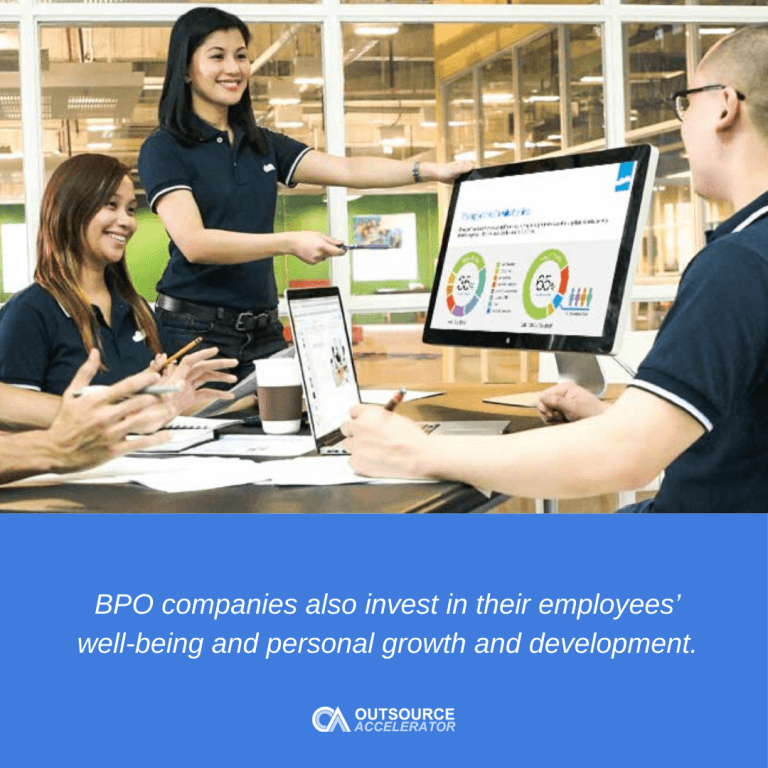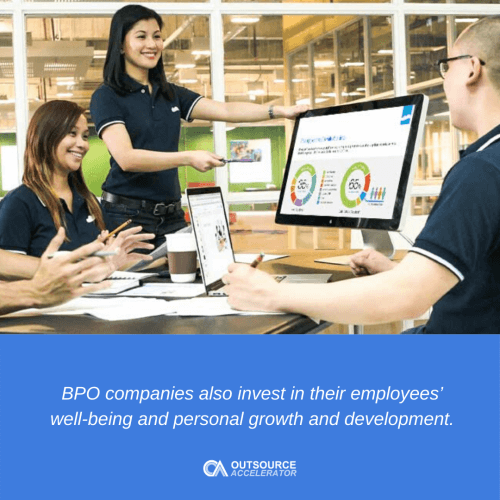 Continual training
Outsourcing firms encourage both personal and professional growth for its employees. Professionally, employee training goes past onboarding and compliance training.
Training opportunities for other skills are available because companies know that in a continuously-improving market, employees' skills should also be constantly refreshed and updated in order to keep up.
BPO companies also invest in their employees' well-being and personal growth and development. In Cloudstaff, workers are given free career and personal guidance for them to achieve their goals.
Infrastructure and security
We all want a safe and secure work environment, both physically and digitally. Cloudstaff's offices include N+1 environmental systems, redundant power and connectivity, biometric and swipe card access, CCTV and manned security stations.
These facilities are meant to safeguard employees, company equipment, and of course, confidential data. The company constantly improves its infrastructure and makes sure that it's only using world-class and top-notch security equipment.