Outsourcing and offshore staffing has changed the way businesses operate.
Outsourcing is no 'magic bullet' though, it still takes a lot of work and many businesses have tried outsourcing and walked away disappointed. But if you get it right (which we can help you do), it can transform your business.  With the potential to save 70% on your staffing costs, offshore staffing is probably the most powerful business tool out there.
So we have interviewed business owners about their journey with outsourcing and how it has helped their companies thrive.  You will see how outsourcing helped them save on labor costs and ease their daily tasks so that they can focus on the bigger ones, plus a lot of other benefits.
Client & business testimonials for outsourcing
We cover a wide range of industries and sectors, business process outsourcing is a game-changing tool that these entrepreneurs are taking advantage of.
Meg Marrs, Safer Senior Care
With outsourcing, Meg was able to focus on growing her network and partnerships. Meg provided the following testimonial, attesting to the value of outsourcing.
Safer Senior Care provides tips and tricks on taking care of the elderly, with the audience targeted to senior homes and families with senior members. Their website relies mostly on content and user experience. This is why Meg outsources these essential tasks.
"Outsourcing certain roles has freed up my time to focus more on big picture strategy, rather than being completely meshed in the day-to-day tasks.

It has helped me focus on relationship building and networking, which is quite essential to my business. When I used to do everything myself, I often felt totally burnt out."
Outsourcing has helped her focus on bigger strategies than on day-to-day tasks. With this, she can now focus on network building and partnerships to make her website more reliable and keep going. Though, one of the cons she sees is that if someone is a micromanager, they might have difficulties in delegating tasks and entrusting their business to their outsourcing partner.
Meg recommends entrepreneurs and business owners to outsource their essential work to help grow their business. She also advised trusting their outsourcing partner with their processes because they can provide what a business needs with the help of great talents.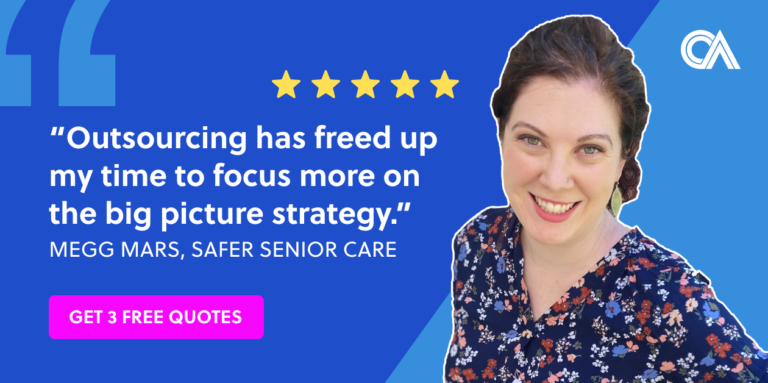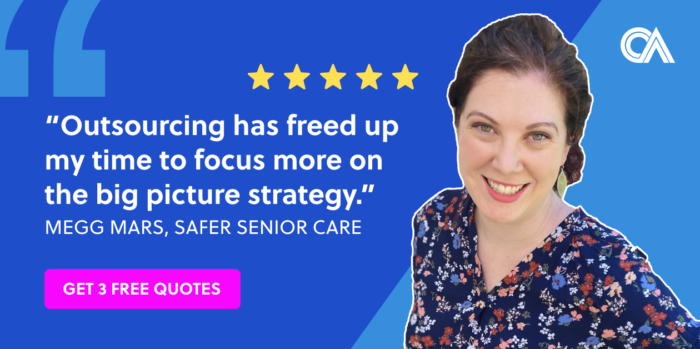 Tom Baker, Tom's Projects
Tom Baker is the founder of Tom's Projects, a London-based SEO and growth marketing studio serving small and medium-sized businesses. He outsources his entire product and development projects offshore. The expertise of their outsourcing partners helps them deliver great outputs while keeping their rates affordable for their clients. Outsourcing also helps him scale his workforce easily depending on the demand for their projects.
"Outsourcing means that we can scale the team up and down when need be.

Outsourcing allows us to work with startups who have a tighter budget. It also means that we can scale the team up and down when need be, helping us to cater for all types of projects.

The biggest challenge for us will always be communication. Thankfully, there are a lot of tools to help remote teams work efficiently."
One of his struggles when outsourcing is the language and cultural barrier. Luckily, this can only be a light one for him since his teams adjust to these barriers easily. Also, the abundance of online tools for remote work makes their work collaboration easier even when they're miles away.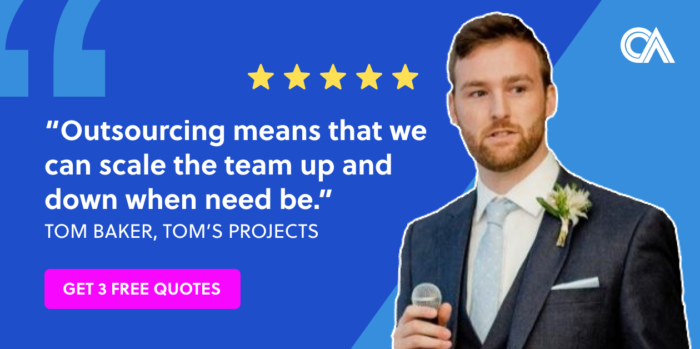 Bobby Reid, Capitol Tech Solutions
Capitol Tech Solutions is a digital agency that provides software development and digital marketing solutions to businesses, non-profits, and government agencies. Bobby Reid, its founder, would like to play on its strengths in developing management systems and solutions while providing the best talents for this.
"Outsourcing has helped our business by being able to provide expertise for a service quickly. While these contracts are outsourced, they are incorporated into our company culture when possible, since they are working full time with our firm.

I recommend outsourcing to others in the right scenario. By having a strong relationship with your contractor, you can have some trust in putting them in communication with any clients."
Outsourcing helped them provide expertise for service quickly without training and onboarding in-house. When outsourcing, they consider the skills and tasks of their teams. Their need for interacting with clients and providing services to them requires the company to incorporate their culture to their offshore staff and treat them as their own in-house members.
The biggest challenge for them was the initial trust. At first, they felt a lack of control over the operation. This is why they decided to get to know their contractors and start with shorter-term contracts. Once their relationship is well established, they delegate more tasks to them and work with them as if they are members of their team.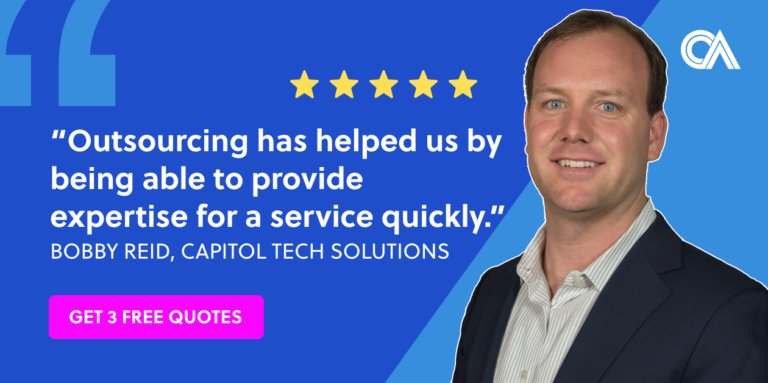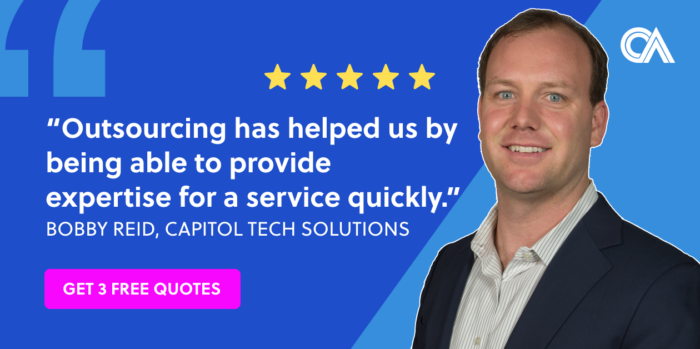 Dan Bailey, WikiLawn outsourcing testimonial
Dan Bailey manages WikiLawn, an online marketplace that connects people with the best local residential and commercial lawn care companies in 4,000 cities across the U.S.
The company tried to outsource based on the recommendation of their temporary security company. They first tried outsourcing network security and virtual assistance, then followed other back-office roles. From there, they have found their decision to be both practical and economical.
"We've found the decision to outsource to be both practical and economical. We originally outsourced on the recommendation of a security company we hired temporarily to overhaul our network, and we've found the decision to be both practical and economical.

I would recommend outsourcing for positions which are too important for a contract hire, so long as you can work out a proper channel of communication."
In terms of challenges, they found it difficult to coordinate time zones. They had to devise a way to coordinate meetings and keep lines of communication open. Luckily, that adjustment only took a couple of weeks before everyone was up to speed. Dan recommends outsourcing long-term essential tasks for a more practical way of managing projects and the workforce.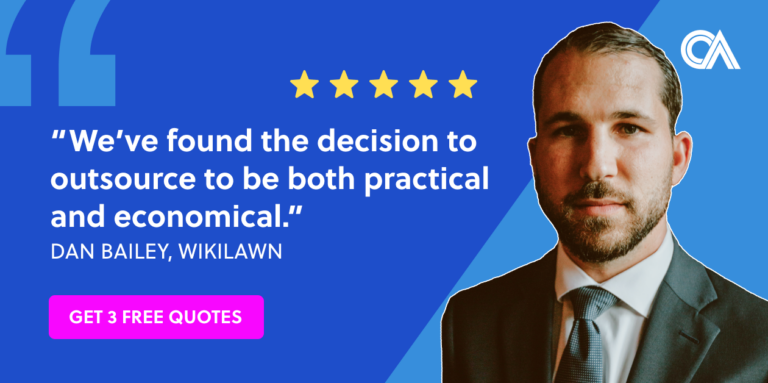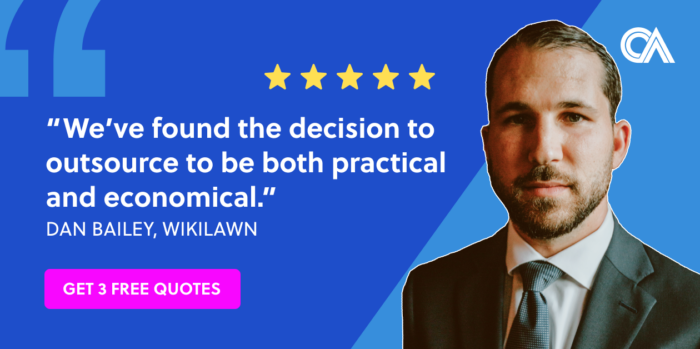 Elandas Miller, Kicking It Sports
Elandas Miller of Kicking It Sports has been outsourcing creatives and back-office tasks since 2017. Kicking It Sports provides a space where people enjoy sports and recreation through group tournaments and practices. The business relies on selling their venues and services to families, this is why they work on sales, marketing, and development tasks.
"Outsourcing has helped me free up time to focus on growth and sales. Outsourcing has helped me with establishing new relationships, freeing up time to focus on growth and sales, and getting more things done in a shorter time period.

I like to think of outsourcing as a tool to help me get to my goals faster and more efficient without burning myself out."
When he first tried outsourcing, he considered a few things in return. This includes time and money he may save in the long run, the training of his outsourced staff, and the expertise of the staff and the outsourcing company. 
He has been outsourcing web design, graphic design, translations, sales, and administrative tasks for years now. Aside from savings, outsourcing has helped him build relationships and focus on expanding his network. 
He admitted that language and cultural barriers may be difficult at first, but over time, this can be overcome since most outsourcing countries including the Philippines can easily adjust to their clients in the West. Over time, he also learns from his partners and uses these learnings to grow his business.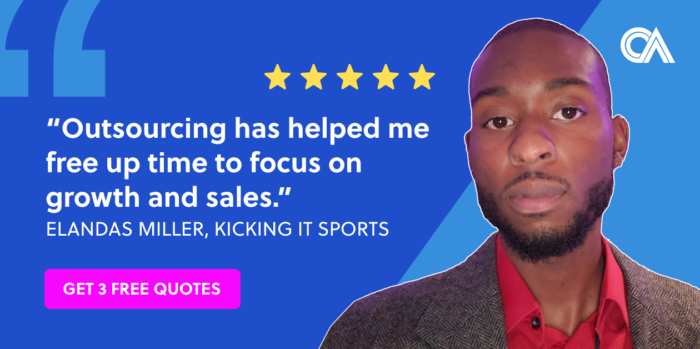 Edward Stevens, Ed and Sarna Vintage Eyewear
Ed and Sarna Vintage Eyewear provides unique prescription and fashion eyewear to their customers. They travel across Europe and the USA for frames directly from old distribution firms, manufacturers, and antique optometrists to create their signature style. Edward Stevens, its founder, outsources content management and graphic design for their website. He was happy to give a testimonial for outsourcing and hoped that other businesses would try it too.
"We 100% recommend using outsourcing to other business owners. Outsourcing is an incredible way to free up time to focus on what brings value to your business without getting stuck on repetitive tasks.

Through our free time, we can now spend on strategising and working on elements that add the most growth to our business."
With outsourcing, they benefit from the amount of time saved that can now be spent on strategizing and working on elements to grow their business. They have also saved on labor costs since having great talents in the Philippines can be cheaper compared to in-house ones.
For Edward, one of the struggles in outsourcing is finding the best candidate. This is the reason the processes and culture of the company should be considered when outsourcing. In their experience, they used a set of example tasks and had pre-prepared over 1 hour content on youtube for the candidates to review prior to interviewing and completing a practice task. This made hiring and screening easier for them.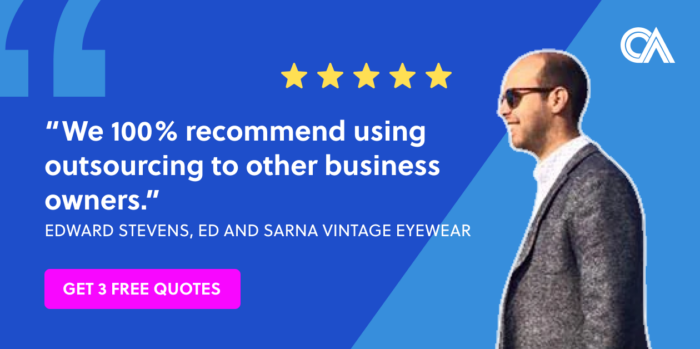 Alex Capozzolo, Brotherly Love Real Estate
Alex Capozzolo of Brotherly Love Real Estate currently outsources full-time sales associates in the Philippines. The company buys properties in Philadelphia and sells them depending on the market prices and the condition of the property itself. 
"Outsourcing sales helped us double our customers. Originally, I was doing all of our outbound cold calling. I usually made around 750 calls per week.

Now, our three inside sales associates make 3,000-3,500 calls per week. I would absolutely recommend outsourcing to any entrepreneur."
Outsourcing helps them expand their leads up to 100%  and get more targeted clients. When he handled cold calling, he usually made around 750 calls per week. This improved with their Sales Associates, which make 3000-3500 calls.
The biggest hurdle was retention, both clients and employees. At first, they were hesitant to encounter fly-by-night call centers to handle their business. Though a reliable outsourcing partner, they pay their staff more than the usual rate and establish a relaxed and connected culture through the use of technology.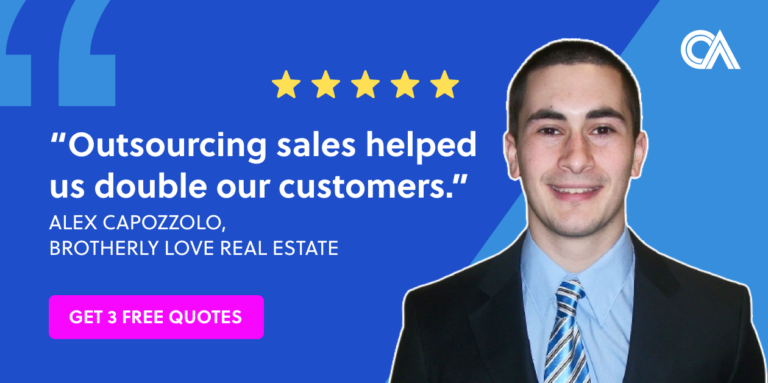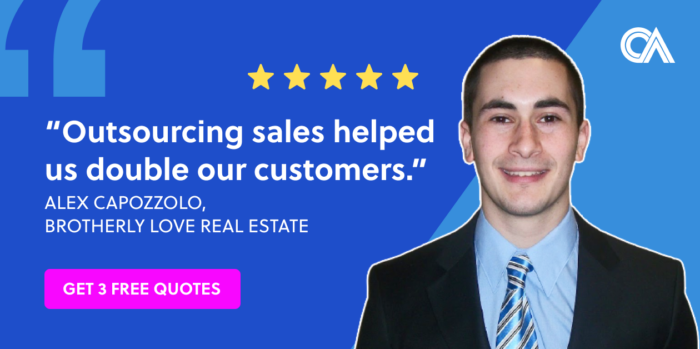 Quincy Smith, ESL Authority
Quincy Smith manages ESL Authority and is a partner in numerous online businesses that rely on outsourced talent to keep costs low and customer service available 24hrs a day. They currently outsource website management, with staff tasked to maintain the health and performance of their website, upload and update all content, and run all reports on traffic, conversions, etc.
"The decision to outsource has saved us time and resources at this point and has given us another asset when it comes to training and onboarding new team members.

If you spend a lot of time doing repetitive tasks instead of focusing on growing your business, I would fully recommend you look into outsourcing. Start part-time with a few regular tasks and go from there."
The decision to outsource these responsibilities has saved their company hours of day-to-day tasks and has given them another asset in training and onboarding new team members. While things are running smoothly now, their biggest issue currently is thoroughly documenting all processes and protocols. It was a much bigger project but has proven invaluable when it comes to ensuring the work is done consistently.
Quincy fully recommends outsourcing, especially with people focusing on daily tasks rather on growing their businesses. Start part-time with a few regular tasks and go from there.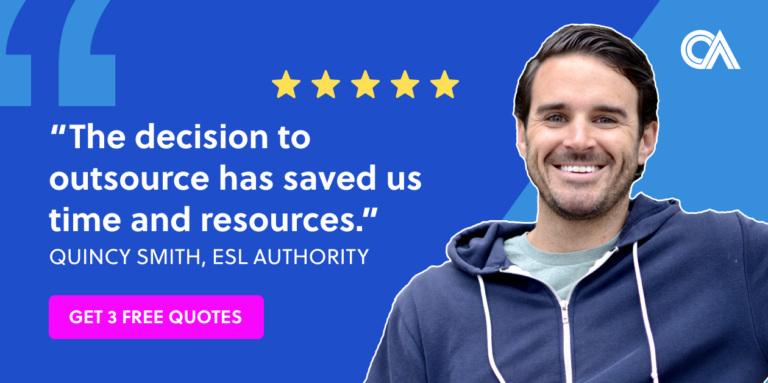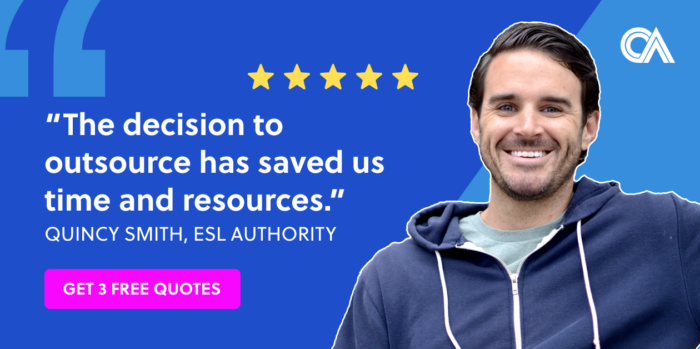 Sean Nguyen, Internet Advisor – and outsourcing enthusiast
Outsourcing has saved Sean Nguyen, director of Internet Advisor, from worrying. The company helps people find internet providers depending on their location, preferred speed, and quality of service. This requires them to invest heavily in their customer service team.
"Outsourcing allows you to streamline operations. Outsourcing can be really helpful, even at the most incipient levels, because it allows you to streamline operations. If it's not essential to have it taken care of in-house, there is no reason to do so.

Outsourcing can also be cost-effective, depending on the roles you are outsourcing and where. I would recommend outsourcing, depending on the roles in question."
Outsourcing HR and back-office roles also help them to focus more on the business. Sean admits that this is not in their expertise so they handed this over to an onshore team to make it more efficient.
Outsourcing helped them a lot in streamlining their processes. Their company helped them make their procedures easier and at par to make their customers satisfied. It has also helped them in saving a lot on labor costs, depending on the outsourced role and its location. Sean is a strong advocate for outsourcing, and he was eager to help with this testimonial.