Why you should try cloud staffing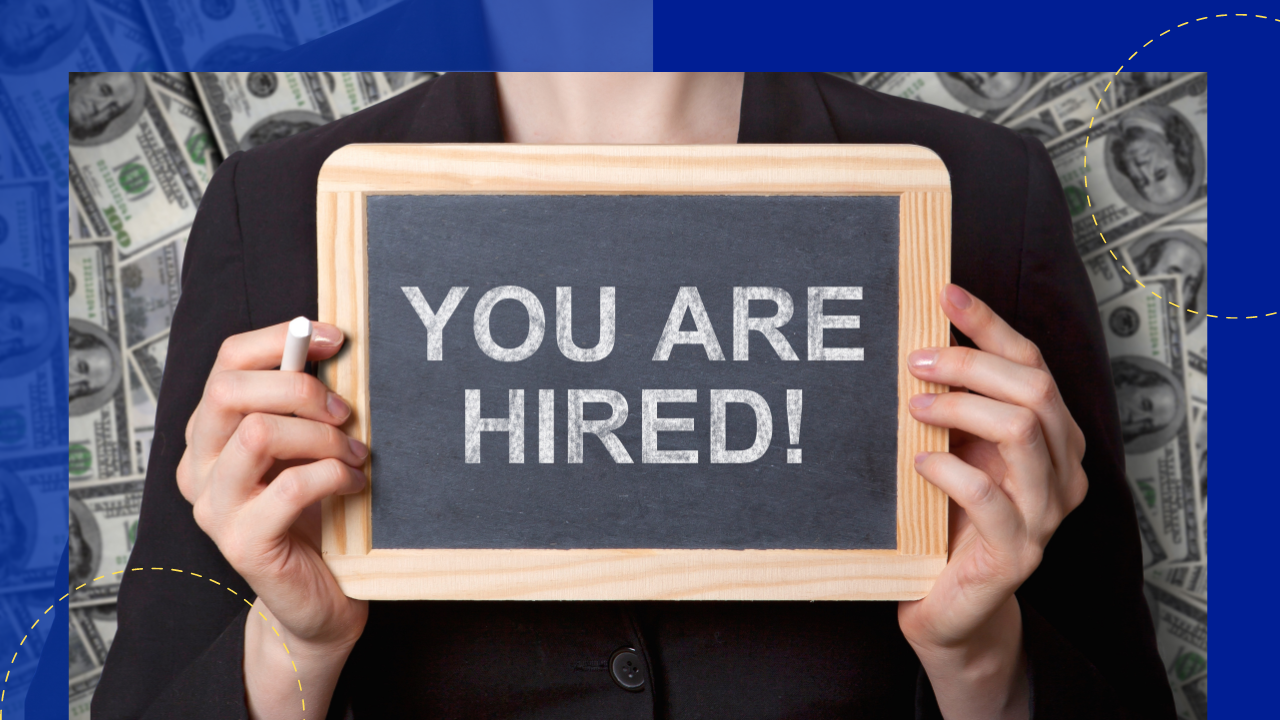 Why you should try cloud staffing
Cloud staffing—along with remote working—has seen a rise since the late 2010s. What does it mean for traditional offices, then?
We're all well-informed how remote work is going to take industries by storm. And as of the moment, the talent pool grows competitively every passing second. From continuing learners to industry pioneers, everyone's flocking towards a permanent work model that benefits their lifestyles.
When it comes to cloud staffing, there are already a couple of big names in the game. Service providers are staying on top of the trend of hiring remote workers. Implementing cloud staffing will be the next big thing for most companies too.
What is cloud staffing?
The term was coined by CEO Lloyd Ernst of Cloudstaff back in 2005. 
It refers to hiring and onboarding employees without being physically present in the office. But in most cases of cloud staffing, more than half of your team will be working offshore. That means different time zones, cultures, and working habits. Those are not inherently bad things, but they may invoke challenges for everyone involved.
Similar to cloud computing, cloud staffing gives you flexibility. Getting a full team and its benefits without having to worry about the process of it.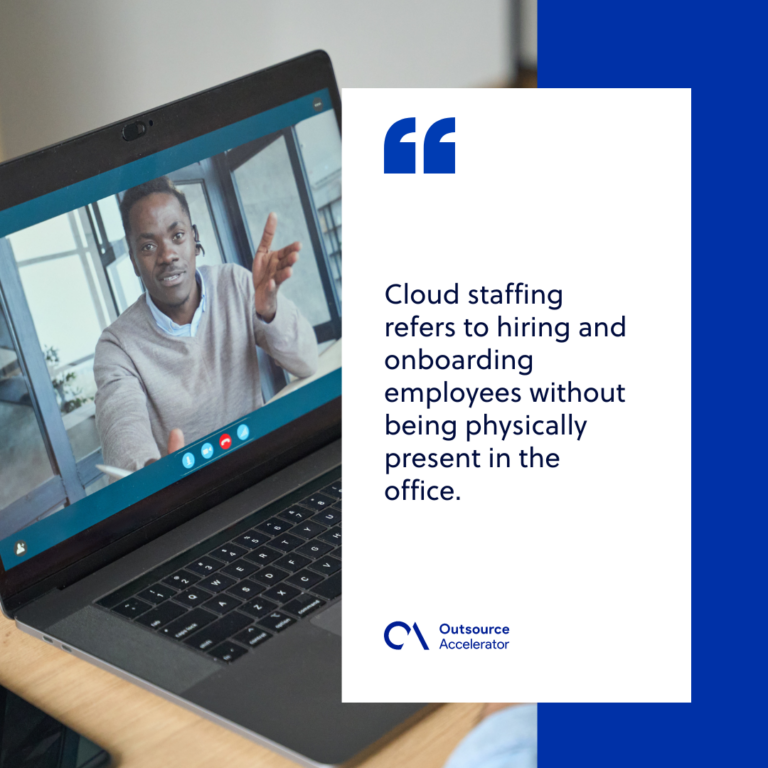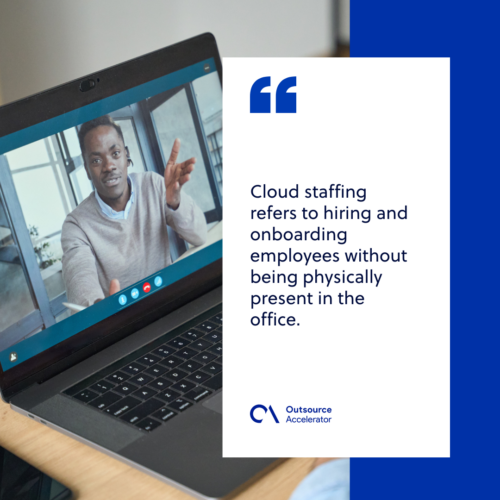 Advantages of cloud staffing
In cloud staffing, there are two distinct advantages. Similar to working from home, the practice has amassed a good number of folks who want to work outside of the office. 
Productivity. There are studies conducted that working remotely has helped employees be more productive. Without the constant worry about commuting, workers at home feel more ready to tackle their responsibilities.
That being said, the dips in productivity of remote workers seem to stem from additional personal errands, especially in these times when everyone is mandated to stay at home. Other than that, though, there are no more negative reports about cloud employees.
Cost-effectivity. Imagine having to expand without taking too many resources. With cloud staffing, you could effectively have a whole remote team ready to work. Hiring a group of already-trained professionals and experts will allow you to expand. All without the extra office space, workstations, and onboarding process.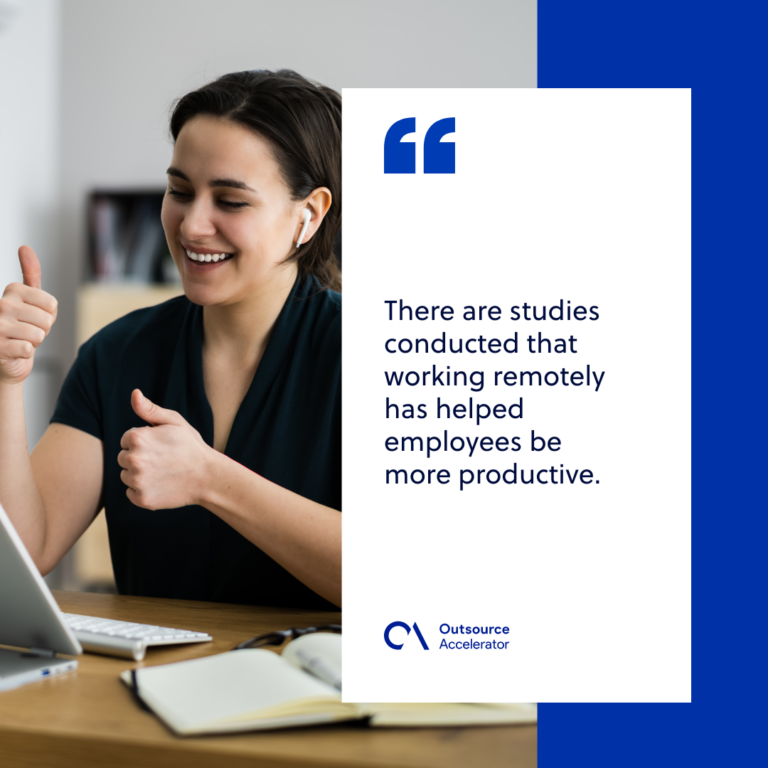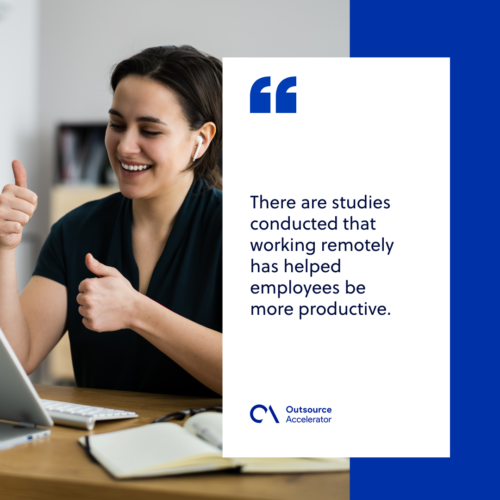 How Cloudstaff can help
As mentioned above, Ernst has been in the cloud staffing industry for a long time now. For someone to be in the business for almost 20 years, Cloudstaff definitely did things right.
In 2010, Cloudstaff set its roots in the Philippine soil. The company prides itself on modeling outsourcing after what the market needs and the bigger picture. Some years later down the line, the company has over 2500 employees all over six different locations.
Cloudstaff is the leading outsourcing company right now. From real estate to quality assurance, the company provides front-facing roles and back-office support. As mentioned above, cloud staffing isn't just another outsourcing cog-in-the-machine gig. It offers scalable, completely personalized, and cost-effective measures.
Cloud staffing is a foolproof business model. A method that can save resources even when faced with adversity.