BPO vs KPO: Which one is better for your business?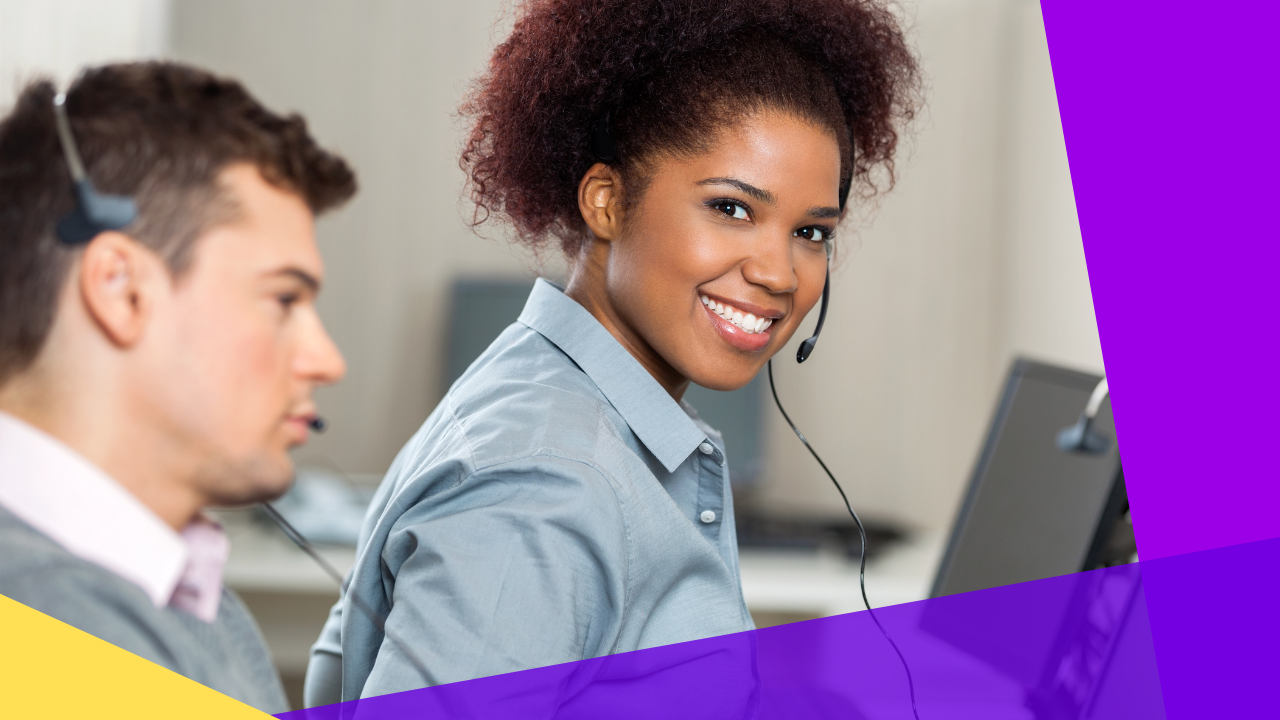 Over decades, companies of all sizes have been sourcing out parts of their daily operations. 
Contracting out work to a third party has always been an organization's way of maximizing its overall potential while being able to save entirely on costs. 
Even before the outbreak of COVID-19, both the Business Process Outsourcing (BPO) and Knowledge Process Outsourcing (KPO) sectors have been continuously thriving. As the world currently combats the effects of the pandemic, more and more entrepreneurs have turned to outsource for survival. Thus, making the industry even more in demand than ever before. 
According to a market analysis report, the global outsourcing market size reached over USD 232.32 billion in 2020 alone. It is also estimated to increase to an annual growth rate of 8.5% (CAGR) from this year, 2021 to 2028. 
However, beyond the massive growth of the outsourcing market, not all are well aware of the difference between the BPO and KPO industries. 
For companies that are leaning towards outsourcing, we'll help you distinguish which industry segment you should avail of. 
Let's walk you through the BPO vs KPO industries, their significant differences, and the services being offered. 
Business Process Outsourcing (BPO) Industry
Business Process Outsourcing (BPO) refers to the process of contracting out work to a third party. Originally, this practice was used and intended solely for the manufacturing industry.
At present, BPO companies usually have an array of services for various business processes. 
Organizations of all sizes and industries are able to acquire what BPO services have to offer. This gives businesses a much more competitive advantage in the overall market industry. 
BPO providers can be classified into three categories according to their geographical location: 
Onshore outsourcing

. Also known as domestic outsourcing, this is when a company outsources to a vendor that is within the same country. 

Nearshore outsourcing

. This type of outsourcing is when a company subcontracts to an outsourcing provider that is based in a neighboring country. 

Offshore outsourcing.

It is when a company delegates business functions to a BPO provider located in a faraway – or offshore – country. One example of this is when US companies offshore services in Asia, specifically to the Philippines.
In general, companies farm out BPO services mainly for their back-office or front-office operations. A lot of organizations also outsource not just one but several business functions all at once.
Like in most cases, companies that delegate their HR functions to a third party also include their payroll processes. 
BPO companies offer the following services
Over the years, BPO sectors have expanded the services they offer. Below we have outlined the services to which these outsourcing providers specialize on: 
Back office 
The back office is a part of the company that involves administrative and support roles that are not client-facing. Back office outsourcing services include procurement, receivables, collection, and credit and debit card processing.
Other outsourcing companies also have transportation admin, logistics, and dispatch. 
Customer service
Customer service is the method of providing assistance to customers before, during, and after they have made a transaction. Customer service functions include inbound and outbound calls, customer support, appointment scheduling, email services, and quality assurance.
It may also include payment & order processing, customer feedback, surveys, and warranty administration.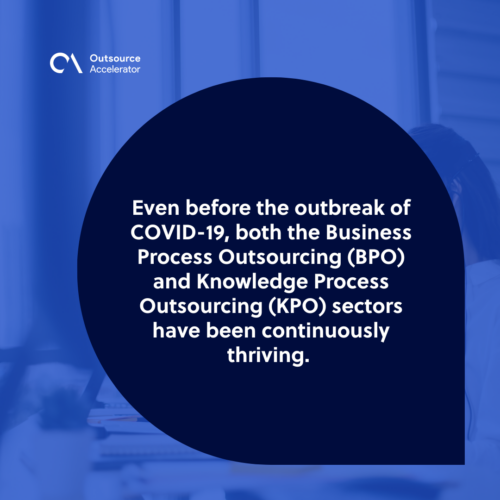 Human Resource (HR) services 
Human resource is the portion of a company that serves as the link between the management and the employees.
In outsourcing HR roles, usually involves recruitment, hiring, payroll processing, and workforce training. Other outsourcing clients may also contract out their insurance processing, healthcare administration, and the employee's retirement benefits. 
Finance and accounting services
The finance and accounting department is responsible for all financial controls and management that support all business activities within the company.
In terms of outsourcing finance and accounting services, vendors offer general accounting, auditing, billing, accounts payable,  
IT and software operations
Outsourcing IT-related services involves software & application development, testing, technical support functions, IT helpdesk, and implementation services.    
Knowledge Process Outsourcing (KPO) Industry
Not many people are familiar with the Knowledge Process Outsourcing (KPO) industry. KPO is considered to be a subcategory of BPO.
However, unlike BPO services, it specializes in more knowledge-based roles. Other KPO functions often require a more advanced tech system to support them. 
KPO services are more centered on core business roles that mainly entail advanced analytical skills and in-depth technical knowledge. 
KPO subsets
Knowledge process outsourcing providers help companies to magnify their daily operational productivity and enhance their value.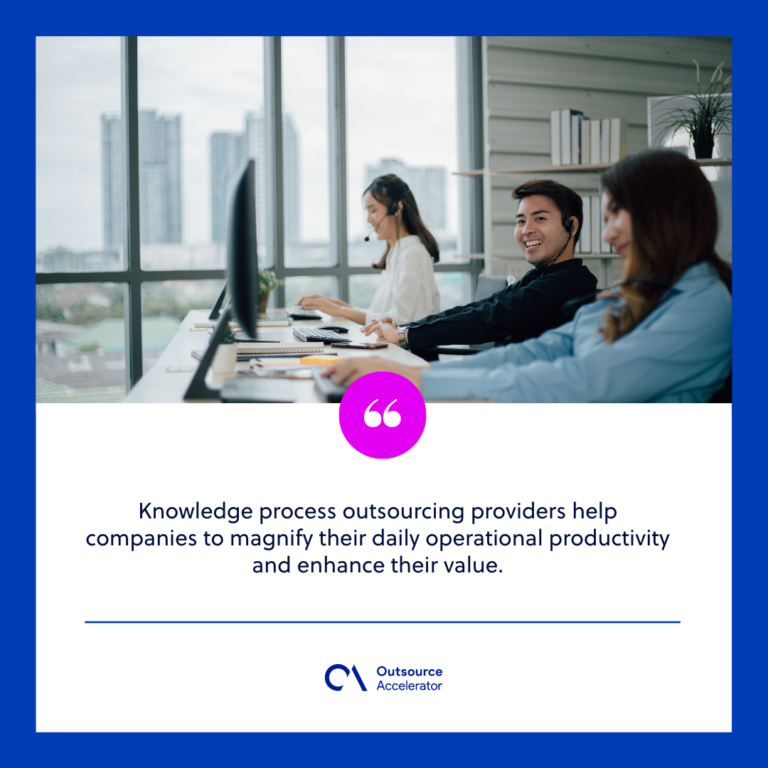 Further, KPO also has two subsets, mainly:   
Legal Process Outsourcing
This outsourcing practice refers to legal departments, law firms and other companies that delegate a series of higher-level legal work to a third party.
This is usually composed of services such as legal agreements, legal research, patent applications and other legal support services.
Other LPO providers also perform legal advice to their clients.  
Research Process Outsourcing
Research process outsourcing is for companies that subcontract research and analysis functions. This helps organizations to have a comprehensive understanding of their business and certain realities within the industry.  
KPO companies offer the following services
KPO companies also specialize in the following areas: 
Engineering design
This commonly includes services from the design process, production, and maintenance. KPO providers make use of advanced technologies like Computer-Aided-Design (CAD) as well as higher-level engineering methods.
Some industries that procure this type of role include construction, aerospace, and automotive.
Data management, analytics, and search
These services are vital to help companies understand their target market and certain business issues to create viable solutions for growth. These functions also include services such as – customer analysis, supply chain analysis, and retail analysis.  
Banking, insurance, and securities
As for these specialized services, KPO services providers offer investment research, financial modeling, and stock process tracking.
Some KPO firms also provide clients with profiling and company analysis.  
Remote Education and Publishing
Remote education and publishing services are commonly rendered to government agencies, educational institutions, publishing firms, and other corporations. 
BPO vs. KPO: What are their key differences? 
It is true that both BPO and KPO are connected to certain operational activities for each organization.
However, these two are entirely different from each other in terms of:
Complexity

. As mentioned above, the degree of complexity for BPO services is less complicated than that of KPO. 

Expertise

. BPOs' specialization is centered on business processes, while KPOs are more knowledge-based. 

Process.

In terms of process complexities, BPO services are pre-defined. At the same time, KPO services require an application and a deep understanding of each business segment. 

Driving force

. BPO functions are volume-driven compared to KPO, which is insights-driven. 

Employee qualification

. BPO companies require employees with basic qualifications but expertise in specific outsourcing processes. While in KPO vendors, hire well-skilled professionals with in-depth knowledge and expertise. 
In a nutshell, BPO companies provide services that are non-core business functions.
KPO companies, on the other hand, provide knowledge-related business functions that require proficient analytical and technical skills.  
BPO vs. KPO: How do companies benefit from both?
Although these outsourcing practices may have their significant variations, they both bring the following advantages to businesses:   
Improved focus on core business functions
Outsourcing, in general, helps free up some of the precious time of in-house staff and business leaders. Instead of worrying about daily repetitive tasks, they will have more time to strategize and work on improving their core functions.
Cost efficiency
Cost reduction is mainly one of the top reasons why organizations choose to outsource. In hiring in-house staff, employers will also be required to invest in training, provide needed resources for the job, and other mandated employee benefits. 
Access to a wider global talent pool
Outsourcing fills in companies' skill gaps. Especially with offshoring, this practice grants outsourcing clients the opportunity to work with seasoned global talents.
Outsourcing providers in general, usually have a wide talent pool of well-trained and experienced professionals that have worked for various clients in different industries. 
Access to competitive technology
A good outsourcing vendor is backed not just by talented professionals but also by world-class technologies. Investing in the latest technology and tools helps them have a better edge over other outsourcing providers.
Further, this helps them perform their services better and provide cut-above project outcomes.  
Enhanced operational productivity
Whether you're choosing between BPO or KPO, these outsourcing vendors have the right people to handle certain job functions effectively.
In turn, it lets organizations leverage their full business potential by improving their overall productivity. 
A lot of people that are employed in the KPO industry are mostly degree holders and have certified experiences in such fields. On the other hand, the BPO industry employs undergrads, high school graduates, as well as degree holders.
The BPO industry does not necessarily require the same level of skills and expertise as compared to KPO.