Outsourcing customer service and support the right way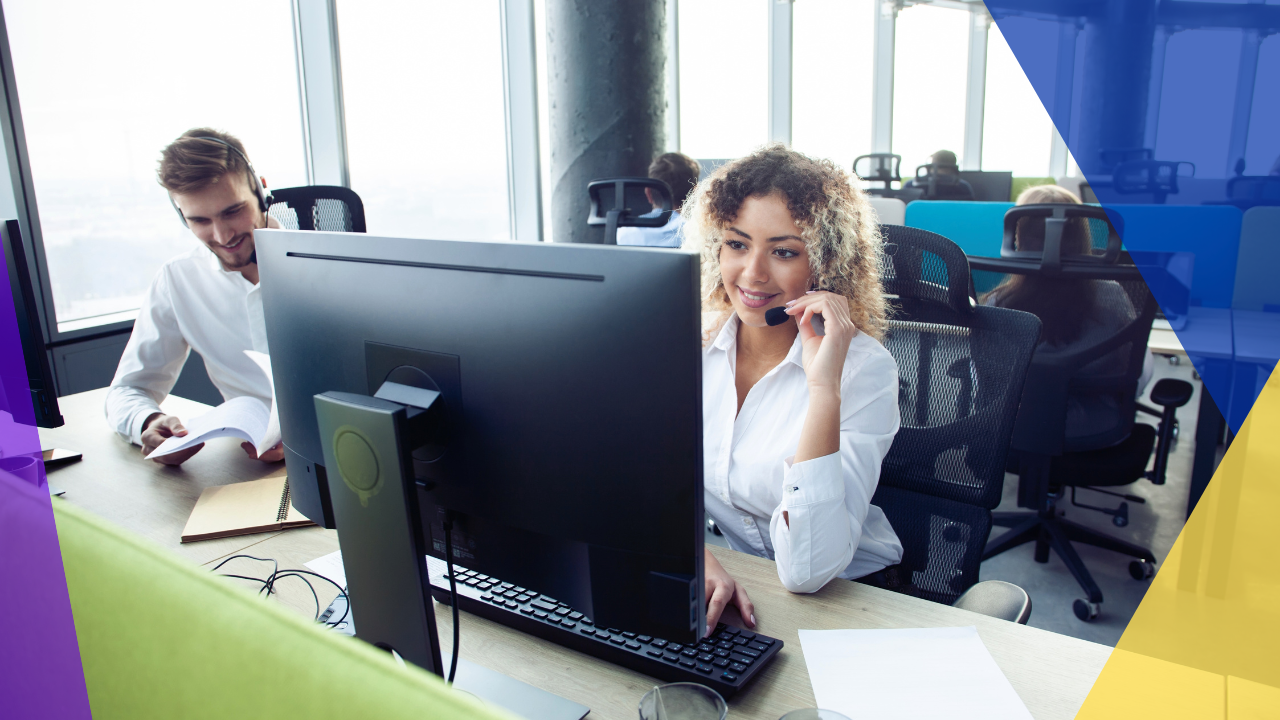 Outsourcing customer service and support the right way
There are a number of benefits to outsourcing customer service and support. One of the best destinations to do that is in the Philippines. Top global companies have been outsourcing their customer service to the Philippines for quite a while now as around 70 percent of the BPO industry in the country caters to these companies.
EMAPTA, a leading Philippines outsourcing supplier, shares their insights on this topic.
Customer service is an essential part of your company because, like it or not, customers are the lifeblood of your business. Keeping customers happy and satisfied is of utmost importance. Even if you have the best products and services in the world, without customers, a business has no profit and has no reason to exist.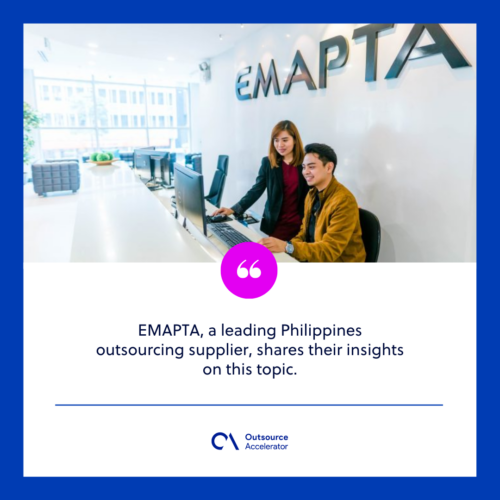 Reasons why to outsource customer service and support
Customer service and support
Many companies do not have sufficient time and resources to maintain top-notch customer service and support services. Some want to focus more on creating excellent products and services, and so allotting time for customer service becomes secondary.
There are companies that do not have enough employees dedicated for the sole purpose of serving their customers' after-service or after-purchase needs. These businesses may do well for a while, but over time, as their clients and patrons increase, service may become bad enough for their customers to switch to a competitor brand in search of better customer support.
Outsource or do it in-house?
You do not want that to happen to your company, and so offering the best products and services should be equally as important as providing the best customer service and support to your clients.
Outsource Accelerator can help you find a suitable outsourcing company to help with your customer service needs. A reliable BPO firm will help keep your customers happy and satisfied without placing an extra burden on your existing staff, letting them focus more on their core competencies.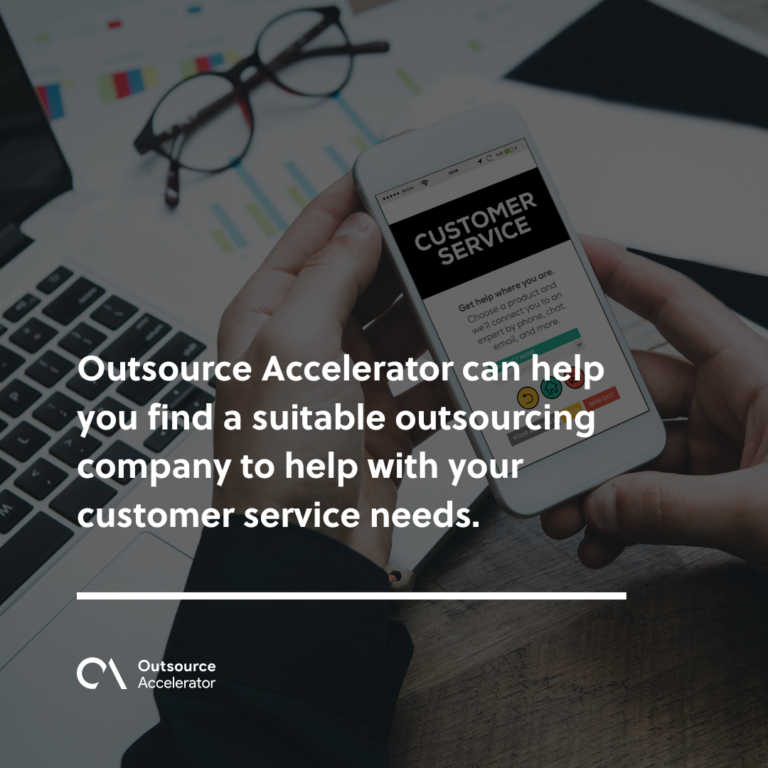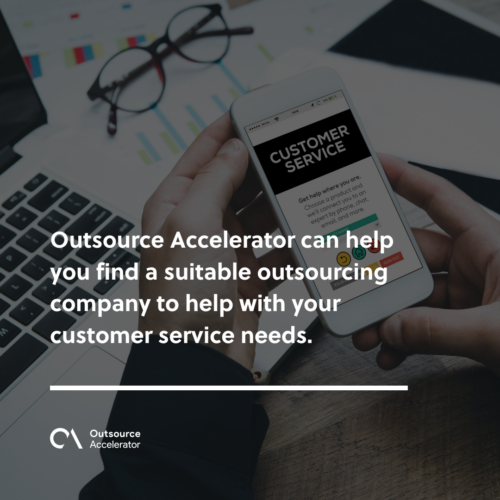 Outsourcing customer service
Here are some reasons why it is better to outsource customer service.
Cost-effectiveness
Outsourcing customer service can generate significant savings for your company. This is perhaps the biggest reason why you should outsource this aspect of your business. You can save on hiring new employees, providing them with all the bonuses and benefits, and having to train for the job.
However, while saving money is an inherent benefit of customer service outsourcing, it should not be the driving motivation to do it. You should focus on providing quality service to your clients first and foremost, which means that hiring a proven BPO company should be the priority.
Multi-channel service
Outsourcing helps you reach out and serve your customers across multiple channels. It is something that could be limited if you try and do it internally.
By hiring a third party to take care of your customer service and support needs, you will be able to provide your customers access via almost all available media – voice calls, emails, mobile/SMS messages, live chats, and even in social media.
24/7 Availability
Companies that serve the global market need to be available all the time. Outsourcing gives you the opportunity to become accessible to your customers for 24 hours a day, seven days a week.
For instance, online stores need to be available for customer support, queries, or complaints notwithstanding the time zone where the buyer is. 24/7 availability would be taxing for any organization unless it chooses to outsource to a company that is already an expert in this field.
Versatility
Outsourcing your customer service and support functions will provide your business with a versatile team of experts. From data entry, helpdesk support, marketing and sales, and even attending to some privacy concerns of your customers, you have it all covered with a reliable third-party provider.
In the Philippines, you can access a huge talent pool of workers with diversified skills and experiences. Talent in the Philippines is also more cost-effective than in other countries.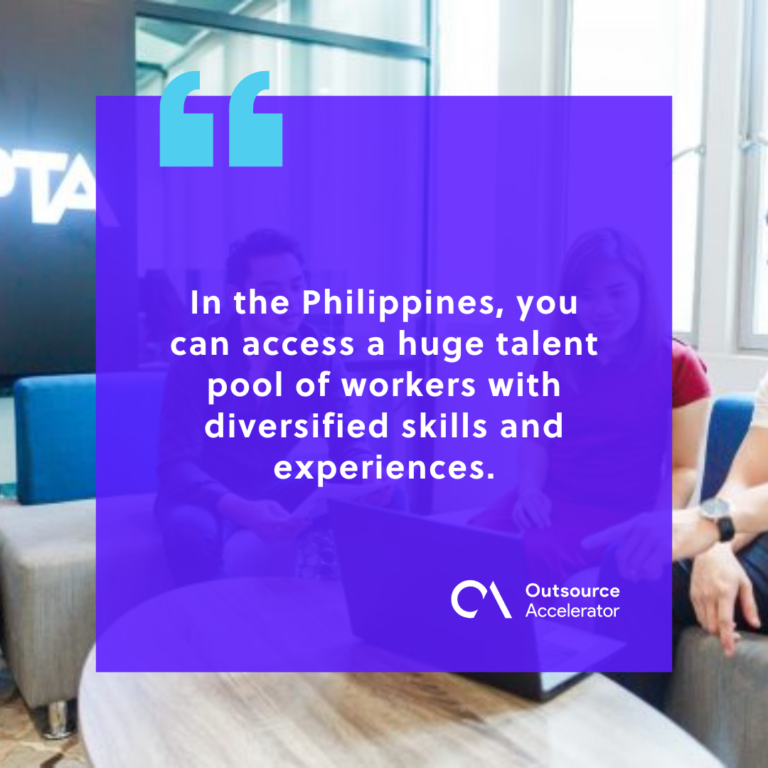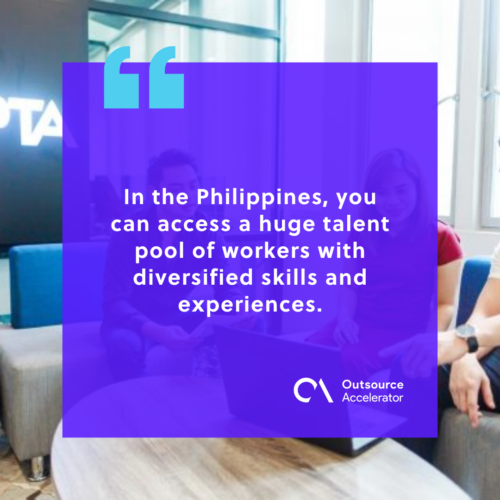 Advantages to outsourcing customer service and support
Up to 70% Savings
English Proficient
Multi-channel Service
After-office Hours Coverage
CRM Experts
24/7 Helpdesk Services
Fast Issue Resolution
High Customer Satisfaction
Turnkey Solutions
Upselling Specialists
Online Concierge
Confident and Pleasing
Outsourced customer service and support jobs and roles
Inbound calls
Outbound call center representatives answer customer queries, concerns, and complaints 24 hours a day, seven days a week. It also deals with regular business transactions such as guiding new subscribers to become more familiar with the product or service.
The role is responsible for satisfying customers' needs by accommodating their calls, providing alternative solutions, and resolving their problems as soon as possible without compromising the reputation of your business.
Inbound call center representatives are the first touchpoints between your company and your customers. It means that this role is quite important and must be performed by a highly trained and skilled customer service representative.
Outbound calls
Outbound call center representatives are responsible for making outgoing calls to your customers and developing strategies that would lead them to call prospective clients. The role makes calls to potential clients and customers to introduce new products and services or to inform them of the latest promotions and bonuses.
Listening to customer suggestions or objections and making them feel heard and understood are part of the job. Also included in this role is making outbound calls regarding billings, due dates, payment collection, system changes or modifications that may have transpired recently.
The role may also call customers to conduct a customer satisfaction survey or any other study that would further improve your company's service.
Helpdesk
As the name implies, this role provides instant help and resolution to common customer issues. If the helpdesk specialist is unable to solve the problem, it will be immediately passed on to the next applicable level of assistance.
In other words, a helpdesk specialist receives customer calls and resolves them or passes them to the proper people who would answer a particular customer concern. Like inbound call representatives, they are also at the first level of contact with customers, but they specialize on resolving issues regarding the company's product or service.
Included in the job is guiding customers through the process of finding a solution to their problems as well as providing timely feedback when needed.
Non-voice
Non-voice call center agents also help when it comes to customer service and support, but their main function does not include taking or making calls. Typically, the role utilizes email, live chat, or social media communication channels to interact with customers and deal with their concerns.
Non-voice accounts provide non-personal communication with a client because they do not interact directly and no voice is heard. Some customers prefer this kind of interaction with a company because they want to avoid confrontations or unnecessary arguments.
Because this kind of customer support is written, those involved have time to figure out their emotions before sending any feedback or reaction to the person they are talking to.
Data entry
Data entry clerks prepare and sort source information to be inputted into a computer. They establish the priority of encoding or entry, which means they review all data for errors and deficiencies. They follow a standard procedure to resolve these inaccuracies.
If the data entry clerk is not authorized to correct the mistake, the document is then passed to the team leader who is sanctioned to do so. The job includes encoding customer and account data to the company's database either by using a keyboard or an optical scanner.
After encoding, the clerk will review, correct, delete, or re-encode if necessary, and finally verify the accuracy of the data. The data inputted is then stored with backups.
e-concierge
The e-concierge is responsible for taking care of customers who reach out to the company but only via the internet. The job of an e-concierge can be quite wide as compared to the other roles described in this list, as the e-concierge's main objective is to keep a client as satisfied as possible in their dealings with your company. This may come in different situations depending on what the customer needs.
For instance, if a customer asks for advice to a problem regarding a product or service, and then presents three possible solutions, the e-concierge ought to know what the best option of the three is and must be able to explain the reason behind it.
Tech support
Tech representatives provide support and solutions to customers who are having problems particularly with regard to using your company's website or hardware and software products.
Tech support specialists help end-users (customers) to resolve issues such as username login and password concerns, installation or uninstallation of apps or software, navigation of the website, verification of correct hardware set up, and proper usage of a product or device.
Solutions are communicated in a simple, courteous, and professional demeanor. Communication channels can be through phone calls, live chats, SMS, and social media messaging. Tech support specialists follow a standard procedure that will not compromise your company's brand and credibility to existing customers and potential clients.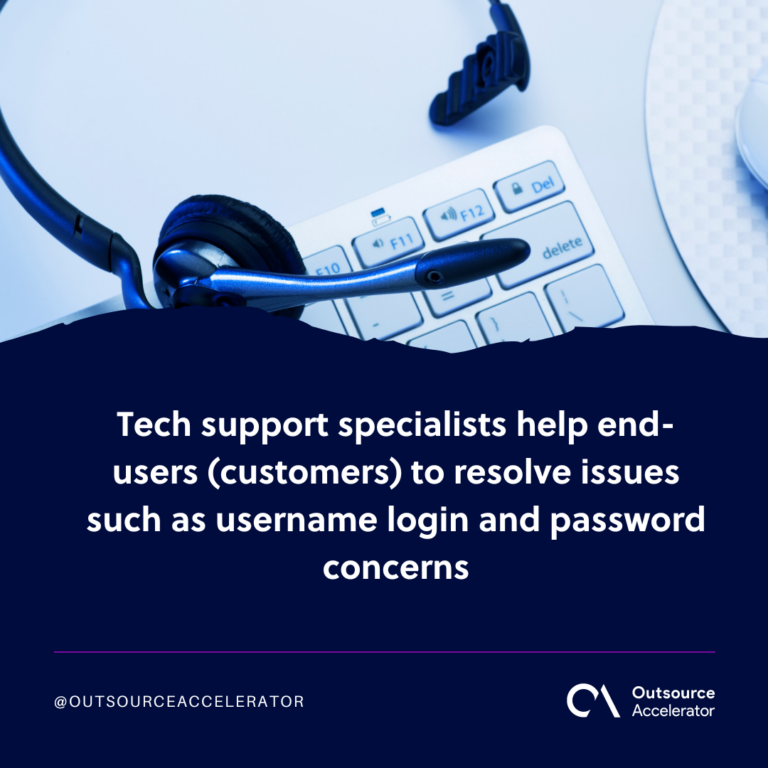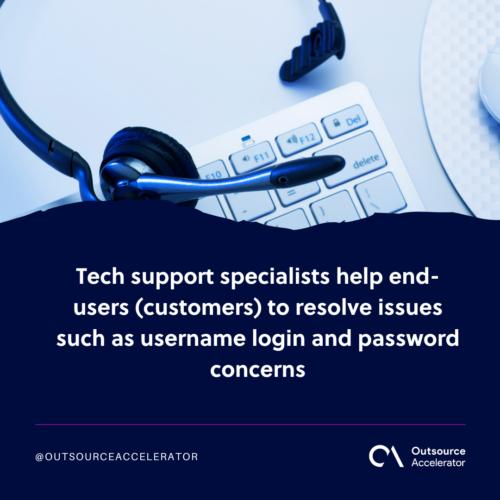 Account manager
The account manager is responsible for building, developing, and maintaining warm relationships with your company's collection of clients. The role acts as a bridge between the customers, higher management, and all the other stakeholders of the business. Account managers make sure that all internal teams are working together harmoniously for the prompt and successful conveyance of client demands and requests and resolutions for their problems.
As the lead point of contact between your business and customers, the account manager is well versed on everything about your company's current accounts. The role is also responsible for identifying potential clients and opportunities to expand the business further.
Mainly, the account manager identifies the key accounts of your company and develops an excellent client-advisor relationship with them.
Client relations manager
Similar to the account managers, client relations managers also build, develop, and maintain friendly relations with your customers. They also help manage internal teams to ensure successful delivery of solutions to customers.
However, the difference is that they focus on a predetermined portfolio of key clients and the goal is to build long-term relationships with them. The role also helps create a strategy to improve your clients' own businesses, providing them with practical and sound advice that would help generate income or save on expenses.
They hold regular meetings with each key account holder to make sure that they remain satisfied with your company's service. Apart from that, client relations managers also analyze the competition to discover new ways of retaining customers.
Research
A customer service research specialist studies the customer service department of your company and finds easy and sensible ways to improve it. The role performs comprehensive research on the best ways to enhance customer satisfaction, including coming up with suggestions to improve the productivity and efficiency of internal teams.
They also conduct customer satisfaction surveys, analyzing, interpreting, and reporting the results to the higher management. Aside from developing plans and strategies to improve customer service and support, research specialists also help implement these plans and suggestions to ensure continuous success.
Lead generation
This role is different from the primary lead generation and sales executive who is responsible for the successful conversion of inbound leads to sales opportunities for your company.
The main focus of the customer service lead generation specialist is to provide help to the executive mentioned above, giving assistance when it comes to client prospecting and lead creation to meet the company's overall customer building quotas, goals, and plans.
They also make a lot of research about potential clients and target prospects, finding ways on how to attract them.
Marketing and sales
A marketing and sales specialist provides topnotch customer service by providing clients with all the information they need to create an account with your company. The marketing and sales specialist closely guide a potential customer on how to go about the process. They also help the customer realize that your company's products and services are essential for the success of his or her business.
Marketing and sales specialists are also experts in finding ways to sell your company's products and services even during the lean seasons. They also do some research and analysis on how to effectively reach out to new customers, developing new approaches and strategies to engage your company's target market.
Marketing and sales specialist roles are one of the most essential when it comes to implementing your customer service and support programs.
EMAPTA is a leading outsourcing supplier, specialising in customer service as well as other verticals.