Outsourcing customer service 101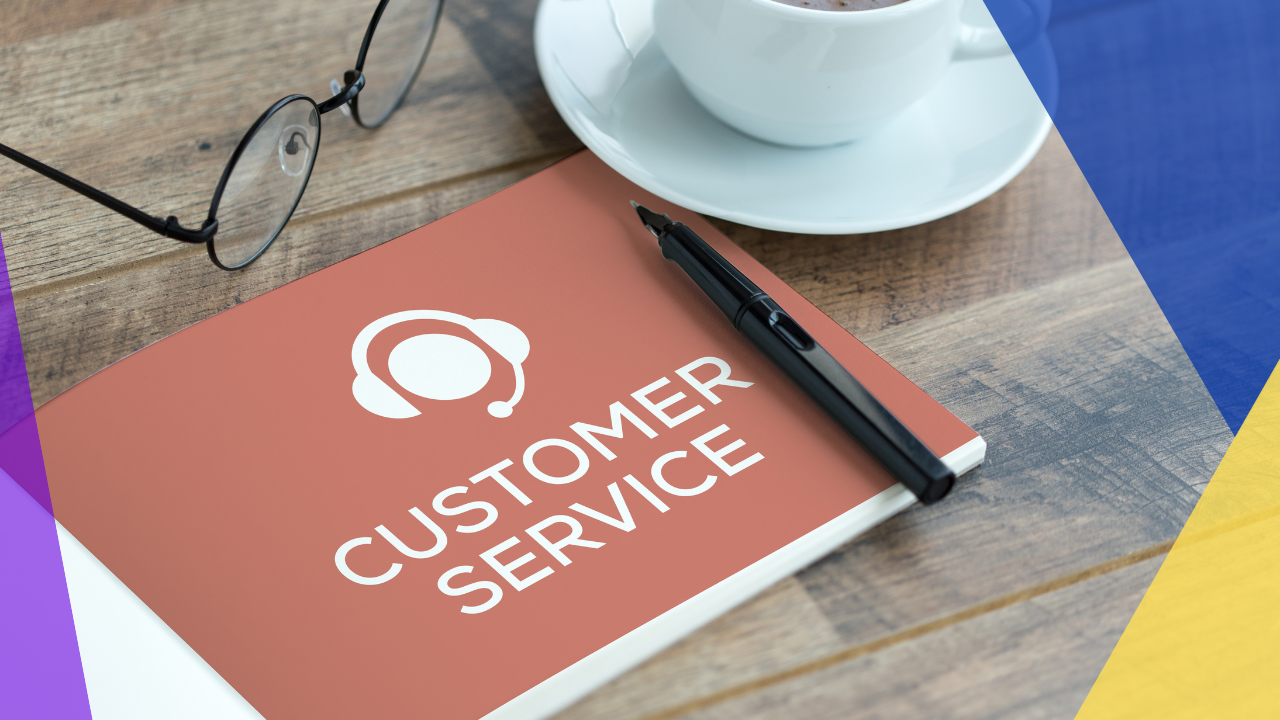 Outsourcing has been continually growing during the previous decades before becoming one of the most favorable corporate strategies worldwide. Because of its low cost and high revenues, it has gained fans in the global business world.
Outsourcing customer service ensures that everyone is open to handle the company's calls. You won't have to worry about absence from work or breaks since outsourcing companies have continuity procedures in place.
Firms like MVP Asia Pacific, one of the leading BPO service providers in the Philippines, businesses can ensure that they get high-quality customer service which can free up valuable hours and focus on what matters most.
Aside from cost savings, outsourcing provides organizations with a competent workforce and on-time deliveries. Outsourcing your customer service also leads to better efficiency and ROI.
What is customer service?
Customer service is the process of assisting and supporting consumers in their product or service discovery, utilization, improvement, and problem resolution. If you want to keep customers and ensure customer satisfaction, you need to have exceptional customer service. 
Customer service is accessible through email, the internet, text messages, and social networking sites. It is typically outsourced to a call center service, employing qualified agents to manage incoming calls for a company.
Areas of customer service
Outsourced customer service organizations can give your company expertise while helping you save up to 70% on labor expenditures. 
After all, you must be willing to put in the same amount of time and effort as putting together a new team at home. That involves being active in hiring, training and integrating new employees into your company's culture. 
A comprehensive strategic plan is required for effective customer support. Here are some of the most crucial customer service areas and their primary focus points:
Communication methods
In all departments, communication is fundamental. The choice of words, and the intention behind them, are essential in such a private discussion.
Customer success monitoring
Customer success monitoring is a subset of customer service that exists outside of the day-to-day routine. It is a responsibility of a manager to set up systems that ensure your customers have all of the necessary information and tools to access your service or product.
Speed
Your speed can distinguish you from the competitors and make you desirable to your consumers. Begin by determining what your customers anticipate in this area and then establishing criteria for your staff to meet those expectations.
Friendliness and amiability
Although being approachable appears to be essential and easy for agents, many businesses miss the point and a chance to impress their clients in this area. Set guidelines for your staff and explain why friendliness is essential to their success. Your company's first impressions are crucial.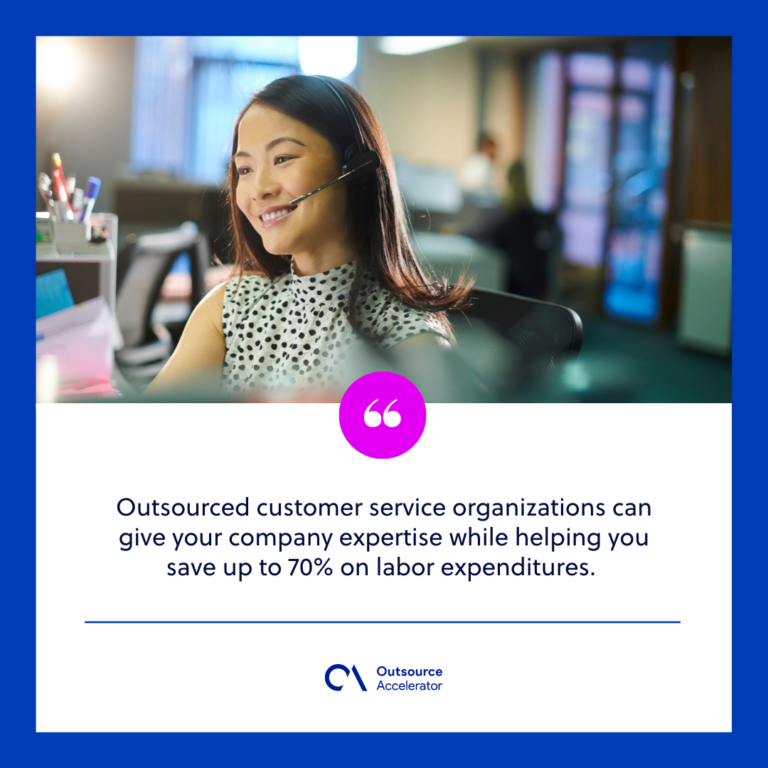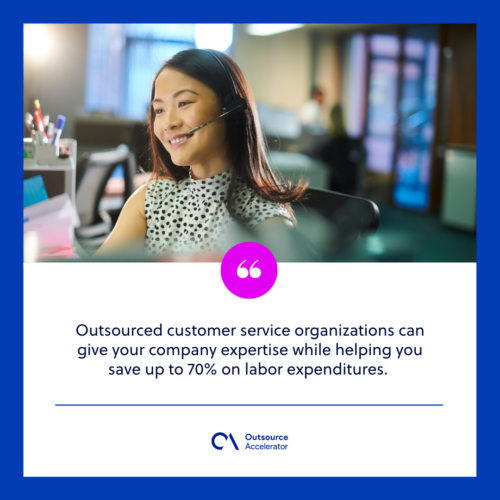 Outsourcing customer service pros and cons
Customer service is crucial to your company's success. A well-coordinated service plan will keep customers happy while not putting undue strain on the employees. 
Determining whether or not to outsource your customer service to a third-party service provider is difficult for many business owners. Even so, you want to make sure your company can continue to deliver excellent customer service to meet rising consumers' needs.
Here are the common advantages and disadvantages of outsourcing your customer service.
Benefits of outsourcing customer service
There are several and well-documented advantages of outsourcing customer service to a third party. There's an explanation why the world's most successful businesses outsource their customer service.
Cost-effectiveness
You can recruit a team overseas and save money on the hourly rate through outsourcing. You can save money because you don't have to invest in services, supplies, or operations.
Workload reduction
Dealing with customer calls and emails takes time away from more profitable tasks like sales. Outsourcing customer support will free up your time and staff, allowing everyone to concentrate on more essential sales matters.
Improvements in risk management
One of the most significant benefits of outsourcing is customer service is that it lowers the overall company risk. Outsource suppliers typically have good ideas on minimizing possible threats to your company due to their advanced expertise. 
As a result of the risk management, the company becomes a better investment, allowing investors to back the company's expansion.
Flexibility
Depending on your company's needs, customer service support could provide flexible coverage. Outsourcing is the most practical solution if you need assistance outside of regular business hours.
You can close your office or shop for the day while your outsourced customer support team continues to take calls for you.
You are growing your resources
Smaller businesses that lack the internal resources to manage particularly complex projects will benefit from outsourcing. Despite your smaller size and in-house capital, outsourcing strategically targeted at specialized services would allow your company to meet organizations' workload more significantly than your own effectively.
Outsourcing customer service drawbacks
Outsourcing customer support is compelling for various reasons, including saving your company energy and resources. While outsourcing customer service has many advantages, it also has its fair share of drawbacks. This is why it's important to only work with trusted outsourcing providers like MVP Asia Pacific.
Further, the following are some of the downsides of outsourcing call centers:
Loss of control
Control is one of the most significant drawbacks of call center outsourcing. When you lose control of your customer service, your contact center's ability to deliver on your brand promise suffers.
There's always the possibility that failing control over quality monitoring could result in service inefficiency. 
It necessitates management and training
In addition to management, call center agents need a thorough training program to prepare them for the job. Customer interactions over the phone can be too stressful for in-house call agents without proper training. Poor management may be disastrous and cause the call center to be inefficient. 
Communication barriers
If you outsource your call center to another country, there may be a possibility that some agents don't have the cultural expertise or language fluency needed to interact effectively.
Companies must be careful when selecting an outsourcing partner to ensure that these agents are well-trained and capable of communicating at the required level.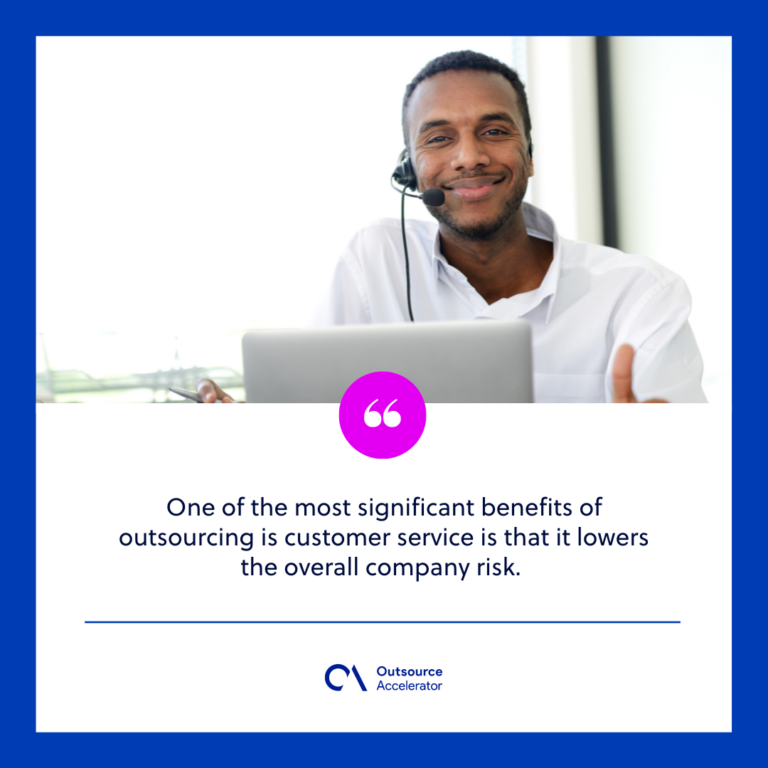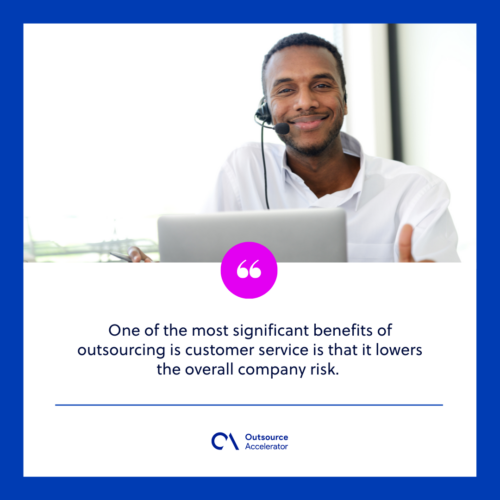 Where to outsource your customer service
Many clients are well aware that corporations frequently outsource customer service management to offshore call centers. 
In today's market, outsourcing customer service to countries with much lower labor costs is becoming a more appealing choice for many business owners. Naturally, companies are trying to save expenses while maintaining the excellent customer experience that keeps their customers coming back.
The most famous countries with offshore contact centers are India, South Africa, Jamaica, and the Philippines. Because labor costs are substantially lower in these nations than in the United States, overseas call centers often offer reduced prices.
The Philippines
Customer service outsourcing to the Philippines is becoming increasingly popular. Demand for outsourcing customer services has fueled significant growth in critical areas, including Metro Manila, Cebu, Davao, and Baguio, and is expected to rise by up to 50% by 2022.
Employees from the Philippines come from diverse backgrounds – from information technology, healthcare, graphic arts, accountancy to real estate, etc. When you combine these with the workforce's high educational attainment, you get professionals that can give excellent customer service.
Additionally, outsourcing companies can tailor-fit solutions for your business to deliver quality service due to the range of expertise.
One of the most enticing advantages of outsourcing is that countries like the Philippines appear to have an endless supply of talents at your disposal. Recruiting customer service workers back home is not simple.
Finding individuals skilled in their profession is even more challenging since people aren't exactly rushing up for customer support jobs left and right. This is why it's important to seek the services of trusted customer service providers like Helpware.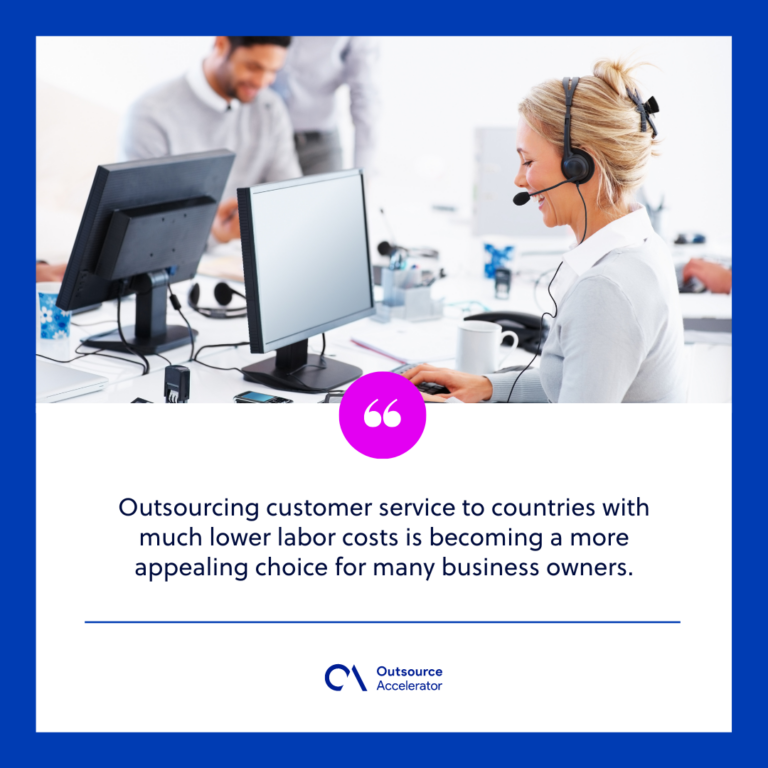 India
The Indian government has made India a desirable outsourcing destination by allowing imports of goods and services and granting tax exemptions to export IT-enabled services.
Many highly educated and skilled call center personnel who are IT literate and proficient in English are available when outsourcing your customer service in India.
Indian call centers may provide 24-hour customer service to businesses in the United States, Western Europe, and the Asia Pacific.
India also offers advanced infrastructure and cutting-edge technologies. The country's authorities place a high priority on the implementation of cutting-edge technology and infrastructure. Further, training the workers on the most recent technologies is at the heart of their approach.
They hold training programs regularly to guarantee that their personnel is always at the top of their game. It enables Indian BPO enterprises to meet the demanding expectations of their international clientele and complete vital projects quickly and efficiently.
South Africa
For business process outsourcing, South Africa is one of the world's developing marketplaces. 
By diversifying the sectors that their population will represent, the South African government has set clear targets to minimize national poverty and advance the already rising middle class. It is why foreign investment in call center operations has received so much attention.
The call center and BPO industry in South Africa has risen to prominence as a top global market for English-speaking and bilingual call center services. South Africa's outsourcing industry has earned appreciation for high-quality intellectual resources with outstanding language skills and emotional intelligence for more than a decade.
The rainbow nation has also built advanced systems ready to assist any industry, from telecommunications to manufacturing to customer service.
Jamaica
Jamaica has led a decade-long drive to deregulate its industries to lower the cost of access to these opportunities for nearshore investors.
The Global Services Sector (GSS) program aims to upskill the BPO workforce to help the Jamaican government boost the BPO sector's growth. GSS's skills development programs, which prepare high school students to work in call centers, include:
Technical language.

Communication skills training.

Customer service certification courses.

A career advancement curriculum for customer service and data operations.
Jamaica has taken the opportunity to establish business conditions beneficial to forming the call center industry and nearshore expansion. Jamaica has shown a long-term dedication to BPO company operations by continuously motivating foreign investment.