Customer service: Training, tips, and certifications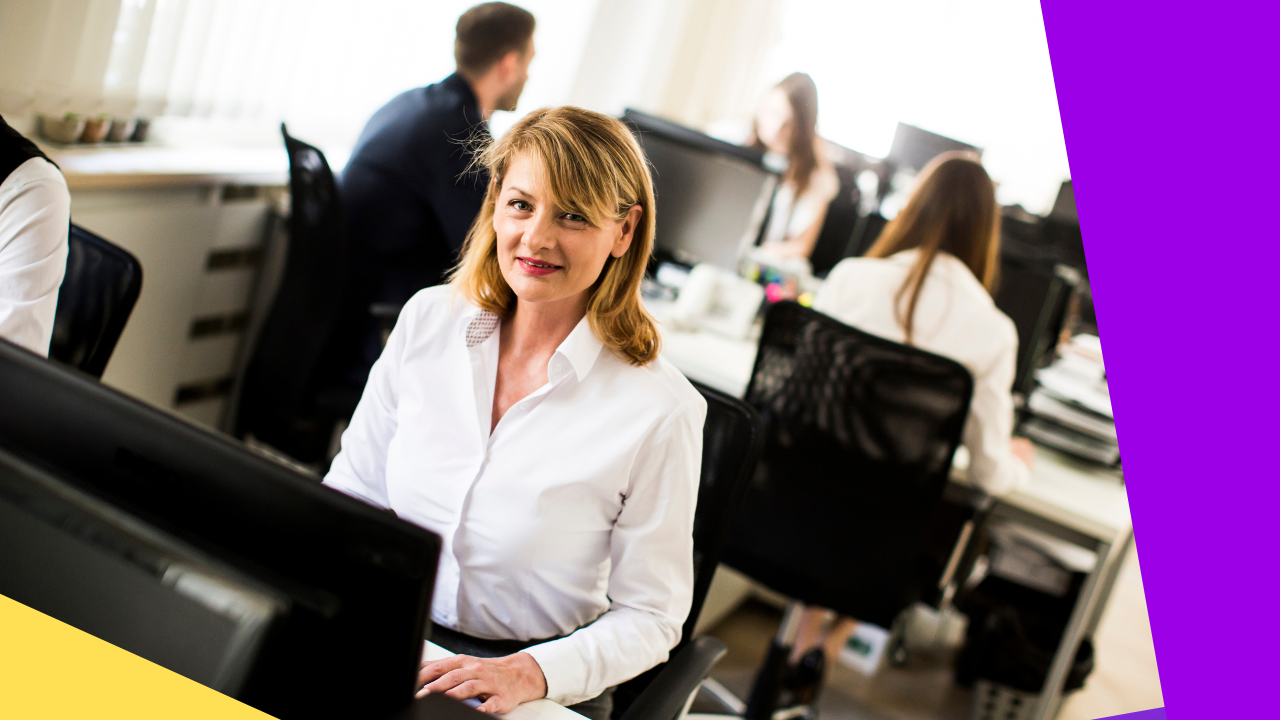 Customer service Training, tips, and certifications
Customer service allows a company to engage with consumers, solve problems, and demonstrate that they care. And when customer service is done effectively, it may leave a lasting impression on customers.
When training for customer service, make sure that the trainers are covering all the bases, especially in retention, escalation, and rebuttal.
In most in-depth training courses, these three are usually brought up and taught as part of communicating with customers.
Most importantly, most customer service training modules hones the skills that are there. This means that industry rookies may have a hard time following through if the method is aimed at those who have experience.
Customer service training methods
That being said, having a hybrid training method may serve both newcomers and experts in customer service. When acquiring new (non-experienced) agents for a campaign, hire for their soft skills and enthusiasm to learn something new.
Training eager-minded people is easier, as they're excited and open to learning the ropes.
Executive Boutique Call Center exemplifies a dedicated outsourcing service provider with highly skilled and trained technical and customer support agents. Its staff has finished their computer degrees and training.
Keep in mind that not all people have the same benchmark for a 'job well done.' One of the foolproof ways to create a new step is to introduce specific training best practices to the group. For instance, the trainer could pass on the ideal format for an email reply, if the campaign is email support.
Below are some of the well-known training methods for customer support specialists:
Classroom training
Classroom training is undoubtedly one of the most famous setups for onboarding. There is usually a group of trainees in this method, anywhere from 20 to 30 heads, a team leader, and a trainer. The training module and the company values, rules, and regulations are discussed and taught.
Most of the time, this works for large companies after acquiring multiple batches of trainees. Conducting a productive training session, in lieu of classroom setup, is guaranteed to produce efficient employees.
Webinar
With the rise of seminars held by speakers and conducted via conference apps, webinars have become the next best thing in training. Webinars are usually conducted with a speaker and a moderator, while the trainees are on the bridge. There are moderated and unmoderated questions to encourage open communication.
The training module can be halved into multiple sessions, allowing the trainees to rest and analyze each chapter. Another perk of webinars is that everyone can access them, anytime and anywhere. This is especially important if the company has trainees off the site. 
eLearning
eLearning modules became a conducive learning experience for trainees and trainers, especially when the setup connects everyone. Collaborating on virtual projects and modules makes up very efficient employees and leaders. Trainees can learn at their own pace—which sets self-discipline, autonomy, and accountability. 
Utilizing this method may do the trainees good as they may feel that the company is already putting trust in them—even during the training period. By investing less in actual trainers, the rate of trainees who actively participate shot up. Of course, this is the ideal scenario in most eLearning classes, according to eLearning Industry.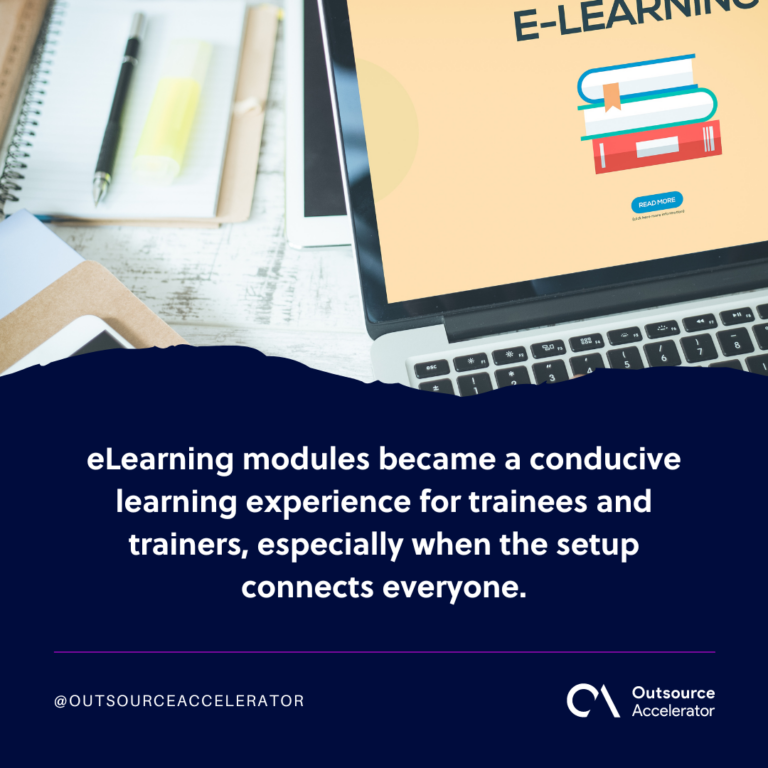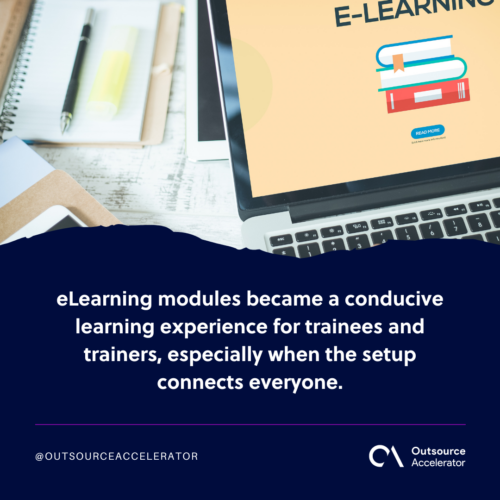 Mentor-mentee
We're all familiar with the mentor-mentee relationship. Most team leaders use them as a safe space for one-on-one sessions – a way for both parties to air out any suggestions, opinions, and comments.
Having a healthy mentor-mentee relationship is crucial in every workplace and it's not just limited to the customer service sector. Forbes had reported that mentored employees last longer than those who didn't receive any mentorship. It shouldn't come as a surprise that encouraging growth and learning in the workplace is an important aspect.
Roleplay
A straightforward and fairly easy to pick up, roleplaying can be utilized as an icebreaker or a simple exercise for the group. 
Roleplaying is a good way to gauge someone's social skills too. With this method, trainers and managers could offer advice on how to regulate the conversation—the pace, rhythm, and how they deliver their dialogue.
This setup is a creative way to start engaging with the trainees, no matter their level of expertise. 
Customer service skills
Happy customer service agents equal happy customers. And we all know what comes next after having happy customers.
The customer service industry is one, if not on the top, of the most stressful sectors in today's market. From dealing with irate customers to working in a fast-paced, high-pressure working environment, customer specialists are expected to power through these.
That being said, the customer service skills span across two subsectors: hard skills and soft skills. The former refers to tangible competencies such as attention to detail, technological know-how, and communication skills.
On the other hand, soft skills refer to the trainee's personality and attitude in a professional setting.
Customer service tips and tricks: How to be an effective support specialist
To be an effective support specialist, most people go through intensive training sessions. Paired with having an effective trainer and a mentor, almost all of the trainees pass their initiation. This is to say if they stuck through the training and didn't commit any grave misconduct during the training period.
In-depth training and knowledge of products and services.
This goes without saying that all agents should be trained according to the service and the products they will be supporting. Campaign-specific training is a turning point in this phase as it will likely make or break the agent's experience when delegated onto the production floor.
Having in-depth knowledge of the product will save the agent time of having to do frantic research when faced with a basic question while on the phone. Of course, they're still encouraged to learn new things about any product updates.
It bears repeating having product-specific knowledge is crucial to any campaigns, be it non-voice, voice, or back office.
Showing empathy and having patience. 
In this role, showing empathy towards themselves, the customers, and their coworkers is crucial. When communicating with customers, it's important to let them know that as a representative, 90% of the job is to help them. 
For instance, if the agents are dealing with difficult and impatient customers (especially in helpdesk campaigns), it would make things even more complicated. Practicing patience in this situation would be ideal—although it is perfectly acceptable for an agent to feel frustrated, especially when the customer won't cooperate with them.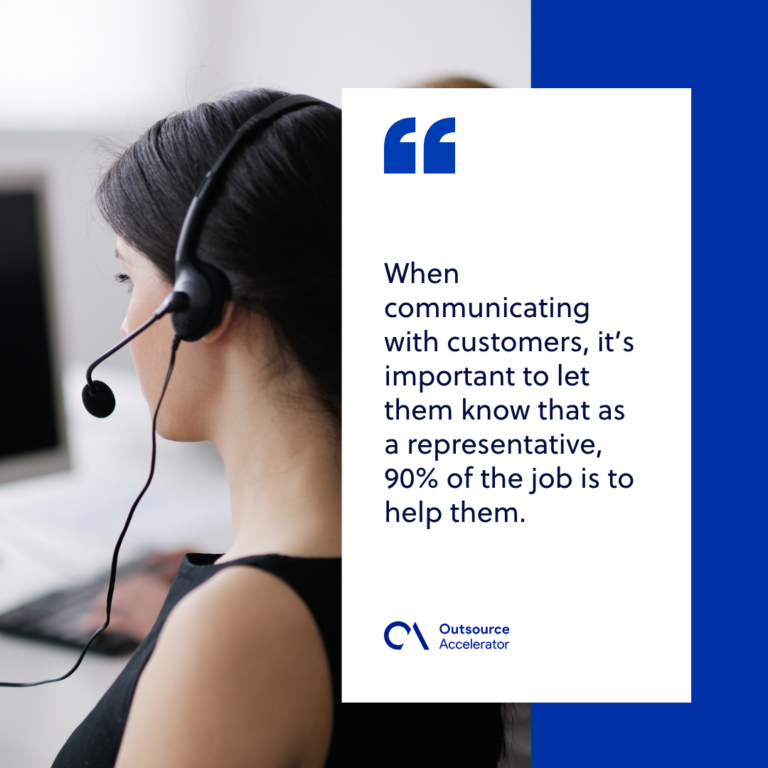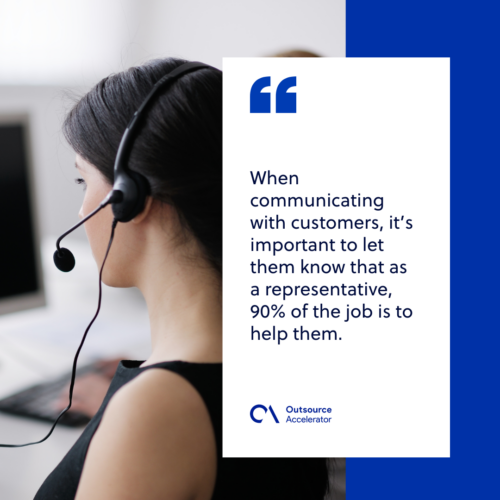 Being attentive.
Another crucial part of being a customer service agent is being attentive. Not just to the clients and customers but also to the job itself. From the paperwork down to the smallest specifics, having attention to detail and the surroundings will benefit anyone.
In this job, having a close eye on the smallest of details will help agents become effective on the production floor. For some employees, being attentive makes them more competent and productive at work.
Not only that it makes them more self-aware of their adjustments, but it also makes them more susceptible and flexible to learning.
Putting the customer first.
The adage "the customer is always right" somehow still rings true to this day. Without customers, a company would soon succumb to an audience-less pit. The revenue they bring in is unmatchable—business investors and executives usually track the flow of profits.
Of course, putting the customers first doesn't mean that customer service agents have to bow to their every whim, especially if it's unjustifiable. Having to compromise and come up with a solution that works best for both parties is ideal.  
Having short and long-term goals.
Career plans, growth, and development are vital to any worker and employee. Especially in a fast-paced environment where many customer service agents work. Having goals will keep employees motivated and productive, as these directly tie to them achieving the aforementioned goals. 
All that being said, these tips and tricks are not limited to the customer service industry only. All of these (and most generic career tips) can be applied to jobs from different industries.
Customer service programs
Speaking of continuous learning, there are dozens upon dozens of online courses that customer service professionals can take. These include free and paid classes, they often come with certificates and agents can use them to amp up their profiles and resumes.
These certificates and written declarations give team managers and trainers peace of mind. Taking these classes, workshops, and courses shows dedication, impeccable work ethic, and perseverance. All of which are great values and to see in an employee and a colleague.
Certifications
According to Hubspot, these two customer service courses are perfect for newbies and experienced agents. These will serve as their training ground for all things customer service, along with generic and all-in modules. 
This free customer care course from Oxford Home Study will not only look good on paper but will serve a purpose, once an aspiring customer specialist has been hired.
That being said, these certifications will help an individual land a decent and stable job in the customer hospitality field, even in today's economy. Employees showing that they are eager to learn and inform themselves always pays off in the end.