15 customer service goals you should achieve in 2024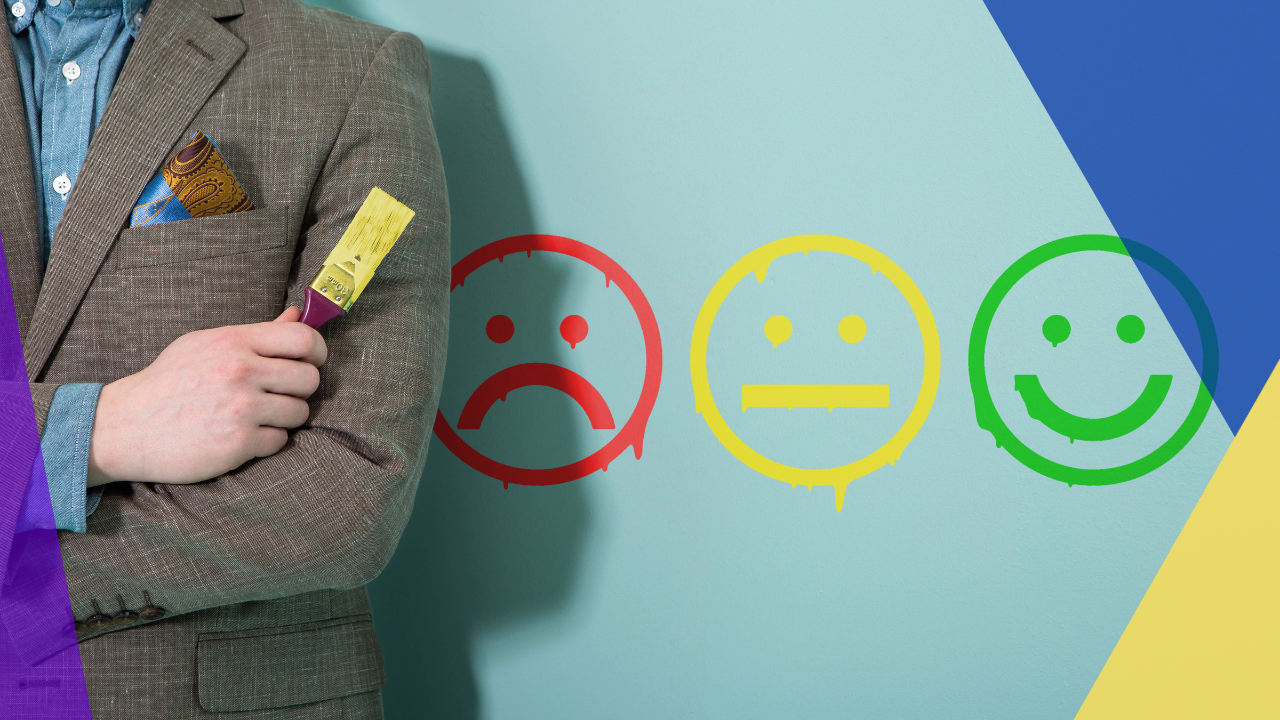 In a world where customers look for better services each year, businesses must keep up with quality support.
Goal setting in customer service gives you a headstart in providing quality services to your clients. With your team working towards common goals, you can guarantee that each issue is resolved on time, each inquiry is answered, and each team member is satisfied with their work.
Effective customer service goals fast-track your way into business growth and success. Here are some of the goals your team should achieve in 2024.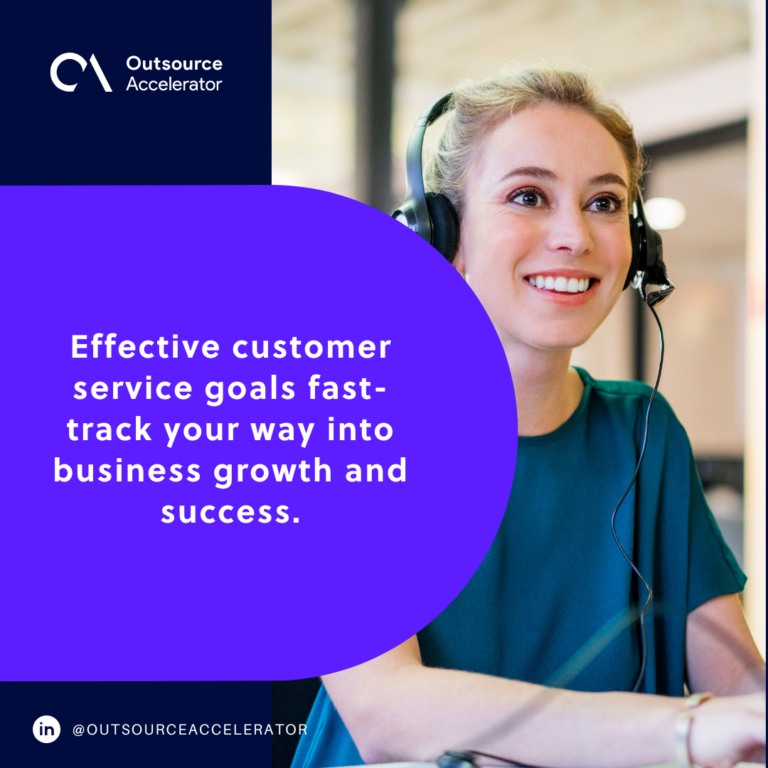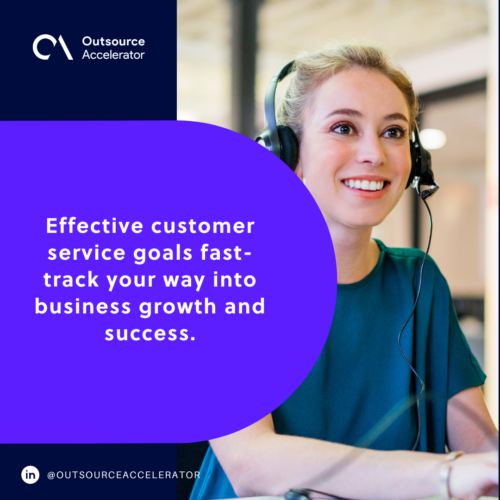 Why you should set customer service goals
Like in most business aspects, customer service goals give your team a direction on what you should accomplish to delight your customers. 
It forms a single approach to customer service according to your company's vision. More so, setting customer service goals helps you in the following ways:
Team management

. Customer service goals let you simplify employee management. You can provide a clear benchmark for their performance and open opportunities for feedback on their work.

Motivation

. With a clear set of goals, your team can increase their productivity and motivation at work, knowing they are on the right track.

Customer satisfaction

. Gradually, your customer service goals improve your overall customer satisfaction once done right.
15 customer service goals in 2024
Below are 15 customer service goals you can set for your team in 2024:
Customer metrics
It's best to see how you measure your successes first through your metrics. Consider including the following goals in maximizing your metrics to your advantage.
1. Analyze and check suitable metrics
Your metrics should reflect how you value your customers and measure successes in your operations. 
This is why you should analyze and check which metrics you value the most, whether it's customer satisfaction score or customer retention.
2. Improve your response time
One of the critical things you might want to look over in setting your goals involves increasing your response time.
A study by SproutSocial found that 79% of customers expect companies to respond online within 24 hours. Speeding up your response time is a significant aspect to prioritize in your customer service goals.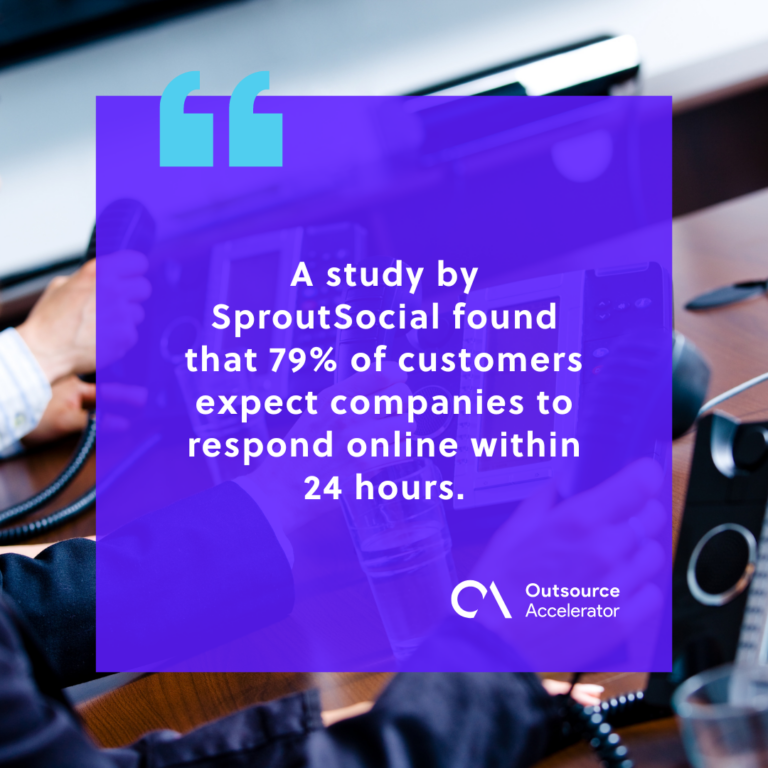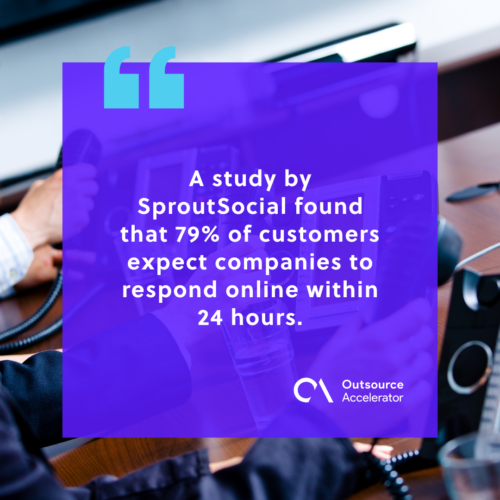 3. Reduce cost per contact
At the same time, you must look at how to reduce your cost per contact (CPC), especially if it costs you more to support your customers than they pay you.
There are different ways to reduce cost per contact. This includes offering callbacks in case of a high volume of calls you receive and providing self-service options.
4. Receive more positive feedback
Businesses thrive more in providing the utmost customer service, as seen by the positive feedback they receive. The more clients promote your brand, the better your chances are in expanding your customer base effectively.
Aim to receive more positive feedback and improve your net promoter score (NPS). This gives social proof of your quality service and turns your customers into advocates.
5. Modify channel-specific metrics
Your customer service goals should also cover the different communication channels you use to reach clients.
Start with expanding into social media or other channels that would fit your customer service strategies. For instance, you can maximize your Facebook page and chats if you have not used them.
Agent satisfaction
Consider adding the following goals as a way to improve your team's happiness:
6. Balance human and automated interactions
It's time to focus on increasing agent productivity and satisfaction in 2024. While a surge of issues could overwhelm them with their limited tools, relying on chatbots and automation alone won't always work.
Try to balance human and automated interactions as your customer service goal. You can use chatbots, automatic responses, and intelligent workflows to complement your team's workload.
7. Prioritize employee satisfaction
Happy employees create satisfied customers.[1]] They can easily provide thoughtful service since it reflects how you care for them.
Be sure to check on your team's welfare and find ways to boost their satisfaction as possible. Set up a one-on-one meeting with your team members to see how they are doing and offer help on some of their challenges at work.
8. Invest in talent acquisition and retention
Attracting and retaining quality talent is another excellent way to improve your customer service. 
Make it one of your customer service goals to invest in talent acquisition strategies and personnel. Aside from in-house employment, look at more flexible ways of hiring, such as outsourcing customer service functions.
The Remote Group helps you get started with building your customer service team. From sourcing highly-skilled team to setting your processes, you can guarantee to deliver a positive experience for your customers.
Meanwhile, set out plans to improve employee retention for all of your teams. This could include creating wellness programs to decrease stress levels and seeking better healthcare incentives.
9. Promote collaboration
Your team could easily get bored of doing monotonous work independently, decreasing engagement and productivity.
Increase your team's engagement and collaboration as your goal. Plan out activities such as communication games, brown bag lunches, and others that would encourage them to interact with their team members.
10. Upskill employees
Lastly, your employees should best keep up in terms of training and development. Find ways to train them better and increase their effectiveness, especially when introducing new tools at work.
Customer service skills
Successful customer service nowadays requires you to equip your employees with the following skills:
11. Enhance their troubleshooting skills
High-effort experiences, including repetitive calls and unresolved issues, can lead to customer disloyalty. Employees finding it challenging to identify and resolve issues quickly can result in callers leaving your brand.
Agents struggling to diagnose problems accurately and rapidly should strengthen their troubleshooting skills. This helps your team lessen the instance of clients repeatedly calling to solve their problems.
12. Strengthen empathy and patience
Dissatisfaction can be minimized when your agent reaches out to a customer with compassion and patience. Additionally, empathy[2] enhances your team's chance to build trust with your customers.
Improve your team's empathy with customers by practicing active listening, using key phrases, and assuring to resolve their issues. 
Meanwhile, help your team members become patient in handling annoyed customers.
13. Introduce channel-specific expertise
Before you start an omnichannel customer service team, you have to make sure that your team has the right skill to handle specific communication channels.
Now is the time to include training channel-specific expertise in your customer service goals. For instance, you can start by teaching them the basics of managing social media channels or chatbots for customer support.
14. Improve product expertise
Your team must stay up to date with your products and services at all times. Introduce product updates as soon as possible and prepare them with ample details if a client wants to know more about them.
Enhancing their product expertise also gives them a better chance to upsell or cross-sell with customers in the future.

15. Practice their leadership skills
Lastly, train your employees to be customer service leaders. You can offer leadership training to your teams, encourage them to set initiatives, and let them take responsibility for each achievement and issue they encounter.
Setting SMART customer service goals
Setting unrealistic customer service goals could affect your team and brand reputation. 
Unreachable metrics could compromise your team's welfare, making it increasingly difficult for them to serve your customers. At the same time, unrealistic goals increase your possibility of falling short of achieving them.
The most ideal and achievable goals follow the SMART principle.
Specific

. Make your goal as specific as possible. Say, "shorten response time from six minutes to four minutes" instead of writing, "99% customer satisfaction in three months."

Measurable

. Use quantifiable metrics to compare your progress and set milestones for it.

Attainable

. Make your goal achievable and consider the challenges and roadblocks your team could face in attaining them.

Relevant

. Align your goal with your company's vision. See its relevance in your team and if it is worth achieving.

Time-bound

. Most importantly, set a specific timeline for reaching your goals. Set deadlines and checkpoints to create urgency around them.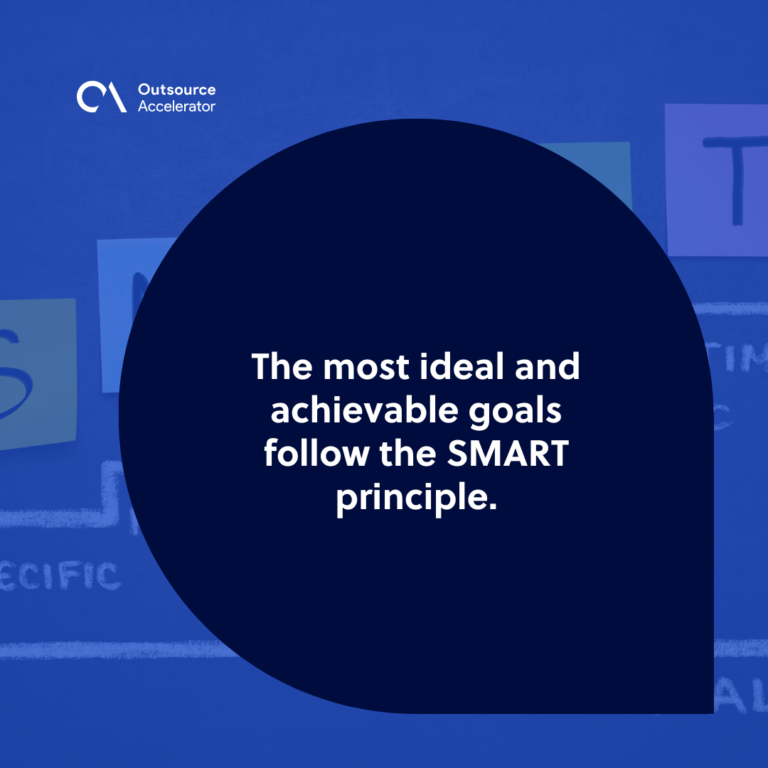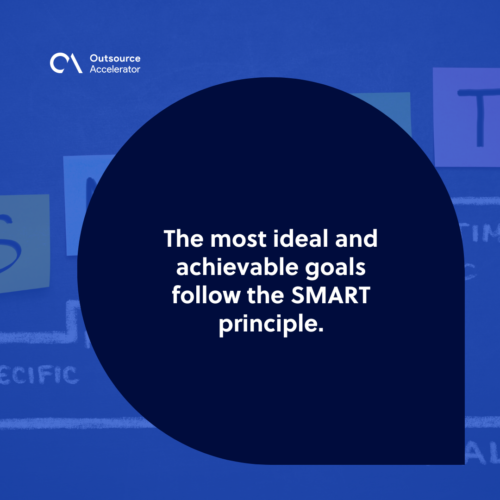 Looking at your previous metrics and progress is the best way to set your current goals. It can help you identify which goals to include and what should be prioritized.
You should also look at your competitors and how they are doing. Get to know their best practices and strategies that make their service outstanding.
Finally, delegate and have other teams involved in creating your goals. Have the best-equipped team tackle and align your goals with the organization.
Article references:
[1] Satisfied customers. Ilias, S. and Shamsudin, M.F. (2020). Customer Satisfaction and Business Growth. Journal of Undergraduate Social Science and Technology, [online] 2(2). Available at: https://abrn.asia/ojs/index.php/JUSST/article/view/60.
[2] Empathy. Bahadur, W., Khan, A.N., Ali, A. and Usman, M. (2019). Investigating the Effect of Employee Empathy on Service Loyalty: The Mediating Role of Trust in and Satisfaction with a Service Employee. Journal of Relationship Marketing, pp.1–24.