Definition
What is escalation?
Escalation is when the first-hand customer service representative was not able to resolve a complaint raised by the customer. Complaints are then raised to tier-2 agents who can give better solutions to the problems. These tier-2 agents have better knowledge about the matter.
The most common recipients of escalations are team supervisors. Therefore, team supervisors are expected to be experts on the processes and procedures of the company that they are representing. 
Customers tend to be on the verge of their emotions when seeking escalations; thus, the senior agent who will handle the escalation should always be prepared. Professionalism and being courteous are required when dealing with irate customers.
What is an escalation process?
An escalation process is out in place to clarify the boundaries and channels of decision-making throughout an organization. It helps sales representatives in solving a customer's problems quickly and with clarity. 
Designed around the whole customer service operations, this process outlines a path that allows the customer service reps to make decisions that reflect the rules of the management.
It minimizes the time it takes to escalate decisions that are beyond their scope of authority. 
An efficient escalation process helps minimize service delays, drives employee accountability, and saves both the customer's and rep's time and energy.
With a defined system on how to deal with client escalations, customer support agents can act faster and reduce the severity of the situation.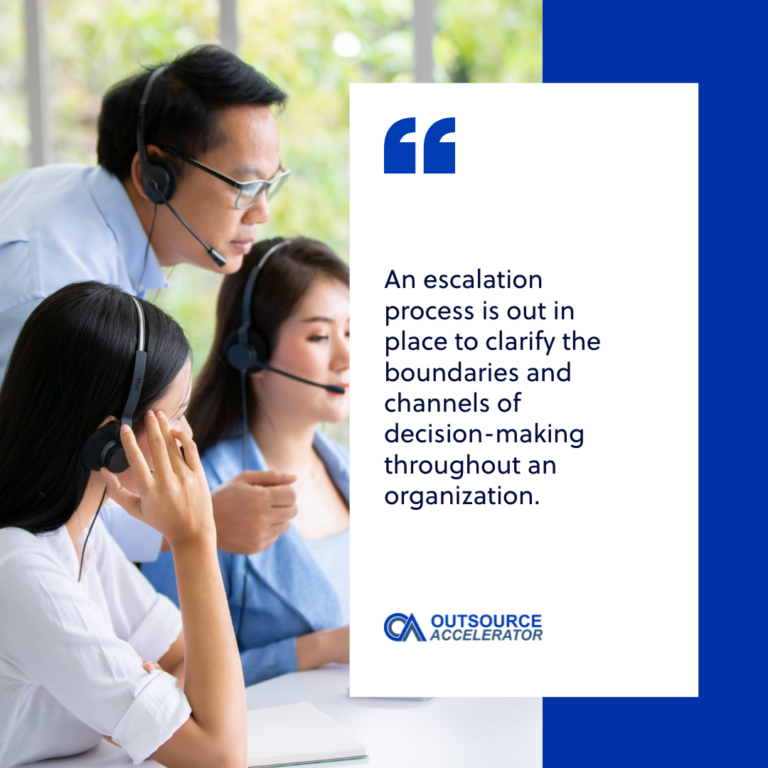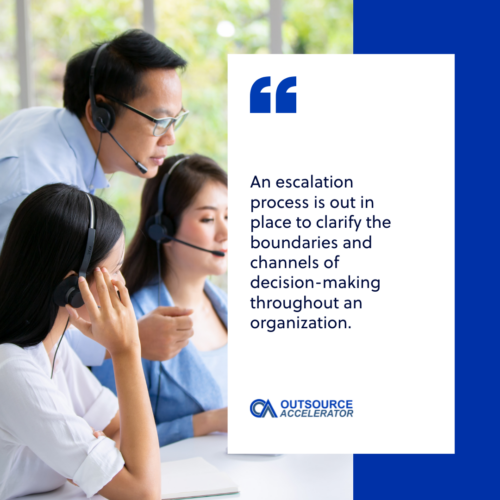 Managing escalations
Escalations are expected to be controlled or restrained and are considered essential in the Business Processing Industry (BPO) industry. 
The best customer service outsourcing companies should be brimming with fully-equipped professionals who can handle complaints, and find immediate resolutions for the client. 
One should expect to work with people who have been given proper training and handled by experienced team managers who can brush off escalations easily and with the highest level of restraint and professionalism.
Outsource Accelerator has over 5,000 articles, 350+ podcast episodes, and a comprehensive directory with 2500 BPOs… all designed to make it easier for clients to learn more about managing an outsourcing team and ensuring that escalations are handled properly.