Definition
What is a team leader?
Team leaders within the outsourcing industry are in charge of handling agents or employees, reporting the team's progress to higher management, coordinating efforts and division of tasks, and resolving interpersonal concerns.
As opposed to a manager, a team leader does not have the authority to hire or fire employees. However, they will often be called for their input in such decisions.
A good team leader will have excellent communication skills and empathy, as the creativity and organizational skills to create an environment where team members have clear goals and a clear division of labor.
Depending on the team, some may define their goals and divide their labor collaboratively. Oftentimes the team leader will be the one to set both with input from the team.
In both cases, a team leader must create an environment where each team member has bought into the tasks at hand.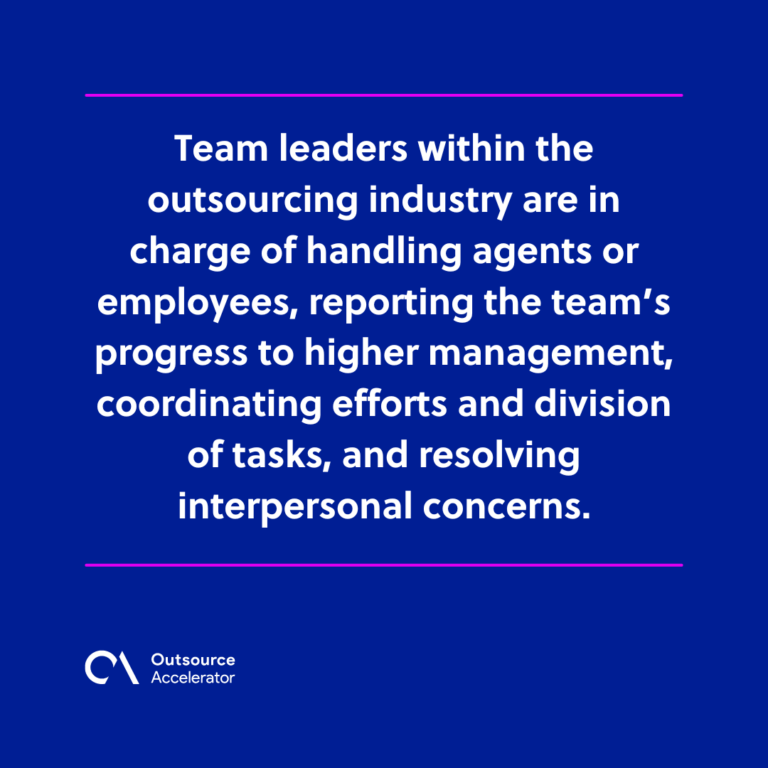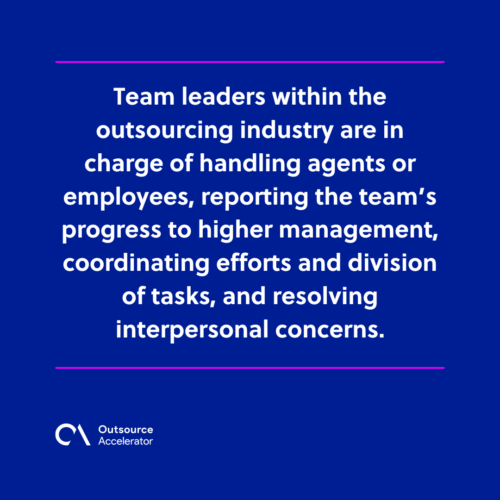 Call center team leader
In the Philippines, a team leader can earn somewhere between $7,000 – $10,000 per annum. In a typical call center environment, they are expected to handle anywhere between 5 to 15 agents at any given project.
Outsource Accelerator provides you with the best customer service outsourcing companies in the Philippines, where you can save up to 70% on staffing costs. We have over 3,000 articles, 200+ podcast episodes, and a comprehensive directory with 700+ BPOs… all designed to make it easier for clients to learn about, and engage with, outsourcing.
What does a call center team leader do?
A call center team leader is in charge of supervising and monitoring a group of call center staff. Their role is to give training and feedback to the team, as well as to guarantee that the team's goals are accomplished and to analyze each member's performance.
Discussing objectives with the call center manager and delivering them to the staff are also part of the team leader's responsibilities.
Leadership abilities, customer service experience, observational awareness, and the ability to communicate effectively over the phone are all required for this position.
Call center team leader duties and responsibilities
Lower-level managers at call centers are called team leaders, and their goal is to get the best performance out of those under their supervision. A customer service director or call center manager is usually their supervisor.
Successful leaders of a call center team usually possess leadership skills and other characteristics they need to handle their responsibilities.
Here are some primary duties of call center team leaders to maximize productivity and quality customer care:
Handling day-to-day operations
Leaders of call center teams are hands-on leaders. They ensure that proper processes are followed and offer regular instructions to their employees on what to do and how to improve.
When a customer service representative requires assistance, call center team leaders may engage, give advice, or request a specific adjustment. One of their responsibilities is to schedule personnel to guarantee appropriate coverage.
Motivating team members
Responding to client complaints might be difficult at times. Team leaders motivate each team member to take their jobs seriously and to work hard to develop good customer relationships.
They create targets and goals for them to accomplish to motivate them and assess their performance. At the same time, they create a work environment that conducts good team communication and collaboration.
Hiring and training staff
Call center team leaders may be in charge of recruiting, interviewing, and hiring employees if they have a good understanding of what their organization needs from its customer service team.
They are then responsible for training team members on their responsibilities and expectations in the company.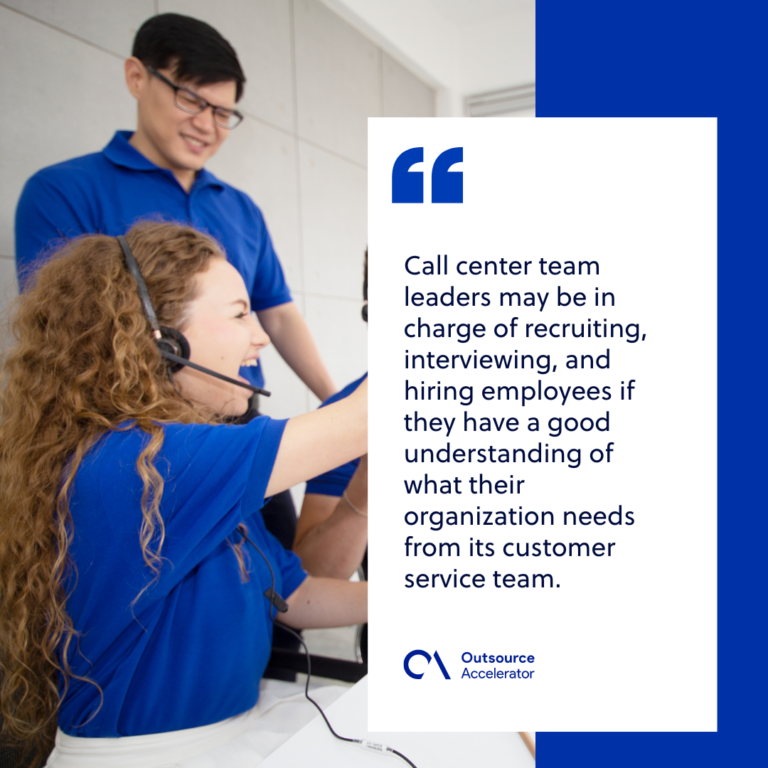 Evaluating performance
Team leaders should monitor how each team member doing. They need to consider how they can boost efficiency and customer satisfaction. Written reports to senior management may be used to document their observations of the company.
Key points for effective team leadership in a call center
Here are some effective key points for becoming an effective team leader:
Be responsible and adaptable
Anyone who takes on leadership duties in a call center should be adaptable in every aspect. Having a senior position does not mean they are in charge of the whole process in the call center.
Good team leaders are willing to acknowledge mistakes and make improvements. Through continuing quality assurance, management may be able to inform them of their errors, which may come as news to them.
A good leader possesses the emotional intelligence to take any criticism, figure out how to adjust, and incorporate feedback into their work style.
Conduct regular coaching and training
When QA analysts conduct quality assurance in your call center, they will find issues at all levels of working procedures. Before a QA system detects problems, agents, team leaders, and supervisors can all contribute to poor customer service.
Based on the data obtained throughout the quality assurance process, team leaders must give coaching and training to service agents. Strong communication skills are essential in this situation, as this helps them connect with team members and guarantees that they understand how to develop.
Improve team experience
Listening to customer service agents' concerns, resolving their demands, and presenting management with their feedback may all help the entire team feel more appreciated.
A good team leader makes an effort to improve their job experience. They work with management to propose positive improvements in working practices, such as flexible hours, casual attire, and conduct training.
Further, reward programs are an excellent method to motivate employees and increase their passion for their professions.