Your quick guide to developing your customer service voice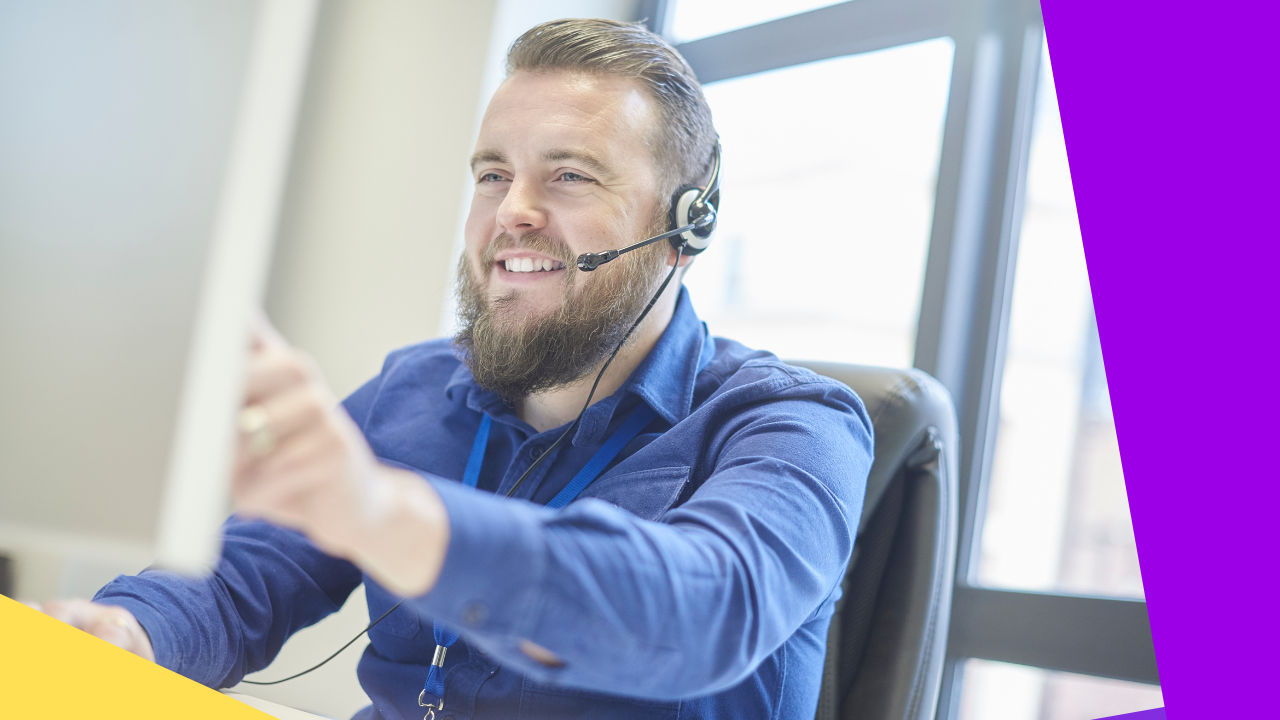 Finding and developing your customer service voice is one of the most underrated elements of providing excellent client support. 
Customers appreciate it when a representative can answer their inquiries quickly and accurately. After all, their purpose in calling your business in the first place is to learn more about a product or get answers to their concerns.
Yet, even if your team can do this, ever wondered if they are satisfied with your approach? 
Effective communication with customers should involve more than words. That's why your agents need to develop their customer service voice. 
Learn more about tone and voice in customer service and how you can develop it.
Why your tone matters in customer service
In a Microsoft report on customer service, about one in three customers (30%) emphasized the importance of "speaking with a knowledgeable and friendly agent" in a certain call.  
Customers want to experience fewer call transfers and a more centralized way of handling inquiries. At the same time, they want an agent that will sound friendly, approachable, and confident in talking with someone.

Dr. Albert Mehrabian, a renowned behavioral psychologist, presents this through the 7-38-55 formula. This indicates that communication is done through 7% verbal, 38% tonality, and 55% nonverbal. 
Though the nonverbal aspect can be hardly seen through a phone call or email, your voice and tonality can play an important aspect in making your customers feel comfortable talking to you.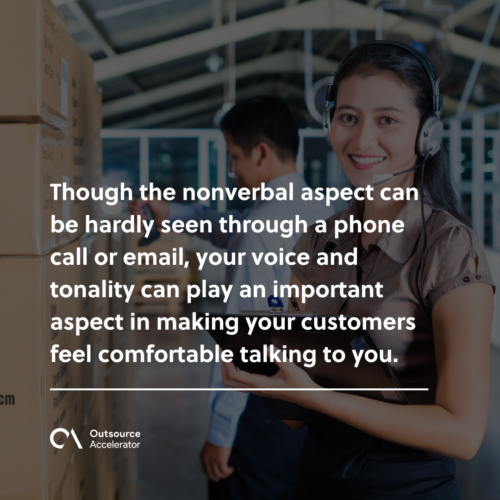 Tips in developing your customer service voice
Your customer service voice can be affected by several factors, such as:
Customer demographics

. Your intonation, voice, and choice of words will depend on who you're talking to on the phone or in an email. For instance, you can be more casual when talking to a customer within your age range than with someone older.

Communication channel

. The channel you use also affects your tone when answering an inquiry. While emails and phone calls mostly rely on formality and conciseness, web and social media chats require a more straight-to-the-point approach.

Topic or concern

. Appropriateness is the key when talking about a certain topic or concern. You should sound more empathetic when

handling customer complaints

the same way you'll be more authoritative in answering product inquiries.
Developing an agent's voice and tone is usually a part of customer service training given by the service provider. Here, they get to learn how to empathize with their customers and know what tone to use in a certain situation.
Meanwhile, here are some useful tips in further developing a customer service voice. 
Start the call on a positive note
As possible, start your call or live chat on a positively high note. Using the 7-38-55 formula, you can do the following gestures when picking up a call or a live chat:
Smile

. Smiling is one of the most common

phone tricks

you can apply to develop your tone. Smiling through a phone call or chat can affect your voice, making it light and friendly.
Imagine that a customer is in front of you

. Talk to your customer like they are in front of you. Approach them this way and address them through their preferred name to make them feel more comfortable.
Try to keep positive

. As much as possible, use positive reinforcements and try to turn their situation into a positive one.
Learn to sound natural
You should learn how to sound more natural when talking to a customer. 
Most agents are used to utilizing their "phone voice", or the rehearsed voice they use in phone calls. While it can be good in terms of talking with the customers professionally, using too much phone voice can make you sound fake or patronizing to them.
Mirror your customer's tone
However, don't just stick to a single tone or approach. It pays to get to know how your customers reach out to you and mirror their tone at the same time.
A perfect example of this is when they mention your company or send you a message on social media and your website. 
An increasing number of companies now learn how to ride along with their customers' tone. This is since they have seen a growing number of them prefer to receive "informal banter", regardless of their demographic.
Consider the context of their inquiry
Balancing out the first two pieces of advice is the best way to develop a customer service voice. 
Whether through a phone call, email, or live chat, it's best to learn the context and tone of their message. Practice active listening, write down the details of their problem and be as attentive as possible.
In that way, you can match your tone accordingly and not sound intimidating to your recipient.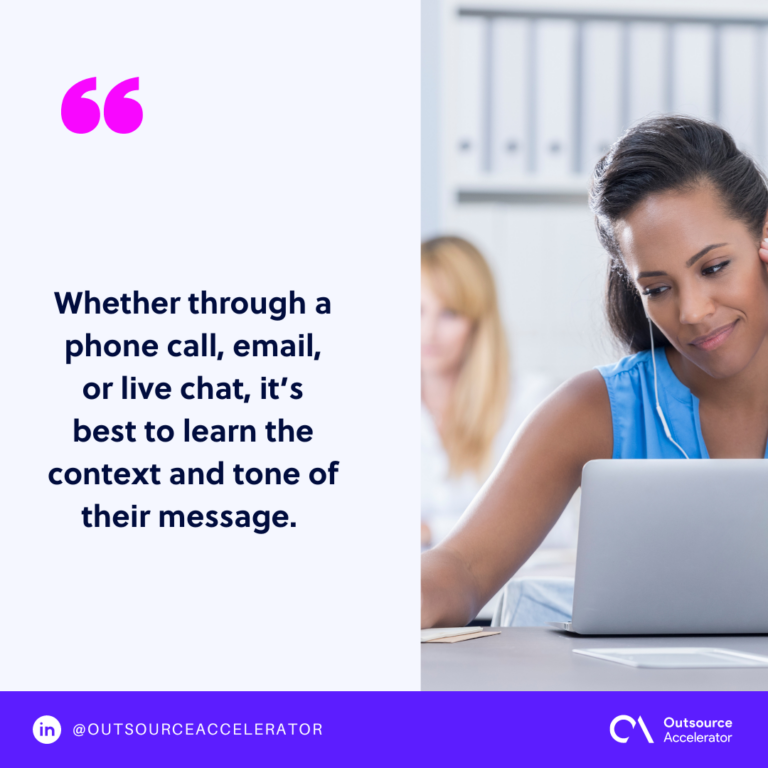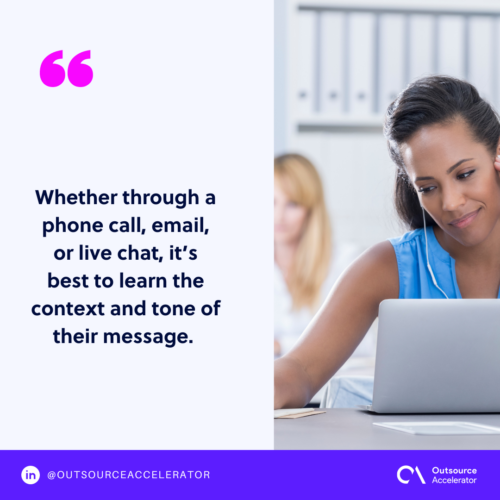 Avoid sounding defensive
Most importantly, avoid sounding defensive and do not raise your voice to your customers as much as possible. 
Do not match your customer's anger with anger and disinterest in answering their inquiries. Instead, be humble and calm when talking to them. Use words such as "sorry" and "I apologize for the inconvenience".
With this, you can get your customer to cooperate and help you solve their concerns better.
Improving your customer service voice
The concept of customer service voice involves more than using the right words at a certain time. Your level of interaction with your customers can greatly impact your brand and credibility. 
As mentioned, it's not enough that your agents can answer their questions and concerns knowledgeably. Customers nowadays look at your sincerity, level of empathy, and even friendliness.
Once played out well, these aspects can make you remarkable to them. This even helps your business grow exponentially since you know how to take care of your clients.
Another great tip to improve your customer service voice is by outsourcing voice agents through reputable outsourcing firms like Cloudstaff. These firms have skilled and well-trained voice agents that will significant improve your customer's overall experience.